7 Delicious 4th of July Treats to Sink Your Teeth into ...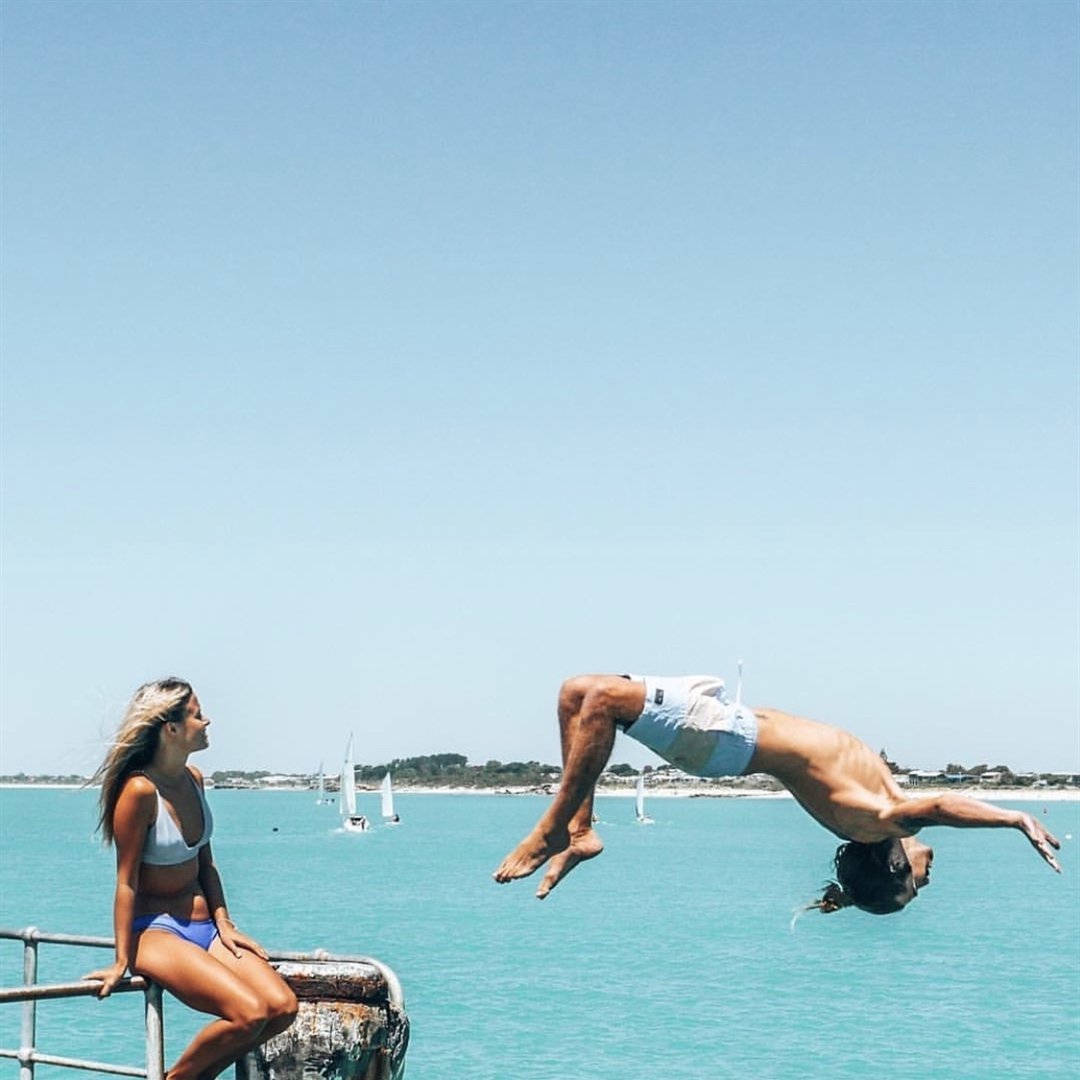 Every holiday is a great excuse to make adorable edible snacks and these 4th of July treats are wonderful for Independence Day! I'll take any opportunity to show off some cute cooking concoctions, so I love looking through assorted websites to find the perfect appetizers for each and every holiday. See how your guests like these red, white and blue 4th of July treats!
I love this patriotic flag; it may be one of the most festive 4th of July treats I've seen! It takes very little effort yet looks great! You can get wooden skewers at most dollar stores, then all you need are strawberries, bananas and blueberries! Alternate the strawberry and banana slices, then top the last few skewers with the blueberries to represent the stars on the flag!
Punch is the perfect beverage for a hot July day. You can make one big batch of this red, white and blue drink in a clear dispenser, but I prefer to make them in individual glasses so everyone has the full patriotic experience. First pour some cranberry juice, then drop in a few ice cubes and pour some blue Gatorade frost on top of the ice. You can stop there and allow the ice cubes to be the "white" portion of your punch, or you can add some sprite. Make sure to pour each layer on top of the ice so the colors don't mix. If you're feeling extra creative, you can even use silicone molds to make star shaped ice!
Source: sweetpeaevents.net
Strawberries and bananas aren't the only red and white fruit; don't forget about watermelon, the quintessential summer fruit, as well as sweet and delicious pineapple! Lay them out on a party tray in red and white lines and add a small dish of blueberries to the top left corner. There you have it! A cute little fruit plate to perfectly represent the 4th of July!
I absolutely love strawberries in any way, shape or form! They are delicious and they make the perfect summer treat, so they are an ideal snackatizer for Independence Day. If you don't want to go with the Mascarpone Cheese, feel free to stuff them with nothing but whipped cream or no bake cheesecake filling, they will still be wonderful!
Ingredients:
12 Strawberries
1 Cup Mascarpone Cheese
1 Cup Heavy Cream
3 Tbsp Sugar
12 Blueberries
Directions:
After washing your strawberries, chop off the tops so that they can lay flat upside down.
Cut an X on the tip of each strawberry and gently spread the parts of the berry open so you can stuff it more easily.
Mix the Mascarpone Cheese, Heavy Cream and Sugar with an electric mixer until it forms the consistency of whipped cream.
Use a piping bag to fill the berries with the cream mixture.
Top each stuffed strawberry with a blueberry.
**Source: **kirbiecravings.com
Chocolate covered pretzels are delicious. They are also super quick and easy! These will definitely look the best with white chocolate, but if you don't like white chocolate, feel free to use some milk chocolate candy melts instead. You can find patriotic sprinkles at any craft store like Hobby Lobby or Michael's and the closer it gets to the 4th, the more likely you are to find them at Walmart or other grocery stores.
Ingredients:
8 ounces white baking chocolate, chopped
1 package (10 ounces) pretzel rods
Colored candy stars or sprinkles
Directions:
In a double boiler or a microwave, melt the white chocolate, stirring frequently to be sure it doesn't burn.
Dip each pretzel rod about halfway into the melted chocolate.
Sprinkle with red white and blue stars, sprinkles or nonpareils.
Place on waxed paper to cool.
Source: tasteofhome.com
Cupcakes are great for kids and adults alike! They don't require cutting like a cake does or the added silverware to wash after everyone eats a slice. There's relatively no clean-up afterwards and that's just perfect for a family get together or cookout where you will already have enough picking up to do afterwards!
Ingredients:
1/2cup Red Candy Coating Disks
1/2cup Blue Candy Coating Disks
1/2cup White Candy Coating Disks
2 1/2cups Creamy White Frosting
12 Confetti Cupcakes
Red, white, and blue sprinkles
Directions:
In a double boiler or a microwave, melt each color of candy melts separately.
Place each color in its own zip lock bag.
Snip off a small piece from one corner of each bag.
On sheets of waxed paper, make 8- to 9-inch-long sticks (about 1/4-inch thickness) of each color candy coating by piping back and forth over waxed paper in a zigzag pattern. Let stand about 1 hour or until firm.
Frost each of your confetti cupcakes with the white frosting.
Break the colored zigzags to the desired lengths and stick them into the frosting of each cupcake.
Add sprinkles!
Source: bhg.com
7.

Red White and Blue Cheesecake
If you have the time to make your own cheesecake, go for it! Homemade cheesecake is way better than store bought, but if you have a ton of cooking to do, this is a great simple and easy dessert for your cookout. Buy a cheesecake from the grocery store and slice it into even slices. Make streaks of red using strawberry or raspberry jam and place 4 or 5 blueberries at the top left corner. It looks great, it's delicious and it takes hardly any time at all!
The 4th of July is one of the biggest holidays of the summer, so make the most of it with a party! What are some of your favorite Independence Day treats?
{{#comments_count}} Show Commnents ({{comments_count}}) {{/comments_count}}