Yogurt is a great source of protein and calcium, and there are multiple ways to enjoy yogurt that go beyond simply diving into the container with a spoon, though that's not the worst thing in the world either! Yogurt can be enjoyed so many ways. I wanted to give you all some easy ways to enjoy yogurt that don't take a lot of time or fuss, but that can entirely change the way you eat yogurt. Try some of these and be sure to let me know what your favorite ways to enjoy yogurt are! Oh, and if you're vegan, just opt for some of those trendy, tasty vegan yogurts instead of dairy!
---
1

Homemade Fro-Yo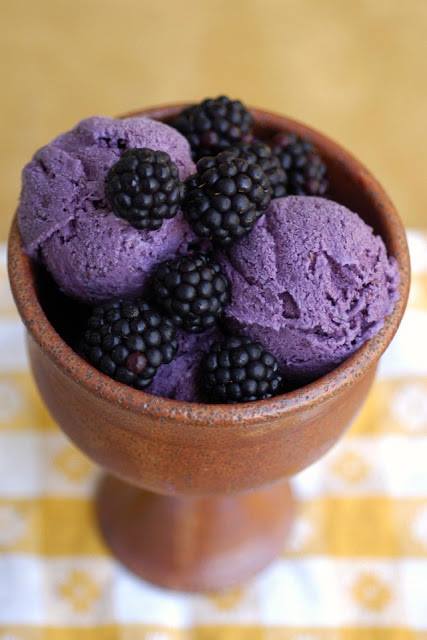 One of my favorite ways to enjoy yogurt is frozen! Frozen yogurt has this ice cream-like appeal and texture that change the whole way yogurt can be enjoyed. In earlier days, I simply placed a container of yogurt in the freezer for an hour or two and then topped it with some cinnamon, flax and sometimes sugar-free chocolate syrup. Yet, there are multiple ways you can enjoy your yogurt frozen. Blend yogurt with some fruit, freeze in a bowl and enjoy your own frozen fruit yogurt. Or, you can add in yummy things such as chocolate chips, coconut, chia seeds, nuts, nut butter, honey, etc. I like to buy unsweetened Greek yogurt and flavor it with stevia if I want it sweet.
2

In a Smoothie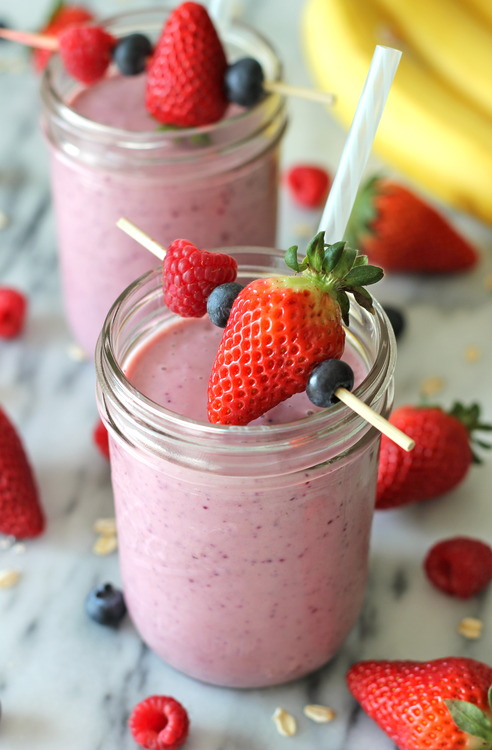 One of the best ways to take your smoothie up a notch is to add some yogurt to it. This creates a thicker, sweeter and denser smoothie, that is somewhat like a shake. I love using Greek yogurt in smoothies as a good source of protein, and combining it with flavors like chocolate or vanilla.
---
3

In Your Oatmeal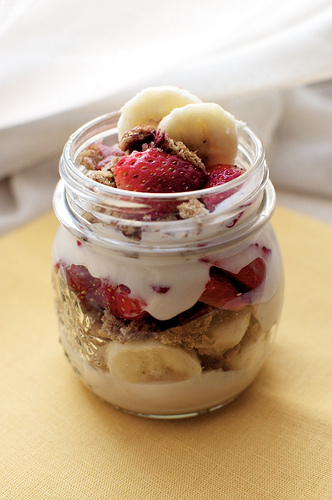 If you want your oatmeal extra thick and creamy, add a container of yogurt to it! Use around ¼ cup whole oats, ¼ cup your favorite milk, 1 5 or 6 ounce container of your choice of yogurt, and add in anything else you want like fruit, stevia, nuts, chocolate chips, seeds and spices.
---
4

As a Dressing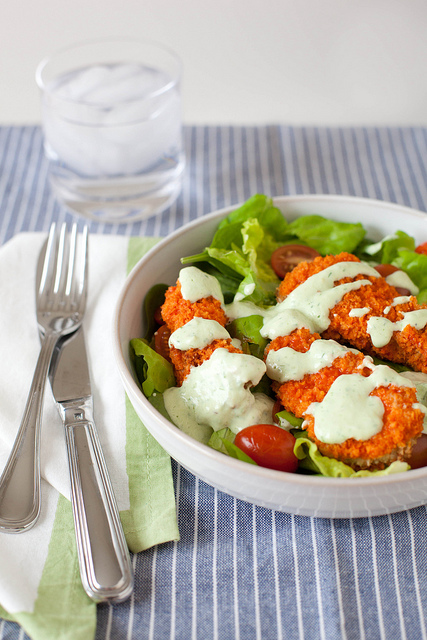 One of the best ways to enjoy yogurt, especially Greek yogurt, is to use it in place of mayo or sour cream in dressing recipes. I love making my own homemade ranch dressing with pourable yogurt, known as kefir. I use 1 cup of kefir combined with a teaspoon of chives, onion powder, ½ tsp. garlic powder, 1 tsp. black pepper and a squeeze of lemon juice. I mix all this up and pour on salads for a delicious twist on traditional ranch dressing.
---
5

As a Dessert Dip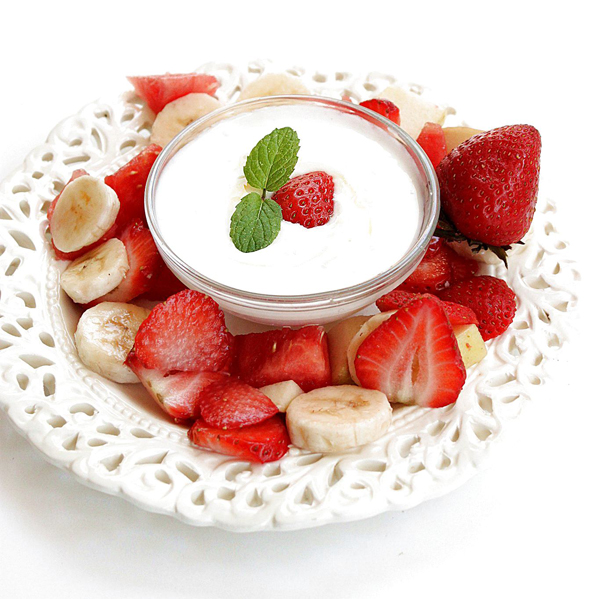 You can also use yogurt in a dessert dip recipe. For instance, I like taking Greek yogurt and mixing it with some strawberries or raspberries, cinnamon and stevia. Feel free to use whatever fruits you want, or nuts, chocolate chips, coconut or cocoa powder. I like to blend it up and it makes a lovely dip or spread for muffins, toast, waffles and pancakes!
---
6

In Your Muffins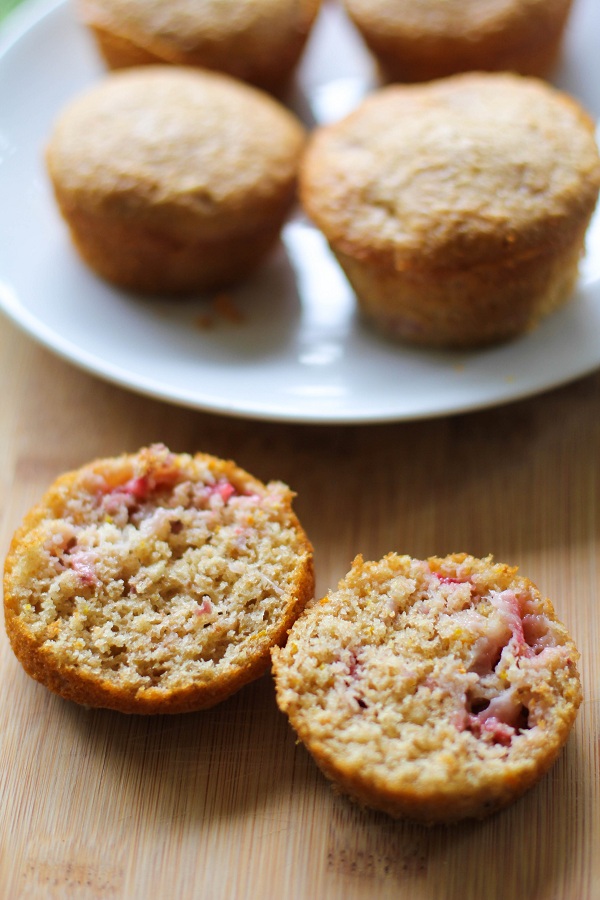 Using yogurt in place of oil in your muffin recipes is a wonderful way to cut back on calories, and also add moisture, fluffiness and a delicious texture. Use ¼ cup yogurt for every ¼ cup oil recommended. Great ideas are using it in banana or pumpkin bread, berry muffins, or brownies.
---
7

As a Chip and Veggie Dip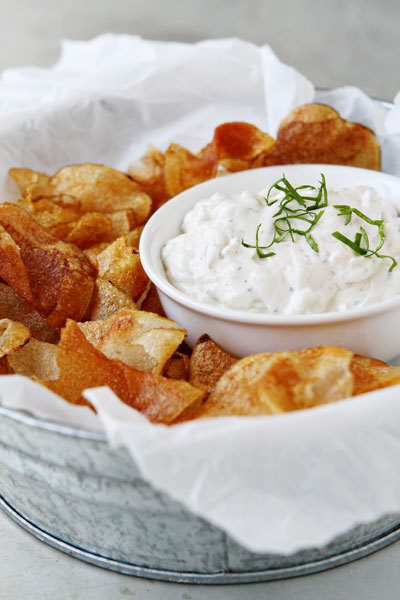 If you usually turn to sour cream for all your dip recipes, use Greek yogurt directly in place of the sour cream in a recipe. Greek yogurt has that tangy flavor, exactly like sour cream, and the same consistency. I actually like mixing it with a little salsa to give it a creamy consistency and a protein boost!
Yogurt is incredibly rich in probiotics, which make it a wonderful source of healthy bacteria and nutrients. My favorite brands include Chobani, Stonyfield, Nancy's and Dannon's Oikos,and you can get great recipe ideas at each of their websites if you're short on ideas. What are your favorite ways to enjoy yogurt?
---
Comments
Popular
Related
Recent