7 Awesome Foods for Decorating a Gingerbread House ...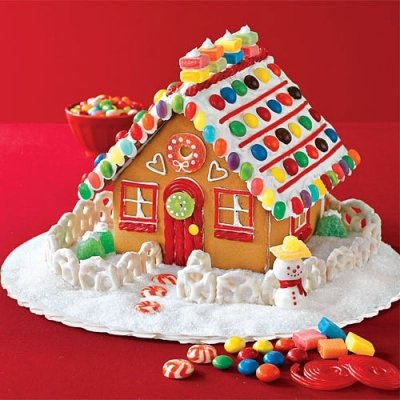 There are a multitude of foods for decorating a gingerbread house and you are going to love each and every one. This is the perfect time of year to make one too because you can use it decorate your house throughout the holidays. When I make a gingerbread house it's not usually for eating, but is instead something I put out until the holiday season is over. Strange, maybe, but still really fun. If you want to construct your own masterpiece this year, check out all these foods for decorating a gingerbread house with and you'll be all set.
Clearly, one of the best choices when it comes to foods for decorating a gingerbread house is candy. There are so many kinds that you can do so many cool things with. Try licorice to make window frames, gum drops to line the walkway and round chocolate candies to make your house colorful and whimsical. The options are virtually endless, so let your imagination take you away.
Cookies, whether small or large, can really bring your gingerbread house to life. Try large ones as a walkway or go with small cookies to create shingles or a stone looking exterior on your house. Crushed cookies can be used as dirt or rocks for the outside of your creation. Cookies can also become round windows. Fun, right?
There are so many types of cereal that work well for making a gingerbread house. Square ones work great for shingles. My personal favorite is Frosted Mini Wheats because then they give the illusion of snow. Use colorful cereal, like Trix, to add personality to your house. Grape-Nuts make wonderful pathways and Chex are great for creating bricks or walkways.
Yes, I know they are candy, but they deserve their very own section because mints are a classic for gingerbread houses. Use mini candy canes to make a fence or gate for your gingerbread house. Use round mints to decorate the outside of your house. They work for windows or for general decorating purposes. The red and white color is ideal for a festive gingerbread house.
You must have icing to keep your gingerbread house put together. I generally go with white because it's the classic look, but you can certainly tint it if you are recreating an actual house that is another color. Thicken your frosting slightly and use it to make icicles that hang from the roof of your house. You can also pipe it in drifts around the house to simulate snow. Use icing to adhere your other ingredients to the house as well. That way if you do decide to eat it, the entire thing is completely edible.
Nuts may not be all that colorful, but they work well for your gingerbread house. Use them to add natural colored stonework to your house. You can also crush them to resemble rocks that can decorate the yard of your creation. Large nuts can stand in as bricks or shingles as well.
There are several pretzel shapes that work for a gingerbread house. I recently saw one that used the large rod pretzels to create a log cabin look. You can use the smaller ones to make fences or to frame windows and doors on your house. They can also be used to make a cute woodpile outside the house and maybe even the roof and chimney on top of the house.
Do you build a gingerbread house each year? It's sort of a tradition in my house. This year I found a really cute nativity scene gingerbread set that I plan to put together with my kids, then display all season long. Do you have any other tips or tricks for making a memorable gingerbread house?
{{#comments_count}} Show Commnents ({{comments_count}}) {{/comments_count}}