7 Best Types of Nuts for Your Health ...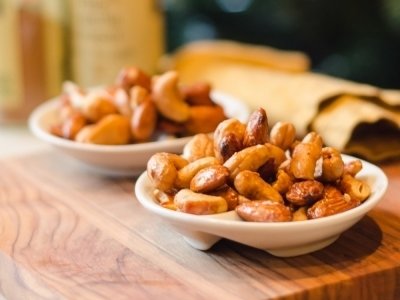 When they say good things come in small packages, they could be talking about some of the best types of nuts. These tiny nutritional powerhouses are packed with heart-healthy fats, minerals and vitamins, and while they are completely healthy by themselves, it is important to limit yourself to a small daily dose. Eating nuts in moderation is great for your health, but it is important to remember that nuts are high in fat and calories. Therefore, eating even some of the best types of nuts without limitations or with sugary and salty toppings can be detrimental to your diet.
If you are searching for a power nut that can keep you satiated and improve your health, look no further. Almonds are the best types of nuts to snack on throughout the day since they prevent you from binging on unhealthy foods as they keep you full and satisfied. They are also good for your heart because they are high in vitamin E, folic acid, fiber, magnesium, protein, potassium and calcium. However, make sure to introduce this type of nut into your diet in a raw version instead of coated with sugar and salt.
To everyone's surprise pistachios contain only about 3 calories apiece and are low in fat! They are a great source of fiber, vitamin B6, protein, potassium and thiamin. Plus, research has shown that including a dose of pistachios in your diet can help you reduce the risk of lung cancer. Therefore, you can keep on munching without any feelings of guilt or regret!
One of my personal favorites are peanuts. Not only do they taste heavenly but they also contain more protein than other nuts and can therefore keep you full until dinner. Several studies have shown a relationship between peanut consumption and a decrease in risk of cardiovascular disease and cancer, due to their high content of antioxidants, which protect your cells from damage.
These crunchy, buttery and richly flavored nuts are very high in monounsaturated fat content, which is beneficial for the heart. Consumption of macadamia nuts can aid you in reducing risk of LDL cholesterol levels that often clog the arteries. While macadamia nuts are high in fat, they are a great source of protein, fiber, countless vitamins and minerals.
Hazelnut is just an all around healthy nut that is high in monounsaturated fats and vitamin E. The introduction of this nut into your healthy diet can help you improve your cardiovascular health and type 2 diabetes. In addition, it can aid in fighting off cataracts, skin damage and dementia!
There is no way to hide the fact that pine nuts are very high in calories and fat. However, they are a great source of vitamin K, protein, fiber, thiamin and niacin. As long as your consumption of this type of nut is limited, there is very low chance of damage. Everything in moderation should be your motto when it comes to changing your lifestyle to a healthier one.
While walnuts are great for cardiovascular health just like any other nut, they are also beneficial for those in need of a little boost in brainpower. Moreover, consumption of walnuts has shown to increase serotonin levels and therefore decrease stress levels. Due to its high level of omega-3 fatty acids, walnuts are great in fighting inflammation and it has been shown that they can help manage PMS symptoms.
If you have already done your research on how to improve your diet, you have probably learned that nuts are one of the top sources of protein and fiber. They have limitless amounts of health benefits and are sure to keep you full for hours upon hours. So what is you favorite type of nut?
Sources: thedailymeal.com
{{#comments_count}} Show Commnents ({{comments_count}}) {{/comments_count}}