You can never have too many burrito recipes because burritos are super delicious and super easy to make. Essentially, a burrito is just a tortilla wrapped around the fillings, so you can pretty much put anything into one that you want. Try out these burrito recipes and you'll be well on your way to mixing and matching your own yummy creations in no time.
Table of contents:
1

Puerto Nuevo Lobster Burritos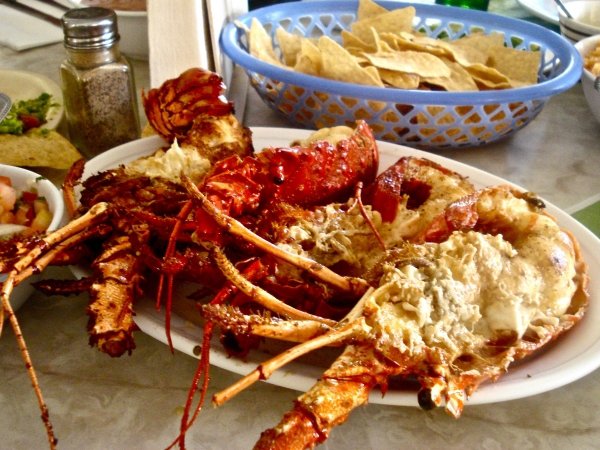 This is going to become one of your favorite burrito recipes. The addition of lobster gives it a unique flavor you won't find anywhere else. This burrito is also fast and easy so you can't go wrong.
Ingredients:
4 raw lobster tails, frozen and thawed, or 1 pound raw lobster meat
1/4 cup vegetable oil
8 tablespoons (1 stick) unsalted butter
3 tablespoons garlic salt
Freshly ground black pepper
6 flour tortillas, warmed
1 (15.5-ounce) can refried beans, preferably organic, warmed over low heat
1 cup Arroz Rojo
Red salsa, for serving, optional
Directions:
Cut the lobster shells and remove the meat. Heat the vegetable oil in a large skillet over medium-high heat and add the butter and melt. Season the lobster with garlic salt and pepper then fry in the oil until golden brown. Remove from the pan and cover with foil. On each tortilla, place beans, rice and lobster, then fold in the sides and roll. Serve with salsa.
Source: foodnetwork.com
2

Chili Potato Burritos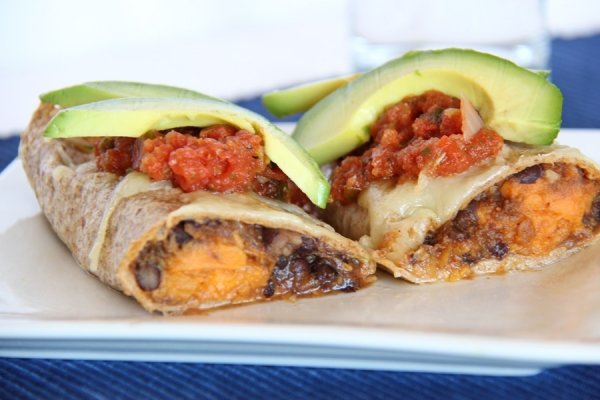 I love potatoes, so any excuse to use them is a winner in my recipe book. The combination of potatoes with chili is really tasty and gives you a fun variation on the same old beef and bean burrito you're probably used to.
Ingredients:
4 potatoes, peeled and chopped
1 cup shredded Colby Jack cheese
2 teaspoons chili powder
1 teaspoon ground cumin
1 clove garlic, minced
Salt and pepper, to taste
8 6-inch flour tortillas
½ cup red enchilada sauce
Directions:
Boil the potatoes in a large pot of salted water until tender. Drain the potatoes, cool them and mash. Preheat the oven to 375 degrees. Combine the potatoes with ¾ cup of the cheese, chili powder, cumin, garlic, salt and pepper and spread evenly among the tortillas. Roll the burritos and place in a baking dish. Cover the burritos with the enchilada sauce and sprinkle with cheese. Bake for about 15 minutes or until the cheese bubbles.
Source: allrecipes.com
3

Pinto Bean Burritos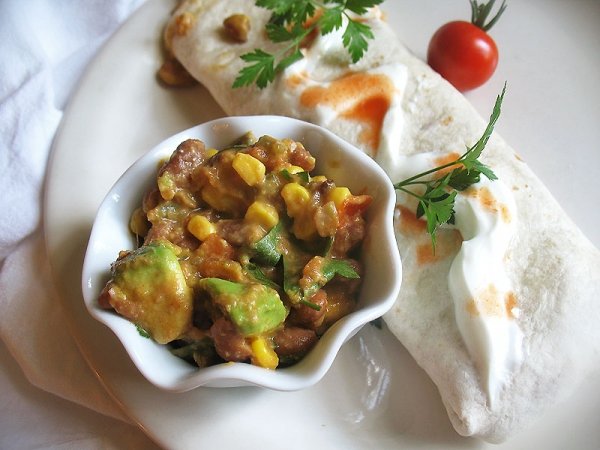 This is a great recipe if you don't eat meat or want something a bit healthier. The beans are loaded with fiber and tons of flavor so you get something nutritious that still tastes good. Plus, these burritos have vegetables inside, which makes them filling and chock full of vitamins and minerals.
Ingredients:
2 teaspoons vegetable oil
2 cloves garlic, finely chopped
1/4 teaspoon ground cumin
3/4 cup water
1/2 cup quick-cooking brown rice
2 cans (14 1/2 ounces each) no-salt-added pinto beans, rinsed and drained
3 tablespoons orange juice
Salt
Pepper
2 green onions, thinly sliced
4 (12-inch) burrito-size whole wheat flour tortillas
1 heart romaine lettuce, chopped
1/4 cup salsa verde
2 avocados, pitted and peeled
2 tablespoons fresh lime juice
Directions:
Heat the oil in a medium skillet and cook the garlic and cumin for about 2 minutes. Stir in water and rice and cook according to package directions. Once the rice is cooked, add the beans, orange juice and a ¼ teaspoon each salt and pepper. Cook for 5 minutes or until hot, stirring now and then. Turn off the heat and stir in the green onions. Mash the avocados with the lime juice and spread evenly among the tortillas. Top with the bean mixture and lettuce and roll.
Source: delish.com
4

Burrito Grande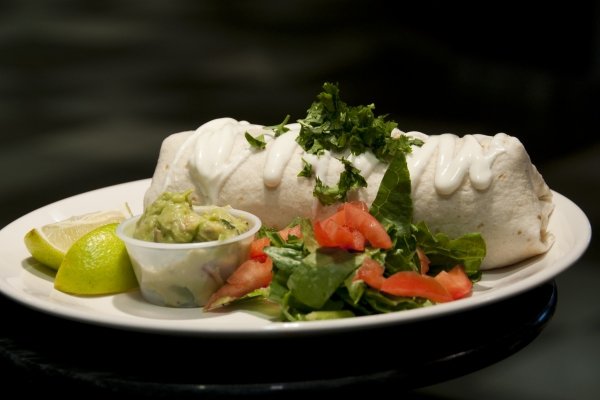 If you're hungry, this is the burrito that's sure to please. Not only is large, but it's stuffed with tons of ingredients that will fill you up in no time. It might be so big you have to save some for later.
Ingredients:
½ pound bulk chorizo sausage or ground beef
1 15-ounce can spicy chili beans
1 teaspoon ground cumin
4 10-inch flour tortillas
2 ½ cups shredded cheese
1 cup mild taco sauce
¾ cup sour cream
Shredded lettuce, optional
Directions:
Preheat the oven to 375 degrees. Coat a baking dish with cooking spray. Cook the sausage over medium high heat until brown, then drain. Mix with the beans and cumin. Spread the sausage mixture in the tortillas and sprinkle with 1 ½ cups of cheese. Roll the burritos, cover with the taco sauce and the remaining cheese. Bake 15 to 20 minutes.
Source: bettycrocker.com
5

Easy Avocado Burrito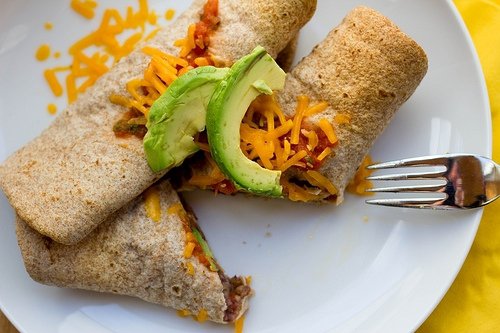 Avocados are full of healthy fats, which makes them a great addition to your well balanced diet. They taste pretty darn good on their own, but a burrito stuffed with avocado takes things to an entirely new and completely delicious level.
Ingredients:
6 to 10 whole wheat tortillas
3 to 4 tomatoes
3 avocados
¼ cup salsa
½ cup Monterey Jack cheese
Directions:
Dice the avocados and tomatoes. Mix with the salsa. Heat the tortillas and sprinkle with cheese. Spread with the tomato mixture, roll and serve.
Source: mexican.food.com
6

Shredded Chicken Burritos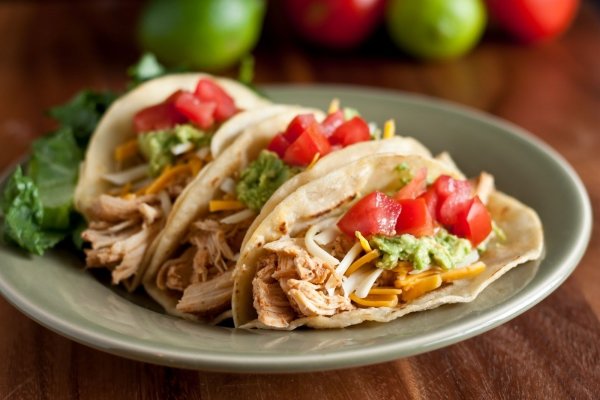 Chicken in a burrito is delicious. If you've never tried it, sample this recipe and you'll be convert in no time.
Ingredients:
5 pounds whole chicken, thawed if frozen
1 package taco seasoning mix
2 cans (14.5 ounce size) stewed tomatoes
1 cup chopped onions
1 cup chopped green bell peppers
2 tablespoons cornstarch
1 package large flour tortillas
1 package shredded Mexican cheese
Directions:
In a slow cooker, combine the onions, peppers and tomatoes. Add half the taco seasoning and top with the chicken. Sprinkle in the remaining taco seasoning and cook on low for 8 to 9 hours. Remove the meat and vegetables from the slow cooker and cool. Remove the bones and skin from the chicken and mix with the vegetables. Place the cooking liquid in a saucepan with cornstarch and thicken. Preheat the oven to 350 degrees. Add 1 cup of the cooking liquid mixture to the chicken mixture and stir. Fill the tortillas with the chicken mixture, roll and top with additional sauce. Sprinkle with cheese and bake until cheese is bubbly.
Source: cdkitchen.com
7

Scrambled Egg Burritos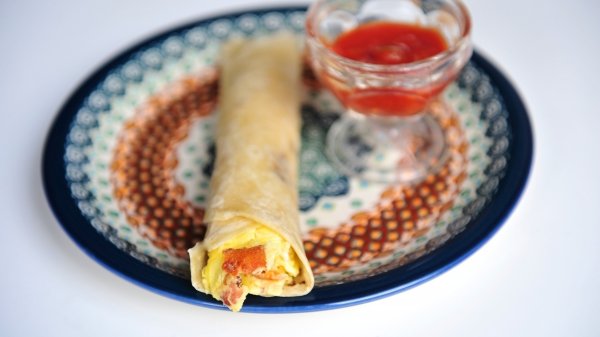 Otherwise known as breakfast burritos, this one is perfect for a morning meal, but you can also eat it any other time that hunger strikes.
Ingredients:
4 9-inch whole-wheat flour tortillas
4 large eggs
1/8 teaspoon salt
Freshly ground pepper, to taste
1 teaspoon extra-virgin olive oil
1 4-ounce can chopped green chiles
1/2 cup grated Cheddar, or Pepper Jack cheese
2 cups black bean and tomato salsa
1/4 cup reduced-fat sour cream
Directions:
Preheat the oven to 350 degrees and warm the tortillas, wrapped in foil, for about 5 to 10 minutes. Whisk the eggs with the salt and pepper until well combined. Heat a skillet over medium-low heat and cook the chiles in the oil for 1 minute. Add the eggs and cook for 1 ½ to 2 ½ minutes. Spread the eggs evenly among the tortillas, top with cheese, roll and garnish with salsa and sour cream to serve.
Source: mobile.eatingwell.com
Have I inspired you to make burritos for dinner tonight? Which recipe will you try first?
Please rate this article