Cauliflower recipes are probably not something you seek out often, right? Me either. Well, it turns out that we should all be seeking them out more often. Not only is cauliflower full of vitamins and minerals, but it tastes great too! You can find cauliflower year round for a very affordable price. Check out these great cauliflower recipes and you'll see just what I mean.
---
1

Baked Whole Cauliflower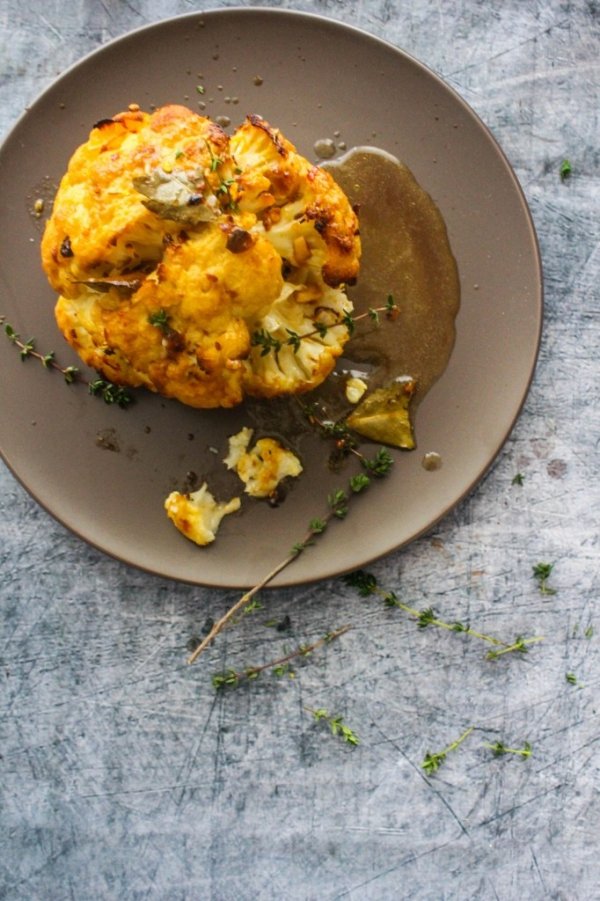 What could be easier than tossing a whole head of cauliflower into the oven and letting it cook? Nothing! This is one of the most delicious cauliflower recipes you'll ever find and you'll find yourself making it again and again.
Ingredients:
1 head cauliflower
½ cup seasoned breadcrumbs
2 tablespoons Parmesan cheese, grated
¼ cup margarine, melted
1/8 teaspoon garlic powder
1/8 teaspoon salt
Pinch hot red pepper flakes
Pinch dried oregano
Directions:
Clean and trim the cauliflower. Put the cauliflower in a steamer basket over 1 inch of water. Cover and boil over medium heat and cook for about 20 minutes. Preheat the oven to 375 degrees. Combine the breadcrumbs, Parmesan and melted margarine in a small bowl. Add the spices and mix again. Coat the cauliflower with the herb mixture and bake for 10 to 15 minutes.
Source: allrecipes.com
---
2

Grilled Chipotle Lime Cauliflower Steaks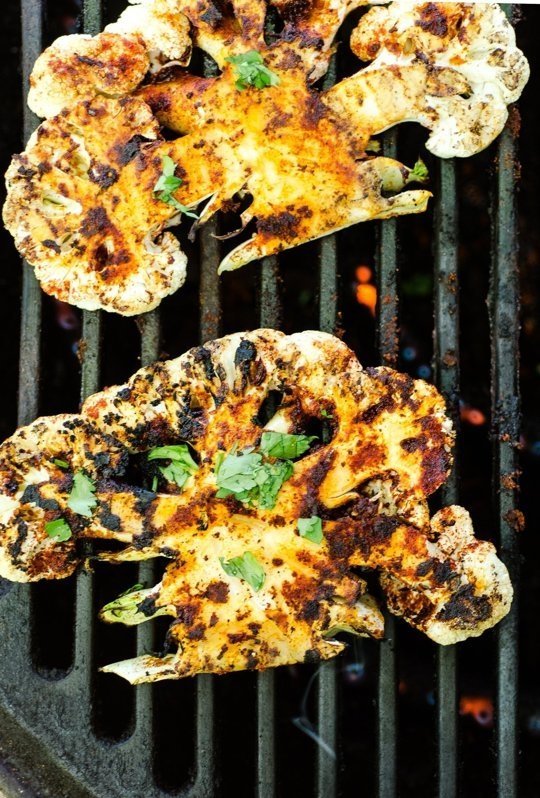 Even if you aren't a vegetarian, you'll love this riff on the classic grilled steak. It's hearty and delicious and if you can't do without your meat, it makes a yummy side dish.
Ingredients:
2 heads cauliflower
¼ cup oil
2 zested and juiced limes
2 finely grated garlic cloves
1 teaspoon honey
2 tablespoons paprika
1 tablespoon chipotle powder
1 teaspoon salt
¼ cup cilantro leaves, finely chopped
Lime wedges
Directions:
Trim the cauliflower stem so it stands up. Remove the leaves. Slice the cauliflower into "steaks" about 3 to 4 inches thick. Combine the oil and lime juice, then whisk in the garlic and honey. In another small bowl, combine the lime zest, paprika, chipotle and salt. Heat your grill to high. Brush the cauliflower with the oil mixture and sprinkle with the salt mixture. Grill for about 5 minutes per side. Serve sprinkled with cilantro and with the lime wedges.
Source: thekitchn.com
---
3

Oven Roasted Cauliflower with Crunchy Topping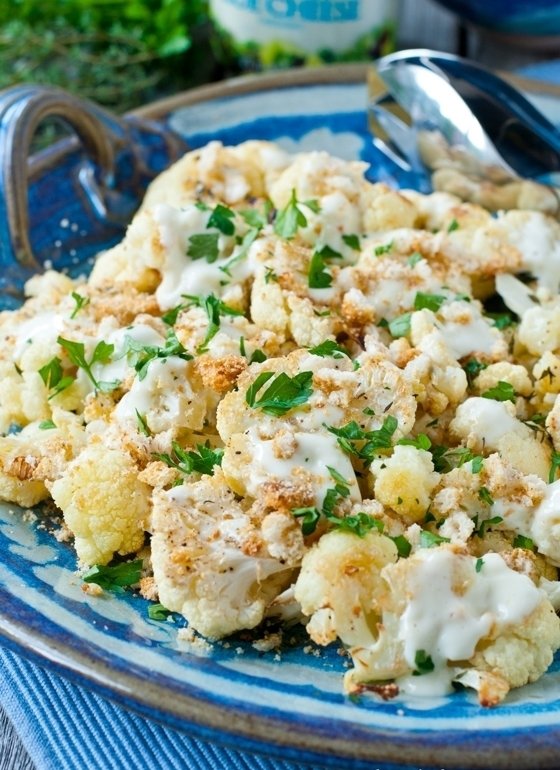 Cauliflower has a pretty mild flavor so it goes really well with a variety of ingredients. You're going to love how this tasty combination just explodes in your mouth.
Ingredients:
½ cup blue cheese dressing
1 cup croutons
1 tablespoon softened unsalted butter
1 head cauliflower
2 tablespoons oil
½ teaspoon salt
½ teaspoon chopped fresh thyme
¼ teaspoon pepper
2 tablespoons chopped fresh parsley
Directions:
Preheat the oven to 400 degrees and butter a baking sheet. Cut the cauliflower in half then into ½ inch slices. Toss together with the oil, salt, thyme and pepper in a large bowl. Place the cauliflower on the baking sheet and roast for about 15 minutes. Flip and roast an additional 5 minutes, or until golden brown. Place the cauliflower in a bowl top with the blue cheese, croutons and parsley, then serve.
Source: afamilyfeast.com
---
4

Sesame Glazed Cauliflower Wings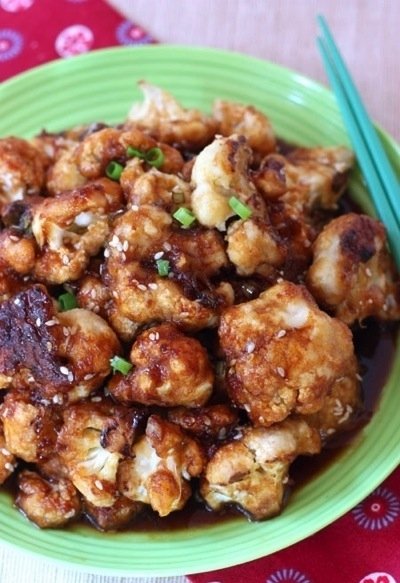 I love buffalo wings, but I know they aren't that healthy. If you're having a craving, but don't want to wreck your healthy eating goals, this recipe makes a great alternative.
Ingredients:
½ cup soy sauce
¼ cup honey
½ tablespoon fresh ginger, grated
1 tablespoon sesame oil
¼ cup rice vinegar
1 or 2 scallions, sliced
1 tablespoon sesame seeds
1 head cauliflower
½ cup flour
½ cup milk
½ teaspoon garlic powder
Directions:
Combine the first 7 ingredients to make the sauce. Preheat the oven to 450 degrees and coat a baking dish with cooking spray. Cut the cauliflower into florets. Combine the flour, milk and garlic powder in a bowl. Coat the cauliflower with the flour batter and bake for 15 to 20 minutes. Toss with the sauce and bake an additional 5 minutes. Flip and bake for 5 more minutes.
Source: cupcakesandkalechips.com
---
5

Pea and Cauliflower Salad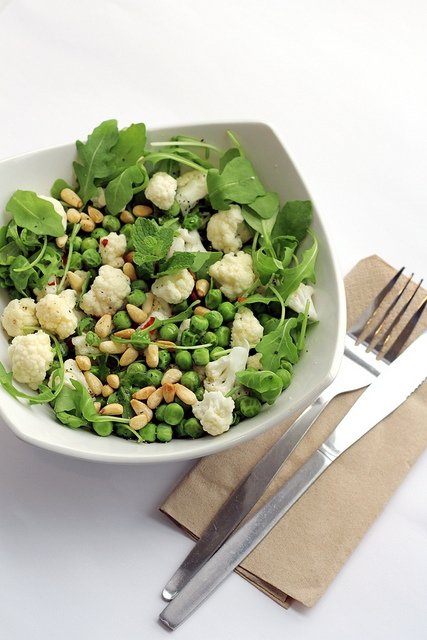 I love the simplicity of this recipe. Not only is it easy to put together, but it tastes wonderful too. It makes a great choice for a backyard barbecue or a picnic.
Ingredients:
3 cups thawed frozen peas
1 chopped head of cauliflower
½ cup pitted and chopped green olives
1 cup celery, thinly sliced
¼ cup ranch dressing
1 cup nonfat plain yogurt
½ teaspoon garlic powder
1 cup cashews
Directions:
Combine the peas, cauliflower, olives and celery in a large bowl. In another bowl, combine the ranch, yogurt and garlic powder. Toss the cauliflower with the ranch dressing mixture until coated. Top with the cashews and serve.
Source: allrecipes.com
---
6

Bacon Cheddar Cauliflower Fritters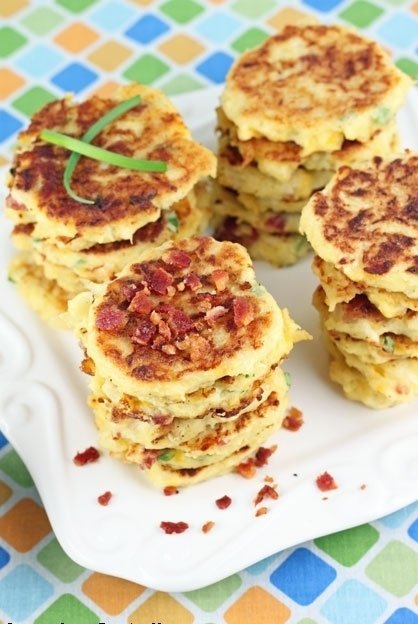 Everything is better with bacon! Am I right? This recipe is no exception. You're going to love these fritters anytime of the day or night.
Ingredients:
1 head cauliflower
5 slices cooked and crumbled bacon
3 diced scallions
1 cup plus ¼ cup sharp cheddar cheese, shredded
1 diced jalapeno pepper
¾ cup plus 2 tablespoons flour
½ teaspoon baking powder
2 large eggs
Salt and pepper
Vegetable oil
Sour cream and chopped chives
Directions:
Steam the cauliflower, cool it then mash it with a fork. Strain for 10 to 15 minutes. In a small bowl, combine the eggs, bacon, scallions, jalapeno, 2 tablespoons flour and salt and pepper to taste. Put the cauliflower into a large bowl and toss with the egg mixture. Add the cheese, the rest of the flour and baking powder. Season with salt and pepper. Heat oil over medium heat and place large spoonfuls of the cauliflower mixture into the oil. Flatten with a fork and cook until golden brown on both sides, flipping once. Serve with sour cream and chopped chives.
7

Cauliflower Carrot Herb Mash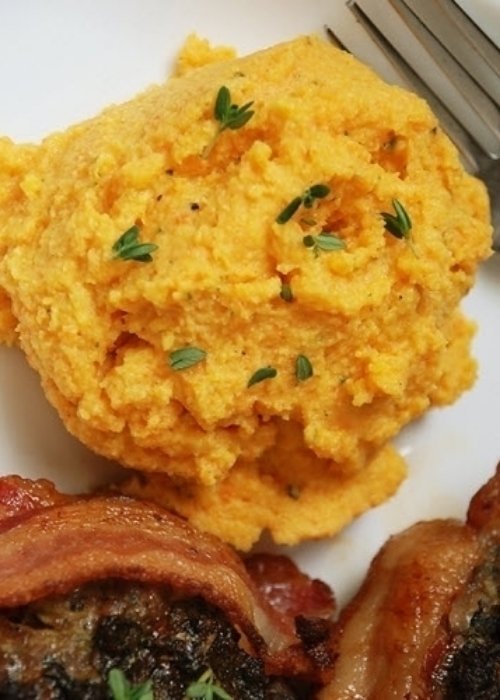 Adding carrots to this recipe gives it a lovely color and a flavor that simply can't be beat. Serve this with roasted chicken or turkey.
Ingredients:
1 head of cauliflower, cut into florets
3 to 4 peeled and chopped carrots
1 chopped onion
2 minced garlic cloves
1 tablespoon minced fresh rosemary
1 tablespoon minced fresh thyme
2 tablespoons olive oil
Salt and pepper
Directions:
Steam the cauliflower and carrots, seasoned with salt and pepper, until soft. Heat a tablespoon of oil over medium heat. Saute the onion, garlic and herbs for several minutes. Season with salt and pepper and set aside. Place the cauliflower, carrots and onion mixture into a food processor. Add a tablespoon of oil and process until smooth. Serve.
Source: multiplydelicious.com
Do you eat cauliflower? You're missing out if you don't. Which recipe will you try first?
---
Comments
Popular
Related
Recent