7 Chicken Wing Recipes for Your Next Party ...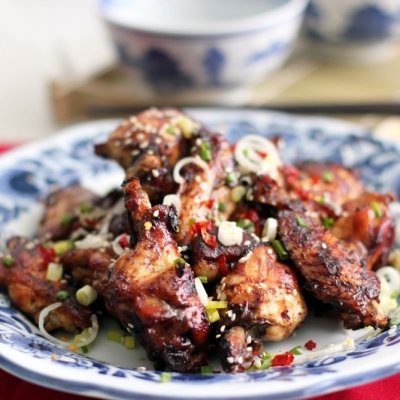 It's important to have a bunch of chicken wing recipes in your repertoire, so you're not always making the same exact dish. Any piece of chicken can taste entirely different when it's coated with a new sauce. That's why you should try following some of the yummiest chicken wing recipes that are perfect for serving at parties:
1.

Honey-Garlic Chicken Wings
If you're going to try out any new chicken wing recipes, you should start with this one. All of you garlic lovers won't be able to get enough of it.
Ingredients:
2 1/2 pounds chicken wings, trimmed and separated
1/3 cup soy sauce
3 -5 Tbsp mild honey, to taste
3/4 cup water
4 large garlic cloves
2 tsp. fresh or dried ginger
Instructions:
Put wings in baking pan and cook in the oven at 350F until crisp. Mix soy sauce, honey, water, garlic, and ginger together in a small bowl and pour over hot wings. Cook until wings are well coated with the sauce.
Source: foodnetwork.com
2.

Caribbean Jerk Chicken Wings
Have you ever had chicken wings with pineapple, ginger, and soy sauce? Well, you will once you make these delicious wings. The ingredients may sound odd, but there's a reason that they're included.
Ingredients:
2 cups store bought mustard-based BBQ sauce (recommended: Cattleman's Gold Sauce)
2 tablespoons soy sauce
1 (6-ounce) can crushed pineapple
Salt and pepper
1/3 cup brown sugar
1 teaspoon ground ginger
Store bought jerk seasoning
18 chicken wings
Instructions:
Preheat grill to medium-high. Combine all ingredients together in a saucepan over medium heat. Cook until heated through. Rub jerk seasoning onto chicken wings. Grill for 10 to 12 minutes. Brush generously with the newly made sauce and serve.
Source: foodnetwork.com
You don't have to make something foreign in order for it to be impressive. If you want to stick to the basics, make these buffalo chicken wings that no one will be able to turn down.
Ingredients:
1/2 cup all-purpose flour
1/4 teaspoon paprika
1/4 teaspoon cayenne pepper
1/4 teaspoon salt
10 chicken wings
Oil for deep frying
1/4 cup butter
1/4 cup hot sauce
1 dash ground black pepper
1 dash garlic powder
Instructions:
Mix together the flour, paprika, cayenne pepper, and salt. Place chicken wings in a large nonporous glass dish and sprinkle flour mixture over them. Refrigerate for 60 to 90 minutes. Heat oil in a deep fryer to 375 F. Combine the butter, hot sauce, pepper, and garlic powder in a small saucepan over low heat. Stir together and heat until butter is melted and mixture is well blended. Remove from heat and reserve for serving. Fry coated wings in hot oil for 10 to 15 minutes. Remove from heat, place wings in serving bowl, add hot sauce mixture, and stir together. Serve.
Source: allrecipes.com
4.

Chicken Wings with Spicy Peanut Sauce
Here's something new for your taste buds. The peanut sauce will give your wings a whole new flavor, but the spiciness you love will still remain.
Ingredients:
2 finely grated garlic cloves
½ cup smooth peanut butter
¼ cup fresh lemon juice
2 teaspoons Aleppo pepper or ½ crushed red pepper flakes, plus more
2 teaspoons ground cumin
Kosher salt
2 pounds chicken wings (flats and drumettes separated)
Chopped fresh flat-leaf parsley leaves
Cucumber spears and lemon wedges (for serving)
Instructions:
Whisk together grated garlic cloves, peanut butter, lemon juice, Aleppo pepper, ground cumin, and warm water. Season with salt. Toss chicken wings with 1/2 cup sauce. Chill for 2–12 hours. Broil chicken for 20–25 minutes. Serve wings with remaining sauce, topped with chopped parsley and Aleppo pepper or crushed red pepper flakes, accompanied by cucumber spears and lemon wedges.
Source: bonappetit.com
5.

Sticky Honey-Soy Chicken
These taste just as delicious as they look. It'll be impossible for your friends to walk past a table full of these wings without stopping for a bite.
Ingredients:
2 pounds chicken wings
1 cup low sodium soy sauce,
1 tablespoon grated fresh ginger
2 tablespoons chopped fresh cilantro leaves
2 cloves garlic, minced
1/2 lemon, juiced
Kosher salt and freshly ground black pepper
2 tablespoons extra-virgin olive oil
2 tablespoons butter
1/2 cup honey
Sesame seeds, for garnish
Instructions:
Place wings in a shallow dish and pour over the soy sauce, ginger, cilantro, garlic, and lemon juice. Toss well to coat. Marinate and refrigerate for 2 hours. Remove wings from marinade and pat dry. Season with salt and pepper. In a large saute pan over medium-high heat, melt the butter in the olive oil. Add the honey and chicken wings and fry for about 5 minutes. Continue cooking the wings, turning them over often to coat them as the glaze reduces. Cook until the wings are sticky and cooked through. Garnish with sesame seeds and serve.
Source: cookingchanneltv.com
6.

Sweet and Spicy Chicken Wings
You probably already know if you're a fan of sweet and spicy food. If you are, then what's stopping you from sticking these in your oven?
Ingredients:
15 chicken wings - rinse in cold water and pat dry
1 tbsp olive oil
4 cloves of garlic - minced
1/4 cup lemon juice
1 tbsp Worcestershire sauce
3 tbsp tomato paste
2 tsp Tabasco sauce
1/4 tsp to 1/2 tsp of Season with Spice's Smoked Serrano Chili Powder
2 tbsp honey
Sea salt
Drizzles of honey for glaze
Instructions:
Mix together all ingredients except for the sea salt and honey. Season the chicken wings with salt before coating well in the newly made marinade. Cover, refrigerate for at least an hour. Preheat oven to 425F. Place chicken wings on baking pan. Drizzle a bit more honey over each wing for a nice light glaze. Bake for 20 minutes, then flip the chicken wings over and brush them with the remaining marinade. Bake for another 15 minutes.
Source: blog.seasonwithspice.com
7.

Coca-Cola Chicken Wings
Don't let the name scare you away. It sounds strange, but the taste makes up for it. Go ahead and give it a try.
Ingredients:
2 pounds chicken wings, wings and drummettes separated
1/4 cup soy sauce
2 tablespoons canola oil
2 tablespoons dry sherry or Chinese rice wine
3/4 cup Coca-Cola (not diet or anything flavored!)
2 scallions, chopped
A few pinches of freshly ground black pepper
Instructions:
Put the chicken wings in a large bowl and pour half of the soy sauce on top. Turn the wings so they are well-coated and allow them to marinate for 10 to 15 minutes. Heat a wok or large deep skillet over medium-high heat. Sear the chicken wings for 3 minutes on each side. Pour in the other half of the soy sauce, the sherry, and the Coke and bring the liquid to a simmer. Simmer the wings uncovered for 15 to 20 minutes. Season the chicken with black pepper. Transfer the chicken to a plate, garnish with scallions, and serve.
Source: appetiteforchina.com
There are so many different flavors of chicken wings that it's impossible to try them all. What's your favorite type of chicken wing?
{{#comments_count}} Show Commnents ({{comments_count}}) {{/comments_count}}