7 Cookbooks You're Sure to Use All the Time ...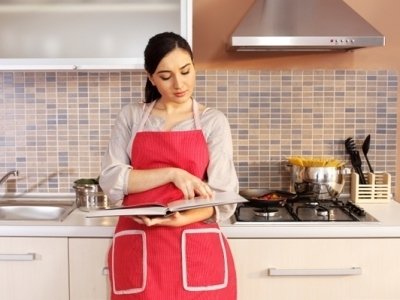 Of course, we all have different criteria when it comes to cookbooks you'll use all the time. This list is by no means complete, so feel free to add to it as you see fit. However, one of the best criteria for choosing a cookbook is how often you'll put it to use. There's no sense in having a bunch of them clogging your shelves that you only pull out for one or two recipes. Instead, fill your space with cookbooks you'll use all the time. For those others, rely on the internet. That's what I do!
1.

America's Test Kitchen Best Simple Recipes
For me, the name says it all. It combines tested recipes with simplicity for meals you'll love and pages you'll turn to again and again. This tops my list of cookbooks you'll use all the time for those reasons. There are tons of recipes you can throw together on a busy night with ingredients you can find and afford. The only problem will be deciding which one to try first.
2.

The Best 30-Minute Recipe
Again, the name means it's sure to be a well-loved tome on your shelf. This cookbook is simply loaded with fast and easy meals you can cook to impress anyone. Your family is sure to love the wide variety of choices and ethnicities contained in this little gem. You won't be able to get enough of how easy these recipes are to carry out. That's a promise!
3.

The Whole Chicken Cookbook
Let's be honest. Chicken is a standby ingredient that we fall back on all the time. It's easy to prepare and affordable, right? But that doesn't mean we don't get bored eating it. I know that a grilled chicken breast tends to lose its novelty after a couple nights on the menu. This book will save dinnertime by giving you hundreds of new and delicious ways to cook the lowly piece of chicken. You'll have a new outlook on it right away!
The cooking experts at Better Homes and Gardens publish this book so you know it's got to be a good one. And who could turn down dinner in one pot? Talk about easy clean up! There are tons of great recipes in here that come together quickly, but won't dirty every dish in the house. Try one every night and you won't be bored at mealtime ever again!
This cookbook ranks #1 by Cooking.com. That says a lot about how often you'll pull it off the shelf. All the time, right? Not only does this cookbook pull together a yummy selection of quick and easy dishes, but it's full of meals that won't break the bank. Don't worry – they still taste great! This is the epic cookbook if you have to prepare meals on a strict budget. And even if you don't, I guarantee you'll still love it.
6.

Betty Crocker's Cooking Basics
Who else but Betty Crocker to create a book that will live on your kitchen countertops? Not only does it have some ultra tasty recipes you'll want to cook again and again, but this cookbook also offers up lots of easy to master tips for the budding chef in all of us. It's definitely a must-have addition to your cookbook collection.
7.

Baking: from My Home to Yours
If you don't bake, you probably won't get much out of this one, but I include it for the readers who absolutely love to bake. The author of the cookbook worked with Julia Child so you know her tips, techniques and recipes are epic. The detailed instructions can turn anyone into a master baker in no time. Not only that, but all your hard work will pay off with a treat that can't be beat.
This list doesn't even begin to cover all the great cookbooks out there. It does give you some great starters for your collection though. I know we all have different favorites. What are yours?
{{#comments_count}} Show Commnents ({{comments_count}}) {{/comments_count}}