7 Decadent Chocolate Companies to Buy from ...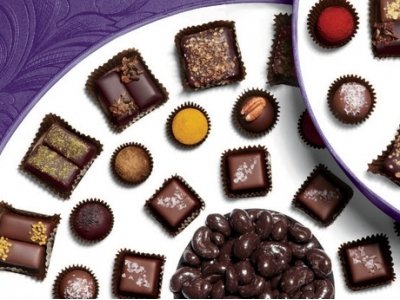 There are some really decadent chocolate companies out there whose products can be found in some of the larger supermarkets, surprisingly, as well as the smaller boutiques and gift stores. I don't know about you, but I am a bit of a chocoholic, always in search of a new chocolate company that is adding its own twist on the dark, milk and white varieties. Here's my list of some of the world's decadent chocolate companies to buy from; some have been around for a while, but others are relatively new.
This is definitely considered an haute-couture line in the world of decadent chocolate companies. It was born in 1955 from one French man's passion for chocolate, namely Robert Linxe. He began his craft in his wine-cellar which he converted into a chocolate workshop, and later opened his first store in Paris in 1977. This chocolate house opened during a time when it was risky to devote a business entirely to chocolate, as it was something typically reserved for Easter and Christmas time. La Maison du Chocolat has steadily done really well with various stores and concessions around the world, in cities like London, Tokyo, New York, Dubai and Hong Kong. It is famous for its variety of ganache chocolates as well as its pastries (ganache-filled macarons, eclairs and tarts/cakes).
Neuhaus is a recognizable international Belgium chocolate house that dates back to 1857. Jean Neuhaus opened a pharmacy at that time, and decided to make his medicines more palatable by coating them in chocolate! In 1912, he replaced the medicines with fresh cream and invented the 'praline' as we all know it today. Jean's wife designed the elegant gift boxes to display the chocolates and these are still used today (known as ballotins). Currently, Neuhaus is considered a market leader in chocolate in Belgium and they still manufacture there, despite having thousands of stores worldwide. They are also the main suppliers to the Belgium Royal Court. If that doesn't say something about their quality, I don't know what does!
This is a British Chocolatier founded in 1875 as a partnership between Mrs. Walker and Mme. Charbonnel (from the Maison Boissier chocolate house in Paris). The original shop started up in Mayfair, London, but today, their main store is housed in the elegant location of the Royal Arcade on Old Bond Street. They too have been endorsed by the Royal Warrant and are chocolate manufacturers to Her Majesty the Queen. If you haven't ever tried this chocolate house's handmade English rose and violet creams, you have to! This is what I remember them for and they bring back childhood memories for me. Aside from the rose and violet creams, this Chocolatier is famous for their dark chocolates and beautiful boxes that are wrapped with satin ribbons.
Vosges Haut-Chocolat's intriguing chocolate creations are made with the finest ingredients, sourced by founder and Chocolatier, Katrina Markoff. Three days after graduating from Vanderbilt University, Katrina moved to Paris to pursue her dream where she studied at Le Cordon Bleu. She then embarked on a world tour that began with an apprenticeship in Spain (under the direction of Ferran Adrià), and continued throughout Southeast Asia and Australia. The purple house of Vosges Haut-Chocolat and the concept of Travel the World through Chocolate™ were inspired by her journeys. This chocolate house is famous for its fusion of indigenous spices, flowers, roots, herbs and liqueurs with premium chocolate celebrating the world's diverse cultures. It is famous for using a lot of bacon, cheese and other savory elements with chocolate.
Based in San Francisco, its factory (which you can tour daily), and headquarters are at Pier 17, on the Embarcadero. TCHO was co-founded in 2005 by Timothy Childs and Karl Bittong. Today, its CEO and President are Louis Rossetto and Jane Metcalfe, respectively, co-founders of Wired magazine as well as the first magazine website, Wired.com. TCHO focuses on the flavors of cacao and chocolate, separating flavors by profile. As a result, it positions its chocolate in terms of the flavor profile, rather than by cacao percentage or the origin of the beans. Flavors are derived not only from genetics and terroir (similar to wine and coffee), but also from the way the cacao beans are fermented and dried. It is famous for its chocolate bars, not to mention cocoa nibs, drinking powders and other gifts. They even produce a private chocolate label for Starbucks!
Helen and Simon Pattinson (two lawyers who became self-taught Chocolatiers), founded Montezuma's in 2000 in Brighton, England, hand making their luxury chocolate bars, truffles and gifts with one little machine from one shop in Brighton. Since then, Montezuma's is now established as Britain's leading and most innovative family luxury chocolate maker. It is famous for truffles that have creamy centers and hard, snappy shells as well as their collection of bars (called libraries), of single origin chocolate or collections of chocolates made with chilli and fruits.
Founded in 2002 by Master Chef Michael Antonorsi and his brother Richard Antonorsi, Chuao Chocolatier is pioneering "fusion chocolate" through a commitment to creating unusual, unexpected and delicious flavors. Chuao has Venezuelan roots and they named their company after the legendary cacao-producing region of Chuao (pronounced chew-WOW), which is located in central Venezuela. It is famous for its unusual flavor combinations, including: Firecracker, a chipotle caramel fudge truffle with popping candy and Pan Con Chocolate, a dark chocolate bonbon filled with roasted Panko bread crumbs and olive oil ganache with a touch of sea salt.
If you haven't yet heard of any of these companies, definitely give them a try! These companies' selections and products are a little bit pricier than the average bar of Hershey's or Cadbury's chocolate, but the quality, texture and taste is far superior, in my opinion. Even if you simply sample one of their chocolates or purchase a gift for someone, I don't think you will be disappointed.
What are some decadent chocolate companies you buy from, and why?
Source:
lamaisonduchocolat.com, neuhaus.com, charbonneletwalker.com, vosgeschocolate.com, tcho.com
montezumas.co.uk, and chuaochocolatier.com.
{{#comments_count}} Show Commnents ({{comments_count}}) {{/comments_count}}