If eating first thing each day seems like a waste of time in your hectic schedule, then take a look at some of these great breakfast ideas for rushed mornings. I know that morning time can be stressful and time is precious when you're trying to get out the door. Yet, it is still no reason not to fuel your tank before you head out to your busy day. Breakfast sets your body up to work more efficiently and increases your metabolism. It also lowers your stress level if you know how to choose a healthy, yet quick meal on the go. Try these breakfasts ideas for rushed mornings and you'll never have to skip the most important meal of the day again.
---
1

Overnight Oats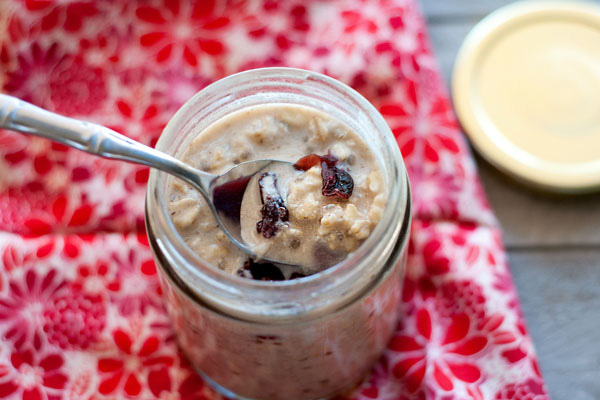 One of the most popular breakfast ideas for rushed mornings is overnight oats. There are literally hundreds of different recipes on the web using this early morning staple for convenience, nutrition and a delicious flavor. If you think cold cereal sounds gross, then you haven't tried this dish the right way. For a good base recipe, try this technique. The night before your work day, pour ½ cup whole grain rolled oats (not instant) in 1 cup unsweetened almond milk, soy milk, skim milk or coconut milk in a to-go container, like a thermos or coffee mug. Next, add in stevia or honey for sweetness, 2 tbsp. of chia seeds or flax seeds, 1 tbsp. almonds or walnuts, some cinnamon for blood sugar control and added sweetness, 6 ounces of unsweetened Greek yogurt and any berries you like. I like frozen raspberries and blueberries. You could also add in some cocoa powder for a chocolate flavor, or vanilla extract if you like. Let this mixture sit overnight in the fridge, covered. In the morning, the liquid has soaked up the oats and makes for a nice, thick pudding-like breakfast full of fiber, healthy fats and plenty of protein. It is a low GI meal as well, so it won't spike your blood sugar like a starchy bagel. If you're really short on time and can't eat this before you leave or in your car, then just throw it in your blender and drink it as a shake! You'll want to add more liquid if you choose this option though, since it does thicken overnight in the fridge. You can even make up to three of these ahead of time and keep them in the fridge for a few days.
2

Whole Grain Wafflewich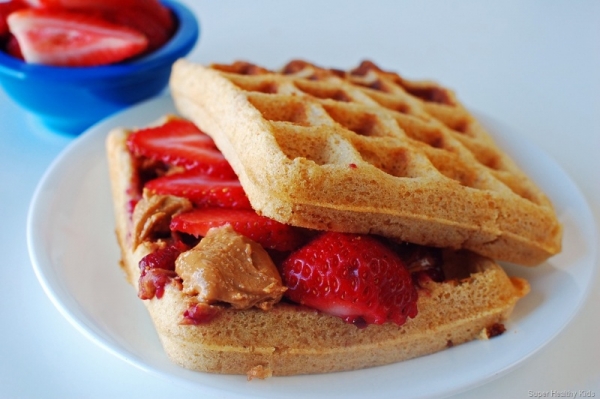 Another great option for a meal on the go is to take a whole grain waffle, like Kashi brand, and spread 2 tbsp. raw almond butter on top. Sprinkle with flaxseed and then spread 2 tbsp. nonfat Greek yogurt on top for a nice creamy filling with extra protein. Add any fresh berries if you want, or even a few raisins, and fold into a sandwich. This is a great option if you're stuck eating in your car, or just need something you can make for yourself and your kids at the same time. It also makes for a tasty breakfast on those mornings you just feel like being a kid again!
---
3

A Smoothie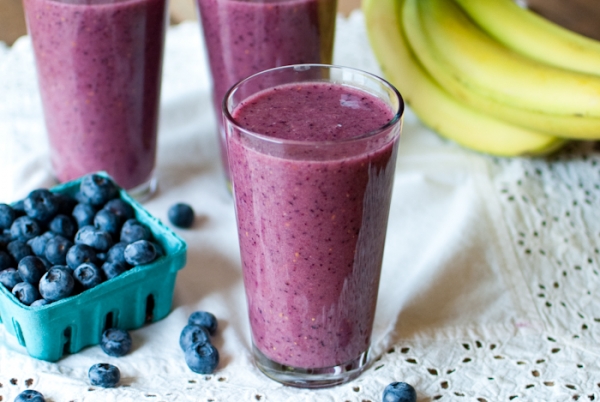 My go-to option for a breakfast on the go is a simple smoothie. Now, you can get fancy if you want to, or make it as simple as you want to. Here's what I have found to work best. In the morning, add a 6 ounce plain unsweetened Greek yogurt to your blender. Pour in ½ cup mixed frozen berries and add 1 scoop your choice protein powder. Throw in 2 cups spinach for a green smoothie option, or leave it out. Add 1 cup unsweetened almond milk. I also like to add flaxseeds or chia seeds for extra fiber, and a green powder like Amazing Grass cacao green powder for a superfood boost. This is my favorite recipe for maximum nutrition that takes under 5 minutes. You can even get ahead of the game and make these ahead of time and freeze them in weekly batches in mason jars for good storage. Defrost one in the fridge the night before and it's ready to go in the morning.
---
4

Egg Muffins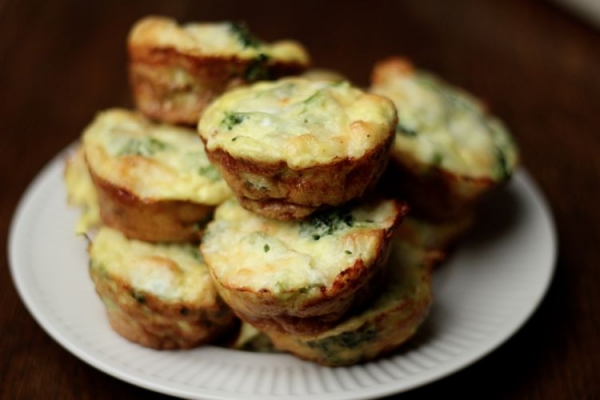 Alright, so maybe you're an egg kinda girl when it comes to breakfast but don't have time for a relaxing scramble session. No worries there! Simply bake your eggs into muffin cups for the week and throw some veggies into the mix for extra nutrition. I like to make a week's worth at a time by using 6 organic eggs and 6 egg whites. Mix this with 2 cups of your choice chopped veggies and bake on 350 for 30 minutes. I like red peppers, celery and mushrooms and sometimes chopped spinach. I also like to add some herbs and black pepper for extra flavor. This make 12 muffins and 2 is plenty to fill you up each morning. After these come out of the oven, let them cool, wrap them in foil and store in the fridge for the week. You can eat them cold, or heat them in the microwave for 20 seconds, but be sure to remove the foil first!
---
5

Pre-made Batch Protein Pancakes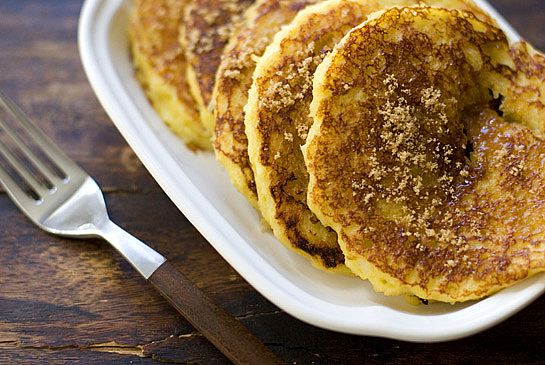 Another great protein rich option is to make a batch of protein pancakes on your day off and freeze them in individual baggies. You can let them defrost on the counter for 30 minutes to thaw, or you can let them defrost in the fridge overnight. If you like yours warm (I don't), then just nuke them in the microwave for 30 seconds first before you leave your house after they are defrosted. Feel free to spread them with some nut butter or Greek yogurt, add some berries and make a protein pancake sandwich for added nutrition as well. To make protein pancakes, add 6 scoops of protein powder, 4 tbsp. oats or coconut flour, 2 tsp. baking powder, 4 packs or drops of stevia, and a pinch of salt into a bowl, then mix. Next, heat a large pan on medium and added some coconut oil, butter, or nonstick spray to the pan. In your mixing bowl, add 2 eggs, 3/4 cups unsweetened almond milk, and stir to combine. Use an ice cream scoop or melon baller to ladle out pancake sized drops of batter into the pan. Only cook 2 at a time so you have plenty of space. You can also do this on a griddle. Here you can add any additional items you want, like coconut, cacao nibs, cinnamon and other spices, or even some flaxseeds and chia seeds if you want. Cook them for one minute on each side and then flip to let the other side cook. Place them on a glass plate to cool and repeat this process until your batter is used up. This makes 6 pancakes. When the pancakes cool, separate each one with a small piece of parchment paper in between each one, and put in a large freezer safe baggie in the freezer for handy storage. This process only takes a total of 10 minutes and I like to do this on weekends or other days I'm off for easy options.
---
6

Yogurt Cup with Oats, Fruit and Nuts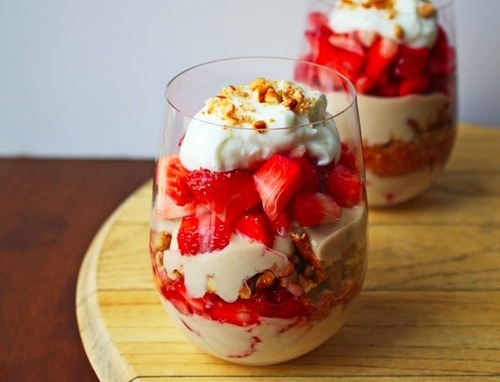 Another great healthy breakfast option is to empty a 6 ounce container of unsweetened yogurt, like Chobani plain Greek yogurt, into a to-go cup or coffee travel mug. Add in ½ cup whole grain oats, any fruit you want and a few unsalted raw nuts or 2 tbsp. raw nut butter, flaxseeds or chia seeds. Then just stir and go for a quick 2 minute parfait. You could also blend this with some almond milk for a smoother, easy to drink option. I would use 1 cup almond milk.
---
7

A Banana and Bar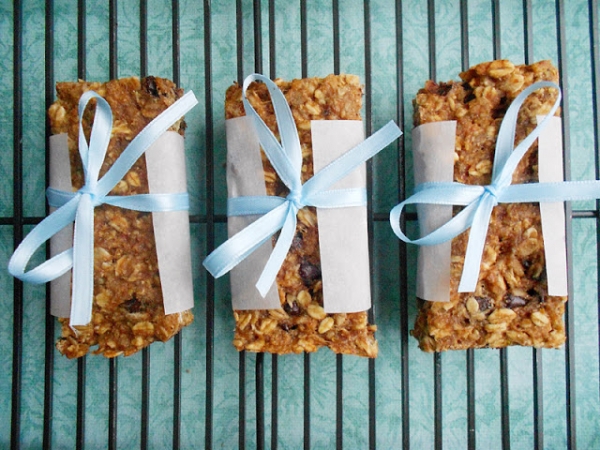 Maybe you don't have desire to fix anything in the morning. Okay, I get that. I've been there and here's a great option to try. Pick a low GI protein bar such as a Think Thin bar that has no sugar, or another brand with no added sugar. The Think Thin peanut butter, white chocolate, and Chocolate Expresso flavors are really good by the way, and this bar is also gluten-free. Add a banana and you've got a travel ready fruit, and plenty of protein to start your day with. If you're a vegan, or raw, opt for an Amazing Grass bar but leave out the banana since the Amazing grass bar already has natural fruits from dates.
Feel free to sub in cooked quinoa for the oats in some of these recipes, or use quinoa flakes, which work just like oats. If you're vegan and don't eat regular yogurt, just use a vegan soy option that is lower in sugar, like Whole Soy and Co. organic unsweetened yogurt, or try goat's yogurt by Redwood Hill Farms for lower lactose. There are tons of easy, quick breakfast ideas for rushed mornings out there, so there's no excuse to skip the morning meal! What are your favorite quick and healthy bites in the morning?
---
Comments
Popular
Related
Recent