If you're new to eating figs, or wary of trying them, I sure hope these delicious fig recipes will change your mind. Figs aren't only just for eating in the form of a Fig Newton girls! You can eat them fresh or dried, but either way, they are high in antioxidants, hormone-balancing properties, they can enhance weight loss, fight constipation, fight headaches, and they taste delicious! Figs are also alkaline, and slightly more beneficial than dates for this reason. Their natural sugars are high, but they are also low on the glycemic index due to their fiber and nutrient content. Figs are high in B vitamins, iron, folate, magnesium, zinc, manganese, copper and potassium. I love them after a workout since they enhance my energy and fight inflammation in the body. Try a few of these delicious fig recipes next time you have a sweet craving. I feel sure in no time you'll be including them regularly into your routine!
---
1

Lemon and Fig Cheesecake
This is one of the most delicious fig recipes I found, and one of the fanciest too! This would be great to make as a birthday cake for someone you know or if you're into raw food. I love raw food and find it so fascinating to make desserts with other things besides unhealthy flours and high fat oils or margarine spreads that lack nutrition. This cheesecake uses only raw, pure ingredients and it tastes great! To use less sugar in this recipe, you can try what I did and use 2 tsp. liquid stevia instead of the maple syrup.
Serves: 8-12
Ingredients:
Crust:
1 cup pecans
1 cup raisins
Cheesecake:
2 cups cashews
1/3 cup melted coconut oil
1 cup dried figs
Juice of one lemon
½ cup water as needed
¼ cup maple syrup, agave nectar, date paste or other sweetener
Topping:
Fresh sliced figs
To make the crust:
Process the pecans into a rough flour in your food processor
Add the raisins and process until everything begins to stick together.
Press into the bottom of a spring form pan.
To make the cheesecake:
Blend all the ingredients until smooth, adding the coconut oil last and make sure it combines completely. It should be very creamy.
Scoop this onto the crust and spread evenly.
Put it in the fridge, covered for 1-2 days so the flavors can develop.
Garnish with the fresh figs and enjoy with the ones you love!
2

Raw Chocolate Pudding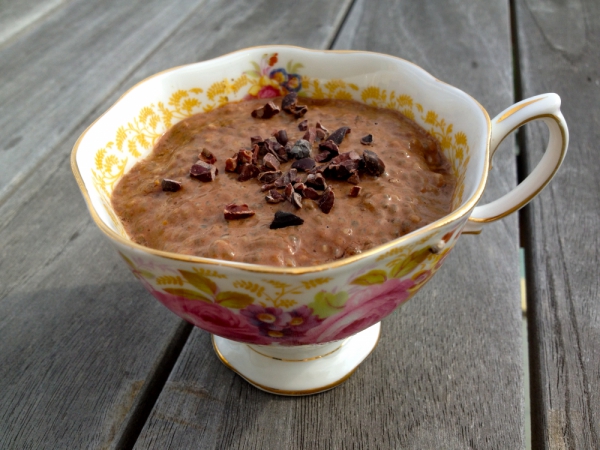 For all you chocolate lovers out there, yes you can eat pudding guilt-free! Pudding does not have to come from a box or be loaded with preservatives, unhealthy ingredients or added sugar. Take for instance this recipe that uses whole, raw foods to create a filling, high fiber pudding that is extremely rich and high in nutrients. It will satisfy your sweet tooth or when you get a killer chocolate craving! I make this once a week and never feel guilty eating every single bite throughout the week!
Serves: 3
Ingredients:
10 dried fig (stems removed cut in quarters)
1 tbsp. chia seeds
2 tbsps cocoa powder (unsweetened)
2 tbsps nut butter (such as raw almond, raw cashew or raw coconut)
1 tsp vanilla extract
1 cup water (filtered)
Directions:
Soak the figs an hour before making this so they soften up a bit, and use the 1 cup water to soak them with called for in the recipe. After soaking, don't discard the water. You'll use it in the steps below!
Add the figs, soaking water, and remaining ingredients to your food processor.
Process until a thick pudding is formed and scrape it into a bowl.
Set this in the fridge to set about 30 minutes, return and eat!
Note: You can also package this in three separate containers for individual servings, which is what I like to do. You can even freeze this into ice cube trays and add it to a blender to make a thick smoothie with.
---
3

Apricot Fig Bites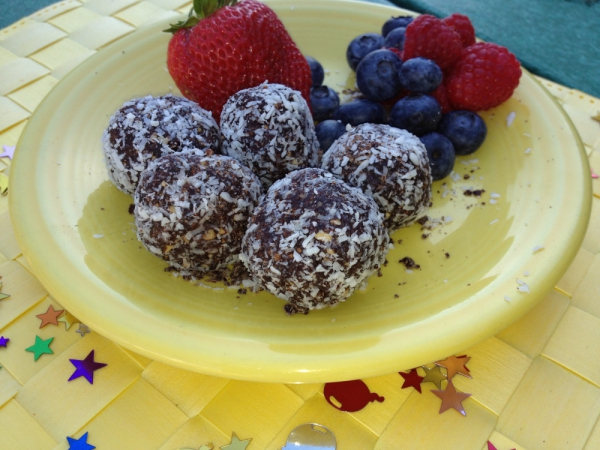 Serves: 12-14 balls
Ingredients:
6 ounces of dried apricot halves ( about 8-9)
7 ounces of dried Black Mission figs ( about 8-9)
1/3 cup pecan halves
½ cup dried coconut shreds ( unsweetened and unsulfured)
Directions:
Soak the apricots and figs in water first to soften for one hour. Discard the water after soaking and drain.
Add the fruit and remaining ingredients to the food processor and process until a thick dough is formed.
Scrape the dough and form into balls.
Roll in additional coconut shreds if desired.
Place in the fridge on a plate to set and firm up.
You can also freeze these for long term storage in a freezer-safe container or bag.
---
4

Kale Salad with Figs and Hemp Seeds in Avocado Dressing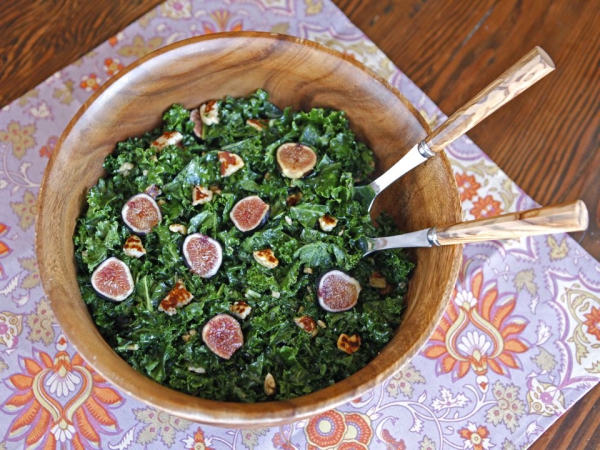 If you're not looking to eat something sweet to enjoy figs, try this super-healthy and filling kale salad, which only uses a few figs to add a slight sweet and highly nutritious touch. This recipe is very high in fiber, potassium, healthy Omega 3 fats, B vitamins and chlorophyll. It is extremely cleansing and is great to eat for a vegan raw lunch or dinner!
Serves 1:
Ingredients:
Kale:
1 head of kale
juice of 1/2 lemon
pinch of salt
1 tbs. raw olive oil
**Dressing:**1/2 avocado
3 tbs. raw olive oil
2 tbs. raw apple cider vinegar
juice of 1 lemon
Toppings:
6-8 dried turkish figs, stems removed
2 tbs. hemp seeds
1/2 cup raw pecans, chopped, or maple spiced pecans (optional)
pinch of black pepper
Directions:
Kale:
Rinse kale leaves and pat off water with dish towel or paper towel.
Remove stem from each leaf.
Cut leaves into small strips and place in a bowl.
Add lemon juice, salt, and olive oil to leaves and massage thoroughly with hands. (This will soften kale and reduce leaves in size.) Set aside.
Dressing:
1/2 tbs. raw honey (or raw coconut sugar for vegans)
Place all ingredients in blender and mix until well combined.
Toss dressing with kale leaves until mix well.
Topping:
Chop figs into small pieces.
Add all ingredients to kale salad. Enjoy!
---
5

Chocolate Raisin Oat Cookies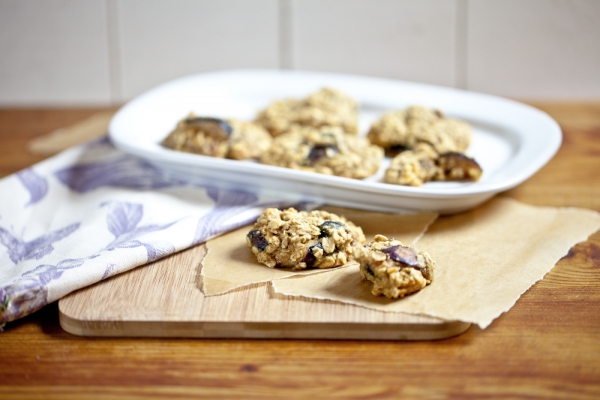 You may not see figs listed in the title of this recipe, but trust me, you'll definitely taste them in this delicious, raw cookie recipe! This is the perfect recipe substitution for your typical store-bought chocolate chip cookies. As a bonus,if you don't have a dehydrator, feel free to simply freeze these like I do and enjoy them out of the freezer anytime you want, or you can eat the cookie dough raw, which is also fun too!
Serves: 2 trays ( about 20-24 cookies)
Ingredients:
2 cups oats
1/2 cup coconut chunks
1/2 cup almonds
1/4 cup hemp seeds
3 figs
1/3-1/2 cup agave/maple syrup/honey (or 3/4 cup dates)
2 tb melted coconut oil
1 t vanilla
1/2 t cinnamon
1/4 t salt
1/4 cup chocolate chips
1/4 cup raisins
Directions:
In your food processor, pulse oats, almonds and coconut chunks until they're like a rough flour. Add all the other ingredients and blend until it comes together. Add raisins and chocolate and mix in by hand. Then form them into balls and flatten. Dehydrate if you desire.
---
6

Complexion Candy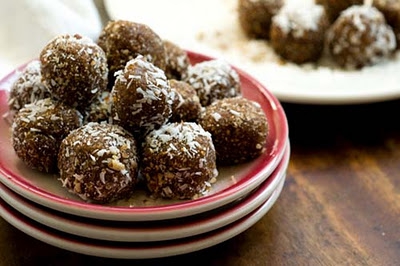 If you need a sweet treat that is not only guilt-free but that can also enhance your complexion, try this recipe!This recipe is high in Vitamin C, potassium, B vitamins, magnesium, manganese,iron and zinc. All of these nutrients help to improve skin elasticity and also help to reduce fine lines and wrinkles. The antioxidants and potassium in these deliciously sweet bites can also help fight inflammation and reduce puffiness.I make these anytime I need something sweet and I think they are so much better than store-bought versions out there like Larabars or other similar raw dried fruit and nut bars.
Serves: 20-24 1 inch size bite-sizedballs
Ingredients:
2 cups dates
2 cups dried figs
1/2 cup raisins
1/4 cup roastedpecans
1 tablespoon orangezest
1/2 cup shreddedcoconut
1/4 cup choppednuts, such as pecans, walnuts or pistachios
Directions:
Place the dates,dried figs, raisins, pecans and orange zest in a food processor and blend until a paste forms. Form into 1-tablespoon-sized balls and dip in shredded coconut and/or chopped nuts. Alternatively, you can press the paste into a pan, chill for an hour and then cut into squares.
Variations: You can replace the pecans with walnuts or almonds. You can also dip the balls into chopped nuts. For more flavor, try adding a pinch of ginger, cinnamon and clove.
---
7

Raw Fig Bars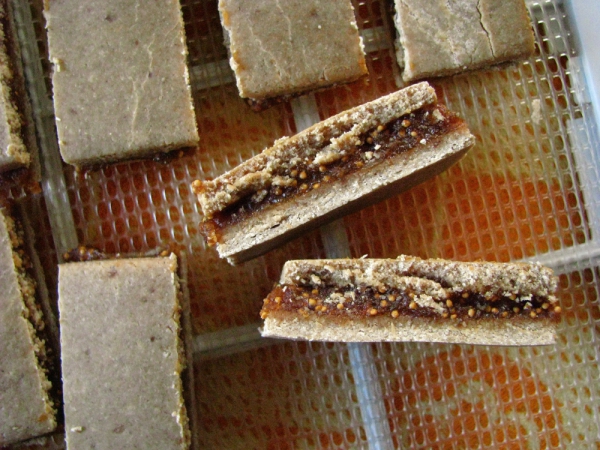 If you just want a healthier version of the classic Fig Newtons, without all the added enriched flours and added sugars, preservatives and sodium, you must make this recipe! It will satisfy your Fig Newton craving and be so much more satisfying! The healthy fats will satiate you sooner and longer, which means you can eat just one and be completely satisfied. I love the simplicity of this recipe. Make this next time you have company and impress them with your healthy version of an American classic!
Serves: 9 large bars
Crust ingredients:
1 cup walnuts
1 cup almonds
1 heaping cup raisins
1/4 teaspoon cinnamon
filling ingredients:
2 cups dried figs, soaked in water for 2-4 hours (keep the water!)
1-2 tablespoons maple syrup (optional)
1/4teaspoon salt
toppingingredients:
1 1/2 cups pecans
Directions:
To make the crust**:** process the nuts in your food processor until you get really fine pieces - like flour. Alternately you could use oat flour here. Add the raisins and cinnamon. If it's not sticky enough, add some dates or maple syrup. Press into a 9X9 pan or shape it yourself on parchment paper, that's what I did.
To make the filling: blend the figs, maple syrup/agave and salt in the food processor (no need to wash it yet), adding the soak water as needed to make it smooth but still quite thick. spread this on the crust but keep a little less than 1/4 cup of it in the food processor...
To make the topping: add the pecans to the food processor (with the leftover fig mixture) and pulse until there are small nut chunks, but not too fine. sprinkle this on top of the fig filling and press down a little. cut and enjoy! i sliced the sides off mine to make it a nice square so i had these extra strips of fig bar... i made fig nut milk! just blend it with water.
If you haven't tried figs yet, don't wait any longer! They are slightly sweeter than raisins, but less sweet than dates, which I enjoy, but can be overpowering at times. Figs offer a rich sweetness that pairs well with chocolate, which I just love! Try any of these recipes, or share one of yours with me! Do you like to eat figs?
Sources:
theveganwoman.com, soulfulspoon.com, yummly.com,
fabulousorganization.files.wordpress.com, pureandsimple.typepad.com, thisrawsomeveganlife.com, yummly.com, thisrawsomeveganlife.com
---
Comments
Popular
Related
Recent