7 Delicious Fruit Smoothie Recipes ...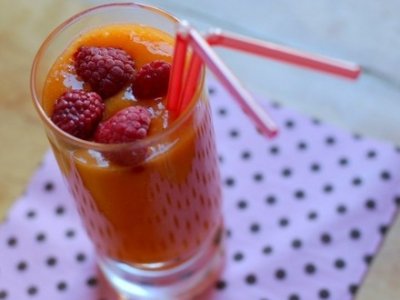 Fruit Smoothie Recipes are easy to follow and delicious to drink. No matter what your favorite fruit, you can find fruit smoothie recipes that either incorporate it or focus on it. From bananas to strawberries to blackberries to lemons – need I go on? You can find recipes for citrus fruit smoothies, exotic fruit smoothies, classic smoothies – the list goes on and on. Rather than talking about all of them here, just check out these delicious fruit smoothie recipes!
at bhg.com
A lot of fruit smoothie recipes currently incorporate pomegranate, since it's such a super antioxidant fruit. This one is easy as pie – so to speak. All you need is pomegranate juice, vanilla yogurt, honey, and crushed ice. Voila! Enjoy the deliciousness!
2.

Strawberry-Pineapple Smoothie
at allrecipes.com
If you want to take a walk on the wild side, why not mix your strawberries with pineapple? It's tart, it's sweet, and it's wonderfully refreshing. This, too, is pretty easy, although it naturally has more ingredients than the last smoothie, but not by much. Strawberries, pineapple juice, milk, vanilla yogurt, a little sugar, some ice, and then you're done! You can add some wheat germ, too, for a really healthy treat.
at bhg.com
I'm always looking for fruit smoothie recipes that mix more exotic fruits. This is definitely one of my favorites. I love kiwi, and its addition makes sure that the melon won't be too bland, which can occasionally happen. It also has apple juice for some extra tartness!
at allrecipes.com
I love peach smoothies! Peaches are so sweet and succulent, they add that wonderful flavor to smoothies. This one combines mangoes for some added zing, although with a little orange juice. If you're feeling sick, it's a great treat, thanks to all that citrus.
at bhg.com
This is hands down one of my favorite fruit smoothie recipes. Cherries and berries, oh my! It contains cherries, strawberries, blueberries, and raspberries, along with pomegranate juice. The antioxidants from the blueberries and pomegranates make this smoothie extra healthy, and the raspberries provide a tart contrast to all that sweetness.
at allrecipes.com
Who doesn't love blue raspberry? This smoothie is fun all the way around, and the ingredients are just scrumptious. You need bananas, almonds, oats, and even flaxseed meal if you want it. Some blueberries, some raspberry yogurt, and some concord grape juice provide the color. This recipe even contains buttermilk for extra thickness!
at bhg.com
This is one of the most fun fruit smoothie recipes you'll ever try. I mean, it's tutti-fruity! You've got bananas, blueberries, strawberries, and your choice of juices. You can use pomegranate juice, pomegranate blueberry juice, grape juice, or even cranberry juice. As for the base, it can be vanilla flavored frozen yogurt or pineapple flavored sherbet. So good!
As you can see, these fruit smoothie recipes take no time at all to follow. You have to love being able to make a cool, tasty treat with the quickness, right? There are tons of fruit smoothie recipes floating around out there, and the awesome part is that it's so easy to tailor them to your preferences. If you want more strawberries, more raspberries, or less blueberries, that's no problem! Now, do you have any scrumptious fruit smoothie recipes to share?
Top Image Source: weheartit.com
{{#comments_count}} Show Commnents ({{comments_count}}) {{/comments_count}}