7 Different Types of Desserts to Make with Cookie Dough ...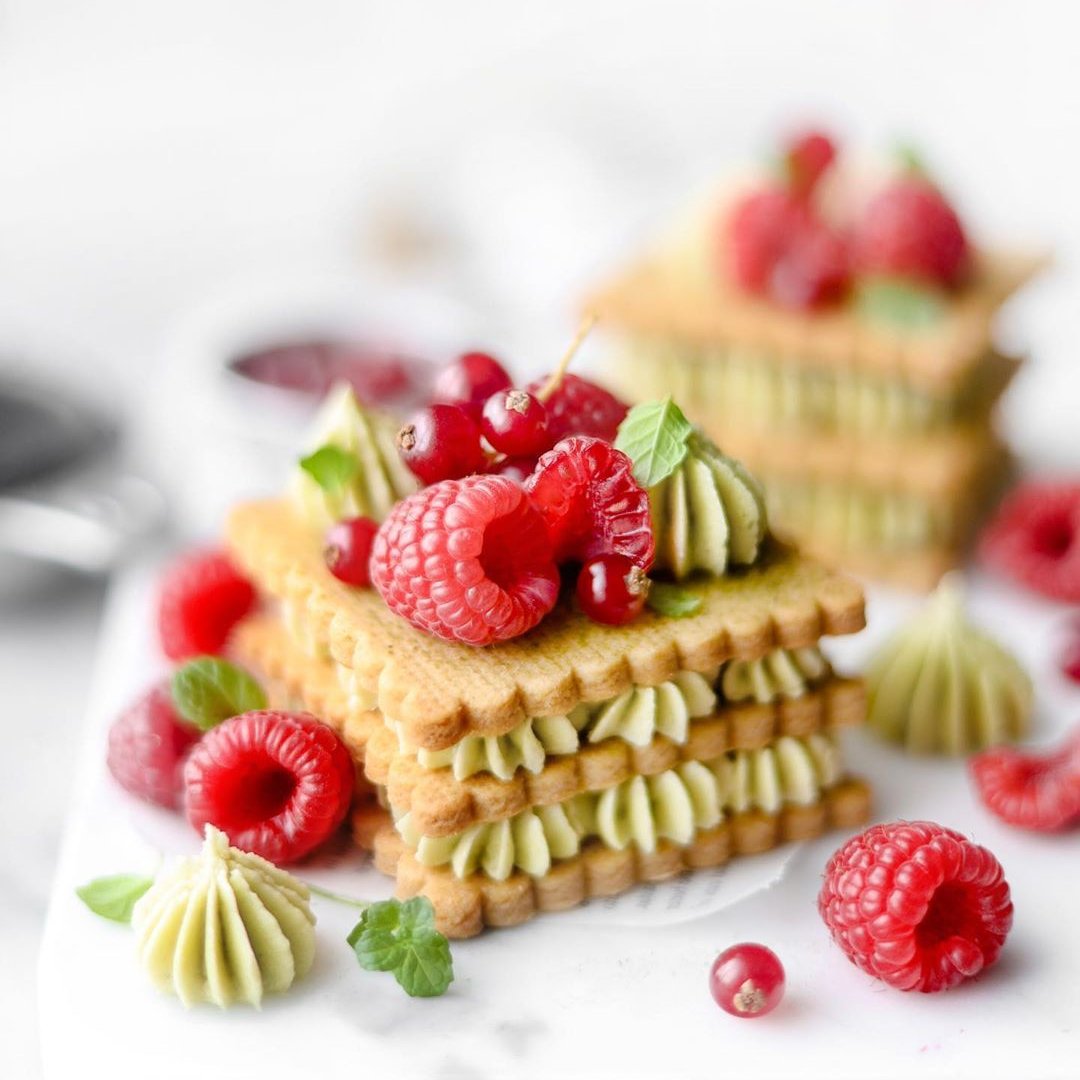 There are some delicious desserts to make with cookie dough, so if you have a roll of it in your fridge, take it out and start baking. You don't need to make cookies when there are so many other things to do with the ingredient. Here are some of the best desserts to make with cookie dough:
You can't find anything tastier than this. If you're looking for desserts to make with cookie dough, brownies are the best place to start. It's perfect for any chocolate lover.
Ingredients:
1 cup butter
2 cups sugar
4 eggs
1-1/2 tsp vanilla
1/2 cup cocoa
1-1/3 cups flour
1/2 tsp salt
Filling:
1/2 cup butter, softened
1/2 cup packed brown sugar
1/4 cup sugar
2 tablespoons milk
1 teaspoon vanilla extract
1 cup all-purpose flour
1/2 cup mini semi-sweet chocolate chips
Glaze:
2 cups milk chocolate chips
2 tablespoons shortening
3/4 cups walnuts, optional
Instructions:
Cream butter and sugar together. Add eggs and blend well. Add vanilla, salt, cocoa, and flour. Pour into a pan and bake at 350F for 20-25 minutes or until done. Cool completely. For filling, in a large bowl, cream butter and sugars. Beat in milk and vanilla. Gradually beat in flour. Stir in mini chocolate chips. Spread over brownies and chill until firm. For glaze, in a microwave safe bowl, melt chocolate chips and shortening in 30 second intervals, stirring after each time, until smooth. Spread over filling. Immediately sprinkle with nuts.
Source: chef-in-training.com
2.

Oatmeal Peanut Butter Cookie Dough Sandwich Cookies
Bet you've never had oatmeal as a snack! No matter how much you hate the taste of it, you'll love it when it's mixed with cookie dough.
Ingredients:
1 cup butter softened
1 cup creamy peanut butter
¾ cup granulated sugar
1 ½ cup brown sugar
3 eggs
1 teaspoon vanilla
2 ½ cups flour
2 teaspoons baking soda
¼ teaspoon salt
1 cup oats
For the filling:
¼ cup butter softened
¾ cup peanut butter
½ cup brown sugar
¼ cup granulated sugar
1 cup flour
5 tablespoons milk
½ teaspoon salt
¼ cup mini chocolate chips
Instructions:
Preheat oven to 375F. In a large bowl, cream together butter, peanut butter and both sugars until light and fluffy. Beat in eggs and vanilla. Slowly add in dry ingredients ending with oats. Stir until combined. Shape dough into 1 inch balls and place on a cookie sheet. Bake for 7-8 minutes. Remove to cooking wracks. To prepare filling, cream together butter, peanut butter and both sugar until blended. Stir in flour until combined and mix in milk. Stir in chips. Carefully spread about a tablespoon of dough onto flat side of one cookie, top with another cookie.
Source: lemonsforlulu.com
3.

No Bake Cookie Dough Cheesecake
If you're not in love with cheesecake, it's because you've never tried it. Well, what are you waiting for? Now's the time.
Ingredients:
1/4 cup of butter, softened
1/3 packed brown sugar
1 cup all purpose flour
1 tsp vanilla extract
7 oz sweetened condensed milk
1/2 cup mini chocolate chips
8 oz cool whip
8 oz cream cheese at room temperature
2 tsps vanilla extract
16 Cookie Dough Oreos, plus more for garnishing
Instructions:
In a bowl of a large stand mixer, cream the butter and the brown sugar for 2 minutes. Beat in 1 tsp vanilla. Add flour. With the mixer still running, add in the sweetened condensed milk. Once it is fully combined, stir in the chocolate chips. Whip together the cool whip and the cream cheese until fully combined and smooth. Mix in the 2 tsps of vanilla. Form the cookie dough into small balls and drop into the cream cheese mixture. Stir them in gently. Crush two Cookie Dough Oreos each in to the bottom of 4 oz mason jars . Top with the cream cheese and cookie dough mixture.
Source: wineandglue.com
You can stop buying cookie dough ice-cream in a carton, because now you can make it yourself. Grab some scoops of vanilla and mix it together with this scrumptious recipe.
Ingredients:
1/2 cup butter, softened
1/4 cup peanut butter
1/2 cup brown sugar
1/4 cup granulated sugar
1 tsp vanilla
2 Tbls milk
1/2 tsp salt
1/2 cup oats
1 cup flour
1/2 cup mini chocolate chip
1 cup M&Ms
Vanilla Ice cream
Instructions:
Cream butter and peanut butter together. Beat in sugars until creamy, then beat in vanilla, milk and salt, and oats. Stir in flour, mini chocolate chips, and M&Ms. Scoop teaspoon size balls of cookie dough and transfer to a waxed paper lined baking sheet. Place in freezer for approximately 30 minutes. Add to vanilla ice cream.
Source: momontimeout.com
5.

Invisible Cookie Dough Ice Pops
Want another taste of ice cream? Well, if you're not in the mood for the previous recipe, you can always turn your cookie dough into an icy treat.
Ingredients:
2-1/2 cups milk
2/3 cup light brown sugar, packed
couple pinches salt
2 teaspoons pure vanilla extract
1/4 cup + 1 teaspoon mini chocolate chips
Instructions:
Place milk in a bowl and microwave for 1 minute. Stir in brown sugar and salt. Stir in vanilla. Place 1/2 tablespoon of chocolate chips in the bottom of your popsicle molds. Fill to the top with milk mixture. Insert sticks and freeze until solid.
Source: girlichef.com
These little treats look about as fancy as can be. If you're trying to impress at a party, this is what you should bring. It'll have everybody talking.
Ingredients:
1/2 cup butter, softened
3/4 cup brown sugar
1/4 cup milk
1 tsp vanilla
1/2 tsp salt
1 1/4 cup all-purpose flour
1 cup mini chocolate chips
16 ounces candiquik (or other chocolate melting candy)
Instructions:
Cream together the butter and sugar until smooth. Add remaining ingredients (except the candiquik) and mix until smooth). Use a cookie scoop to portion out cookie dough balls onto a baking sheet. Place the baking sheet in the freezer for 10 minutes. Melt candiquik according to manufacturer's instructions. Use a toothpick to dip each cookie dough ball into the chocolate, allowing excess chocolate to drip back into the melting tray. Place the chocolate covered dough on a sheet of wax mat to cool and harden. Smooth over the toothpick hole with your finger.
Source: somethingswanky.com
7.

CHOCOLATE CHIP COOKIE DOUGH PUDDING POPS
Here's something for you pudding lovers. Instead of having plain pudding with chunks of cookie dough, you can turn it into another frozen treat.
Ingredients:
Chocolate chip cookie dough
5 ounce box instant vanilla pudding
3 cups cold milk
1/2 cup additional mini chocolate chips
10 dixie cups
10 popsicle sticks (I used 5 paper straws, cut in half to make 10)
Instructions:
Prepare cookie dough according to recipe instructions.
Take small chunks of cookie dough and roll them into balls around the size of a peanut m&m. I used about 1 cup of cookie dough balls, but adjust according to your preference.
In a large bowl, whisk together the pudding and cold milk for 2 minutes. Stir in the cookie dough balls. Sprinkle mini chocolate chips into the bottom of each dixie cup before filling with the pudding mixture. Fill the cups 2/3 to 3/4 full.
Place pudding cups in the fridge to set for at least 15 minutes. Push the popsicle sticks into the pudding cups and carefully place in the freezer. Freeze for at least 4 hours.
Source: bunsinmyoven.com
Chocolate chip cookies are delicious, but you can make so much more with a pan of cookie dough. What else have you made with cookie dough?
{{#comments_count}} Show Commnents ({{comments_count}}) {{/comments_count}}