25 Drinks to Warm You up This Fall ...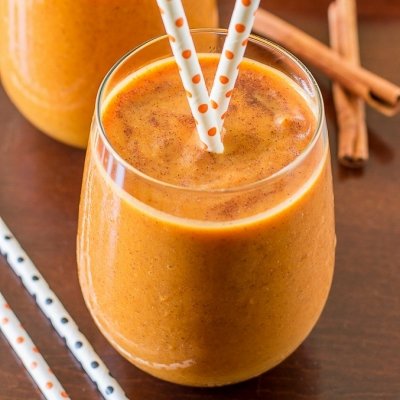 Finally autumn has arrived, bringing with it several favorite things—sweaters, boots, and countless scrumptious drinks to warm you up! Starbucks has begun selling their renowned pumpkin lattes, which means the season is officially in full swing. But this year, try making some of your own drinks to warm you up instead of visiting Starbucks every day!
Via 9 drink recipes for fall ...
One of my favorite treats of the season is apple pie! Who could ask for more than this apple pie cider as a drink to warm you up this fall?
Via Warm Apple Pie Latte
Not a cider girl? That's all right, try this warm apple pie latte and you won't be disappointed!
Via Crockpot Hot Vanilla!
Anything made in a crockpot is automatically ten times more delectable! Make sure you try this recipe for crockpot hot vanilla this year!
Via Warm Spiced Sangria
Another drink with a kick and a warmth that won't fade is this warm spiced sangria. Perfect for any luncheons you have coming up this season!
Via 15 Drink Recipes To Sip ...
Spiced cider is a fall classic that can't be beat!
Via Warm Winter Drinks for Kids
Mexican hot chocolate has a special something that Nestle's hot cocoa simply can't offer!
Via skinnymom.com
Since the holidays are around the corner, you may be trying to avoid calories wherever you can. But that doesn't mean you have to miss out on seasonal favorites like hot chocolate!
Via Warm Vanilla Cider Recipe | ...
Hot cider with a hint of vanilla; it makes me feel warm inside just thinking about it!
Via Food | Babble
Hold the presses! Oreo…ice cream…cocoa? Get out a mug because it's time to treat yourself!
Via 3 Natural Drinks to Help ...
This sleepy milk will help you fall asleep on cold, stormy nights this fall, keeping you warm and relaxed.
12.

Apple Cider, Cranberry Puree and Bourbon
Via The Warm and Toasty and ...
This drink looks so interesting, how could you not try it?
13.

Skinny Peppermint Mocha
Via 10 Warm Drinks That Won't ...
Another healthier option to traditional autumn drinks is this skinny peppermint mocha!
14.

Hot Spiced Almond Milk
Via Spiced Winter Warm-Up
You don't have to drink dairy to enjoy hot seasonal drinks. Substitute almond milk and you'll have a tasty drink, too!
15.

Peppermint Hot Chocolate
Via 20 Yummy Hot Chocolate Recipes ...
This peppermint hot chocolate will wake you up as well as warm you from head to toe!
Via imtopsyturvy.com
Don't let Starbucks convince you that they're the only masters of the pumpkin latte! You can recreate it from the comfort of your own home!
17.

Cranberry Apple Crush
Via Cranberry Apple Crush
This seasonal punch contains spices that are sure to comfort you this season.
Via Food & Recipes
This twist on a classic drink is one worth trying.
21.

Milky Way Hot Chocolate
Via Milky Way Hot Chocolate Recipe ...
Want to combine your favorite candy with your favorite festive drink? Now you can!
Via kosherstreet.com
Trying this Middle Eastern drink will not only be a new experience, but a tasty one!
Via 6 Warm Drinks For Cold ...
This traditional Mexican drink will certainly do the job of warming you up inside this year!
Via Indian Masala Chai - My ...
Who doesn't love a delicious cup of hot chai tea? This Indian masala chai made with almond milk might be just what the doctor ordered on a rainy day this fall!
25.

Pakistani Coffee with Cinnamon & Cardamom
Via Pakistani Coffee with Cinnamon & ...
This spice-filled drink is warming and flavorful, destined to become a favorite this season!
Autumn has so many amazing things to offer, but some of the best come in the form of food and drinks! Which of these recipes are you dying to try?
{{#comments_count}} Show Commnents ({{comments_count}}) {{/comments_count}}