9 Fabulous Drink Recipes for Girls Night in ...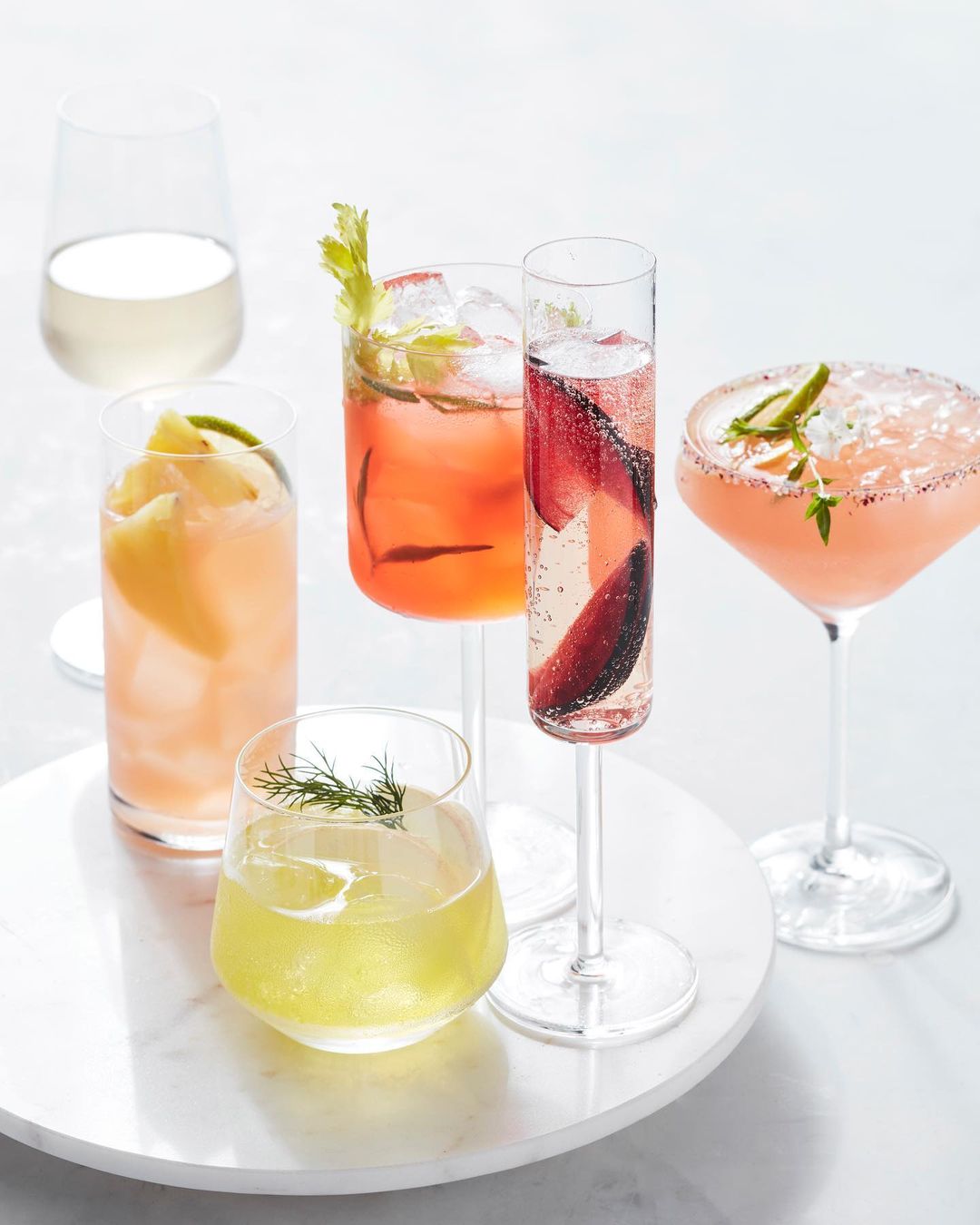 Are you planning a get-together with friends and need some ideas for yummy drink recipes for girls night? You've come to the right place, girlfriend! I hunted down 9 of the most popular and delicious drink recipes for you and your girls to enjoy. Make these drinks beforehand or make them with the gang for a fun and fabulous girls night in activity! Don't forget, you can make mocktails out of a lot of these cocktail recipes, so don't be afraid to try a tamer version if alcohol's not your thing!
This drink recipe for girls night is the perfect way to transport yourself to tropical islands! A Tropical Dream combines delicious mango and coconut rum with banana Schnapps for a taste of the tropics in a glass. Garnish your drinks with fresh flowers to keep the island vibe going and soak pineapples and other tropical fruit in rum to munch on the side!
Ingredients:
1 oz Malibu® mango rum
1 oz Malibu® coconut rum
1 oz 99 Bananas® banana schnapps
1 oz Stoli® Vanil vodka
2 oz orange juice
2 oz pineapple juice
1 splash grenadine syrup
Directions:
Combine all ingredients (except grenadine) together over ice in a cocktail shaker. Shake and strain into a hurricane glass filled with ice. Float grenadine on top, and serve.
This drink recipe for girls night puts a twist on the classic margarita recipe by adding beer! Even if you don't consider yourself a beer drinker, this recipe also has frozen limeade and tequila so it's not like drinking beer out of the bottle. If you're looking for a fun and unexpected drink to serve, the beer margarita is the perfect drink!
Ingredients:
1 (12 fluid ounce) can frozen limeade concentrate
12 fluid ounces tequila
12 fluid ounces water
12 fluid ounces beer
Ice
1 lime, cut into wedges
Directions:
Pour limeade, tequila, water, and beer into a large pitcher. Stir until well blended and limeade has melted. Add plenty of ice, and garnish with lime wedges. Adjust with additional water, if needed.
This girls night cocktail recipe is simple, easy to make and tastes absolutely sinful! This is a great drink to make if you're looking for an alternative to the classic cocktail on the rocks. The Big Booty Shake is a drink and a dessert as it combines Southern Comfort with ice cream and milk! Top the shake off with whipped cream and cherries to make it even more delish!
Ingredients:
1 cup Milk
1/2 tsp Vanilla extract
3/4 cup Chocolate ice-cream
1 1/2 oz Southern Comfort
Directions:
Blend.
Here's another drink idea for a girls night but instead of a drink, it's actually a shot. If you plan on playing drinking games or just want to offer something different and easy to make, this shot definitely fills the bill! Sweet, fruity and smells just as good as it tastes, Angel Food Cake will be a hit with your crew! Make sure you have lots of shot glasses on hand because everyone will want one!
Ingredients:
1/2 oz Stoli Vanil Vodka
1/2 oz Amaretto
1 splash Cranberry Juice
1 splash Pineapple Juice
Directions:
Mix together over ice and shake until frothy. Strain into shot glass.
5.

Caramel Coffee Cocktail
Who's ready for a different kind of drink recipe for girls night that combines coffee with rum and caramel?! This cocktail is a delightful and delicious alternative to fruity drinks, beer or wine. Serve this yummy warm drink with biscotti or just enjoy as is for a more adult version of the traditional cup of Joe. If you're not in the mood for a hot drink, just let the coffee cool and add ice!
Ingredients:
4 shots dark rum
4 cups hot coffee
1/2 cup Caramel Sauce, recipe follows
1/2 cup whipped cream
Directions:
Add 1 shot of rum and 2 tablespoons of caramel sauce to bottom of 4 heatproof glass mugs. Divide the coffee evenly between the mugs and top with a large dollop of whipped cream.
Caramel Sauce:
3/4 cup sugar
3 tablespoons water
1/2 teaspoon lemon juice
1/2 cup heavy cream
The Strawberry Dreamsicle is another fantastic drink idea for girls night! If you love creamy fruit treats like popsicles or the Starbucks Strawberries and Cream Frappucino, this drink is right up your alley! Not only is it easy, you can add different flavors of Schnapps to make it into a Peach or Raspberry Dreamsicle if strawberries aren't your thing!
Ingredients:
1 oz Vodka
1 oz Strawberry Schnapps
1 oz cherry juice
1/2 orange juice
1/2 pineapple juice
1 oz cream
Directions:
Mix and add ice.
This drink recipe for girls night is not only super easy, but it's super low in calories too, with only 85 calories per serving! This cocktail pairs Coke with vanilla vodka for a refreshing and simple beverage for a hot night. Use Diet Coke to save even more cals and feel free to swap the Coke for Pepsi. This beverage would be great to serve with appetizers, dinner or salty snacks.
Ingredients:
1 ounce vanilla vodka
2 ounces Coca-Cola
Directions:
Pour vanilla vodka into a cocktail glass.
Top with coke, diet coke, or Dr. Pepper.
Add ice cubes if desired, and serve.
This is another one of those low calorie drink recipes for girls night for those ladies watching their calorie intake. Don't worry, even though it's only 95 calories, it doesn't mean it doesn't taste good! I'm a huge fan of homemade mojitos and this recipe does not disappoint! Serve this invigorating and tasty drink while talking on the patio or while giving each other pedis!
Ingredients:
2 large limes, cut into pieces (reserve one piece)
2 cups water
2/3 cup sugar
2 cups water
1/4 to 1/2 cup light rum
Sugar
1/2 cup fresh mint leaves
Ice cubes
Quartered limes and/or mint leaves (optional)
Directions:
In a blender combine lime pieces, 2 cups water, and 2/3 cup sugar. Cover and blend about 30 seconds or until limes are chopped; do not puree. Strain through a sieve into a large pitcher. Mix in 2 cups additional water. Cover and chill for 1 to 12 hours.
Stir rum into lime mixture. Moisten the rims of 8 glasses with the reserved lime piece; dip rims in sugar. Divide mint among glasses. Use a wooden spoon to press mint into the bottom of each glass; press firmly to release flavor. Fill glasses with ice cubes. Pour chilled lime mixture over ice and mint leaves. If desired, add extra quartered limes and/or mint leaves.
Here's a drink recipe for girls night for those who like their drinks a little sweet and a little sour. This cocktail has plenty of citrus, it's tart and it really hits the spot on a warm night. This drink is delicious, easy to make and sure to please any cocktail snob! Make sure you have plenty of orange slices and maraschino cherries on hand to garnish and enjoy while sipping your delectable drink!
Ingredients:
1 oz. J&B (25 oz. per bottle)
.5 oz. sweet and sour mix
.5 oz. orange cognac
1 maraschino cherry
1 orange wedge
Directions:
In a shaker with ice, add J&B, sweet and sour mix, and orange cognac.
Shake.
Strain over ice in rocks glass.
Garnish with maraschino cherry and orange wedge.
I hope you got some great ideas for drink recipes for girls night! There are so many options for cocktails and if you feel inspired why not take one of these girls night cocktail recipes and add your own twist or create your very own signature drink?! Have fun and let us know if you try any of these recipes! If you've got any to add, I'd love to hear them!
Top Image Source: weheartit.com
{{#comments_count}} Show Commnents ({{comments_count}}) {{/comments_count}}