Fifteen Minutes Are All You Need to Whip up These Breakfasts ...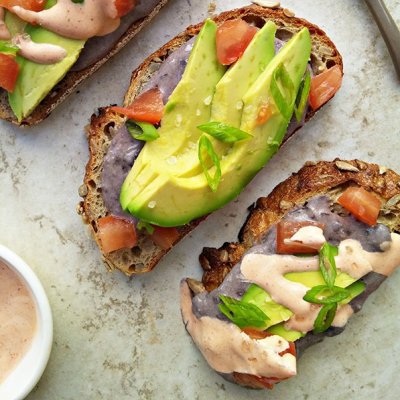 Most mornings at my house are rushed so I need breakfast ideas to feed my family that don't take too long. I bet you're in the same situation, aren't you? You want to give your kids a healthy meal to start the day out right, but they are so tired of a bowl of cereal. Luckily, you can save the day with these fast and easy breakfasts without having to get up any earlier than you already do. What more could you ask for?
My kids love this! It's a super healthy and filling way to start a busy day and will keep you from being hungry before lunch. Start with a serving of plain Greek yogurt in a bowl. Top it with diced fruit. Strawberries, kiwis, bananas, blueberries and cherries are great choices. Then add a sprinkling of granola and a drizzle of honey. There, you're all set!
2.

Egg and Cheese Breakfast Sandwich
This is so easy to make and tastes like you've spent way more than 15 minutes. Toast an English muffin and lay it on a plate. Fry one egg to your preferred degree of doneness. I like mine over medium, which gives me a runny yolk and a firm white. Place the egg on one half of the English muffin, then and top with a slice of your favorite cheese and the other English muffin half. Serve it with fruit. Easy!
Toasting a couple of frozen waffles is totally fast and easy. Choose the multigrain ones if you want to make your meal super healthy. Once they're cooked, slather one with peanut butter and the other with jelly. Sandwich them together and you have breakfast in just a few minutes. Add some sliced bananas to your sandwich for extra nutrients.
This requires a tiny bit of prep the night before, but still gives you breakfast in under 15 minutes. In a large bowl, place equal amounts raw oats and milk. Add a scoop of plain yogurt, a dash of cinnamon and sugar and a few drops of vanilla. Stir in the fresh chopped fruit of your choice. My favorite combo is mangoes and strawberries. Stir the mixture, cover and refrigerate overnight. In the morning, stir again and eat.
I love to make this recipe when I have a bunch of fruit that needs to get eaten before it goes bad. Dice whatever you have and toss it in a bowl. Grapes, kiwis, berries, oranges and bananas all make perfect choices. Stuff your fruit salad into a whole-wheat pita and eat it up.
6.

Scrambled Eggs and Toast
You might not think you have time to whip up eggs and toast on a rushed morning, but the truth is that this meal only takes a few minutes. Whip a few eggs in a bowl and scramble them in a pan greased with melted butter or canola oil. While they cook, toast your bread and top it with jam, butter or peanut butter. Pile the eggs and toast on a plate and chow down.
This meal is a perfect portable choice that you can prepare ahead of time, then eat on the go. I like to whip up a batch the night before, then all I have to do in the morning is put them in the oven to heat up while I get ready to go. Start with a tortilla and fill it with scrambled eggs, hash browns, cheese and salsa. Roll and wrap each burrito in foil so it's ready to heat in the morning.
What's your go-to busy morning breakfast? I hope you get the chance to try one of these soon. Which one is first on your list?
{{#comments_count}} Show Commnents ({{comments_count}}) {{/comments_count}}