By Filipino delicacies, I mean "light snacks" (although some dishes on this list are not considered "light" by westerners) that are unique to the Philippines. I grew up eating most of them and God knows, how I miss the taste of butter in my mouth or the feel of ice rolling in my tongue on a hot day. Here are seven Filipino delicacies that you ought to try when you happen to visit the Philippines or drop into a Filipino restaurant:
---
1

Puto Bumbong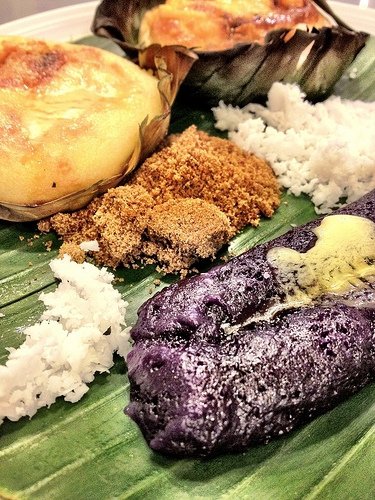 This is a purple-colored delicacy made of glutinous rice soaked in salted water and dried overnight. It is then poured into bamboo tubes called 'bumbong' and steamed to perfection. Served with butter (or margarine), sugar and shredded coconut, this delicacy is traditionally eaten by Filipinos after attending the Dawn Holy Masses in celebration of Christmas. This is a Filipino delicacy I've been craving for recently!
2

Sapin-Sapin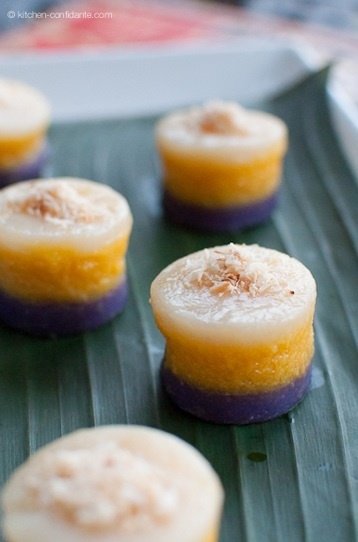 A multi-colored, multi-layered rice cake, sapin-sapin is best enjoyed during merienda (afternoon snack time). The sticky rice is mixed with coconut milk and sugar. Food coloring is used if the original yam (purple-colored) is not added in the recipe. The result is a sweet snack that children and adults enjoy. I remember buying this from the friendly lady at the school canteen when I was in grade school. It brings back a lot of memories of scraped knees and embarrassing school presentations.
---
3

Puto, Tsokolate, Manga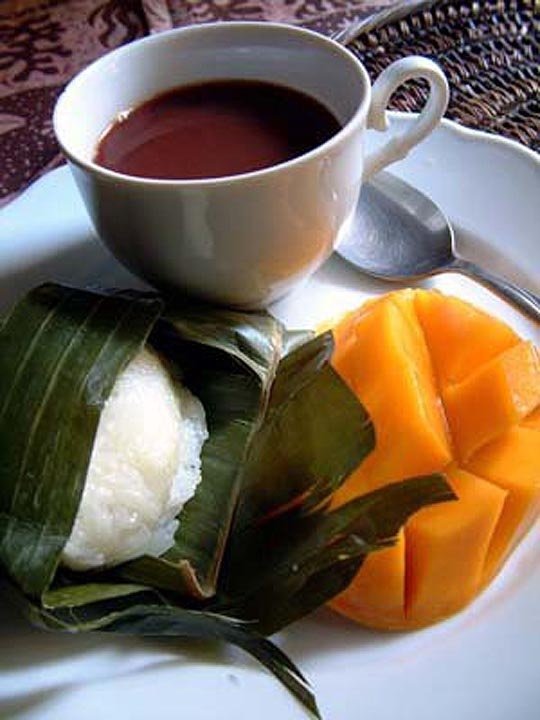 Translated to sticky rice, hot chocolate and mango, this triple treat creates a festival of flavors in your mouth. For maximum enjoyment, you devour this masterpiece by: (1) scoop a spoonful of your hot chocolate drink and drop it onto your sticky rice; (2) pick a slice of mango; (3) scoop all up with your spoon and eat! You will never know how delicious this tastes unless you try it!
---
4

Buko Pandan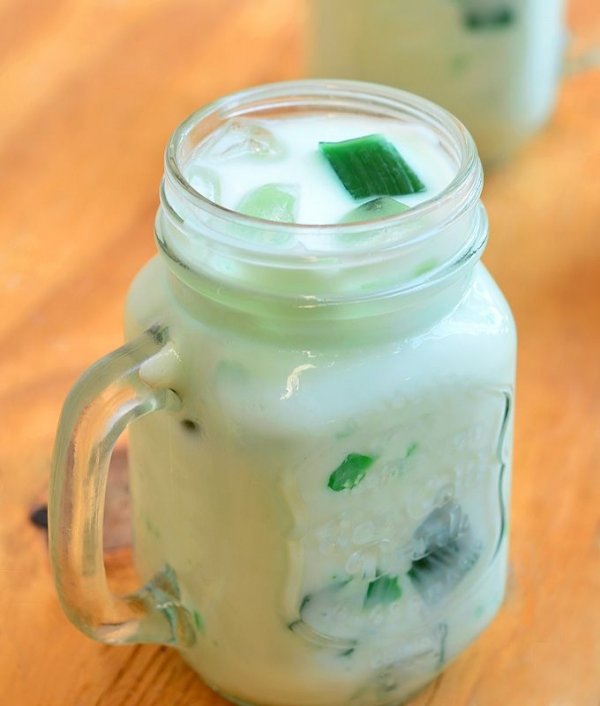 If you were to ask me, this is the best Filipino dessert of all time! Screwpine leaves (or pandan leaves) are boiled in coconut water to release the juice. Gelatin is added to this mixture until it is diluted in water. The result is a translucent gel that you can cut up, mix with fresh coconut shreds, cream, and condensed milk. These days, there are buko-pandan-flavored gelatin mixes available in the supermarket in case screwpine leaves are hard to find.
---
5

Halu-halo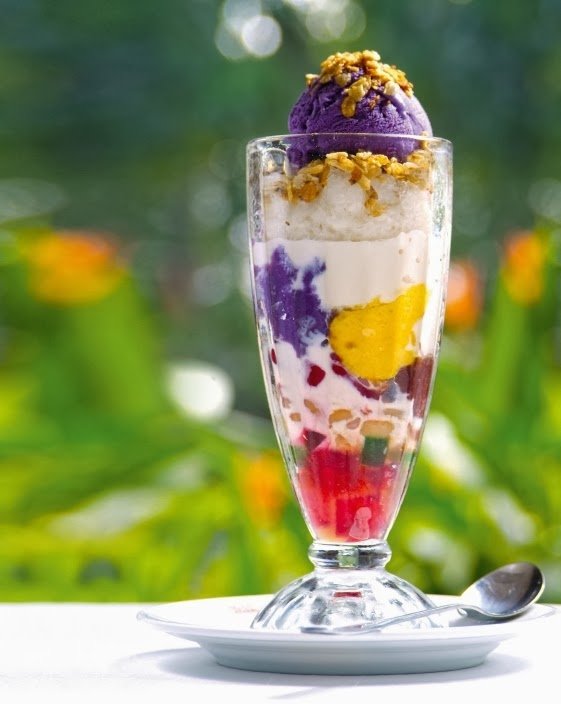 This is literally a hodgepodge of everything good. Imagine boiled sweet beans, jackfruit, tapioca, sugar palm fruit, nata de coco, and jello in a tall glass. All is covered with crushed ice, evaporated milk, sugar and topped with leche flan, ube (yam) or ice cream. Sinful, isn't it? The recipe varies from one restaurant to the next. The name halu-halo literally means "mix" because the dessert is a mixture of different ingredients.
---
6

Pancit Palabok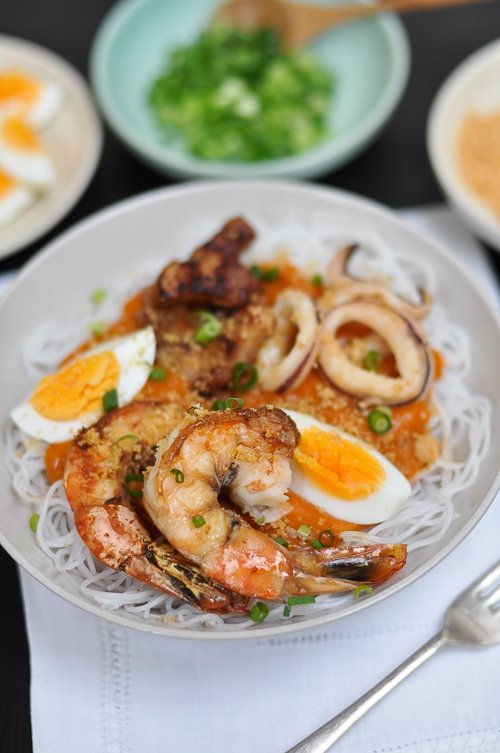 Filipinos love to eat. When it comes to noodle dishes, the sky's the limit in terms of ingredients added. The pancit palabok is one of those creations. The rice noodles are layered with a sauce made from shrimp broth, shrimps, pork, chicharon (crispy pork rinds), and hard-boiled eggs. Top with chopped spring onions and squeeze a drop of kalamansi (it's like a small, green lemon) on the mixture and get ready for a taste of heaven!
---
7

Palitaw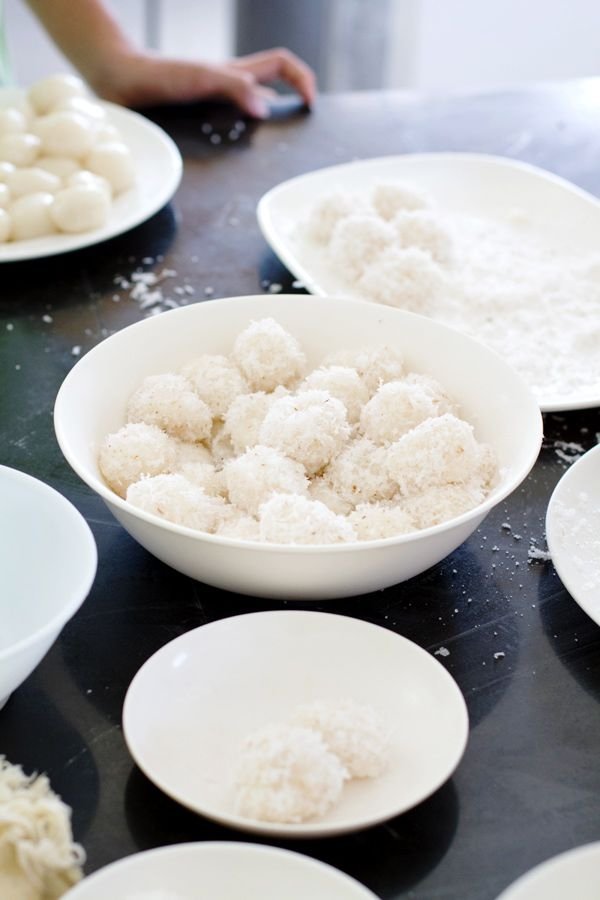 As a kid, I woke up every morning to the call of a street hawker peddling these goodies around our small village. The night before, I would remind my mother to buy these small, flat, sweet rice cakes mixed with coconut, sugar and sesame seeds. Some things are enjoyed in small bites and these mochi-like cakes are one of those delicious treats that come in small packages.
Have you tried any of these amazing delights?
---
Comments
Popular
Related
Recent