7 Food Trucks in NYC Everyone is Talking about ...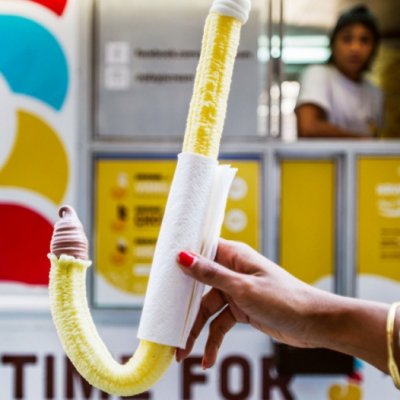 If you are usually one of those people who avoids buying anything from food trucks, I suggest you step out of your comfort zone and give them a chance! While it may not seem like it, some of these trucks carry one-of-a-kind type of food that you really don't want to miss out on. So next time you stumble upon one of the following food trucks, don't hesitate and go for it!
1.

Schnitzel & Things Truck
For those of you who are unfamiliar with schnitzel, it's a "hand pounded, lightly breaded thin cutlet fried to golden perfection" that is usually served with potato salad and lemon wedges. Schnitzel & Things sells chicken, pork and cod schnitzel, all served with fresh ingredients. Plus the size of their servings is ridiculous. Definitely worth the price!
While it is a little pricier than regular waffles you might find elsewhere, the waffles from Waffles & Dinges are one of a kind. You can personalize your waffle, which by the way is always warm, soft and freshly made, with fruits, ice cream, whipped cream and more. The mixture of these flavors and textures in your mouth is absolutely heavenly. You have got to try!
Korilla BBQ offers build-it-yourself wraps and bowls with Korean and Mexican flavors and does so at a reasonable price. The menu consists of quality protein, vegetables and kimchi, in addition to seasonal specialties and every so often a few items from the secret menu. And just to get it out there, Korilla BBQ has been mentioned on The Food Network! Now don't you think that's something worth checking out?
Ladies, there is a new innovative way to eat ice cream! Ditch the regular cones for j-shaped cones and make your summer treat eating experience just that much better. The J-Play Ice Cream truck has been opened for business for only a couple of months, and it has already stirred up excitement around the SoHo area, which is its usual location, just so you know.
Halal food is widely talked about across all five boroughs of New York and you'll understand why once you try it yourself! This truck is famous for its chicken over rice dish that is coated with white dressing and you get large portion sizes for the price. Go ahead and try it out, but be aware that it is not for those who are health-conscious.
6.

Taim Mobile Falafel & Smoothie Truck
If you are looking for something good not just for the soul and mind, but also your body, Taim Mobile Falafel & Smoothie Truck is your pick! It serves gluten free, strictly vegetarian and mostly vegan food that is made out of the freshest ingredients. It's the perfect healthy alternative to fast food!
Tacos, burritos, quesadillas, Calexico cart has it all! With numerous protein options and sides, you'll be able to enjoy top-notch cuisine for no more than $9 a dish! It's a food cart that operates like a restaurant, serving flavorful dishes from a staff that is worthy of recognition.
Street food has dramatically improved over the years, resulting in something worth testing out. Which food truck will you be on the lookout for?
{{#comments_count}} Show Commnents ({{comments_count}}) {{/comments_count}}