7 Fun and Healthy Snacks for the Beach ...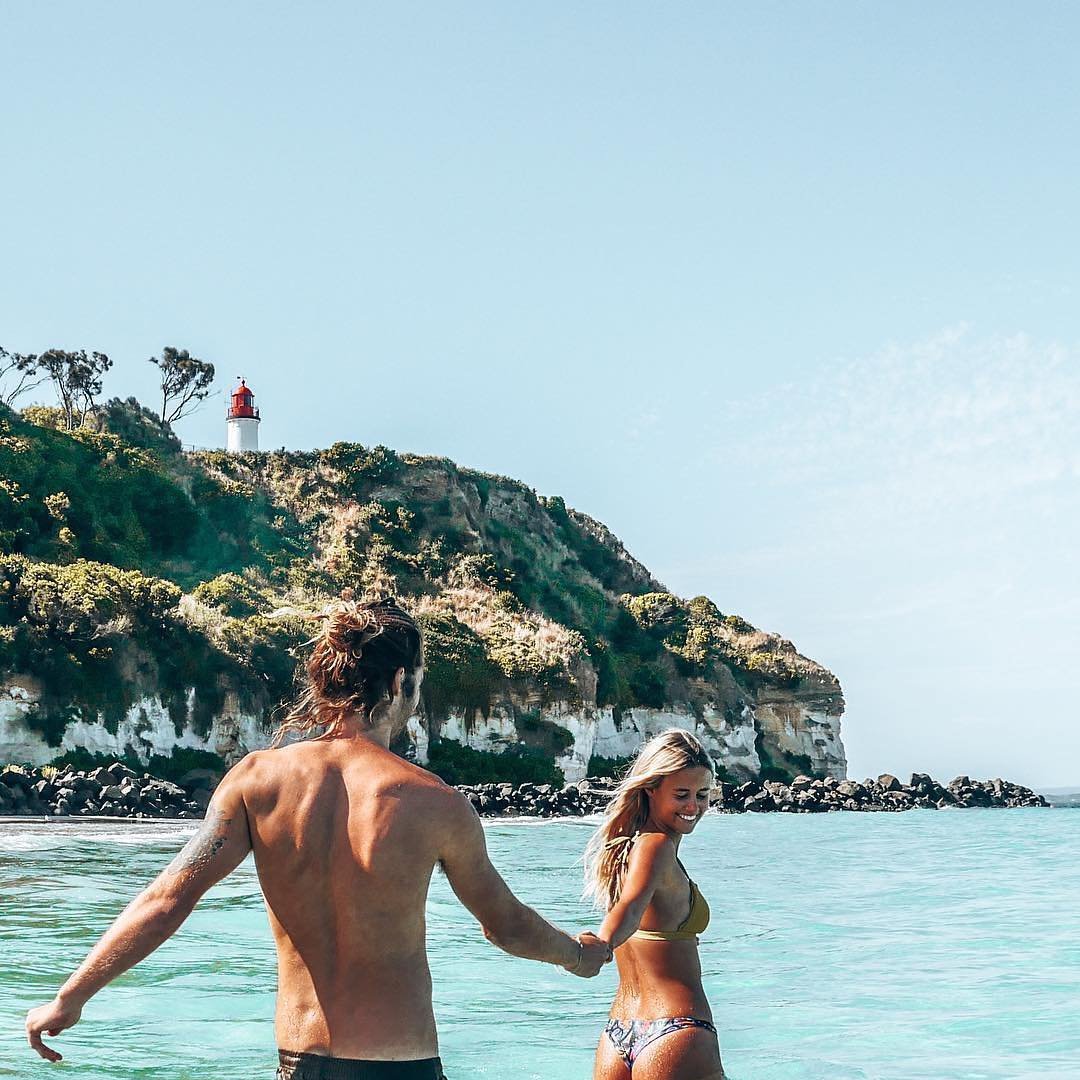 Need some healthy snacks for the beach to keep you looking cute in your bikini? I've got some great options for you! Don't limit your beach foods to meat-packed sandwiches or boxes of cookies and crackers. Most of these items have tons of salt, preservatives and other ingredients that can bloat you up fast, and just generally aren't good for you. Bring some water, iced green tea, and skip the booze. With these tips and these yummy healthy snacks for the beach, you'll feel great and look great too! Plus eating fresh foods on the water is so refreshing. I highly recommend it, along with a large jug of fresh water to drink all day!
One of my absolute favorite healthy snacks for the beach is pineapple! Traveling can send my stomach for a loop for some reason, but this fruit always helps! It is great to eat on the beach because it is highly energizing from natural sugars and Vitamin C, plus fiber, yet it is also tummy-friendly. Pineapple contains powerful enzymes that aid in digestion, beat bloating and can help keep your tummy flat and happy. I like to chop some before I go out onto the beach, put it in a plastic container and sprinkle it with a little ginger, which has the same digestive benefits as pineapple, for a yummy snack that also makes me feel good. Pineapple is also easy to store in your hotel room until you cut it, making it a good convenience food to store.
I love raw carrots when I need something sweet and nutritious, but don't want fruit. Just snacking on one cup can fill you up, and nourish your body with beta-carotene, which makes your skin glow and prevents the body from harmful free radicals. Carrots are fun finger foods too, and though they are associated with dieting, they don't have to just be a diet food! They make great snacks when eaten alone or paired with some little individual packets of almond butter or peanut butter. Chop some baby carrots and put them into individual baggies to carry out on the beach. You'll be glad you brought a healthy snack to munch on when that cute guy snags your eye!
Raw almonds are filled with Vitamin E, magnesium, protein and B vitamins. All of these nutrients are important for many reasons, but also great for the beach. Vitamin E protects your skin, which is vital when you're in the sun's rays all day. Magnesium is great for preventing headaches, cramps and a sour mood. Protein and healthy fats in almonds keep your blood sugar stable and prevent you from sugar cravings, and the B vitamins energize you and aid in metabolism. Just be sure to eat them raw and unsalted to avoid bloating from salt and roasted nuts, which are harder to digest. Keep portions to one ounce and pair with any of the other foods on this list for a great snack!
Everyone loves strawberries, right? Bring a carton out on the beach and share with your friends! Strawberries are one of the lowest sugar berries you can eat, plus they are brimming with Vitamin C, which is a great antioxidant. They also have fiber to keep you full and keep your blood sugar from spiking. They are fun to eat and easy to carry with you in a cooler.
If you're having lunch on the beach, bring along a pouch or can of low sodium tuna to eat with some raw veggies like cucumbers and celery, which fight water weight. Tuna is packed with protein, has no carbs, only 1 gram of fat, and will keep you energized too. It is full of B vitamins, Omega 3s and, most importantly, lean protein. Tuna can keep you full for hours, which makes it great for tanning on the beach all day!
Red bell peppers are crisp, sweet, hydrating and crunchy, which make them a perfect beach snack. Just cut one into slices and eat anytime you need a little sweet and crunchy fix. They are excellent for your skin and weight too. They pack fiber, all of the Vitamin C you need in a day, and offer a delicious sweet taste that is perfect for snacking. They are also filled with water to keep you hydrated, which is a nice bonus when you're soaking up the sun's dehydrating rays.
I like carrying a few mini Larabars or a Vega One bar out on the beach in case I want something substantial to eat with my other snacks. These bars are the perfect solution. They pack raw ingredients that are great for you, and they won't weigh you down. They are also heat-stable, as long as you don't leave them lying out in the sun for hours. Just tuck them in your baggie and you're good to go. I love the mini Larabars for keeping in my purse too ,which is great when you just need a little something sweet. Made with raw fruit and raw nuts, with no sodium to cause bloating, these are great options for the beach.
What are some of your healthy snacks for the beach? I love getting new ideas! Wearing your bikini doesn't have to mean you have to diet all day; just eat smart with these healthy beach-friendly snacks!
{{#comments_count}} Show Commnents ({{comments_count}}) {{/comments_count}}