For such a simple fruit, there are actually plenty of things to make with a watermelon! This juicy, refreshing and nutritious nature's candy is a go to favorite treat all summer long. While it is usually sliced into wedges or bite-sized pieces, there are other fun ways to serve watermelon at your next picnic or barbeque - or any time! Check out these easy and fun things to make with a watermelon!
---
1

Watermelon Salad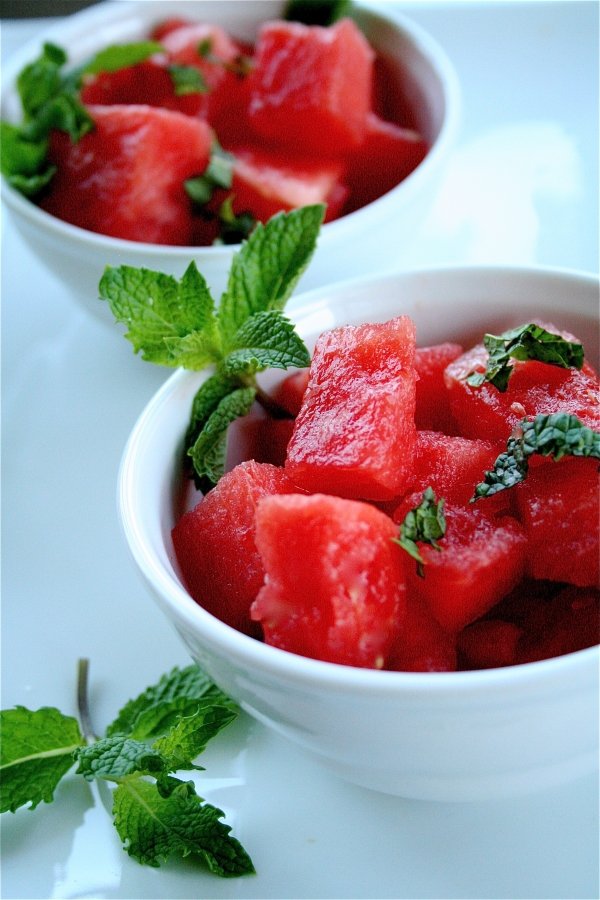 For those with rudimentary cooking skills, this is one of the most basic things to make with a watermelon!
Ingredients: 8 cups of seedless watermelon chunks
1/4 cup of fresh lime juice
cayenne pepper
1/2 cup of mint leaves
salt
Directions: Begin this watermelon salad by mixing watermelon with lime juice and cayenne pepper and finish it off by adding a desirable amount of mint leaves and salt. This ultimate refresher should take you 30 minutes tops but make sure to refrigerate the watermelon salad overnight so that watermelon can mix in with spices and lemon juice!
2

Healthy Watermelon Fruitcake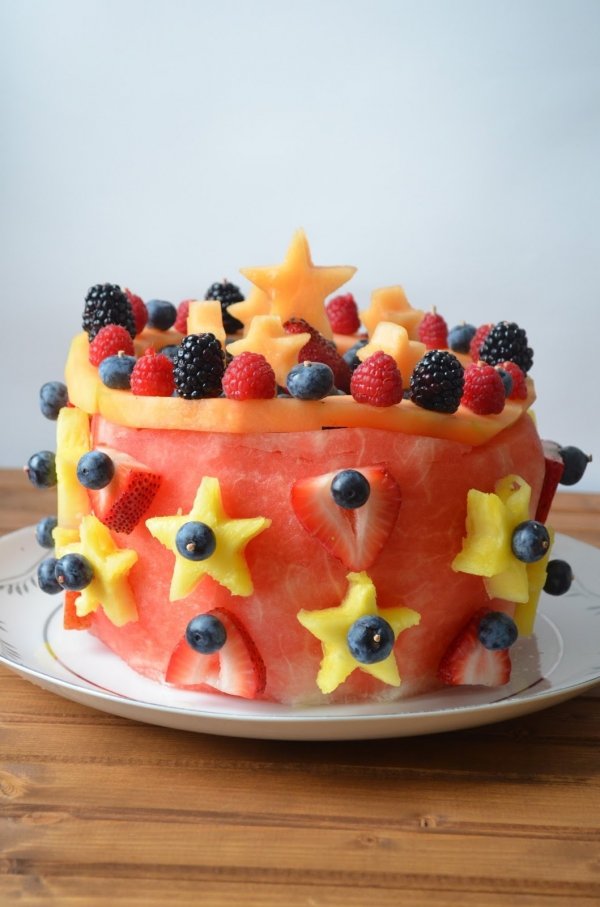 Trying to lead a healthy lifestyle by restricting your carb intake but have a special occasion to celebrate? No need for a cheat day, because you can have cake without breaking your commitment! This watermelon cake is purely made out of fruits, Greek yogurt/coconut whipped cream and sliced almonds!
Ingredients: 1 seedless watermelon
1 large container of Greek yogurt
1 tbs. of raw honey
slices almonds
fresh fruit
Directions: First cut out a block of watermelon in the shape of a cake and begin coating it with a generous layer of Greek yogurt that is already mixed with raw honey. Blotting the watermelon beforehand would be advised for best results. Then begin decorating your cake with as many fruits and almonds as you want!
---
3

Watermelon Jell-O Shots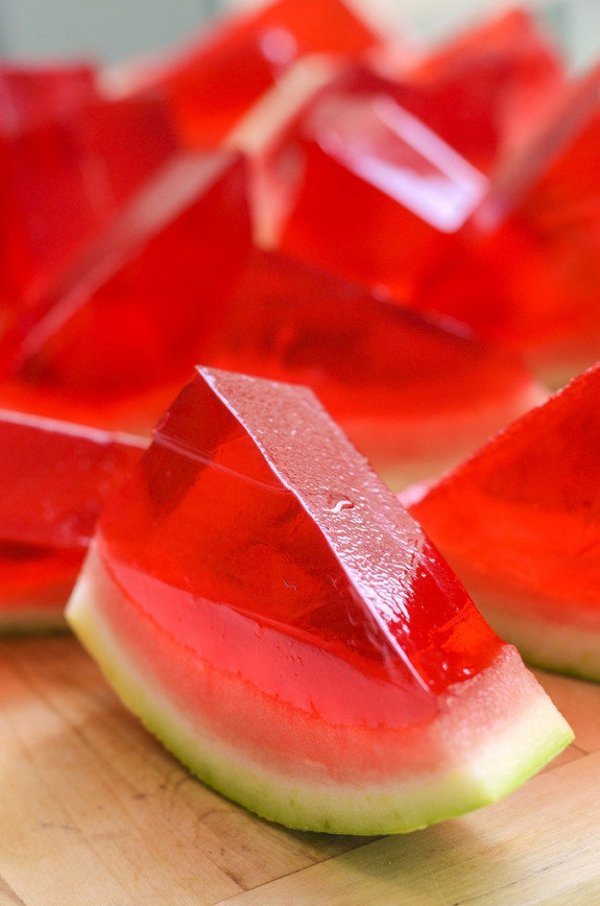 For adult parties, impress your friends by turning a whole watermelon into Jell-O shot slices! This will surely be the most fun you are ever going to have with just a few ingredients. The steps of preparing this spiked snack are easy and self-explanatory, just remember to prepare it in advance!
Ingredients: 1 watermelon
1 cup of vodka
1 cup of boiling water
3 oz of flavored Jell-O
1 envelope of gelatin
Directions: Cut the watermelon lengthwise and remove the flesh with a spoon. Then stir Jell-O and unflavored gelatin with hot water and vodka, and fill up the now empty watermelon rim. Leave it in the fridge overnight and slice it before serving!
---
4

Watermelon Keg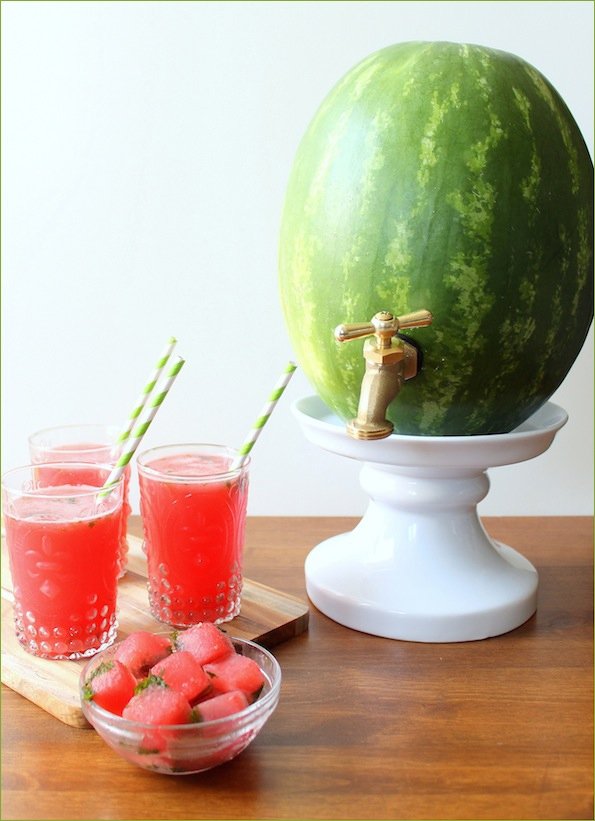 Why throw out the watermelon rind when you can use it as a decorative serving keg?
Ingredients: 1 medium sized watermelon,
spigot
4-6 cups of water or alcohol
Directions: Cut off 1/2 inch from the bottom of the watermelon and cut another 1/2 inches from the top by going straight through the rim. Scoop out the flesh of the watermelon but remember to leave about 3 inches on the bottom. Decide where you want the spigot, carve a hole for it and gently stick it in. Now you can fill up this keg with any type of beverage you desire!
---
5

Watermelon Popsicles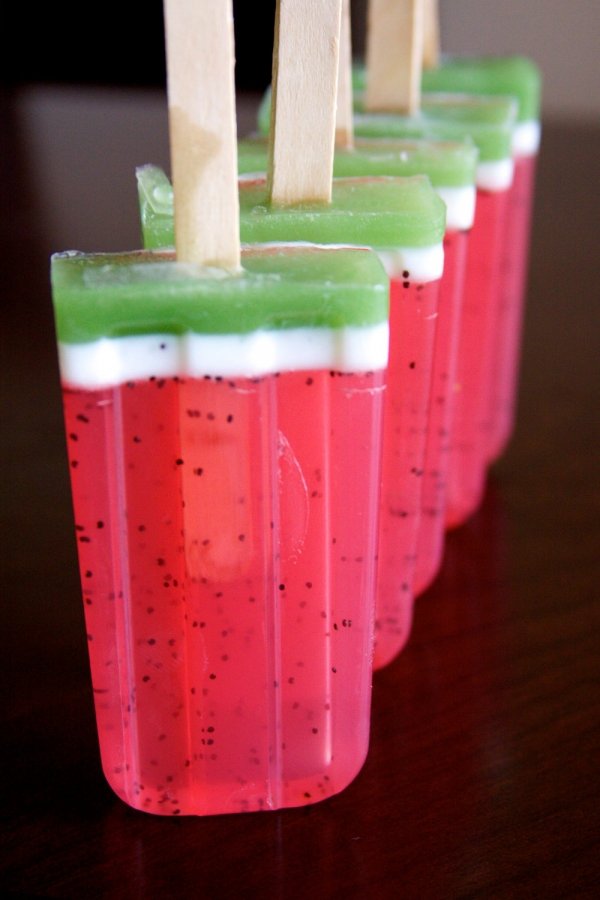 I've recently heard a story about a concerned mother whose son left his popsicle outside on a hot summer day for a few hours, when she came back she noticed that it hadn't even melted! Makes me wonder what manufacturers put into ice cream popsicles nowadays. To avoid such scary situations cool down with your homemade watermelon popsicles in just a few easy steps!
Ingredients: 3 cups of watermelon puree
seasonal fruits
Directions: After blending up watermelon chunks, pour it in an ice popsicle molds and add on however much fruits you want to have. It's way too easy to make but still completely delicious and healthy!
---
6

Watermelon Skewers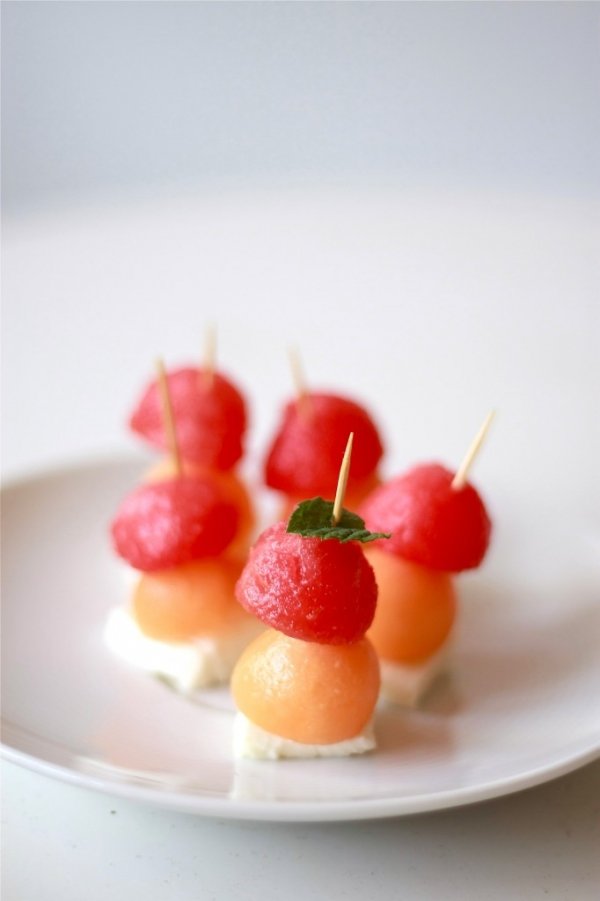 As a fun summer treat, mix a combination of fresh flavors by vertically building watermelon skewers with basil leaves and tomatoes. The combination of these ingredients perfectly works together, enhancing one another and forming a perfect summer snack!
Ingredients: 1/4 cup of balsamic vinegar
1/4 cup of sugar
1 seedless watermelon
basil leaves
16 cherry tomatoes
2 tbs. of extra-virgin olive oil
coarse salt
Directions: First mix the balsamic vinegar and sugar in a small saucepan and bring it to a simmer. Then cut the watermelon into big enough squares and begin layering up your skewers with watermelon, cherry tomato, followed by basil leaf and so on and so forth!
---
7

Watermelon Rind Pickles
Now this is an interesting project to try out for yourself by using the leftover watermelon rind!
Ingredients: 1 lbs of watermelon rind
3 tbs. of salt
6 cups of water
ice cubes
1 + 1/3 cups of honey
1/2 cup of white vinegar
3 cups of water
1/4 of a lemon
2 cinnamon sticks
Directions: All you need to do is marinate the watermelon with water, honey, lemon and a few spices, then give it some time for flavors to blend together! This delicious condiment is great with tuna or chicken and it should be prepared 3 days before you plan on serving it.
With just a few simple ingredients, you can turn your ordinary watermelon experience around and take it up a notch by going out of your typical culinary comfort zone. Some of the recipes you least expect can become a hit at your next get together! So which recipe will you be recreating next? Share in the comments.
Sources: foodandwine.com, paleocupboard.com, goodcocktails.com, tastebook.com, nourishingmeals.com, tastebook.com, tastebook.com.
---
Comments
Popular
Related
Recent