So you're a coconut water drinker, are you? It does taste pretty good and has several health benefits too. Did you know that you can use coconut water in many kinds of recipes, allowing you to enjoy it in different ways? Intrigued? Read on because I have collected some really tasty things to eat and drink and brought them here for you to enjoy.
---
1

White Peach, Kiwi and Coconut Water Popsicles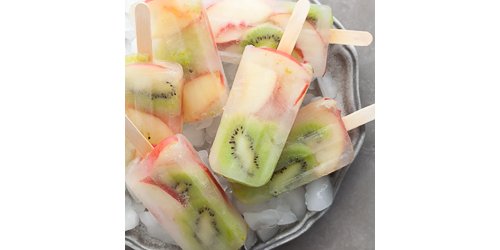 Nothing beats the heat on a hot summer day more than a great frozen treat. Instead of using the same old boring juice, try these made with coconut water.
Ingredients:
1 ½ cups raw coconut water
Juice of 1 lime
Zest of 1 lime
2 kiwis, peeled and sliced
2 thinly sliced white peaches
Directions:
Combine the coconut water, lime juice and zest. Place the fruit into frozen pop molds. Cover with the coconut water mixture, insert sticks and freeze until solid.
Source: gourmandeinthekitchen.com
2

Kale Salad and Summer Fruits Tossed with Coconut Water Vinaigrette

If you need a really refreshing way to cook with coconut water, this delicious salad is sure to please. It has a light flavor and packs a bunch of summery ingredients into one tasty meal.

Ingredients:

1 bunch kale, washed and stems removed
1 sliced peach
1 sliced plum
1 sliced nectarine
½ cup blackberries
½ cup sliced almonds

¼ cup coconut water
2 tablespoons lemon juice
2 tablespoons olive oil
1 teaspoon salt
½ teaspoon pepper

Directions:

Whisk together the coconut water, lemon juice, olive oil, salt and pepper. Massage the vinaigrette into the kale leaves for about 2 minutes. Toss with the peaches, plums and nectarines. Garnish with blackberries and almonds.

Source: womansday.com
---
3

Pancake Sauce

If you want to branch out from syrup and try something brand new on your pancakes, you will not be disappointed with this recipe. It's easy to make and tastes glorious!

Ingredients:

1 carton coconut water
3 tablespoons peanut butter
¼ cup sugar

Directions:

Boil the coconut water until reduced to a ½ cup. Remove from heat and add the peanut butter and sugar. Whisk to combine well.
---
4

Coconut Sweet Potato Tequila Shrimp Ceviche

This recipe will make you the star of the dinner table. It's fancy and easy to make and is sure to impress anyone you serve it to. You just might get addicted to this one!

Ingredients:

1 pound thawed shrimp, raw, tails on
10 ounces lime juice
½ sweet potato
1 finely chopped red onion
2/3 cup cilantro, chopped
2 serrano chiles
1 can coconut water
1 ounce tequila
¼ cup toasted coconut

Directions:

Boil the sweet potato for about 25 minutes, then cool. Meanwhile, Boil the shrimp for 2 minutes, turn off heat, cover and let them sit in the water for about 8 minutes. Pour the shrimp over ice to halt cooking. Remove shells and tails and chop the shrimp. Cover with the lime juice and chill for 1 hour. Cube the sweet potato. Pour the coconut water into a bowl and mix in the tequila, onions, cilantro, sweet potato and chiles. Chill 1 hour. Strain the shrimp and add to the coconut water mixture. Garnish with toasted coconut.

Source: omnomicon.com
---
5

Flourless Chocolate Cake

Not all chocolate cake recipes call for coconut water, but you can bet it's a great twist. The coconut enhances the chocolate, giving it a brand new flavor you are going to love.

Ingredients:

½ cup coconut water
1 pound bittersweet chocolate
4 ounces unsalted butter
6 separated eggs
¾ cup sugar
Pinch salt

Directions:

Preheat the oven to 375 degrees. Grease a 9-inch cake pan. Use a double boiler to melt together the chocolate, coconut water and butter. Whisk together the egg yolks and sugar until it reaches a ribbon-like consistency. Add the chocolate to the egg yolks and combine. Whip the egg whites with the salt until soft peaks form. Fold the egg whites into the chocolate mixture. Pour into the pan. Bake until set in the middle.

Source: womansday.com
6

Coconut Water Lemonade

Lemonade is one of my favorite things to drink. Especially when it's hot outside. Jazz things up by using coconut water next time you make a batch. You won't be sorry.

Ingredients:

4 cups coconut water
5 tablespoon fresh lemon juice
Juice from 3 limes
3 tablespoons sugar
2 sliced lemons
2 cups ice
Mint leaves

Directions:

Combine the coconut water, lemon juice, lime juice and sugar in a large pitcher. Stir to mix. Add the lemon slices and ice. Garnish with mint leaves.

Source: rasamalaysia.com
---
7

Coconut Pudding

This is going to be your new favorite dessert! It's simple to toss together but will make people think you slaved for yours.

Ingredients:

1 can sweetened condensed milk
Scant ¼ cup sugar
10 grams china grass
2 cans milk (use the condensed milk can)
1 can coconut water
½ cup coconut meat

Directions:

Cut the china grass into 1-inch strips and soak it in hot coconut water for 2 hours. Boil the condensed milk, milk and sugar in a large pot. Heat the coconut water with the china grass. Most of the grass should melt away. Cool both mixtures and combine. Add the coconut meat. Pour into a shallow glass container and freeze for 5 minutes. Transfer to the refrigerator for 45 minutes. Slice and serve with berries.

Source: spicychilly.com

Which one do you want to try first?
---
Popular
Related
Recent