Finding great gifts for foodies is sometimes difficult Even the nicest foodie among your friends will admit — we tend to be snobs. We can't help it. Once we've made the switch from Starkist to locally-canned tuna from Westport, Washington, or "experienced," rather than simply "eaten" cheese, there's no going back. Go ahead and tease us, but along with your giggles when our spice cabinets inevitably crash down upon us, please do be careful when selecting presents for foodies, like us. The holidays are approaching, and within months, birthdays, so take heed. Here are my very un-snobbish, very fun gift ideas for foodies; all of them can be found online at Dean & Deluca and Uncommon Goods, both known havens for foodies.
---
1

Dean & Deluca Cheese of the Month Club

If the foodie on your list is a cheese aficionado, then this is the gift for them! Every month, they'll receive a generous chunk of a unique, delicious cheese. Memberships come in 3, 6, 9 and 12 month plans. My only wish? That the membership came with a cheese-inspired pin-up calendar, each month celebrating a new dairy delight.
2

Dean & Deluca Salt Essentials Collection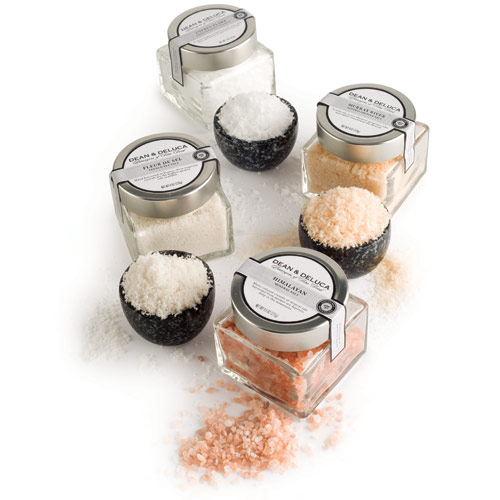 Sometimes, the best gifts for foodies are basics, or gifts that call in to question the basics. Salt, you ask? Yes! Each of these four salts from around the world is different, with subtle variances in flavor and texture. My favorite is the pink-hued Himalayan salt.
---
3

Soup and Crackers Bowl

I know I'd be thrilled if someone bought me this gift for the foodie in me! Is there any better lunch or dinner than a bowl of roasted tomato soup with chunks of crusty bread or rich cheese crackers? This bowl combines both, perfectly, preventing soggy crackers and messy crumbs.
---
4

Foodie Fight Game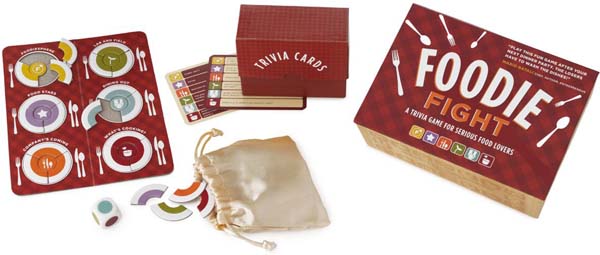 What's even more fun than a food fight? A foodie fight! This board game is loaded with foodie trivia, with questions ranging from which take-out item is most often ordered for Super Bowl parties to whether or not it's necessary to tip a caterer. Test your food trivia with your foodie friends, and be sure to act smug when you get an answer right.
---
5

Back to Roots Mushroom Kit

Here in Michigan, there are often heated disputes over mushroom-hunting territories come morel season. As a result, I'm no stranger to the appeal of growing your own, indoors. This kit contains just about everything your foodie friend will need to grow their own oyster mushrooms.
6

Hot Chocolate on a Stick

Everyone, everywhere loves hot chocolate, and this non-messy version is perhaps the perfect gift for foodies who are oh-so-hard to buy for. Most of us have everything we want, but this? We might not think of this on our own.
---
7

Sea Salt Caramel Collection

If you haven't tried salted caramel, you're in for a treat… if your foodie friend will share these with you. Each box contains an even dozen of these dark and milk chocolate caramel goodies. The combination sounds odd, but it's the perfect blend of sweet and savory. They're so good!
---
8

Preserves Duo

I know what you're thinking: this is just jelly, right? What's the big deal? The big deal is the thunderbolt taste, all bang and pop. These two jellies couldn't be more different — sweet berries vs. tart lemon — but together, they're great gifts for foodies.
---
9

He/She Mug Set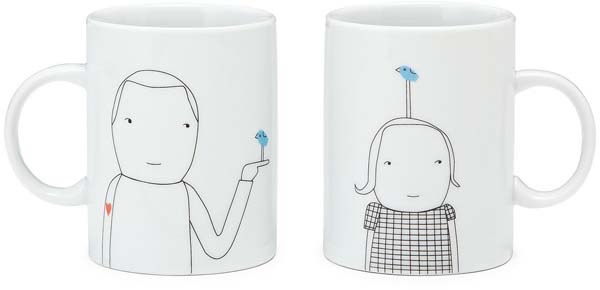 If your foodie friends come as a set of two, then delight them both with this thoughtful gift for foodies they can share. They're ideal for all coffees and teas, in 8-ounce increments, and are dishwasher safe. Cheers!
Truly, the only difficult thing about any of these gifts for foodies is in choosing just one! I know I'd love any of these, so I'm sharing this list, right now, on every social media outlet I can find… which of these gifts do you think the foodies in your life would like the most? Or is there another foodie gift you've found that they adored? Please share!
Top Image Source: eenmaatjemeer.eu
---
Comments
Popular
Related
Recent