Between green salads, green veggies, green juices and green smoothies, there are almost endless amounts of green recipes out there. While some people are turned off by green foods, I personally adore them! Green foods just make me feel great, plus they are excellent for fighting off excess weight, sugar cravings and even bad skin as an added bonus. Green foods are rich in chlorophyll that cleanses the body and reduces inflammation. Green veggies, herbs, leafy greens and seaweeds are full of fiber, nutrients and metabolism enhancing properties that your body needs to look and feel its best. Adding more green recipes to your daily meal plan will help ensure that you'll not only get in your daily dose of veggies, but also help to slim you up in no time without feeling one bit deprived! Ditch the diets and eat your greens!
1

Spinach and Avocado Dip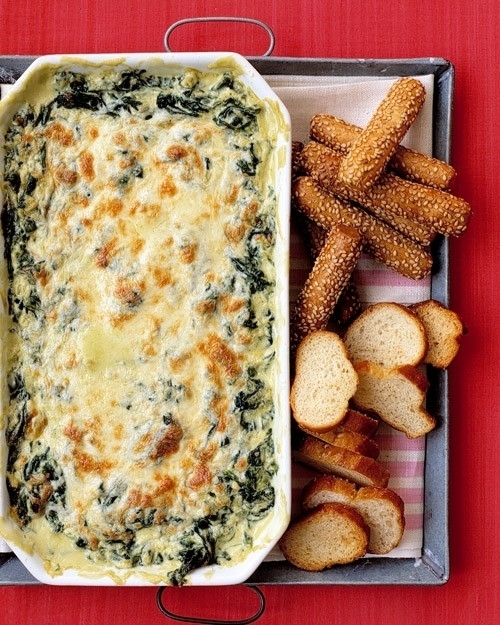 One of my favorite people to turn to for amazing green recipes that are fresh, look amazing, and taste phenomenal is Karielyn from The Healthy Family and Home blog. She fills her blog with recipes that are living, clean foods that happen to be the most satisfying foods I've ever had to mimic unhealthier versions of foods that many of us grew up eating. Take for instance this Spinach and Avocado Dip. It is full of flavor and intensely satisfying, yet won't leave you filling stuffed afterwards like regular dips from those cans at the store will. Plus, in case you're interested, this dip is also raw, vegan, gluten-free, dairy-free and Paleo-friendly!
Ingredients:
5 cups raw organic spinach
1 large organic avocado
1/2 organic onion
1 - 2 clove organic garlic (freshly crushed)
1/2 teaspoon pink himalayan salt
1 organic lemon (freshly squeezed)
Optional:
pinch organic cayenne powder
Directions:
Put all ingredients into a food processor and process until well combined and creamy.
Enjoy!
2

Wilted Chipotle Kale Salad with Chipotle Dressing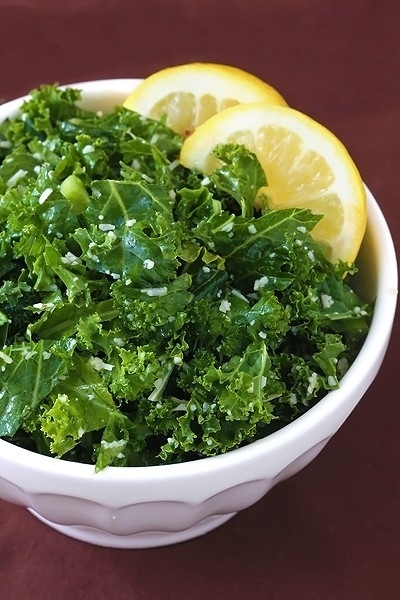 I've always been a fan of chipotle and other ethnic flavors in foods. Something about the spicy, slightly sweet taste of chipotle just enhances any recipe, if you ask me! This salad recipe by Karielyn at The Healthy Family and Home blog is a must-make for anyone looking for a new way to love green foods. Kale is one of my favorite greens to eat when I want to feel good and want my skin to look good too. Many people think they don't like kale, but have also never had it fixed as deliciously as it is in a wilted kale salad. Kale is rich in vitamins, enzymes, minerals, protein, iron, Vitamin A and Vitamin C.
Ingredients:
For the salad:
2 cups organic kale (de-stemmed)
1 cup organic tomatoes (diced)
1/2 cup organic hemp seeds
1/2 teaspoon pink Himalayan salt
For the dressing:
2 organic avocados
1/2 cup extra virgin olive oil
2 tablespoons organic lemon (freshly squeezed)
1/2 - 1 teaspoon organic chipotle powder
Directions:
De-stem the kale and break into bite-sized pieces.
Put the kale pieces into a medium sized bowl with the pink himalayan salt and "massage" the kale for a few minutes until it becomes soft and wilted.
Add the tomatoes and hemp seeds to the wilted kale.
Put all the ingredients for the dressing into a Vitamix (or other blender) and blend until well combined and creamy.
Add the dressing to the salad mixture and mix together until all pieces of the kale are covered with the dressing.
Sprinkle with additional hemp seeds on top of the salad, if desired.
Enjoy!
Trendinig Stories
More Stories ...
3

Spinach Cucumber and Celery Juice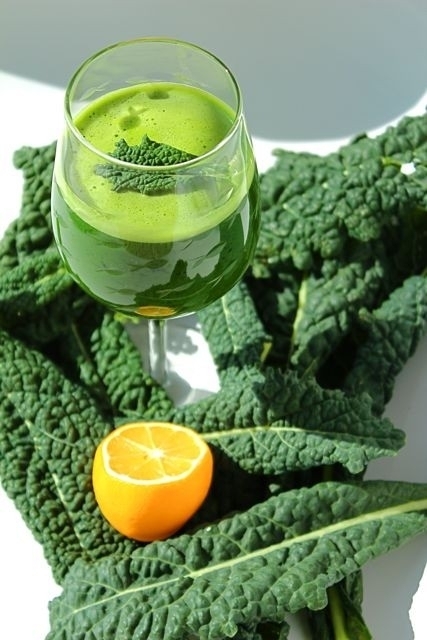 There's no need to go on a juice fast if you want to reap the beautifying and slimming benefits green juice has to offer. It can also taste pretty good, if you're strategic with the ingredients. Spinach is a great green to juice because it is slightly sweet, mild in flavor, and the lemon in this recipe makes this taste like a healthy lemonade. Spinach is rich in magnesium, chlorophyll, Vitamin E and Vitamin A. It also contains protein, with 5 grams per cup. Celery and cucumbers are great to slim you down since they naturally beat bloating and contain potassium to nourish your cells and balance out your electrolytes. Cucumbers are also great for your skin due to their high silica content, an important mineral for clear, taut skin. Lemons help to alkalize the body to reduce inflammation, aid in elimination of toxins, and contain tons of Vitamin C.
Ingredients:
1 large organic cucumber
6 stalks organic celery
3 cups organic baby spinach
1 organic lemon (freshly squeezed)
Directions:
Cut cucumber and celery to fit your juicers chute.
Juice the spinach, cucumber and celery.
Strain through the strainer to remove foam.
Squeeze the juice of (1) lemon into green juice.
Drink immediately or store in an air-tight glass container (keep refrigerated).
Enjoy!
---
4

Creamy Raw Hemp Cilantro Dressing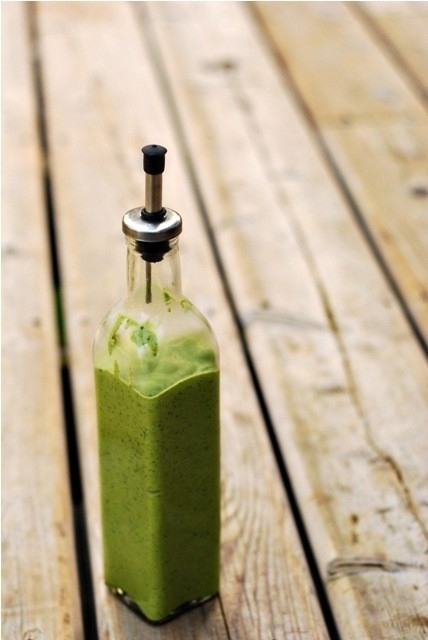 Never buy those unhealthy salad dressings again, ladies! Make this recipe and you'll forget why you ever bothered with the store-bought versions to begin with. Even organic and healthier brands of dressing are still filled with oils from sources like soybeans, corn, or they contain ridiculous amounts of sodium and preservatives. Make your own dressing, which tastes so much better, is less expensive, and you never have to worry about it hurting your waistline with wacky ingredients you can't pronounce. This bright green salad dressing is full of healthy fats that fuel your metabolism and enhance your skin cells. It also has natural plant protein to fuel your muscles, and detoxifying ingredients like garlic, cilantro and lemons. Dress your next batch of salad with this and you'll be finding yourself actually craving salad everyday!
Ingredients:
1/2 cup organic hemp seeds
2 cups organic zucchini (peeled and cubed)
1 - 2 clove garlic
1 handful organic cilantro
1 handful organic dill
1 teaspoon organic cumin
1 organic lemon (juiced)
pink Himalayan salt (to taste)
Directions:
Put all ingredients into a Vitamix and blend until smooth and creamy.
Enjoy!
---
5

Raw Green Smoothie Ice Cream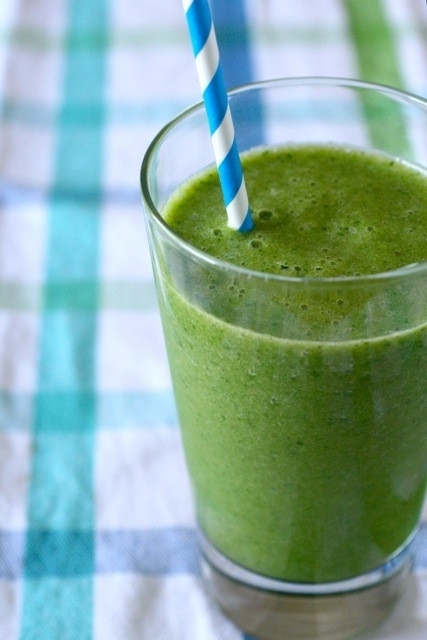 This smoothie ice cream recipe is one of my very own that I created because I've always loved thick, frosty smoothies that are more reminiscent of an ice cream texture than those you just slurp with a straw! I like eating my smoothies versus drinking them, and I love perfecting them one by one until I get a crazy tasty flavor combination. This green smoothie will slim you down, but also satisfy you, enhance your mood, radiate your skin and give you tons of energy. It is one of my favorite go-to recipes of all the ones I've ever created and I hope you enjoy it! The trick is to use frozen veggies and freeze your own greens and other pieces of produce beforehand. This way, instead of using a lot of ice, which waters it down, your ingredients are what help to make this smoothie ice cream extra frosty and creamy. This makes 48 ounces in a Vitamix, so eat this for a meal replacement, or split it in multiple servings for the day. You can freeze it and thaw overnight in the fridge for the next day as well. Don't knock a green smoothie until you've at least tried it this way first, pretty please!
Ingredients (Use In the order listed):
1 scoop of your favorite protein powder (I use Garden of Life Raw Meal in the flavors Vanilla Chai or Marley Coffee)
2 tbsp. dark cocoa powder (I like Hershey's)
1 tbsp. flax
1 tbsp. chia or hemp seeds
1/4 tsp. psyllium
1 scoop Amazing Grass cacao superfood powder
cinnamon
stevia (I use 1/2 tsp)
ginger root
Optional:
1 teaspoon maca, mesquite, spirulina and acai powder (I used all of them)
1 frozen, chopped mini cucumber (or 1/2 a regular)
1 bag (3 cups) frozen spinach, kale or collards
1 unsweetened cup almond milk, coconut or cashew milk
1/4 cup organic nonfat kefir (dairy or coconut based)
1 cups water
5 ice cubes
Directions:
Insert in the order listed into a high speed blender
Blend on high and ta-da! SUPER thick like ice cream instead of a smoothie.
Scrape it out and get in all the corners of your blender to get it all out with a spatula. Then, spoon it slowly into a frozen glass for extra frostiness and grab a spoon.
---
6

Activated Almond Milk with Spirulina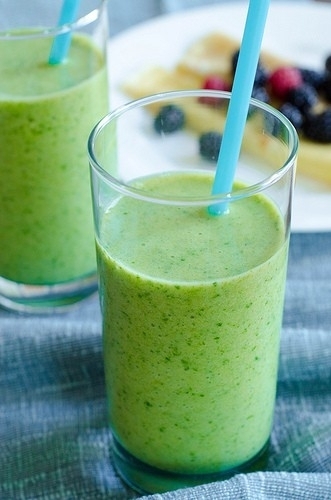 If you like to make your own almond milk or other nut milks at home, great! If not, I definitely recommend giving it a try. If you're already making your own nut milk, consider spiffing it up a bit! Spirulina is hands down my top must-have green food. Once you get past the color and pretty sea-like smell, you'll love the effects spirulina has to offer! Talk about a brain and beauty food. Spirulina is the most protein dense food in the entire world. It also contains 80% of your daily Vitamin B 12 in just one teaspoon, along with iron, zinc and is the richest source of chlorophyll, along with chlorella, of all green foods. Chlorophyll is your weapon against weight gain, fatigue, acne and bad health. The greener, the better! Let's take this almond milk by my favorite nutritionist, Dana James from Food Coach NYC. This almond milk is delicious! It features such amazing flavors you never ever taste the spirulina, but you will feel the effects of it! Make it, try and love it, as I know you will!
Ingredients:
½ cup organic raw almonds
32 ounces of alkaline water
3 dates
½ tsp. spirulina
1 cardamom pod (or you can use a bit of powdered)
1 inch of a vanilla bean
Handful of spinach leaves
Pinch of sea salt
Directions:
To make the activated almond milk, soak the almonds in water for 3 hours or overnight. Once the nuts are soft, rinse them off in water and remove the skin (or leave it on).
Put the almonds into a blender with the filtered, alkaline water and blend for a minute.
Use a fine mesh strainer or nut milk bag and pour the almond milk through the strainer into a glass container.
Return the almond milk to the blender and add the rest of the ingredients.
Blend for 30 seconds.
Enjoy and pour the rest into glass bottles or Mason jars to store almond milk will keep for 3 days in your fridge.
---
7

The Ultimate Chopped Salad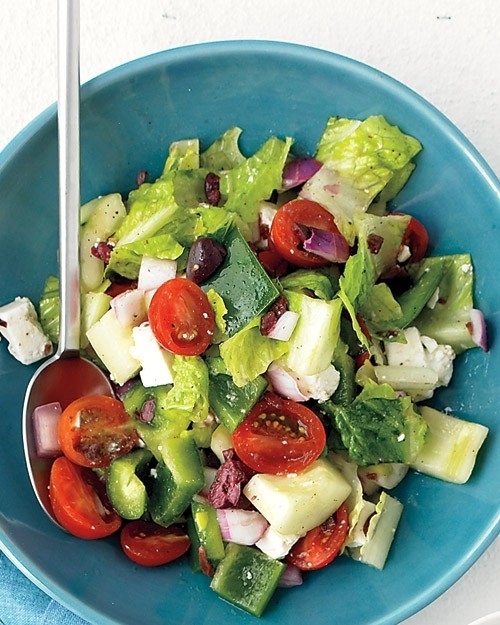 Taralyn from the Undressed Skeleton blog is one of my go-to websites for getting a delicious, refreshing recipe I haven't tried, that I also know will be healthy for me. Try this Ultimate Chopped Salad by Taralyn. It is one of the tastiest, most filling salads I've ever had in my life. Plus, it is beaming with nutrients such as protein, chlorophyll, fiber, vitamins, minerals and more. If you don't like eggs, or are vegan, use your own favorite source of protein. This recipe will slim you down, beautify you and conquer those junk food cravings in no time. Best of all, it is so yummy that you won't believe this delicious meal is actually healthy for you either!
Ingredients:
1/2 tomato,
1/4 avocado
1 medium cucumber
1 tablespoon no sugar added dried cranberries
3 cups iceberg lettuce salad blend (with cabbage and carrots)
2 cups spinach
1 orange bell pepper
1 tablespoon almonds sliced
1 tablespoon pecans chopped,
1 tablespoon Italian dressing (or your choice of dressing)
2 large egg whites
1/4 cup green onion
Directions:
To chop the salad, place the ingredients in a bowl and you can use a knife or even use kitchen scissors like Taralyn does to get it finely chopped up and easier to eat. Then, just toss it all together in the bowl and eat up!
Green recipes are some of my favorite recipes to go to when I want to feel good. What about you? What's your favorite green recipe to eat?
Sources: thehealthyfamilyandhome.com, thehealthyfamilyandhome.com, thehealthyfamilyandhome.com, thehealthyfamilyandhome.com, soulfulspoon.com, foodcoachnyc.com, undressedskeleton.tumblr.com
---
Comments
Popular
Related
Recent