7 Hot and Cozy Beverages to Warm up to This Year That Won't Hurt Your Waistline One Little Bit ...
By Heather
Every fall and winter, finding new cozy beverage recipes becomes sort of an addiction for me. I just can't seem to quit finding new favorites to enjoy. Last year, I was obsessed with the Starbucks skinny lattes and learned how to make my own at home. Before that, it was green tea lattes and recently, skinny hot cocoa. The possibilities are endless with cozy beverage recipes, but unless you have a few tricks up your sleeve, it can be hard to enjoy these drinks in a healthy way. Try my favorite 7 cozy beverage recipes to make right now. They're warm and creamy, and oh so satisfying!
---
1

Skinny Hot Cocoa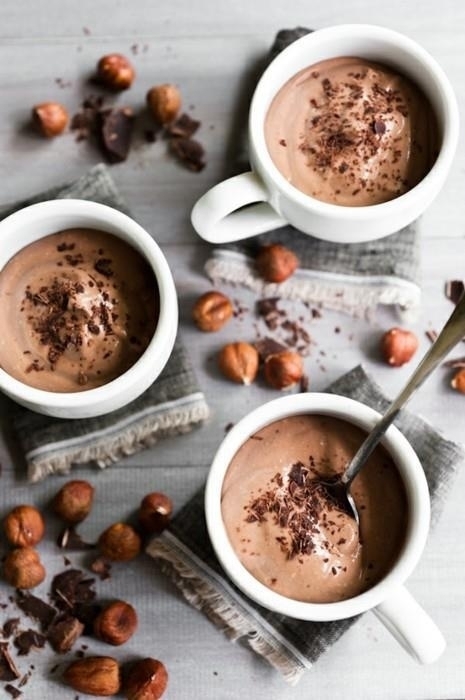 Let's start with a super simple, skinny cozy beverage recipe, shall we? Skinny hot cocoa is so easy, and a true favorite of mine. This recipe is my very own, so I hope you enjoy it. I drink this sometimes in replacement to tea if I'm craving chocolate, but don't feel like eating a chocolate bar. It's perfect to enjoy as the weather starts cooling down.
Serves: 1
Ingredients:
2 cups filtered water
2 tbsp. raw cacao powder
1 tsp. raw maca powder (acts like a natural creamer and energizer)
1/4 tsp. organic pure stevia extract (or 2 full drops of the liquid variety)
tiny sprinkle of organic cinnamon if you like
splash of your favorite almond milk- I used Silk unsweetened vanilla, my top choice (or opt for homemade)
Directions:
Boil the water on the stove in a pot or run the water through your coffee maker to heat it up. Pour the water into a tall mug. Stir in the raw cacao powder and maca first. Stir very well with a spoon so it doesn't seep to the bottom. Whisk it with your spoon for a good 20 seconds and then add the rest of the ingredients. Let it sit for a minute since it may be a little hot and then enjoy!
Source: soulfulspoon.com
---
2

Skinny Peppermint Mocha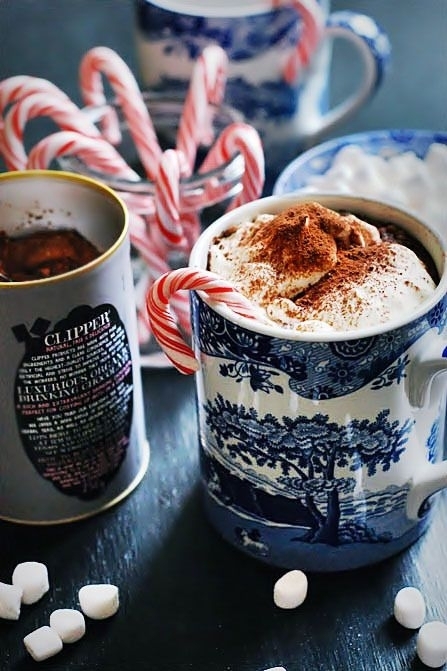 This recipe is also my own, which I actually drink each day, regardless that it was inspired by the holiday special at Starbucks. I fell in love with the drink two years ago on a random outing with an old friend to Starbucks and started making it in my own kitchen ever since. It's warm, satisfying, and my version is vegan, and sugar-free without a bit of artificial sweetener like the ones used at Starbucks. I hope you enjoy my favorite daily mocha treat.
Serves: 1
Ingredients:
2 cups of brewed organic coffee
1/4 cup unsweetened vanilla almond milk (I use Silk)
1 tiny drop (about 1/16 tsp) pure peppermint extract or less
½ tsp. pure stevia powder extract
1/2 tbsp. Hershey's Special Dark cocoa powder (richest and the best!)
Directions:
Brew your coffee as normal. While it is brewing, pour your almond milk into a mug so it isn't so cold as pouring it into your mug straight out of the fridge right before serving. While the coffee brews, make your breakfast, or just wait. Then, after the coffee is finished brewing, pour it in your mug with your almond milk, stir in the stevia, cocoa and peppermint extract. Stir about 30 seconds until it is all incorporated well. Drink slowly and savor.
Source: soulfulspoon.com
---
3

Skinny Pumpkin Latte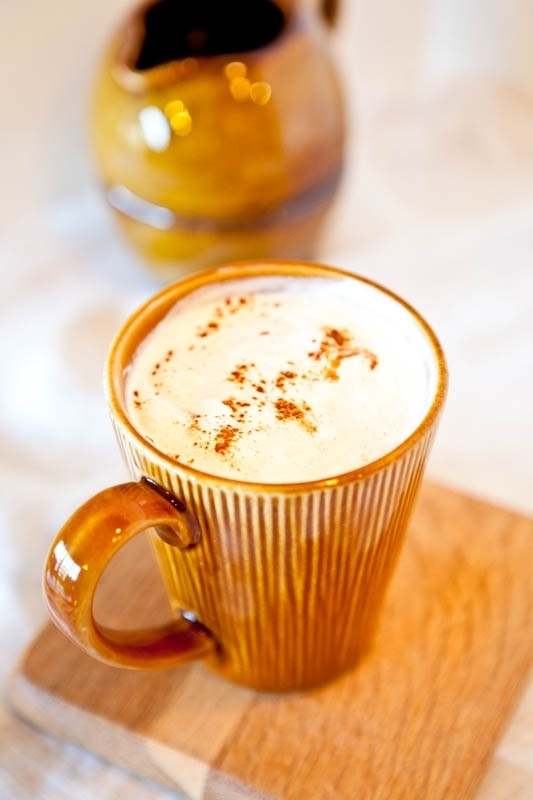 If you want a healthy version of the Starbucks classic at home, then cozy up to this easy recipe. It's quick, simple and I promise, is much healthier than what you'll find at Starbucks, along with being easier on your wallet at the same time. Enjoy this with a good book, a fire, or share it with someone special. Enjoy!
Serves: 2
Ingredients:
3 shots of espresso or 16 ounces of brewed coffee
1 cup unsweetened vanilla almond milk
¼ cup plus 2 tbsp. pure pumpkin puree
2 tsp. pumpkin pie spice
1 tsp. vanilla extract
6 drops of liquid stevia (or 1 tsp. pure powder extract)
additional sprinkle of cinnamon if desired
Directions:
In a cup or sauce pan, mix together almond milk and pumpkin. Cook on medium heat on the stove top or microwave for 30-45 seconds. Remove from heat, stir in vanilla, spices and sweetener, place in a cup and use a frother to foam the milk. You can also use a blender – just process for 30 seconds or until foamy. Pour coffee into a large mug, add the foamy milk mixture on top. Sprinkle with cinnamon. Enjoy!
Source: eatingbirdfood.com
---
4

Skinny Chai Tea Latte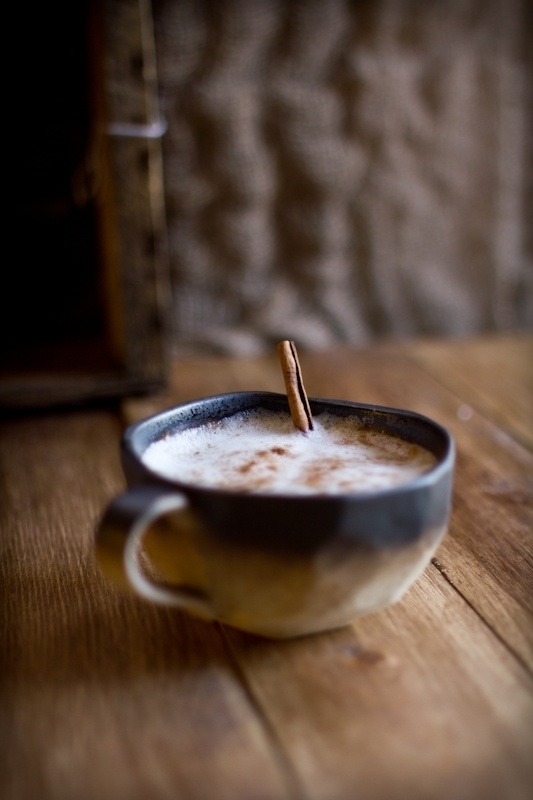 Do you like chai tea? I do! What I like even more are chai lattes, but all those excess grams of sugar and dairy fats aren't the kind of latte I'm really into. I prefer something that tastes like a dream, and is actually very healthy at the same time. Try this skinnied up version of a Starbucks Chai Latte. It is just as good, if not better, in my opinion, and one of the best drinks to make for guests or yourself when you want something cozy and healthy too.
Serves: 2
Ingredients:
2 cups unsweetened vanilla almond milk
2 chai tea bags
¼ tsp of cinnamon
½ tsp. pure stevia extract
2 tsp. pure vanilla extract
Directions:
Heat the milk with the teabags, cinnamon and vanilla on your stove in a saucepan, just until it starts to bubble. Remove and pour into two mugs, or you can half the recipe and serve yourself just one mug. You can sprinkle with additional cinnamon on top if you wish and add frothed milk for a coffee-house effect if you want.
Source: skinnysometimes.com
---
5

Skinny Hot Maple Apple Cider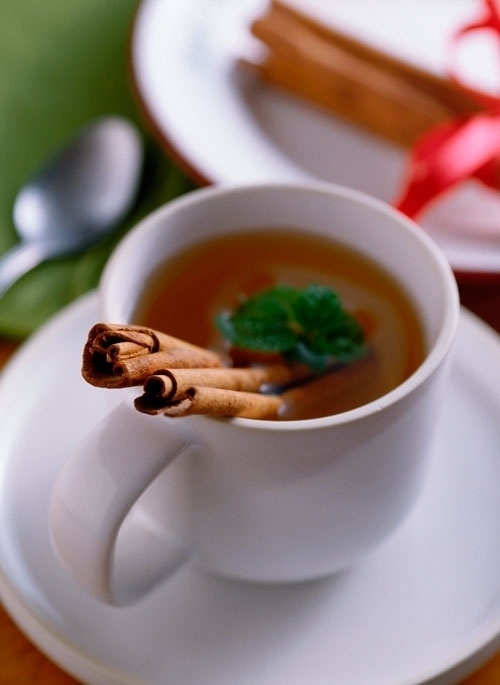 Hot apple cider is always a great treat to have in the winter, but most recipes are often high in sugar. I've got a great recipe for you that is low calorie, yet incredibly high in flavor and satisfaction. It uses organic apples to avoid pesticides, and it smells like hot apple pie in a mug!
Serves: 1
Ingredients:
2 pounds of organic sweet apples (like Golden Delicious, Honeycrisp or Fuji)
water
2 tsp. stevia extract
1 tsp. pure maple extract (or vanilla will work)
1 cinnamon stick
*If concerned about pesticides use organic apples otherwise you can peel them first before using for safe results.
Optional: low calorie whipped topping and maple syrup for drizzling
Directions:
First you'll need to prep your apples by cleaning them. Next, cut the apples into wedges, remove core and lastly, the seeds. Place the apple wedges, cinnamon stick, stevia and maple extract into a deep pot. Pour enough water to cover the apples by 1 inch. Partially cover the pot and simmer for 2 hours- at which time the apples should be completely broken down. Pour through a fine sieve or cheesecloth. Serve warm or if consuming later allow to cool before storing in the refrigerator. Top with low calorie whipped topping and a drizzle of maple syrup if you wish.
Source: skinnyms.com
---
6

Skinny Matcha Latte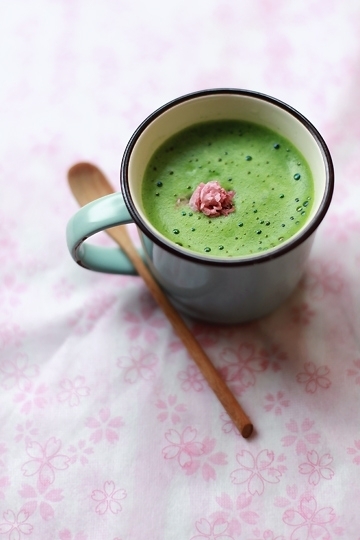 Have you ever had matcha green tea? I adore it! I like the Tao of Tea brand since it is affordable and made from high grade Japanese matcha green tea. Matcha green tea is the king of all green teas. If you haven't had it yet, I highly suggest you try. It's about a thousand times higher in nutrients than regular green tea, and in my opinion, tastes better. Try this hot, warming and incredibly calming green tea latte. I love it for its simplicity, warmth and buttery, smooth texture.
Serves: 1
Ingredients:
1 ½ cups unsweetened vanilla almond milk (or your choice milk)
1 tsp. matcha green tea powder
¼ tsp. pure stevia extract (or 2 full droppers of the liquid)
Directions:
Heat the milk on the stove in a small pot or saucepan on high heat until it starts to pre-boil, where bubbles start forming, but isn't quiet to a full boil yet. Remove and pour into a mug and stir in the remaining ingredients, or put all this in your blender. I find it works well to place the hot milk in a blender and add the ingredients to blend it all up smoothly. Then, just pour into your mug and serve! If you have milk frother, you can froth the top of it while warm to create that great foam served in coffee shops. Certain blenders may also give you the same effect without a milk frother.
Source: food.allwomenstalk.com
---
7

Skinny Frozen Hot Chocolate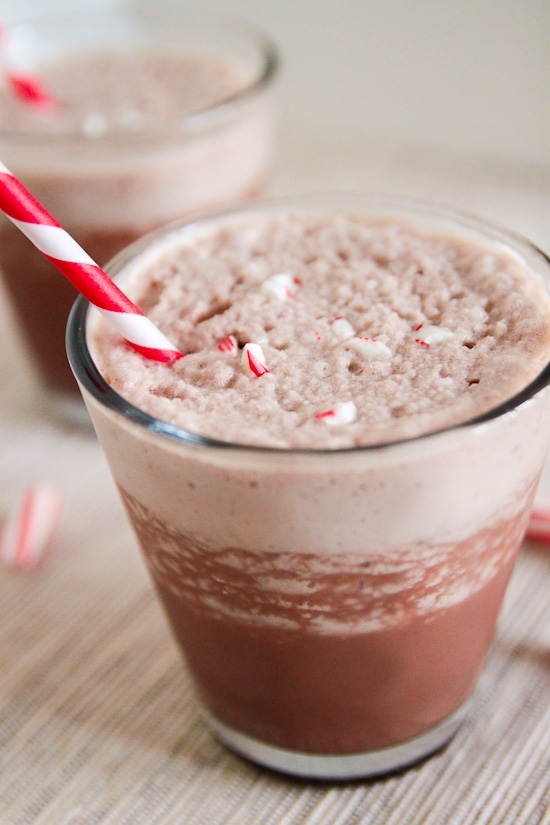 I've always wanted to visit Serendipity in New York City, who is the creator of the original Frozen Hot Chocolate Beverage. Oprah even named this drink as one of her all time favorite treats, so I have wanted to try it ever since. Well, unfortunately, enjoying the real deal is still on my bucket list of things to do before I turn 30, but nonetheless, I've got a skinnier version you can try at home if you haven't had the real thing either. This is a sugar-free version of the original recipe, which I've adapted from Skinnytaste and made it vegan. Enjoy!
Serves: 1
Ingredients:
1 ½ cups unsweetened vanilla almond milk
½ tsp. pure stevia extract powder
1 cup ice
1 scoop Sunwarrior Chocolate Raw Warrior Blend (or your favorite)
2 tbsp unsweetened dark cocoa powder (I like Hershey's)
2 tbsp coconut or soy whipped topping (optional)
drop of peppermint extract (optional)
Directions:
Pour the milk and ice into your blender. Add in the protein powder, stevia, cocoa powder, and whipped topping (optional – you could also leave this for the top instead). Blend 3-4 minutes until the ice is completely chopped and the mixture is thick and icy.
Source: skinnytaste.com
Have you ever made a skinnied up version of a hot cozy beverage high in calories? Share it with me! I'm always up for something healthy and cozy!
More
Comments
Popular
Recent