7 Low-Cal Summer Treat Ideas ...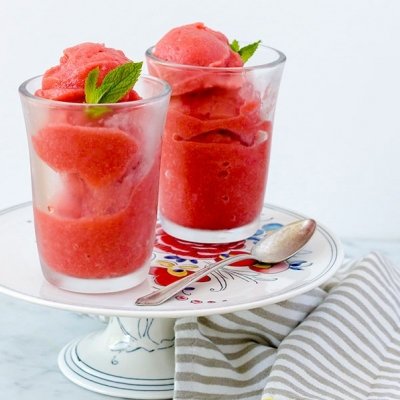 Need some low cal summer treats? This summer, you might be watching your caloric intake and making sure you stay in perfect shape for bikini season. But that doesn't mean you can't indulge every once in a while and enjoy a fun treat! These seven low cal summer treats are decadent, delicious, and won't ruin your plans to stay fit and trim all summer long.
1.

Non-Alcoholic Spritzer
With seven calories per gram, drinking alcohol on the reg isn't the best strategy for staying slim in the warmer months. Instead, enjoy a non-alcoholic spritzer that you can make with ingredients you probably already have on hand. Try mixing seltzer or sparkling water with a little fresh juice (cranberry, orange, or lemon are great choices), then add a handful of frozen berries (blueberries and grapes are my favorite). If you want to get really fancy, add a little fresh mint for a delicious drink your friends that will make all your friends jelly. You can munch dozens of low cal summer treats with this basic recipe!
Mixed berries are some of the best fruits to eat, especially in the summer! They're loaded with antioxidants and fiber. They also come into season in the summer, so they're perfectly ripe and taste extra delicious. Try mixing your favorite berries like strawberries, blueberries, raspberries, and blackberries for a mixed berry salad you can enjoy guilt-free.
Summer grilling doesn't always require a barbeque. These kabobs can be made sans-heat. Simply arrange pieces of your favorite fruits on wooden skewers and enjoy like you would any raw fruit dish. Some of my personal favorites for fruit kabobs are pieces of pineapple, watermelon, and honeydew.
Sorbet is a fantastic and fruity alternative to ice cream on a hot summer day. It's basically fruit blended with ice to create a creamy dessert that tastes absolutely divine. Whether you're manic for mangoes or love exotic flavors like acai, there are a ton of flavors and brands out there. You can even find home tutorials for making your own sorbet!
If you must have a little dairy, opt for frozen yogurt over ice cream. Frozen yogurt has considerably less saturated fat content than ice cream. Also, depending on what brand you buy, you could get a healthy boost of probiotics, the gut-friendly good bacteria that aid in digestion and improve immunity. Chances are there's a self-serve frozen yogurt bar where you can control the portion size and caloric content.
Angel food cake is an old-school but effective way to have your cake and eat it too—literally! Because it's made without egg yolks, the cake is virtually cholesterol free. You can easily take the tiniest slice of angel food cake and dress it up with some strawberries, raw honey, and coconut whipped cream for a delicious dessert that's low in calories and high in flavor!
Banana 'ice cream' is another easy summer treat that mimics the taste of ice cream. Simply blend frozen bananas in a blender, add a little almond milk, and whatever flavorings you like. You can easily add raw cacao powder, specks from a vanilla bean, or some all-natural fruit preserves for a tasty low cal summer treat that averages about 120 calories!
Making summer treats that are healthy and low in calories doesn't need to be challenging! With a little creativity, you can make healthier versions of some of your favorite cakes and ice creams. What are your favorite treats in the summer?
{{#comments_count}} Show Commnents ({{comments_count}}) {{/comments_count}}