7 Magnificent Breakfast Smoothies That Will Make Your Tummy Smile ...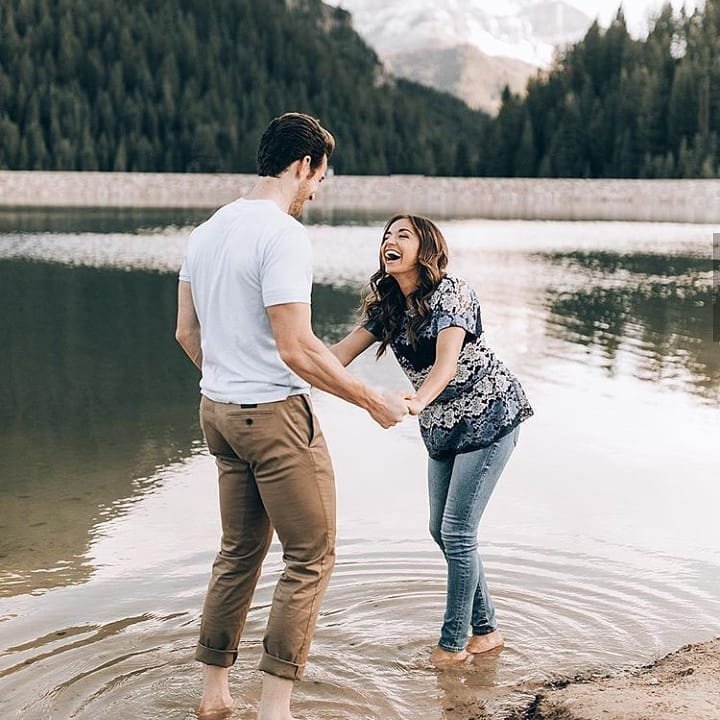 If you love smoothies as much as I do, then you're going to love this fabulous list of breakfast smoothies I rounded up! I honestly don't know what I'd do without my Vitamix. It is my BFF in the kitchen, and even though it drives my family crazy as I pulse, blend and grind away, I adore seeing all the beautiful colors of magical, healthy foods swirl around in my blender, creating a delicious and nutritious treat. Don't stress if you don't have a Vitamix though. You can make all of these incredibly indulgent, yet healthy breakfast smoothies in any blender that you have. Don't stress if you don't have certain ingredients used in these recipes on hand. Instead, get creative and substitute something else you love or that you do have at home. All of these yummy treats require nothing more than common foods found at your grocery store and are quite affordable. Breakfast smoothies are a wonderful way to start your day with vitamins, minerals and energizing nutrients that will fuel your body and your brain. My favorite part is that they are so easy to make and they are totally portable! Check them out and get blending!
1.

Breakfast Power Smoothie
If you're new to breakfast smoothies, there is no need to make things complicated, and this smoothie is proof that delicious doesn't have to be difficult. Start with some of the most basic healthy foods you'll find at your grocery store, like berries, milk and other goodies used here. If you don't have potassium-rich coconut water, which is featured in this recipe, just use any liquid of your choice! You can also substitute stevia for the raw honey or even a banana to give it some natural sweetness. Use your creativity, but either way, enjoy this sweet smoothie, which is full of extremely nourishing ingredients, such as Vitamin C, protein and Vitamin E. It tastes like a delicious, creamy milkshake, yet it is 100% healthy for you!
****
Ingredients :
1 cup frozen strawberries
1/2 cup coconut water
1 tbsp almond butter
5 drops liquid stevia
1 scoop protein powder
1 tbsp chia seeds (or flax)
3 ice cubes
Directions:
Blend all of the ingredients in the order listed.
**Source: **elanaspantry.com
2.

PB and B Breakfast Smoothie
Who doesn't love peanut butter and bananas, right? It is by far one of the most popular food combinations among Americans, and one of the most popular smoothie combinations out there. I can remember working in a soda fountain shop as a teen, and I would love creating special milkshakes for regular customers, yet my peanut butter and banana shake was always the most popular. It's no wonder, considering how healthy the smoothie combo can be. Both peanut butter and bananas contain tons of brain-boosting vitamins and minerals, such as Vitamins B6, the amino acid tryptophan, niacin, potassium and fiber. Protein from the peanut butter will help you power through your morning and keep you full until lunch; however, if you're allergic, just use some old almond butter! If you need an extra boost of nutrients, or just want to add a pretty garnish, top it off with a tablespoon of oats for even more staying power.
****
Ingredients:
1 banana (mashed or cut into chunks, frozen bananas will create a colder smoothie)
1/4 cup natural peanut butter
1/4 tsp ground cinnamon
1 pinch grated nutmeg (freshly)
2 tbsps chia seeds
1 1/2 cups almond milk (cold)
Directions:
Blend all of the ingredients in the order listed.
**Source: **joythebaker.com
3.

Almond Breeze Tropical Morning Smoothie
One of my favorite bloggers, Baked Bree, came up with this smoothie recipe using Almond Breeze almond milk, which is one of my favorite non-dairy milks out there, though I love many of them! This beautiful, energizing and nourishing smoothie will help your skin glow and increase your energy pronto! It is full of digestive-friendly enzymes, plenty of potassium to keep you energized and prevent bloating, plus it contains healthy fats from almonds and coconut to keep you full, give you great skin and keep your heart healthy. If you don't have some of these fruits, just use what you do have. As long as this includes pineapple, you'll get that tropical taste and plenty of Vitamin C too. This smoothie will have you feeling like you're sipping on an exotic treat on a faraway island, even if you're just in your car on your morning commute!
****
Ingredients:
2 cups almond (Almond Breeze Coconut Almond Milk or any that you have)
1/2 papaya (seeded and cubed)
1/2 mango (peeled and cubed)
1/2 pineapple (cubed)
1 banana
1 orange peeled (and cut into quarters)
1 tbsp honey (raw)
1/4 cup coconut flakes
ice (if your fruit is not frozen)
Directions:
Blend all the ingredients in the order listed.
**Source: **bakedbree.com
4.

Cherry Chocolate Breakfast Smoothie
Does anyone else out there just love cherries and chocolate together like I do? If not, let me invite you to jump on board this delicious, heavenly combination. Sweet, succulent cherries take deep, rich chocolate to a whole new level, creating this extremely dreamy, seductive, yet healthy treat, full of antioxidants and powerful minerals to nourish your brain and body. This smoothie also contains probiotic rich yogurt to give your digestive system a calming jump start to the day ahead, along with some healthy protein. I bet once you make this smoothie, this combination will become a quick staple in your morning mealtimes!
****
Ingredients:
1/4 cup sweet cherries (frozen unsweetened, thawed)
1/2 cup vanilla yogurt (sugar free)
1/4 cup nonfat milk
1 tbsp unsweetened cocoa powder
4 ice (cubes)
1 tsp honey (optional)
Directions:
Blend all the ingredients in the order listed.
**Source: **biggestloser.com
5.

Blueberry Pie Smoothie
If you need a little indulgence in your morning meal and want to sneak in some healthy ingredients, this smoothie is for you! This delicious blueberry smoothie features heart-healthy oats to give it a pie-like taste, and includes frozen spinach that you'll never taste, but it makes the smoothie extra thick, creamy and more nutritious! Rich, sweet blueberries create the most beautiful color in this smoothie and contain tons of Vitamin C as well. The author recommends you soak your oats with the milk 5 minutes before blending together, but I tried it without doing this and it still worked awesome, so do what works for you!
****
**Ingredients:**1 cup milk of choice
1/4 cup regular oats
6 oz. nonfat blueberry yogurt (or regular)
1 cup frozen blueberries
3 ice cubes (more for a thicker smoothie)
1 packet sugar substitute of your choice
Directions:
Blend all the ingredients in the order listed.
**Source: **runeatrepeat.com
6.

Dairy-Free Breakfast Berry Smoothie
If you're a vegan or just want to use more vegan ingredients in your morning blender, then try this delicious berry smoothie, which is 100% vegan. You'll never even be able to tell the difference, I promise! This recipe uses creamy, dreamy soy milk, which I advise buying from a certified non-GMO company, such as Silk, to make sure you're not taking in genetically modified soybeans. Or, feel free to sub in my favorite nondairy milk, which is creamy almond milk! Either way, this smoothie's blend of sweet, beautiful and vibrant berries will give you an antioxidant boost as well as keep your brain fueled all morning long! For extra staying power and a thicker smoothie, add in 2 extra tablespoons of protein in addition to the amount recommended in this recipe.
****
Ingredients:
3/4 cup blueberries (frozen, or any other frozen berries)
1 cup soymilk (light)
2 tbsp protein powder (soy or rice)
1 banana (small)
1 tbsp
flax seed meal
Directions:
Blend all the ingredients in the order listed.
**Source: **dairy-free.food.com
7.

Coconut Raspberry Breakfast Smoothie
I adore sweet raspberries, rich coconut and vibrantly energizing green spinach! This smoothie is perfect in its variety of nutrients, including fiber, healthy fats and plenty of protein in the spinach, with 5 grams per cup! Feel free to experiment with your own ingredients and add in anything you like. Raspberries are rich in Vitamin C, fiber and are so sweet and tart, they'll satisfy all of your taste buds, while creamy coconut has nourishing fats for your brain and your body, and will keep your metabolism at peak all day long.
****
Ingredients:
1 cup frozen raspberries
1/3 cup
coconut flakes
2 big handfuls of spinach( about 2 cups)
1 cup water ( or you could sub in your choice of milk)
Optional: extra ice for a thicker shake
Directions:
Blend all the ingredients in the order listed.
**Source: **abeautifulmess.com
I'm sure many of you have your own favorite breakfast smoothie recipes, and I'm begging you to share yours with me! I love getting new ideas and new recipes to create at home. Tell me what goes into your morning blender, or if you've ever made one similar to these recipes!
{{#comments_count}} Show Commnents ({{comments_count}}) {{/comments_count}}