7 Maine Seafood Restaurants You've Got to Try in Your Lifetime ...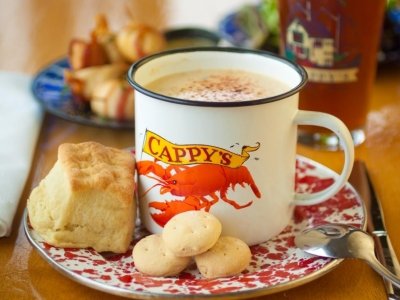 There's no better place to eat seafood than near the ocean, which is why I want to share some of the best Maine seafood restaurants of all time. Not only will you feel cozy and welcome, but you'll get to sample some of the best seafood in the entire country. And there's much more to choose from than lobster, though it will always be my top pick. So, without further ado, here are some Maine seafood restaurants you should definitely try at least once in your lifetime.
1.

Bartley's Dockside Dining
I start my list with this epic of the many Maine seafood restaurants because it does a great job of combining atmosphere with delicious food. Of course, there's New England clam chowder and lobster stew on the menu, but don't let that limit you. Try the various other entrees for a meal you'll never forget. Choose from mussels, stuffed lobster, haddock, swordfish, crab, salmon and sole. No matter what you choose, you won't be sorry.
The name alone tells you this place is good! The view is breathtaking, but so is the food. Located right on the water, the cooks prepare some of the freshest seafood around and you can watch the world meander by while you enjoy your food. Some of the highlights of the menu include scallops, shrimp, fried clams, halibut, bass and shark. And of course, lobster cooked in a huge variety of ways.
Ranked #1 in Portland, Maine, Street and Company has a lot to offer. You're not likely to leave this place unsatisfied. In fact, stuffed beyond belief is more like it. Your menu options include poached shrimp, shad roe, lobster, calamari, tuna, swordfish and scallops. No matter what you decide to order, you're going to love it!
4.

Dolphin Marina and Restaurant
I've found that the best restaurants are often the ones that are out of the way and don't appear in upscale magazines or restaurant reviews. The Dolphin doesn't disappoint. Sitting right on the water, the experience here is a great combination of ambiance and food that will make your mouth water. I highly recommend you try the famous fish chowder, lobster rolls, pan seared scallops or the fresh Atlantic salmon.
Surely, you've at least heard of Cappy's. It totally epitomizes the Maine dining experience. It might not be the fanciest place in the state, but the food more than makes up for it. The outside is just what you'd expect in a seaside village and the inside is warm and welcoming. Try the oyster rolls, clam chowder, fried scallops, freshly caught lobster tails or the crab cakes. Enjoy the seaside view while you eat. You may never want to leave.
If sitting above the sea is your idea of a great meal, look no further than The Cliff House. It's situated on a bluff overlooking the ocean so you can enjoy the scenery while you wait for your delicious dinner to arrive. You can't go wrong with anything on the menu here, but I suggest oysters on the half shell, crispy calamari, lobster bisque and the bouillabaisse.
The Lobster Shack appears on so many of the top rated Maine restaurant lists, so I think it also deserves a place on mine. With ocean views inside and out, you'll be awestruck by the surroundings. Your taste buds will be blown away by what the place has to offer. The options include lobster, clams, scallops, shrimp, lobster stew and seafood salads. With lower than average prices, you can enjoy a meal without breaking the bank here.
Do you have a favorite Maine seafood restaurant? Please feel free to share it with me here.
{{#comments_count}} Show Commnents ({{comments_count}}) {{/comments_count}}