7 Margarita Recipes to Cool You off This Summer ...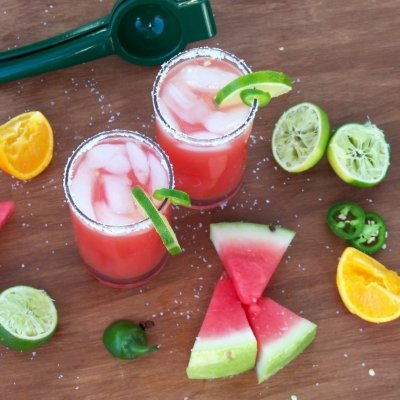 Who doesn't love a frosty cocktail when the weather heats up – I'm here to save the day with some margarita recipes you're going to love. Whip up a batch for an evening on the patio and I promise that the heat will be a lot more bearable. Whether you're making drinks for one or a crowd, these margarita recipes are sure to please.
There's something so refreshing about a glass of limeade, which is why this is one of my favorite margarita recipes. You get the delicious lime flavor you love so much, but with a bit more tartness. This is a great choice for any hot day.
Ingredients:
6 ounces frozen limeade concentrate
6 ounces water
4 ounces tequila
2 ounces orange liqueur
Directions:
Combine the ingredients in your blender and serve in iced margarita glasses. Substitute ice for the water for a frozen variation.
Source: margaritatexas.com
It's summertime, which means watermelons are everywhere at super low prices. Slice one up, but make sure you keep a few pieces out for this yummy and refreshing margarita. It's hard to slow down, but try not to drink too many.
Ingredients:
2 teaspoons sugar
Lime wedge
3 ½ cups pieces of watermelon, seeds removed
½ cup tequila
2 tablespoons sugar
3 tablespoons lime juice
1 tablespoon orange liqueur
Lime wedge and watermelon balls, for garnish
Directions:
Wet your glasses with the lime wedge and dip in the 2 teaspoons sugar to coat. Combine the watermelon, tequila, 2 tablespoons sugar, lime juice and orange liqueur in a blender. Fill each glass ½ full with ice and pour the margaritas on top. Garnish with lime and watermelon.
Source: myrecipes.com
Can't decide between a beer and a margarita? Why not have both? This recipe combines the great flavors of both drinks in one glass. You're going to love it and so are each of your guests.
Ingredients:
12 ounces frozen limeade concentrate
12 ounces tequila
12 ounces water
12 ounces beer
Ice
Lime wedges
Directions:
Combine the limeade, tequila, water and beer in a large pitcher. Add ice and garnish with lime wedges.
Source: allrecipes.com
4.

Chipotle Grapefruit Margarita
This margarita is unlike anything you've ever had. The combination of flavors is really unique, but it's still refreshing and delicious. This is definitely the recipe to try if you're trying to impress someone.
Ingredients:
1 tablespoon salt
1 teaspoon chipotle powder
2 ounces grapefruit juice
2 ounces tequila
1 ounce orange liqueur
Pinch of chipotle powder
2 wedges grapefruit
Directions:
Combine the first two ingredients on a saucer. Add ice to a cocktail shaker and pour in the grapefruit juice, tequila, orange liqueur and chipotle powder. Shake. Use grapefruit wedges to wet the rims of your glasses, then dip them in the chipotle salt. Fill each to the brim with the margaritas from the shaker.
Source: cookingchanneltv.com
There's nothing I love more than an icy glass of sangria when it gets hot outside. Or do I love a margarita more? Luckily, I don't have to choose because this recipe combines two great flavors in one glass.
Ingredients:
8 ounces tequila
12 ounces margarita mix
3 ounces lime juice
2 ounces orange liqueur
4 ounces sangria
Directions:
Blend the tequila, margarita mix, lime juice and orange liqueur in the blender with ice. Pour into glasses until 2/3 full, then top with sangria.
Source: margaritatexas.com
The French get a lot of things right and this margarita is no exception. The ingredients combine to create something so delicious you won't be able to believe it.
Ingredients:
2 ounces tequila
1 ounce Grand Marnier liqueur
½ ounce lime juice
½ orange juice
½ ounce sweet and sour mix
1 ounce Chambord
Raspberries and blackberries, for garnish
Directions:
Place the tequila in a glass, then add the Grand Marnier. Then pour in the lime juice, orange juice and the sweet and sour mix. Cover the glass firmly, then shake to combine. Put ice in a glass and top with the liquid mixture. Top with the Chambord and garnish with the berries.
Source: cookingchanneltv.com
7.

Italian Amaretto Margaritas
Umm, yum, right? You can't go wrong with this margarita. It has all the delicious flavor you crave, but it's different from any other margarita you've ever had.
Ingredients:
4 ounces amaretto liqueur
Sugar
6 ounces frozen limeade concentrate
6 ounces tequila
½ cup orange juice
6 cups ice
Directions:
Wet the glasses with amaretto then dip them in sugar. Blend the limeade, tequila, amaretto, orange juice and ice and puree until smooth. Pour into glasses and serve.
Source: allrecipes.com
There's really nothing like an ice cold margarita on a hot day. Which one will you try first?
{{#comments_count}} Show Commnents ({{comments_count}}) {{/comments_count}}