26 Marvelous Ideas for Squash That Taste Ultra Delicious ...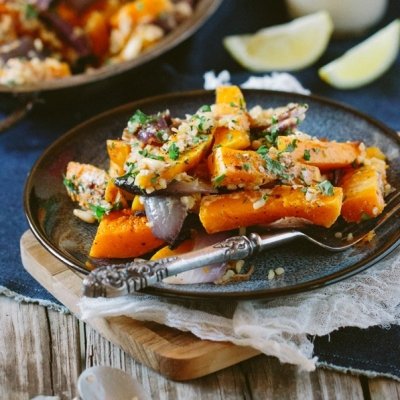 If your garden is overflowing, you're probably trying to think of new ideas for squash. Am I right? Even if you just love to stock up on all the tastes of the fall season, you might need some ideas for squash so that you can cook up some delicious meals that everyone will love. Squash is easy to work with and tastes great paired with a wide variety of other ingredients, which means you can do a lot with it. Check out these mouthwatering ideas.
Via Mediterranean Stuffed Zucchini
You can easily scoop out the inside of a zucchini and stuff it with a huge variety of ingredients. Try sausage, breadcrumbs, onions and Parmesan cheese. If that's not one of the best ideas for squash, I don't know what is.
2.

Parmesan Vegetable Bake
Via thecomfortofcooking.com
Pair zucchini and yellow squash with tomato slices to create a baked side dish that has lots of flavor and tons of color.
3.

Spaghetti Squash Lasagna
Via Spaghetti Squash Lasagna Bowls (GF)
Spaghetti squash is my favorite kind of squash! Fill it with lasagna ingredients for a tasty twist on a family favorite.
9.

Chicken Enchilada Stuffed Spaghetti Squash
Via Closet Cooking: Chicken Enchilada Stuffed ...
If you loved lasagna stuffed spaghetti squash, you will absolutely adore this version stuffed to taste like a chicken enchilada.
Via Baked "fried" squash
These crispy rounds of yellow squash would taste great topped with tomato sauce and melted mozzarella cheese.
11.

Taco Stuffed Summer Squash
Via Taco Stuffed Summer Squash Boats ...
Stuffing summer squash is just as easy as stuffing zucchini. This taco filled version looks yummy, doesn't it?
12.

Acorn Squash Roasted with Brown Sugar
Via Rachel Schultz: SWEET ROASTED ACORN ...
It looks wonderful! You can also roast acorn squash with butter and garlic for a hearty version of this recipe.
13.

Butternut Squash Soup
Via Best Butternut Squash Soup Recipe ...
This is a yummy dinner choice for a cold fall night. Make extras because you're going to want to eat more than one bowl of this yummy stuff.
Via Yellow Squash Penne in Buttery ...
Pureed yellow squash makes a great addition to a bowl of pasta. It adds flavor, color and nutrition all in one!
25.

Butternut Squash Pizza
Via 31 Exciting Pizza Flavors You ...
If you've never had squash on pizza, you are totally missing out! This is something you'll want to eat all the time.
26.

Butternut Squash Black Bean Enchiladas
Via Skinny Butternut Squash and Black ...
It might sound strange, but this recipe is really good! I promise!
What's your favorite kind of squash? Do you grow it in your garden? I have a pretty hefty acorn squash ripening in my garden right now. Which of these recipes will you try first?
{{#comments_count}} Show Commnents ({{comments_count}}) {{/comments_count}}