24 Mouthwatering Tamales for the Best Meal of Your Life ...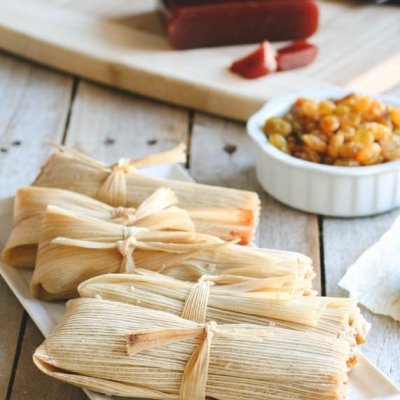 One of my goals in life is to learn how to make tamales. I mean, can you think of a better crowd pleasing meal for parties? Everyone likes tamales. I've been told they aren't hard to make, so I guess I need to pull myself together and just get it figured out. Then, I know I'll always have a great meal whenever the mood strikes. If you also want to learn to make these little packets of deliciousness, check out these great recipes to get you started.
1.

Chicken and Poblano Tamales

Via Chicken and Poblano Tamales with ...
Pork is the most traditional filling for tamales, but chicken tastes great too!
2.

Tamale Pie

Via Easy as Tamale Pie - ...
If tamales turn out to be too hard for me, I can always fall back on this casserole version for the same taste without all the work.
3.

Chicken Tamale Casserole

Via Chicken Tamale Casserole
Here's another mouthwatering casserole version that's easy to throw together without sacrificing any of the taste you count on when you eat a tamale.
4.

Corn Husks

Via How to Make Tamales
You can't make tamales without a good pile of corn husks. Look for them on the ethnic foods aisle at your supermarket.
11.

Perfectly Cooked

Via Authentic Pork Tamales Recipe
These tamales have been cooked to perfection. I bet they are just the right texture!
12.

Chocolate Tamales

Via Tamales de Chocolate y Nuez
If you've never had a sweet tamale, now is the time to try one out. My husband's aunt used to make the best raisin and cinnamon ones. Tasty!
17.

Fancy Presentation

Via hispanickitchen.com
It's simple to put together a tamale, but you have to admit that the presentation is wonderful.
18.

Assembly Line

Via Chicken and Sweet Corn Tamales ...
I've been told that setting up an assembly line is the best way to put together tamales.
19.

Chocolate Brownie Tamales

Via Chocolate brownie tamales, sí!
You are going to love these! Don't they look decadent?
20.

Sprinkled with Cilantro

Via Quick Mexican | Food & ...
Add a touch of color and a fresh flavor to your tamales by topping them with cilantro just before serving.
23.

Slow the Heat

Via Chicken Tamales
If your tamales end up a bit too spicy, a scoop of sour cream can temper the heat.
24.

Smothered

Via Real Homemade Tamales
My favorite way to eat tamales is smothered in green chile and cheese!

Do you have any tips for making tamales? What's your favorite filling?

{{#comments_count}} Show Commnents ({{comments_count}}) {{/comments_count}}