7 Muffin Mix-Ins You Haven't Had Yet ...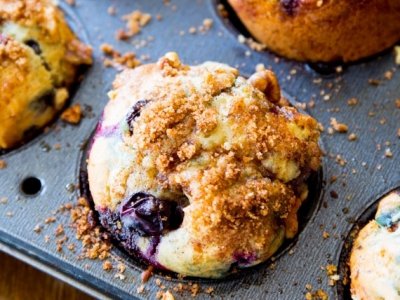 Muffins are one of the most well-loved breakfast foods out there but instead of going for blueberry or banana nut again, how about some new muffin mix-ins you haven't had yet? You can add most any ingredient you want to a muffin recipe and have great success, so experiment with as much as you can. I like using extracts, nuts, seeds, fruit and veggie purees, superfoods, and even coffee to add lots of flavor and/or texture for fewer calories. Try some of these creative muffin mix-ins below for any standard 6 cup muffin mix you buy at the store or have on hand. Then be sure to let me know if you have a unique muffin flavor of your own to share!
Raspberries and chia seeds is one of the best tasting muffin mix-ins of them all! The flavor of the raspberries go perfectly with the small crunchy bite from the chia seeds. Use 1 cup frozen raspberries and 4 tablespoons chia seeds per recipe. ‌
Matcha has a buttery and slightly earthy taste that makes for a fabulous muffin! I do suggest using vanilla bean or vanilla extract to round out the flavor and add sweetness though. Use 1 tablespoon of matcha per recipe.
Acai berry can be bought in frozen form or in powder form. If you use a frozen acai pack, run it under warm water in the package until it is thawed and add it to a blender with your muffin mix to combine. Then just pour it into your muffin pan. If you're using the powder, use ¼ cup of the powder per recipe. Acai makes an awesome replacement to blueberries and adds tons of antioxidants to your muffins too!
Use this yummy muffin mix-in to replace dairy buttermilk in any buttermilk muffin recipe you enjoy. Coconut yogurt gives muffins a sweet, tender taste that is a must-try! Plus it also adds healthy fats and all you need is ½ cup per muffin recipe.
Turmeric gives muffins a decadent taste that's very subtle with a beautiful golden color. Pair 1 teaspoon of turmeric with some vanilla, cinnamon, ginger, and cardamom for a decadent morning meal!
A simple way to make your muffins healthier and reduce their carbohydrate content is to substitute half of the flour in a muffin recipe for an equal amount of flax meal (milled flax seeds). This adds a hearty, dense texture to your muffins, increases their fiber content, and gives you a daily dose of omega 3 fatty acids.
Make some savory muffins for a change of pace once in a while and be sure to start with this cozy flavor! Use the juice from one lemon and remove ¼ cup of the liquid that the recipe calls for. Then add 1 teaspoon rubbed sage to your recipe (or more if you're a sage lover like me). These muffins are also great with soups and stews in the winter too!
Hopefully now you're thinking outside the "muffin box" and maybe even coming up with some of your own muffin mix-in ideas. Have your own creative muffin recipe to share? I'm always looking for one to try, so speak up!
{{#comments_count}} Show Commnents ({{comments_count}}) {{/comments_count}}