7 Nacho Recipes to Make Your Mouth Water ...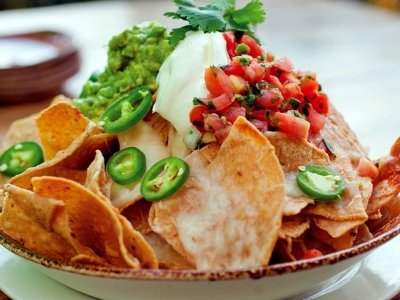 Nacho recipes are something I'm always on the lookout for. After all, who doesn't love a good plate of nachos? They're ideal for serving at parties and they're so easy to make. If you want to branch out from your usual bean and cheese nachos, I'm here to help. Try out these nacho recipes to shake things up and give your taste buds something to celebrate.
I'm starting my list of nacho recipes with this gem. The name is a combination of tater tots and nachos so you know it must be good. Pile on the fixings and you have a plate you won't be able to resist.
Ingredients:
6 tomatoes
Salt and pepper
4 garlic cloves
1 small onion, peeled and cut in half
1 jalapeno, cut in half
2 cups fresh cilantro leaves
1 tablespoon lime juice
4 ounces chorizo, finely diced
2 quarts oil
1 package tater tots
Cheese sauce
1 finely diced red onion
4 thinly sliced scallions
Directions:
Preheat the broiler to high heat. Chop one tomato and season with salt and pepper. Drain the tomato and set aside. Cut the remaining tomatoes in half and pile on a baking sheet. Top with the garlic, onion and jalapeno. Broil 25 minutes, then transfer to the blender and add 1 ½ cups cilantro and the lime juice. Blend until smooth, season with salt and pepper and set aside. Cook the chorizo for about 4 minutes, or until browned. Drain. Heat the oil and fry the tater tots, seasoning with salt when cooked. Place half the tots on a platter and top with half the salsa, cheese, chorizo, tomatoes, onions, scallions and remaining cilantro. Top with another layer and serve.
It's not really nachos without chips and cheese, but this recipe takes things to an entirely new level with all the extras. You're going to love this – I promise!
Ingredients:
1 can condensed cheddar cheese soup
½ cup salsa
1 pound ground beef
1 chopped onion
5 cups tortilla chips
1 chopped tomato
1 sliced jalapeno
Directions:
Combine the salsa and soup in a saucepan and heat. Meanwhile, cook the ground beef, drain and combine with ½ the soup mixture. Layer the chips on a plate and top with the beef, the soup, the tomato and the jalapeno.
If you want something fresh and tangy, you're going to love this recipe. It's super easy to throw together, but the flavor will leave your friends thinking you slaved all day.
Ingredients:
1 pound pork tenderloin, seasoned with ¼ cup jerk seasoning, grilled and shredded
1 cup diced pineapple
3 cups shredded pepper jack cheese
Sliced fresh jalapenos
Cilantro
Lime juice
8 cups tortilla chips
Directions:
Pile the chips on a platter and top with the pork, pineapple and cheese. Bake until cheese melts and top with jalapeno, cilantro and lime juice.
A world where you can eat nachos for breakfast is a place I want to live. This is a great recipe for brunch or a lazy morning at home. It's a crowd pleaser but you might not want to share.
Ingredients:
1 pound chorizo
½ chopped onion
5 beaten eggs
4 chopped tomatoes
2 sliced jalapenos
8 ounces tortilla chips
8 ounces shredded Mexican cheese blend
Directions:
Preheat the oven to 350 degrees. Cook the chorizo over medium heat for 5 minutes. Crumble, drain and set aside. Add the onion to the same pan and cook until soft. Then add the eggs and scramble. Add the tomatoes and cook until the eggs are set. Place the chips in a baking pan and top with chorizo and eggs. Sprinkle with jalapenos and cheese and bake for 7 to 10 minutes.
5.

Shrimp Nachos with Tomatillo Salsa
There's nothing better than shrimp nachos. This recipe delivers on flavor and ease and you're really going to love how great you feel about serving this recipe.
Ingredients:
10 ounces tortilla chips
1 ½ pounds peeled and deveined shrimp
2 teaspoons lime zest
2 tablespoons lime juice
Salt
2 seeded jalapenos
8 ounces quartered tomatillos
1 chopped onion
1 cup packed cilantro
12 ounces Jack cheese
1 chopped avocado
Directions:
Preheat the oven to 375 degrees. Spread the chips in a baking dish. Mince ½ the jalapeno and toss it with the shrimp, 2 teaspoons lime juice, lime zest, and ½ teaspoon salt. Set aside. Put the tomatillos, onion, remaining jalapeno, ¾ of the cilantro and 4 teaspoons lime juice in a food processor. Pulse until coarsely chopped. Cook the shrimp over medium heat about 2 minutes. Place the cheese on the chips followed by half the salsa and the shrimp. Bake about 20 minutes. Top with the rest of the salsa, cilantro and avocado. Serve right away.
6.

Covered Crunchy Potato Chips
Sure, most nachos are made with tortilla chips, but after you eat this potato chip version, you may never want to go back. The bacon on top doesn't hurt either.
Ingredients:
1 ounce kettle cooked potato chips
½ cup shredded cheddar cheese
2 chopped cherry tomatoes
1 tablespoon chopped green onions
1 tablespoon cooked, chopped bacon
1 tablespoon sour cream
Directions:
Preheat the oven to 375 degrees. Place the chips in a baking dish and bake about 3 minutes. Cover with cheese and bake an additional 3 to 5 minutes, or until cheese melts. Top with tomatoes, green onion, bacon and sour cream.
If you love nachos, but don't eat meat, these are a great substitute. All the veggies load you up with nutrients and taste great too!
Ingredients:
8 cups tortilla chips
Sautéed sliced bell pepper
Cooked zucchini
Cooked mushrooms
Red onion
3 cups shredded Jack cheese
Salsa
Sour cream
Directions:
Bake the nachos topped with the bell pepper, zucchini, mushrooms, onion and cheese until hot and cheese melts. Top with salsa and sour cream to serve.
Which one will you try first? I'm having a hard time deciding. Perhaps a nacho party will let me sample them all.
{{#comments_count}} Show Commnents ({{comments_count}}) {{/comments_count}}