I am always looking for naturally sweet snacks that I can eat since my decision to live without processed sugar. It's been so pleasing to discover that there are tasty things to eat that don't have a ton of junk added to the mix. This list of naturally sweet snacks includes some of my favorites and I had to share them with you ladies. Most of the sweetness in these recipes comes from fruit, none of the recipes have fake sugar alternatives. Enjoy!
---
1

Vanilla Yogurt Strawberries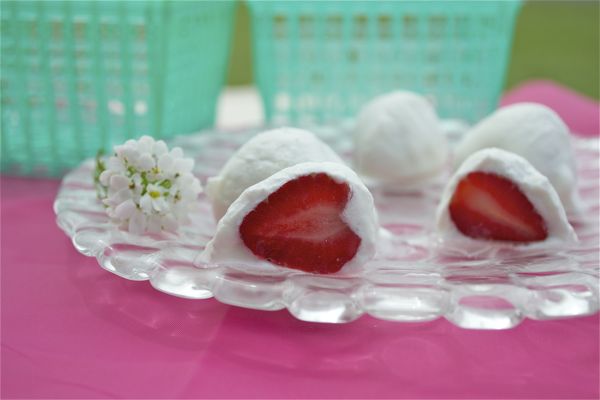 The first on this list of naturally sweet snacks is super easy to make. Just grab a few handfuls of fresh strawberries and chop off the green tops. Next you will want to dip them one at a time in vanilla yogurt (Greek is best because it's thicker). After you dip them, place them on a sheet pan lined with wax paper. I pop them in the fridge or freezer for at least 30 minutes before eating.
Ingredients:
Fresh organic strawberries
Vanilla yogurt
Wax paper
Directions:
Wash and slice heads off of the desired amount of strawberries.
Dip into vanilla yogurt and place flat-side down onto a small baking tray that will fit in your freezer lined with wax paper.
Insert toothpicks if desired.
Freeze for 30 minutes, then remove from the freezer and dip again for a second coat.
Freeze for about 1 hour. You can test with your finger to see how hard they are-remember not to freeze too long since they might be too hard to eat that way.
Remove from freezer and enjoy!
Source: mysanfranciscokitchen.com
2

Cantaloupe Popsicles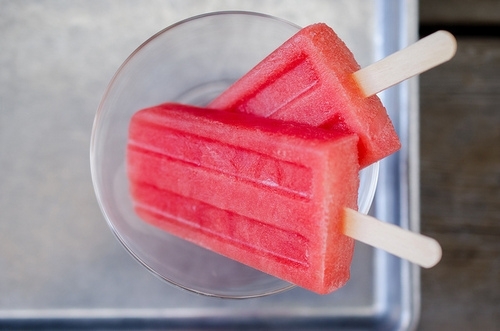 This easy recipe is kid friendly and perfect for the summertime. In addition to the two fruit ingredients, you will need to buy a mold and a pack of Popsicle sticks.
Ingredients:
5 cups diced cantaloupe
5-7 strawberries, sliced
Directions:
Add a few pieces of sliced strawberries to your Popsicle mold.
Purée the cantaloupe.
Pour the liquid cantaloupe into the Popsicle mold.
Add the Popsicle sticks.
Freeze for at least 4 hours.
Source: chocolateandcarrots.com
---
3

Banana Peanut Butter Ice Cream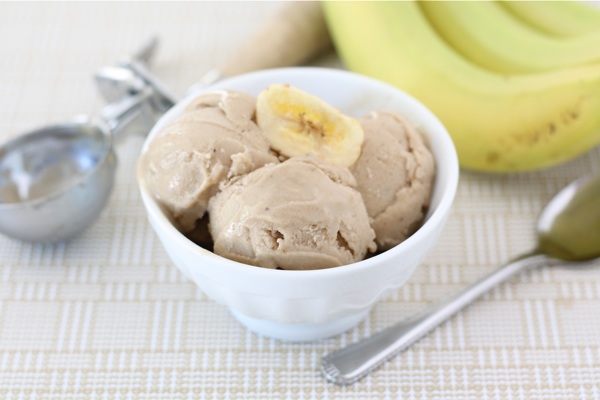 Of all of the fruit available, I have found that bananas are the most useful. They are sweet but have a great texture to them, so you can use them for a wide range of recipes. This is one of my favorite banana recipes ever! If you want to switch it up, add some cacao nibs or a few tablespoons of no sugar added cocoa power before blending.
Ingredients:
4 large very ripe bananas
2 tablespoons peanut butter
Directions:
Peel bananas and slice into 1/2 inch discs. Arrange banana slices in a single layer on a large plate or baking sheet. Freeze for 1-2 hours.
Place the banana slices in a food processor or powerful blender. Puree banana slices, scraping down the bowl as needed. Puree until the mixture is creamy and smooth. Add the peanut butter and puree to combine. Serve immediately for soft-serve ice cream consistency. If you prefer harder ice cream, place in the freezer for a few hours and then serve.
*Note-if you have a hard time creating a creamy consistency, you can add 1-2 tablespoons of milk to help puree the banana slices. Make sure you use a powerful food processor or blender!
Source: twopeasandtheirpod.com
---
4

Baked Apple Chips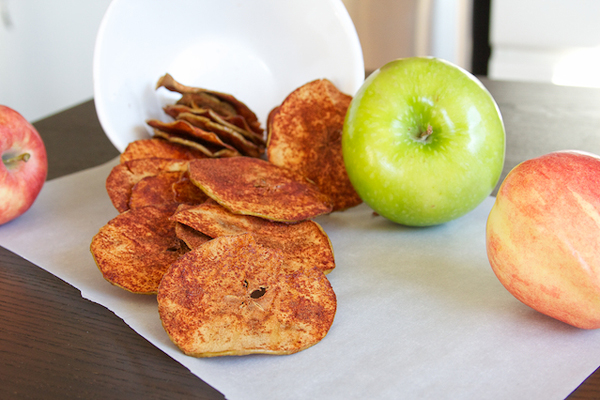 This is a great alternative to a bag of chips (not that chips are particularly sweet). But I love this easy recipe when I want to snack on something crunchy.
Ingredients:
apples
cinnamon
Directions:
Core apples if desired.
Slice apples as thinly as possible (I use a mandolin).
Place on a greased baking sheet (or use a silpat).
Sprinkle with cinnamon.
Bake at 225 degrees F for one hour.
Flip apple slices over and bake for 1 hour more.
Transfer to a cooling rack and let cool completely.
Store in an airtight container.
Source: theleangreenbean.com
---
5

Banana Pops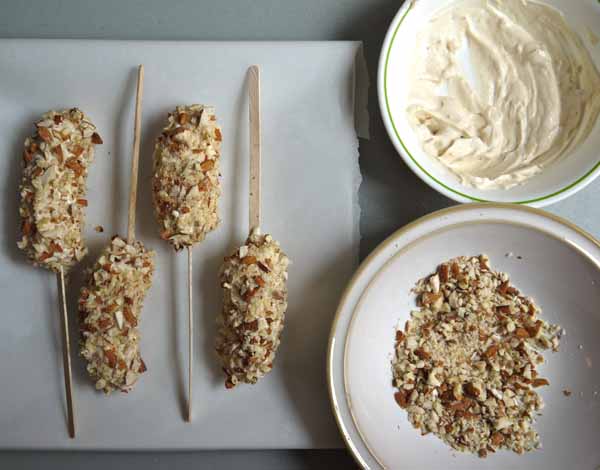 Here is another great banana recipe. This is such a satisfying treat! You can replace the almonds with your favorite nuts, as well as the brand of Greek Yogurt.
Ingredients:
2 bananas
Fage Total 0% Greek Yogurt
crushed almonds
cinnamon
Directions:
Line a tray with parchment paper.
Mix the Greek yogurt and cinnamon together.
Peel the bananas.
Cut off an end off from each banana, then insert the Popsicle sticks.
Coat the bananas in Greek yogurt and almonds.
Lay the bananas on the parchment paper and freeze for 45-55 minutes. The bananas will be creamy and firm, but not completely frozen.
Source: fitclick.com
---
6

Oat Drops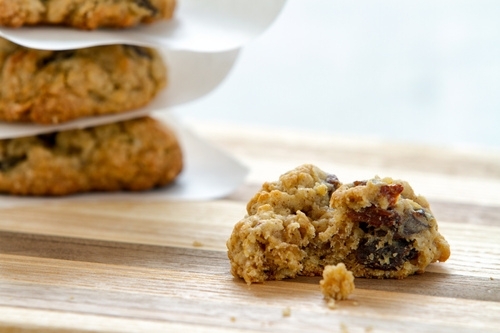 Oats are so healthy for you, and so filling. These drops make a great midday snack, especially when you need a little extra energy.
Ingredients:
1 1/2 cups regular rolled oats (use whatever type of oats you like)
1 cup coconut flakes
1/2 teaspoon salt
1 teaspoon cinnamon
1/2 teaspoon allspice
1/4 cup of almond meal (or nutmeal of your choice)
(If you want to make it nut free you could use a flour, just adjust the wet ingredients to get the right consistency)
1/2 cup mixed nuts, finely chopped
1 cup dried fruit (or your choice or cacao nibs or berries)
3 ripe bananas, mashed (or substitute applesauce, or 2 eggs)
1/4 cup coconut oil
1 teaspoon vanilla extract
Directions:
Preheat oven to 350F.
Line baking sheet with parchment paper.
In a large bowl, combine rolled oats, almond meal, mixed nuts and coconut flakes. Stir in allspice and cinnamon. Add dried fruit and stir until well and evenly mixed. Make sure the dried fruit do not stick together in big batches.
In another bowl, combine canola oil, mashed banana and vanilla extract. Pour wet ingredients over dry ingredients and stir until well combined.
Take a large cookie cutter and press spoonfuls of the batter into it. Remove cookie cutter. Or simply form balls with your hands and flatten slightly. Bake for about 20 minutes or until edges are golden brown.
Source: blueberrygirlinoz.blogspot.com
---
7

Cookies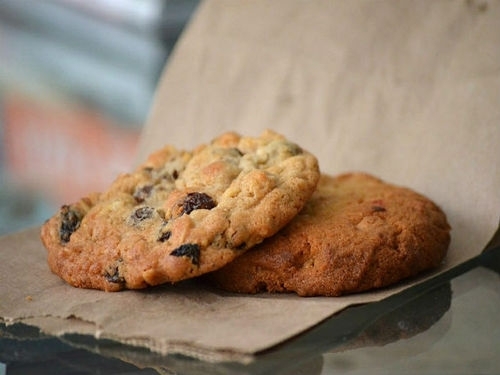 I found this recipe circulating on Pinterest the other day and tracked it down. When I saw it, I squealed with joy because it doesn't have sugar! This is a more simplistic alternative to the Oat Drop recipe since it doesn't have as many ingredients.
Ingredients:
3 mashed bananas (ripe)
1/3 cup applesauce
2 cup oats
1/4 cup almond milk
1/2 cup raisins (optional)
1 tsp vanilla
1 tsp cinnamon
1/2 cup pecan pieces, my personal option
**Directions:
**Mix together well.
Bake at 350 for 15-20 minutes.
Source: grouprecipes.com
---
8

Black Bean & Spinach Brownies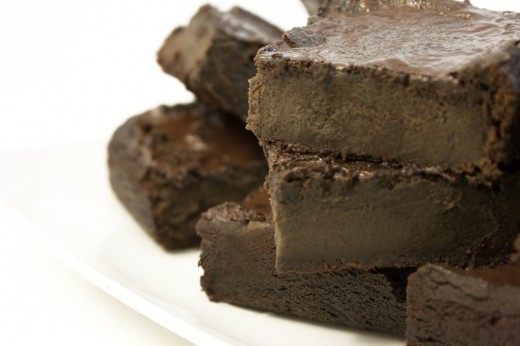 I know, I know, this doesn't exactly sound appealing and definitely not sweet, does it? But I was pleasantly surprised when I had one of these chewy delights at a Farmer's Market in Hollywood. They aren't as sweet as conventional brownies but they definitely will hit the spot while getting VEGGIES in.
Ingredients:
15oz, can no salt added black beans (drained and rinsed)
2 cups fresh spinach
12 medjool dates (pitted)
1 cup water
½ cup cocoa powder
1 tsp baking powder
½ tsp baking soda
1 Tbsp pure vanilla extract
3/4 cup almond flour
Optional: 2 Tbsp dark chocolate chips or vegan carob chips – as a topping
Directions:
Preheat oven to 350 degrees. In a high-powered blender or food processor combine the dates and water, blending until thick smooth paste is formed. Add the fresh spinach to the paste and mix until smooth. Next, add the beans and vanilla extract and blend. Finally, add the cocoa powder, baking powder, baking soda, and almond flour. Blend until batter is mixed evenly. Scrape the sides of the blender or food processor as needed, as the batter will become very thick. Once batter is smooth, pour into an 8 x 8 cooking pan, lightly coated with olive oil spray. Bake for 35-50 minutes until toothpick comes out clean.
Source: rabbitfoodformybunnyteeth.com
---
9

Apple Slices with Peanut Butter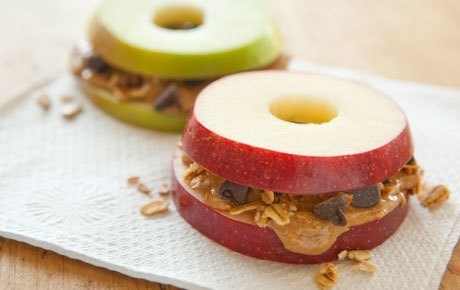 This is as easy as it sounds! If you don't have the time or energy for chopping, blending & baking cut up an apple or two and grab your favorite jar of peanut butter (make sure the only ingredient is peanuts). I like to have this for dessert.
Ingredients:
1 small apple, cored and cut into 8 wedges
juice of 1 lemon
1 Tbsp. Hill Country Fare Crunchy or Smooth Peanut Butter
Directions:
Combine the apple slices and lemon juice in a zipper bag and toss. This prevents apple from turning brown and add flavor. Arrange the apples in a circle on a small plate and scoop the peanut butter in the center. This makes a great snack when you have to have something crunchy.
Source: heb.com
If you eat a ton of processed sugar it will eventually catch up to you in some way, ladies. Sometimes I wish I didn't have such a crazy sweet tooth so I could just snack on veggies all day. But, I do! What are some of your naturally sweet snacks? I'd love to read them in the comments.
---
Comments
Popular
Related
Recent