7 Pomegranate Recipes Sure to Please Your Palate ...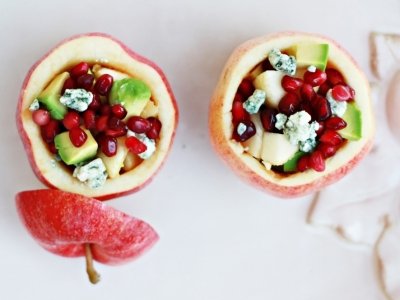 If you're looking for new and delicious things to cook, pomegranate recipes are a great addition to cache. Not only are pomegranates considered a super food, which means they're chock full of vitamins, minerals and antioxidants, but they are also super easy to work with and really yummy to boot. Look for fresh pomegranates at your local supermarket, but if they're scarce, some of these pomegranate recipes call for the juice or seeds, which you can find year round at most grocery stores.
What a perfect ending to dinner on a hot summer night. This is one of the simplest pomegranate recipes there are. And you don't have to relegate it to your hot weather menu – it's also delicious and elegant for a dinner party or just anytime you want a treat that isn't the same old bowl of ice cream you always grab.
Ingredients:
2 15 ounce bottles of pomegranate juice (about 8 cups)
½ cup sugar
½ cup finely chopped crystallized ginger
1 tablespoon grated orange zest
Directions:
Combine the ingredients in an 8-inch aluminum baking pan until the sugar is completely dissolved. Cover the mixture and place it in the freezer for at least 6 hours. Break the sorbet into chunks and pulse in a food processor until smooth. Place the sorbet into a container and freeze until ready to serve.
Source: delish.com
2.

Herbed Pomegranate Salsa
This take on salsa is super refreshing and pairs with so many things. It works great spooned over fish or chicken, but you can also just grab a spoon and dig in. In fact, one taste of this and it'll be hard not to.
Ingredients:
1 ½ sprigs fresh mint, chopped
1 ½ bunches fresh cilantro, chopped
1 ½ bunches Italian flat leaf parsley, chopped
1 small red onion, chopped
1 pomegranate, skin and light-colored membrane removed
6 tablespoons fresh lime juice
2 teaspoons grated lime zest
1 jalapeno pepper, chopped
1 Serrano pepper, chopped
1 small tomato, diced
2 tablespoons olive oil
Salt and pepper, to taste
Directions:
Combine the mint, cilantro, parsley, onion, pomegranate, lime juice, lime zest, jalapeno, Serrano pepper, tomato and olive oil in a large bowl. Season to taste with salt and pepper, then refrigerate for several hours before serving.
Source: allrecipes.com
Otherwise known as pudding, Eton Mess is a delicious and somewhat fancy take on the snack packs of your youth. It's super yummy and you'll find yourself wanting to make it even if you're the only one who is around to eat it. Try serving this at your next birthday party and everyone will be vying to get the recipe from you.
Ingredients:
4 cups strawberries
2 teaspoons caster or vanilla sugar
2 teaspoons pomegranate juice
2 cups whipping cream
1 packet individual meringue nests
Directions:
Chop the strawberries and place in a bowl with the sugar and pomegranate juice. Set aside to macerate. Whip the cream until it's thick, but still soft. Crumble in 4 of the meringue nests. Divide about half the strawberries out the bowl and reserve. Fold the remaining strawberry mixture gently into the whipped cream. Divide among serving dishes and garnish evenly with the remaining strawberries.
Source: foodnetwork.com
4.

Carrot and Pomegranate Soup
This isn't like any other soup you'll have. It combines the sweet and hearty flavor of carrots with the tangy sweetness of the pomegranates for a taste combination you'll absolutely love. Give it a try and you'll believe me with your first spoonful.
Ingredients:
4 tablespoons olive oil
2 cups coarsely chopped onion
4 cups coarsely chopped carrots
1 tablespoon pomegranate molasses, plus extra for garnish
1 teaspoon ground cumin
4 cups chicken stock
3/8 teaspoon kosher salt
1/8 teaspoon ground pepper
¼ cup pomegranate seeds
Directions:
Put the olive oil in a large skillet and heat over medium heat. Add the onions, the carrots, the molasses and the cumin and cover. Cook for 15 minutes, stirring once in a while. Add 3 cups of the chicken stock and simmer for about 1 hour. Allow the soup to cool, then puree in the blender until smooth, adding additional chicken stock as necessary to thin the soup. Return to the pan and heat, seasoning with salt and pepper to taste. Place the soup in bowls and garnish with additional molasses and pomegranate seeds.
Source: wednesdaychef.typepad.com
5.

Pomegranate Roasted Chicken
If you're like me, you're always looking for a new and delicious way to prepare chicken. Try this recipe and you'll have a new one to add to your list. The pomegranate pairs wonderfully with the chicken, leaving it juicy and full of flavor with very little effort.
Ingredients:
1 cup pomegranate juice
3-pound whole chicken
Extra virgin olive oil
Salt and freshly ground black pepper
1 cup low-sodium chicken stock
1 tablespoon fresh thyme
1 cup pomegranate seeds
Directions:
Reduce the pomegranate juice to ¼ cup in a saucepan over medium heat and set aside. Heat the oven to 350 degrees. Drizzle the chicken with the olive oil and season with salt and pepper. Place the chicken in an ovenproof skillet. Roast the chicken until golden and cooked through, about 50 minutes. Turn once. Put the chicken on a serving dish and brush with the reserved pomegranate juice and let sit for 10 minutes. Put the stock in the skillet and deglaze the pan with it, scraping the brown bits off the bottom. Reduce by half, then strain the fat. Add thyme and pomegranate seeds and serve with the cooked chicken.
Source: wholeliving.com
6.

Green Salad with Pomegranate and Mandarin
This is a refreshing and delicious side dish for a steak dinner, but you can also take it for your lunch and fill up at noontime without having to suffer through the same old boring salad.
Ingredients:
2 cups iceberg lettuce, torn
1 green onion, finely chopped
2 celery ribs, chopped
½ cup pomegranate seeds
½ cup chopped mandarin orange segments
½ cup light oil and vinegar dressing
¼ cup balsamic vinegar
Directions:
Mix the lettuce, onion and celery in a bowl until combined. Add the pomegranate seeds and mandarin oranges and toss. Drizzle in the dressing to taste then drizzle with the balsamic vinegar. Toss to coat and serve.
Source: food.com
7.

Antioxidant Fruit Salad
I promise you're going to fall back on this recipe for brunch or dessert many times in your life. It's easy to make, full of nutrients and it tastes so good you'll be surprised at how fast it goes.
Ingredients:
1 mango
1 cup blueberries
1 pomegranate, seeds removed
2 teaspoons lime juice
Directions:
Cut the mango into ½-inch chunks. Place the mango in a bowl and add the blueberries and the pomegranate seeds. Squeeze the lime juice over the mixture and serve.
Source: foodnetwork.com
Have you ever had a pomegranate? They're pretty easy to work with once you get the hang of the method. Will you try one or all of these recipes?
{{#comments_count}} Show Commnents ({{comments_count}}) {{/comments_count}}