Recipe 😋 for Mussels 🐠 with Tarragon 🌿 ...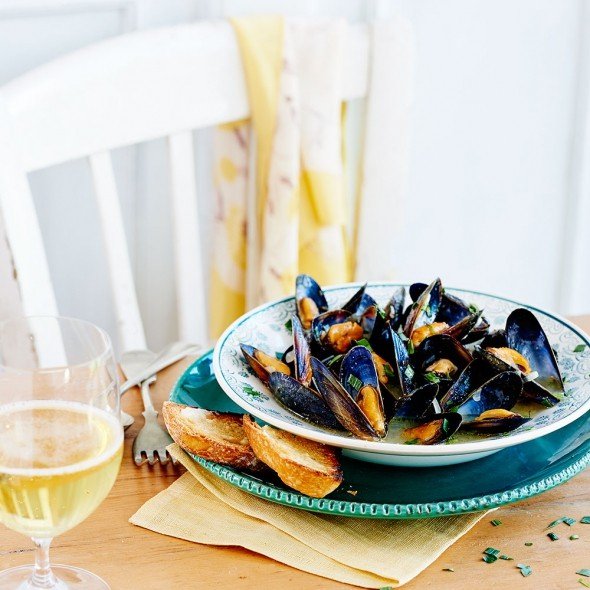 This recipe for Mussels with Tarragon is an excellent dish for brunch, lunch, dinner, or supper. Mussels are a lovely, earthy tasting low-fat seafood. They are loaded with healthy nutrients including protein, omega-3 oils, Vitamin B12, zinc, and iron. Make sure you buy fresh and that they are cleaned properly - remove the beards then soak in some water with a tablespoon of flour for an hour or two before rinsing thoroughly. Any mussel shell that doesn't open during cooking should be discarded.
Preparation time: Cleaning – 2 hours
Cooking Time: 15 minutes
Serves: 4 people
Energy: 185 calories per serving
Equipment:
Large pan with lid
Slotted spoon
Ingredients:
Low-fat cooking spray
4 large shallots
2 garlic cloves
2kg fresh mussels – cleaned (see above)
300ml vegetable stock
Bunch of tarragon
Salt and pepper
Directions:
Peel and finely chop the shallots and garlic.
Spray a large lidded pan with oil.
Add garlic and shallots to pan and gently fry until softened. If they stick add a drop of water.
Add the mussels and stock.
Cover the pan and cook on a high heat for 3-4 minutes until the mussels have opened, shaking the pan occasionally.
Discard any mussels that haven't opened.
Lift the mussels out with a slotted spoon into a bowl or bowls and keep warm.
Chop and add the tarragon – at least a small bunch – more to taste if you like.
Boil for a few minutes until reduced.
Season the sauce then pour over the mussels.
Serve immediately.
{{#comments_count}} Show Commnents ({{comments_count}}) {{/comments_count}}