There are tons of recipes that use Hershey's kisses. You don't have to keep popping them into your mouth when you can use the bag of treats for something else. Here are some of the best recipes that use Hershey's kisses:
---
1

KISSES Acorn Treats Recipe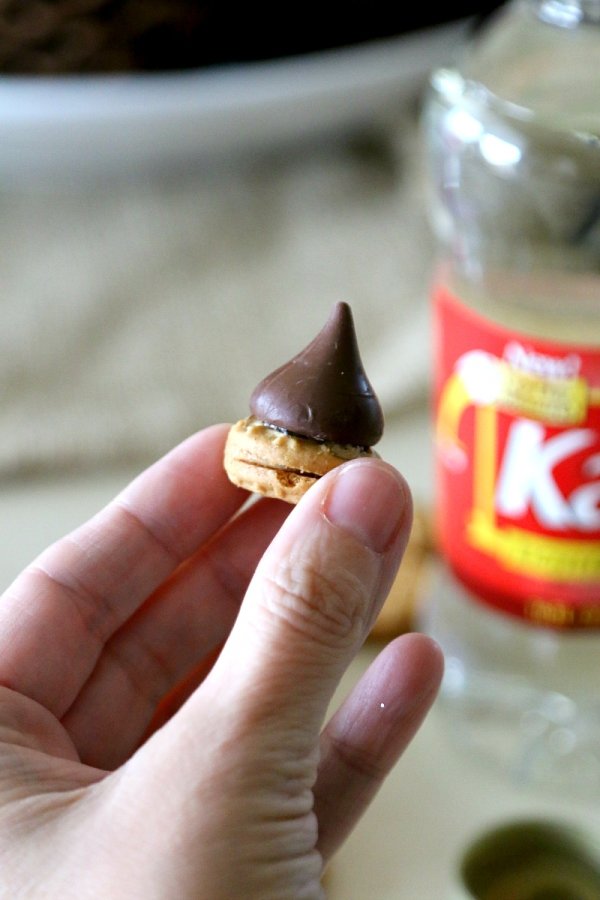 This snack works best in autumn, but you can make it all year long. If you're crazy about the taste of pumpkin, this is one of the best recipes that use Hershey's kisses you should whip up tonight.
Ingredients:
Icing
6 Hershey's Kisses milk chocolate
6 Hershey's Kisses Brand Pumpkin Spice Flavored Candies
12 Mini vanilla wafer cookies
12 Reese's Peanut Butter Chips or Hershey's Butterscotch Chips
Instructions:
Place mini vanilla wafer cookies on a tray. Squeeze icing onto bottom of candy piece and press candy bottom onto vanilla wafer cookie. Allow icing to set. Place small dab of icing on bottom of peanut butter chip or butterscotch chip and immediately attach to top of cookie to finish acorn.
Source: hersheys.com
Sherrie
they are so cute and easy to do!...
---
2

Double KISSES Truffles Recipe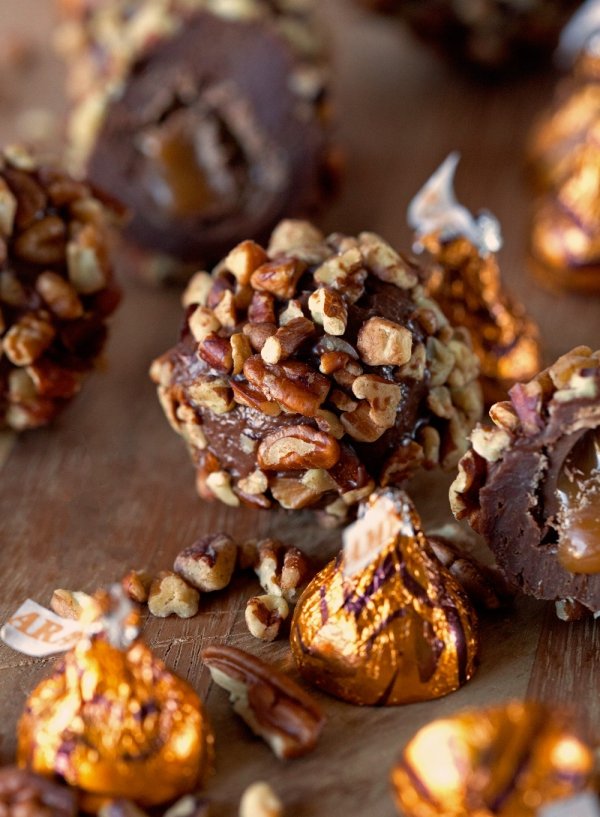 Here's something you don't see everyday. It's pretty easy to make, but it looks impressive once it's finished, so you can fool all of your friends into thinking you're a great baker.
Ingredients:
28 Hershey's Kisses Brand Milk Chocolates
2 tablespoons plus 2 teaspoons whipping cream
10 Hershey's Kisses Brand Milk Chocolates filled with Caramel
1 cup ground pecans
Instructions:
Place milk chocolates and whipping cream in medium microwave-safe bowl. Microwave for 1 minute or until melted. Cover and refrigerate 4-6 hours. Remove wrappers from caramel filled milk chocolates. Using about 1 tablespoon milk chocolate mixture for each truffle, shape chocolate around each caramel chocolate piece; roll in hand to make ball. (Be sure to cover each chocolate piece completely.) Roll in pecans and refrigerate until ready to serve.
Source: hersheys.com
3

Chunky Macadamia Bars Recipe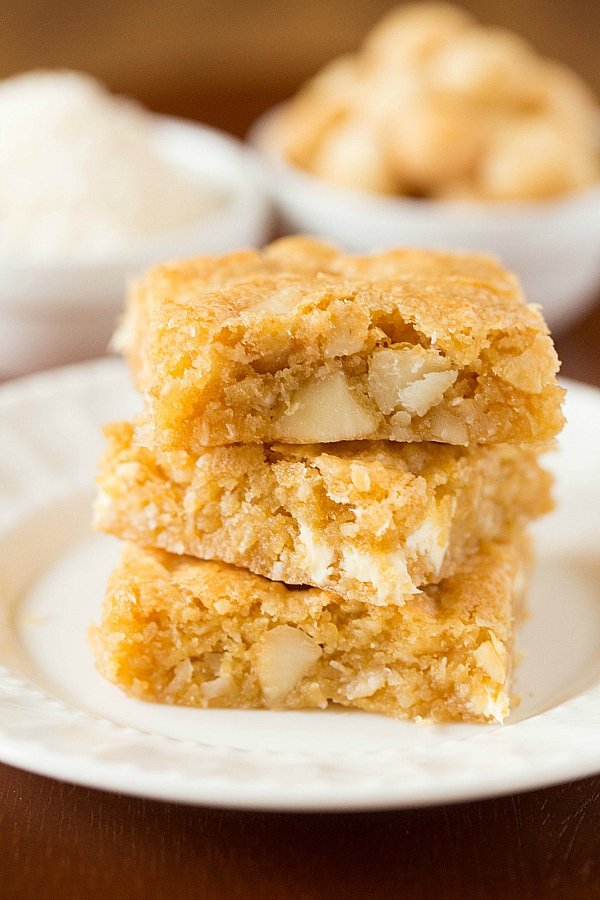 How delicious does this treat look? Don't worry, because it's not only appealing to the eye, but to the stomach as well.
Ingredients:
3/4 cup (1-1/2 sticks) butter or margarine, softened
1 cup packed light brown sugar
1/2 cup granulated sugar
1 egg
1 teaspoon vanilla extract
2-1/4 cups all-purpose flour
1 teaspoon baking soda
1-3/4 cups (10-oz. pkg.) Hershey's miniature Kisses Brand Milk Chocolates
3/4 cup Mauna loa Macadamia Baking Pieces
Vanilla glaze
Instructions:
Heat oven to 375F. Beat butter, brown sugar and granulated sugar in large bowl until fluffy. Add egg and vanilla. Then add flour and baking soda and blend well. Stir in 1 cup baking pieces and nuts. Press into a baking pan and sprinkle with remaining 3/4 cup chocolates. Bake 22-25 minutes. Cool completely in pan, then drizzle vanilla glaze over top. Cut into bars.
Source: hersheys.com
---
4

Chocolate Sin Cookies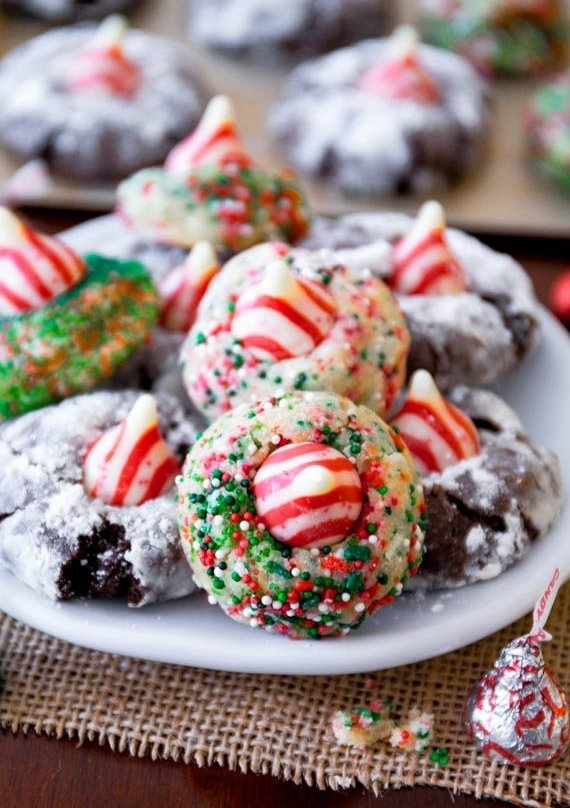 Combining chocolate cookies with chocolate kisses is delicious as can be. If you don't believe it, it's time to try it.
Ingredients:
1/2 cup pure or light olive oil
1 1/2 cup granulated sugar
3 large eggs, beaten to a pulp
3 tablespoons milk
2 teaspoons pure vanilla extract
1/2 cup unsweetened cocoa
2 1/4 cup flour
2 teaspoons baking powder
3/4 teaspoon salt
1 cup powdered sugar
24 chocolate kisses, unwrapped
Instructions:
Preheat oven to 375F. In mixer bowl add olive oil, sugar, eggs and milk. Beat well and blend in vanilla and cocoa. Add flour, baking powder and salt, then mix until well blended. Drop by teaspoonfuls into powdered sugar and roll until well coated. Bake for 7 minutes. Remove and press a kiss into the center of each cookie.
Source: ohsweetbasil.com
---
5

Meringue Kisses Recipe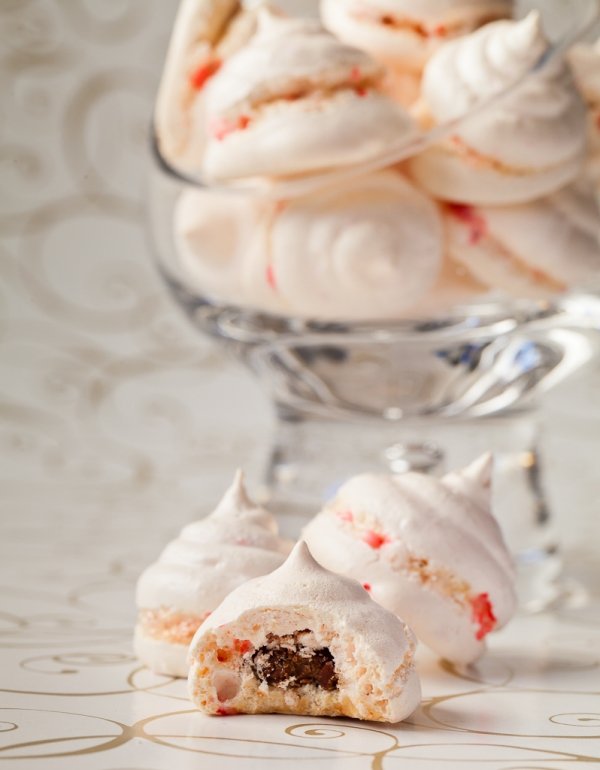 These are perfect for any occasion, because you can make them in any color to match the season. The next time you're invited out, put this on your to-do list.
Ingredients:
3 egg whites
1/4 teaspoon cream of tartar
Pinch salt
1 cup sugar
1 teaspoon vanilla extract
Red and green food coloring, optional
44 milk chocolate kisses
Instructions:
Place egg whites in a small bowl and let stand at room temperature for 30 minutes. Beat egg whites until foamy. Sprinkle with cream of tartar and salt and then beat until soft peaks form. Gradually add sugar and vanilla, and beat for 5-8 minutes. If desired, divide batter in half and fold in red and green food coloring. Drop onto lightly greased baking sheets. Press a chocolate kiss into the center of each cookie and cover it with meringue using a knife. Bake at 275F for 30-35 minutes.
Source: tasteofhome.com
---
6

Hershey Mint Kiss Cookie Cups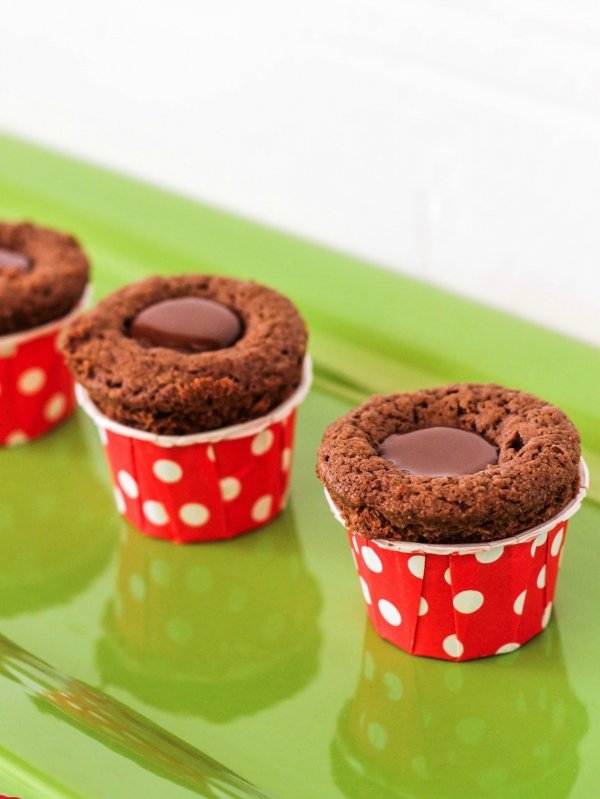 In the mood for more cookies? Well, you can whip up a batch of these by the end of the day and snack on them all night long.
Ingredients:
3/4 cup butter, melted and cooled
1 cup brown sugar
1/2 cup sugar
1 egg
1 egg yolk
1 Tbsp vanilla
2 1/2 cups flour
2/3 cup cocoa
1/2 tsp baking soda
1/2 tsp baking powder
1/2 tsp salt
2 bags mint Hershey kisses
Instructions:
Beat together butter, sugars, eggs, and vanilla. Combine flour, cocoa, soda, baking p0wder, and salt. Stir into creamed mixture. Chill for 1 hour. Roll in small balls and place in greased mini muffin pans. Bake at 350F for 8 minutes. Immediately place a Hershey kiss in the middle of each cookie.
Source: creationsbykara.com
Sherrie
I love, love them and I will always make them...
---
7

Chocolate Cherry Bars Recipe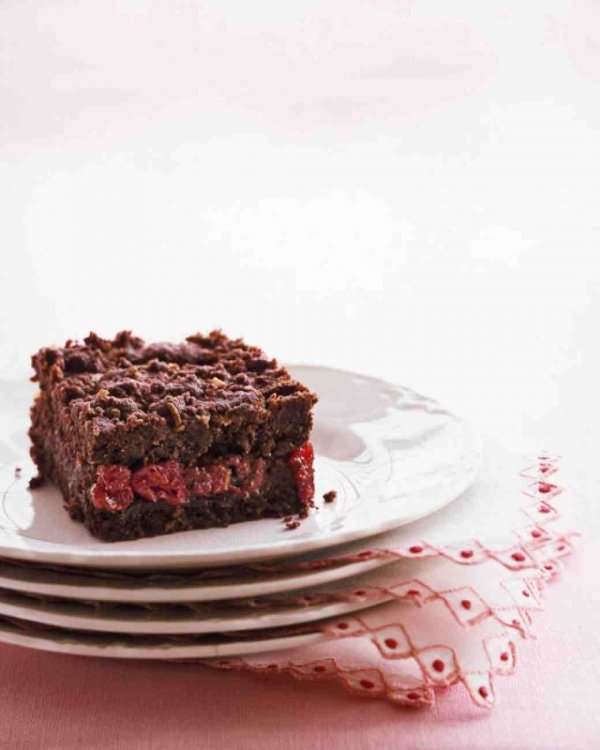 If you want cherries to go with your chocolate, this is the recipe for you. It combines all of your favorite tastes for a delicious burst of flavor.
Ingredients:
1 cup (2 sticks) butter or margarine
3/4 cup cocoa or
2 cups sugar
4 eggs
1-1/2 cups plus 1/3 cup all-purpose flour, divided
1/3 cup chopped almonds
1 can (14 oz.) sweetened condensed milk (not evaporated milk)
1/2 teaspoon almond extract
1 cup Hershey's miniature Kisses Brand Milk Chocolates
1 cup chopped maraschino cherries, drained
Instructions:
Heat oven to 350F. Melt butter in large saucepan over low heat and stir in cocoa until smooth. Remove from heat. Add sugar, 3 eggs, 1-1/2 cups flour and almonds and mix well. Pour into prepared pan. Bake 20 minutes. Meanwhile, whisk together remaining 1 egg, remaining 1/3 cup flour, sweetened condensed milk and almond extract. Pour over baked layer; sprinkle chocolates and cherries over top. Return to oven. Bake 20-25 minutes. Refrigerate until cold and cut into bars.
Source: hersheys.com
Stop popping kisses into your mouth and start adding them to your desserts. What's your favorite type of Hershey's kisses?
---
Comments
Popular
Related
Recent