If you live on the go, but try to watch what you eat, then chances are you're familiar with healthy restaurant meals out there. I like to be able to enjoy myself out at an occasional dinner with friends and family without taking in tons of calories or twice my daily allowance of sodium, which happens to be a problem with even seemingly healthy restaurant choices out there. To help you ladies out, I've spotlighted my favorite healthy restaurant meals that have great nutritional stats, including overall calories, sugar content, items that are gluten-free, and are decent in sodium levels. On days I eat out at restaurants, I am careful not eat much sodium elsewhere though, since it is virtually impossible to eat out without taking in a little excess sodium. To cut back on excess salt intake, I always ask for no seasonings on my foods and instead splash them with some black pepper and a squeeze of lemon if I want some flavor. In addition, you can always ask that your meats and veggies not be cooked in any oils or butters. They will still taste fabulous and you'll cut down on calories. So, without further ado, here are my favorite healthy restaurant meals that I love to enjoy sans guilt, but with plenty of enjoyment!
---
1

Longhorn Steakhouse Grilled Rainbow Trout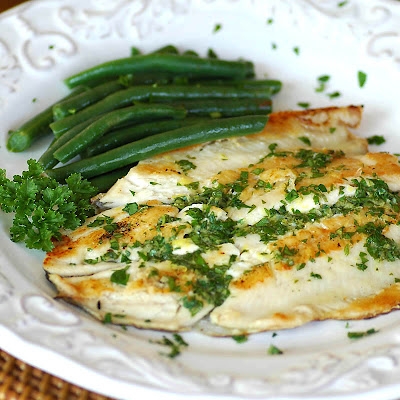 Longhorn is one of my favorite places to get many great choices for healthy restaurant meals. First, I love that their website contains all of their nutritional stats, along with a gluten-free menu and how to order gluten-free. They also have many items that are under 500 calories. The Grilled Rainbow Trout is a great option, totaling only 380 calories for the entire dish, which includes a vegetable side and salad (dressing contents are not included, however). I always choose to have my fish cooked with no oil to cut back on calories and I usually opt for the asparagus as my side, or fresh seasonal veggies cooked with no butter. Steakhouses are a great place to get clean food with great flavor if you know how to order correctly. I also like that most of their dressings are gluten-free and their balsamic vinaigrette is low in calories and sugar, and contains no fat.
---
2

P.F. Chang's Buddha's Feast Steamed Lunch with Rice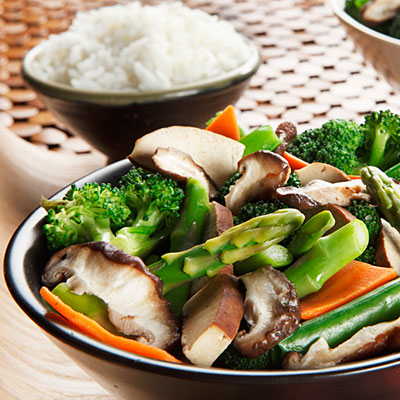 Most Asian dishes and restaurants are a huge no-no on a diet. They are usually filled with three times your daily amount of sodium, along with starchy white rice and lots of oils. However, this vegetarian option at P.F. Chang's is a completely different story. This dish is packed with veggies for only 440 calories, 3.5 grams of fat, no saturated fat and only 160 mg of sodium! Be sure to order brown rice and not white for a whole grain option, and if you want some extra protein if you're not vegetarian, ask for some plain grilled chicken to be added, not cooked in any oils, salt or butter. This option is also gluten-free.
---
3

Atlanta Bread Company Salmon Salad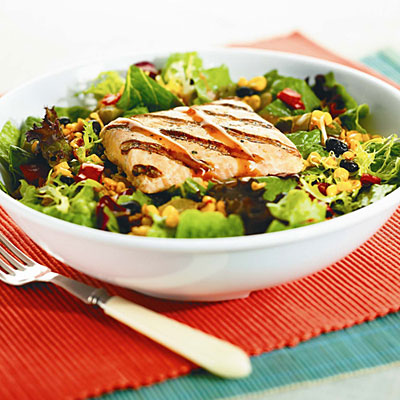 The popular sandwich chain may sound healthy at first glance, but is actually filled with bad menu options, mainly from starchy carbs. However, this salad option is a safe choice and is filled with fresh flavor. You also can't assume all salads are safe to eat. Many have about 1600 calories, over 100 grams of fat or more and more sodium than any one person should eat in a day. Yet, one great option is Atlanta Bread Company's Salsa Fresca Salmon Salad. This salad is brimming with a simple fillet of grilled salmon, lots of leafy greens, crunchy corn and black beans, freshly made salsa, and has 6 grams of fiber for only 560 calories. It has 38 grams of protein, only 4.5 grams of fat and only 500 mg of sodium. I like to order it without corn or beans for a less starchy option and ask for extra tomatoes and cucumbers on my salad for a leaner option. Opt for the balsamic vinaigrette dressing instead of the pineapple mango vinaigrette dressing the dish comes with for less sugar, and you're good to go! If you're intolerant of gluten, no worries; this dish is gluten-free.
---
4

Outback Steakhouse Grilled Chicken on the Barbie with Plain Veggies (No Butter)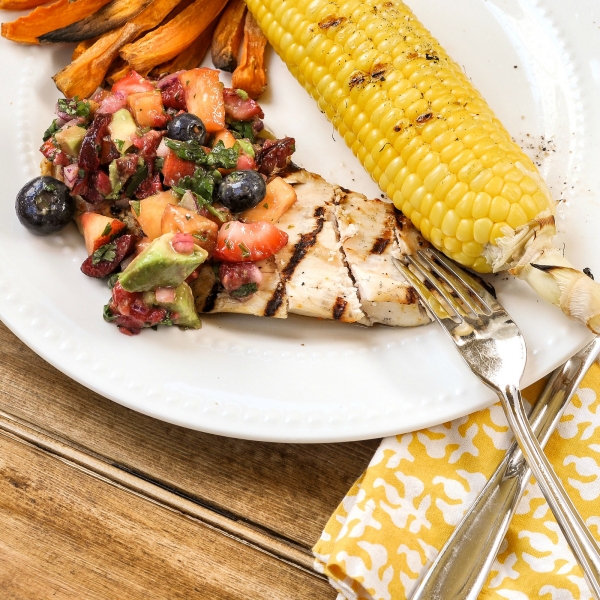 Outback Steakhouse is one of my favorite restaurants for a satisfying and surprisingly healthy variety of menu choices. You can get several great options at Outback that aren't too bad in sodium, fat or carb content. One of the best choices is their Grilled Chicken on the Barbie. You can order it with plain veggies without butter, or with grilled asparagus with no butter and you're in for a really low calorie meal that is filled with satiating protein. For your salad, order a vinaigrette based dressing for the safest bet and no croutons. This dish has 520 calories and only 14 grams of fat, 2 of which are saturated, and only 500 mg of sodium, which is low compared to other menu options out there. This dish is completely gluten-free.
---
5

Olive Garden Herb Grilled Salmon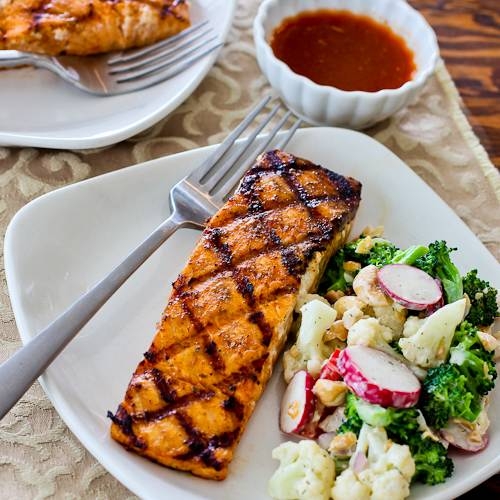 Who doesn't love the Olive Garden, right? I'm really not a big fan of Italian food, not because it doesn't taste good, but because it makes me feel so tired and bloated afterwards. Most Italian restaurant choices are filled with tons of sodium, fat and starchy carbs, yet Olive Garden has a couple of really healthy options to choose from. One is their Herb Grilled Salmon, which is so delicious and light and filling at the same time. It has 510 calories, only 5 grams of carbs and 64 grams of protein, so I always eat half since that's sure a lot of protein for one meal! You get two meals out of one. Order it with a side of steamed veggies with no butter and a side salad for your healthiest option and for extra fiber. Just forego any cheese and croutons on your salad and ask for dressing on the side. I like their oil and vinegar, which is cold-pressed olive oil and balsamic vinegar. Use 2 tbsp. dressing for the best portion size. To skinny up this meal even more, ask that your salmon be cooked without olive oil for a leaner option. This menu option is also gluten-free.
---
6

Chick-fil-a Grilled Market Salad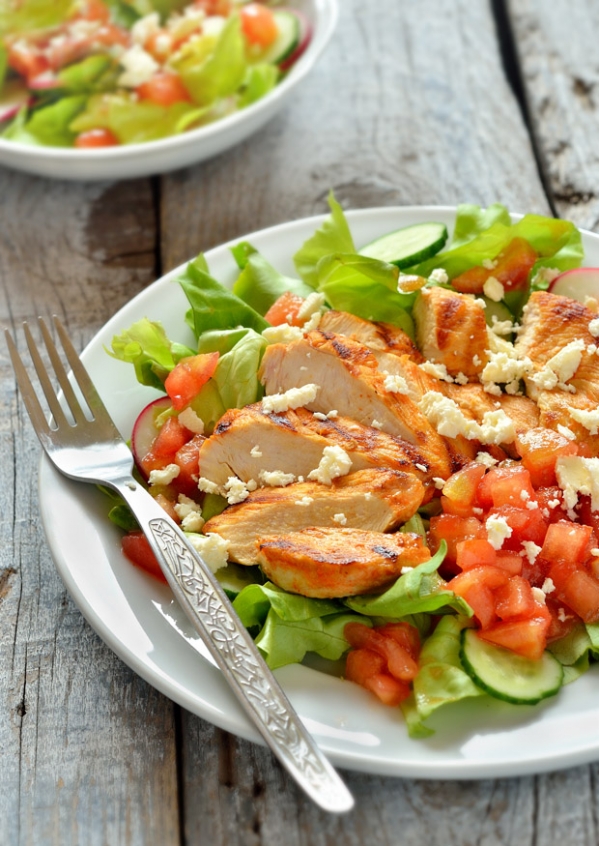 I really like this new menu option by Chick-fil-A. I prefer not to eat at fast food restaurants at all, but if I'm stuck in travel, this is a go-to option that is variably safe. This salad is brimming with protein, low-carb fruits and veggies and it has a moderate mount of sodium and very little fat. Here are the stats: it is only 180 calories, with 4 grams of fat, 25 grams of protein, 13 grams of carbs, which includes 4 grams of fiber and 8 grams of sugar from the fresh blueberries and strawberries. The new salad addition to the restaurant chain is composed of fresh grilled chicken, blueberries and strawberries, baby greens, red and green apples, and blue cheese, but I would advise asking for no blue cheese if you're not tolerant of cheese like me. It also has healthy veggies like red cabbage and carrots. For the best dressing option, opt for the Zesty Apple Cider Vinegar dressing and don't add the nut granola or roasted nut blend the salad comes with separately. This option is also gluten-free.
7

Chipotle Mexican Grill's Customizable Salads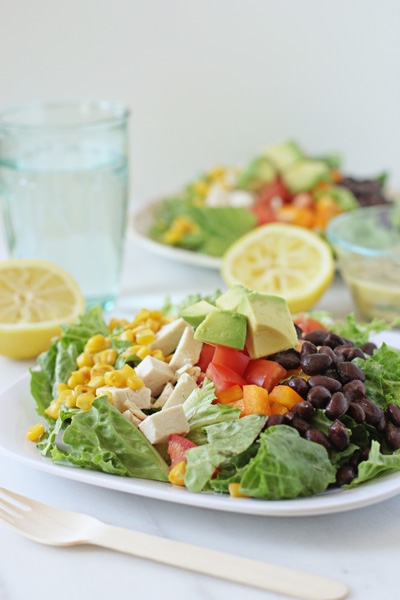 One thing I love about the popular Mexican restaurant, Chipotle Mexican Grill, which is filled with fresh flavor, is that their website allows you to customize your own meal and see the nutritional stats as you add menu items to your meal. The healthiest combo I came up with was a salad made of a bed of romaine lettuce with fajita style veggies, grilled chicken and green tomatillo salsa. Green salsa is just like red salsa, but slightly sweeter and lower in sodium. I wanted a dish under 1000 mg of sodium that was also low in fat and starchy carbs, but also had veggies, protein and flavor. This fit the bill. You could also order grilled steak or beef if you prefer, but I'm a poultry over red meat kind of gal. This dish has 35 grams of protein and only 700 mg of sodium, which is high but lower than other menu options. This salad combo has 7 grams of carbs with 3 grams of fiber and 7 grams of fat, and only 2 grams of that being saturated fat. Be sure to order without cheese as well for a lower calorie option. If you're vegan or vegetarian, opt for black beans as your protein source instead of meat for a lower fat content and higher fiber content as well. Either way, both of these options are gluten-free. To build your own meal and see the nutritional stats on the menu, go to Chipotle Grill's website.
Of course eating at home is an easier way to get a healthy meal, but let's be honest. We live in a world where restaurant meals aren't only pleasurable, but convenient. As health trends start to grow, it is easier to get nutritional calculations online of all your menu options at almost every restaurant out there, so there's no excuse not to be aware of what you're ordering. There are also several apps for restaurant nutritional stats. Being prepared and informed is the best way to eat out, guilt-free. So, what healthy choices do you like at popular restaurants?
Sources: longhornsteakhouse.com, pfchangs.com, atlantabread.com, outback.com, healthydiningfinder.com, chick-fil-a.com, chipotle.com
---
Comments
Popular
Related
Recent