7 Scrumptious Scrambled Eggs Recipes ...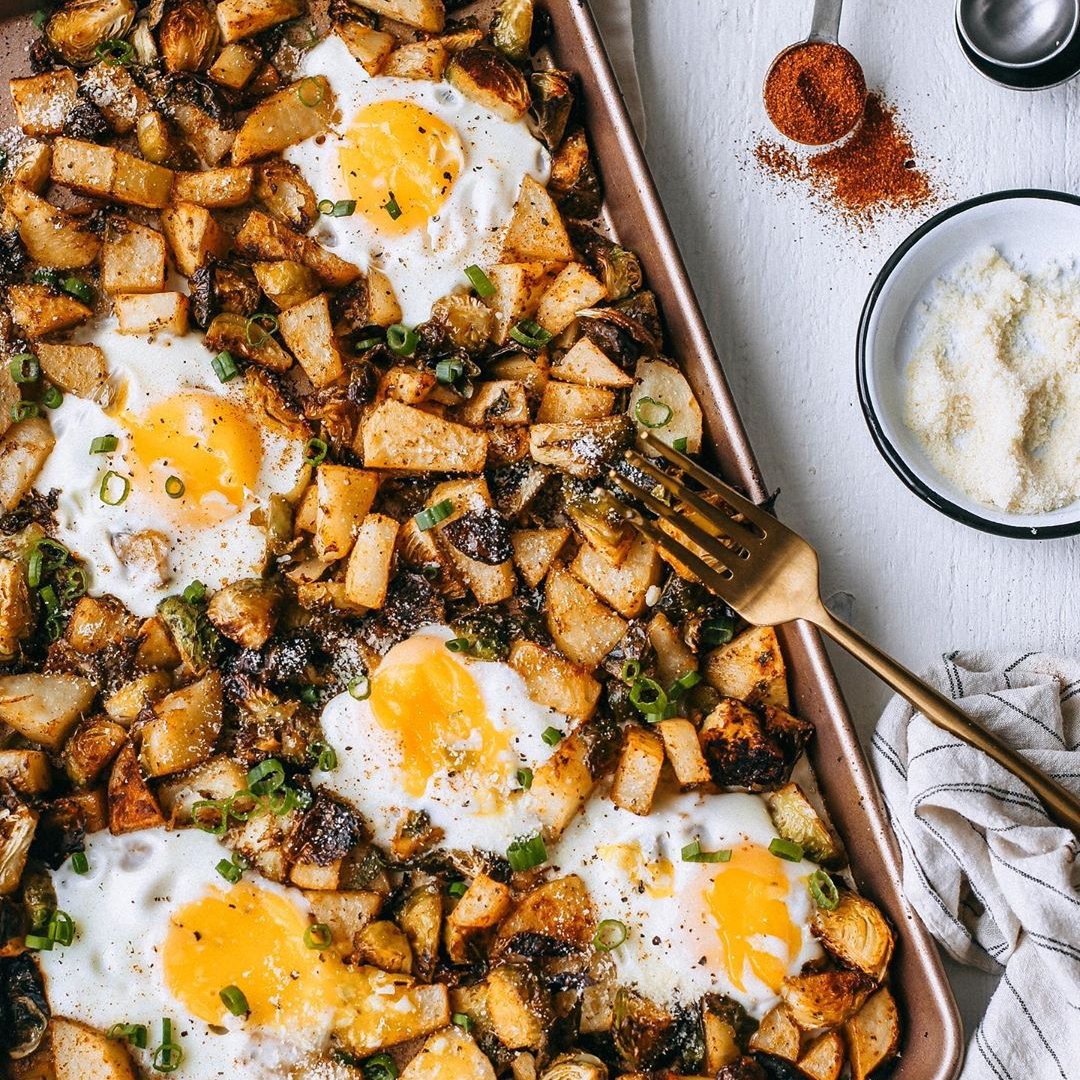 Just because it's morning doesn't mean you shouldn't go through the hassle of whipping up a delicious meal, which is why you need some scrambled eggs recipes. That means you should wipe the sleep from your eyes and break out the pots and pans. Here are some of the most delicious scrambled eggs recipes you could make:
This is one of the easiest scrambled eggs recipes to make, because it pretty much follows the traditional recipe. The only difference is that it involves a little extra cheese.
Ingredients:
4 eggs
1/4 cup (60ml) milk
Salt & freshly ground pepper
10g butter
1/4 cup (25g) grated cheddar
Instructions:
Use a fork to whisk the eggs and milk together. Season with salt and pepper. Melt the butter in a small nonstick frying pan over medium-low heat. Pour in the eggs. Use a wooden spoon to stir occasionally for 4-5 minutes. Remove pan from heat and stir in cheese.
Source: taste.com.au
2.

Mexican Scrambled Eggs
If you want a little bit of spice in your meal, this is the recipe for you. It contains onions, chili, and every other spice you could ever want.
Ingredients:
2 tablespoons vegetable oil
2 soft corn tortillas
1 tomato (deseeded and roughly chopped)
1 spring onion (roughly chopped)
1 green chilli (deseeded and chopped)
4 large eggs (beaten)
¼ teaspoon maldon salt (or pinch table salt)
Instructions:
Heat the vegetable oil in a heavy-based frying pan. Roll up the corn tortillas in a sausage shape and then snip them into strips with a pair of scissors straight into the hot oil. Fry the tortilla strips for a few minutes until crisp and golden, and then remove to a bowl. Add the chopped tomato and spring onion to the hot oily pan along with the chopped chilli, turning everything about for a minute or so with a wooden spoon. Put the corn tortilla strips back in the pan, and add the beaten eggs and salt. Using the same spoon, move everything about the pan as you do when scrambling eggs. Once the eggs are setting, remove the pan from the heat, and continue stirring the eggs until they are done to your liking.
Source: nigella.com
3.

Bacon and Avocado Eggs
This one sounds a bit odd, but it's quite tasty. If you're looking for something new and fresh to try, head to the supermarket for some avocados and see if your taste buds enjoy them.
Ingredients:
2 slices bacon
2 large eggs
Coarse salt and ground pepper
1/4 avocado, diced
Instructions:
Brown bacon in a small skillet over medium heat for 3-5 minutes per side. Remove bacon and pour off all but 1 teaspoon fat. In a bowl, beat eggs with 2 tablespoons water and season with salt and pepper. Pour into pan. Cook, scraping bottom frequently with a flexible heatproof spatula, until just set, 2-3 minutes. Crumble bacon over top; sprinkle with avocado.
Source: marthastewart.com
4.

Southwest Egg Scramble
If you want a whole lot on your plate, then get together the following ingredients. They'll keep you full for the rest of the day and show you that breakfast really is the best meal there is.
Ingredients:
2 teaspoons olive oil
1/2 diced orange bell pepper, ribs and seeds removed
1 thinly sliced scallion
1/2 cup frozen corn kernels
1/4 teaspoon ground cumin
Coarse salt
Ground pepper
2 large eggs
2 large egg whites
1/4 cup shredded white cheddar (1 ounce)
1/4 cup fresh prepared salsa
1/2 pitted and diced avacado
2 warmed according to package instructions whole-wheat flour tortillas (6-inch)
Instructions:
In a medium nonstick skillet, heat 1 teaspoon oil over medium. Add bell pepper and cook until softened, 5-7 minutes. Add scallion, corn, and cumin and cook until scallion has wilted, 2 to 3 minutes; season with salt and pepper. Remove to a plate and cover with foil to keep warm. Wipe skillet with a paper towel; reserve skillet. In a large bowl, whisk together eggs and whites, 1/2 teaspoon salt, 1/8 teaspoon pepper, and 2 teaspoons water until well combined. In reserved skillet, heat remaining teaspoon oil over medium. Add egg mixture and cook until bottom is set, 30 seconds. Gently stir with a spatula to bring cooked curds up from the bottom of the pan. Continue to cook, stirring occasionally, until cooked through, about 1 1/2 minutes. Stir in cheese and reserved vegetables. Serve with salsa, avocado, and tortillas.
Source: wholeliving.com
5.

Protein-Packed Breakfast Scramble
It's important to stay healthy, so start your day off with a nutritious breakfast. That way, you won't have to worry about all the chocolate you eat later in the night.
Ingredients:
1 large egg, plus 3 large egg whites
4 ounces soft silken tofu, drained
Coarse salt and ground pepper
1 teaspoon olive oil
1 bell pepper (ribs and seeds removed), chopped
1 scallion, white and green parts separated and thinly sliced
Instructions:
In a bowl, whisk together egg, egg whites, and tofu; season with salt and pepper. In a small nonstick skillet, heat oil over medium-high; add bell pepper and scallion whites. Cook until scallion has browned, 3 to 5 minutes; transfer to a plate. Add egg mixture to skillet; cook, stirring occasionally with a rubber spatula, just until set, 2 to 3 minutes. Top with bell-pepper mixture and scallion greens.
Source: marthastewart.com
6.

Scrambled Peppers and Eggs
Here's another recipe for anyone who loves spices. There are tons of peppers and onions in it for you to enjoy. It'll be a meal to remember.
Ingredients:
2 tablespoons olive oil
1 small onion, chopped
2 red bell peppers, chopped
2 poblano or Anaheim chiles, chopped
1 fresh hot green chile (like jalapeño), chopped, optional
1 tablespoon minced garlic
Salt and ground black pepper
4 eggs, beaten
Instructions:
Put oil in a large skillet over medium-high heat. Add onion and cook, stirring occasionally, until it's translucent, 1 or 2 minutes.
Add peppers, chiles and garlic, and sprinkle with salt and pepper. Cook, stirring occasionally, until peppers are brightly colored but not too soft, 4 to 6 minutes.
Reduce heat to medium-low and pour in eggs. Cook, stirring occasionally with a wooden spoon or rubber spatula, until eggs are cooked, 3 to 8 minutes. Serve on toast or over rice, or wrapped in a flour tortilla.
Source: cooking.nytimes.com
7.

Ham and Cheese Scrambled Eggs
Add some ham to your eggs for a delicious twist. There's nothing tastier. Just wait and see.
Ingredients:
2 large eggs
1/2 teaspoon Worcestershire sauce (I use Lea & Perrins, of course)
2 tablespoons nonfat milk or 2 tablespoons low-fat milk
salt and pepper
1 slice cooked ham, chopped into bite-size pieces
1/4-1/3 cup shredded cheddar cheese or 1/4-1/3 cup Mexican blend cheese
nonstick cooking spray
Instructions:
Spray non-stick frying pan with cooking spray. Heat up over medium to medium-high heat. (Use medium on an electric stove, medium-high on a gas.) While pan is heating, whisk together eggs, Worcestershire sauce, milk, salt, and pepper with a fork, just until blended. Pour into pan and stir continually for about 2 to 3 minutes, until eggs are cooked. Because of the milk, they will remain moist, but they should not be runny or sticky. Turn off heat, but leave pan on burner. Add ham and cheese. Stir until everything is mixed, ham is heated, and cheese is melted.
Source: food.com
Scrambled eggs are so delicious that you don't have to save them for the morning. You could always eat them in the afternoon or even for dinner. How do you usually make your scrambled eggs?
{{#comments_count}} Show Commnents ({{comments_count}}) {{/comments_count}}