7 Simple Salad Dressings from Some Easy Base Recipes ...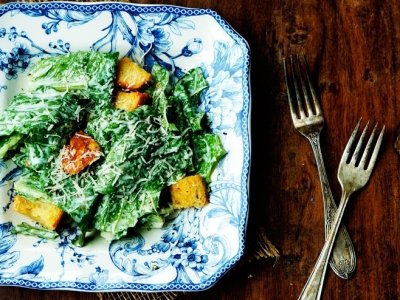 It's so easy to pick up a bottle or two from the grocery store, but it's so much more fun and a lot healthier and cheaper to make your own simple salad dressings. And they're called simple for a reason. A good salad dressing is made from a few ingredients and tastes great – unlike proprietary ones which can have a laundry list of ingredients and still not taste fresh. And once you have a couple of base recipes, so many simple salad dressings can follow.
Classic French dressing should be top of everyone's list of simple salad dressings they can whip up in minutes. The reason this is so classic is because the French have been dressing their salads with it for centuries and it goes with so many ingredients.
Ingredients
1 teaspoon Dijon mustard
Pinch of salt
Pinch of sugar
6 tablespoons vegetable oil
2 tablespoons cider or white wine vinegar
Directions
Whisk all ingredients together or put in a lidded container and shake until well combined.
Italian dressing is perfect for salads containing tomato. The garlic is also perfect for meaty salads.
Ingredients
French dressing as above
1 teaspoon dried oregano
2 finely chopped garlic cloves
Directions
Add the oregano and garlic to the French dressing and mix until well combined.
3.

Honey and Mustard Dressing
This is another of the simple salad dressings you can make from the French dressing base. The sweet honey pairs well with chicken or ham, and is also good with sharp cheese. This one is as easy as upping the quantity of mustard in the French dressing recipe and adding honey.
Ingredients
1 tablespoon Dijon mustard
Pinch of salt
Pinch of sugar
6 tablespoons vegetable oil
2 tablespoons cider or white wine vinegar
Directions
As with all these easy salad dressings, it's just a case of combining the ingredients by your favorite method – mixing with a fork, a mini whisk, or shaking in a lidded container.
Yogurt makes a deliciously creamy dressing - so good you don't even have wait for a salad to eat it. (It's great with a baked potato!) Just be sure to pick up unsweetened yogurt at the grocery store!
Ingredients
5 tablespoons natural yogurt
Juice of ½ lemon
1 tablespoon of chopped mint or parsley
Directions
Yep – you guessed it – mix all the ingredients together! If you're having fish, swap out the mint or parsley for dill or chervil.
One of the most popular but simple salad dressings, Ranch is many people's favorite. Trust me – fresh Ranch dressing is so much yummier than bottled stuff. Perfect for dipping raw veggies into or drizzled on crispy iceberg wedges.
Ingredients
1 recipe of yogurt dressing as above, plus
2 ½ tablespoons buttermilk
1 tablespoon chives
Directions
I did promise you these were easy! Just mix it!
Blue cheese isn't to everyone's taste but if you're quite partial to stilton, gorgonzola, dolcelatte or some Danish Blue, you'll find blue cheese dressing is surprisingly good with steak or a plain salad with pears and walnuts. I like doclelatte best as it's creamy and not as stringent as other blue cheeses.
Ingredients
1 recipe of yogurt dressing as above, plus
40g (2 oz) blue cheese of choice
Directions
Simply crumble the blue cheese into the yogurt dressing.
I have to admit this is one of my favorites. I once tried to make potato salad with Caesar dressing on advice from a friend – not so great! I'll stick to the classic romaine and parmesan/pecorino.
Ingredients
5 tablespoons mayonnaise
2 tablespoons water
1 tablespoon lemon juice
1 garlic clove, chopped
1 chopped anchovy fillet
75g parmesan cheese
Directions
Ok, getting boring now hey? Yes – mix all ingredients together!
Now you are armed with an arsenal of simple salad dressings, your lettuce will be the best dressed in town. Don't forget, if you can't be bothered with all this mixing, just sprinkle olive oil and lemon juice or apple cider vinegar on your leaves. What's your favorite way to dress a salad?
{{#comments_count}} Show Commnents ({{comments_count}}) {{/comments_count}}