If you want your Halloween to be perfect, then you should bake some spooky cookies to give to your friends and family. There's nothing more impressive than a good cook who can turn her food into a creepy craft. Here are some of the most awesome spooky cookies that you should make this October:
---
1

Finger Cookies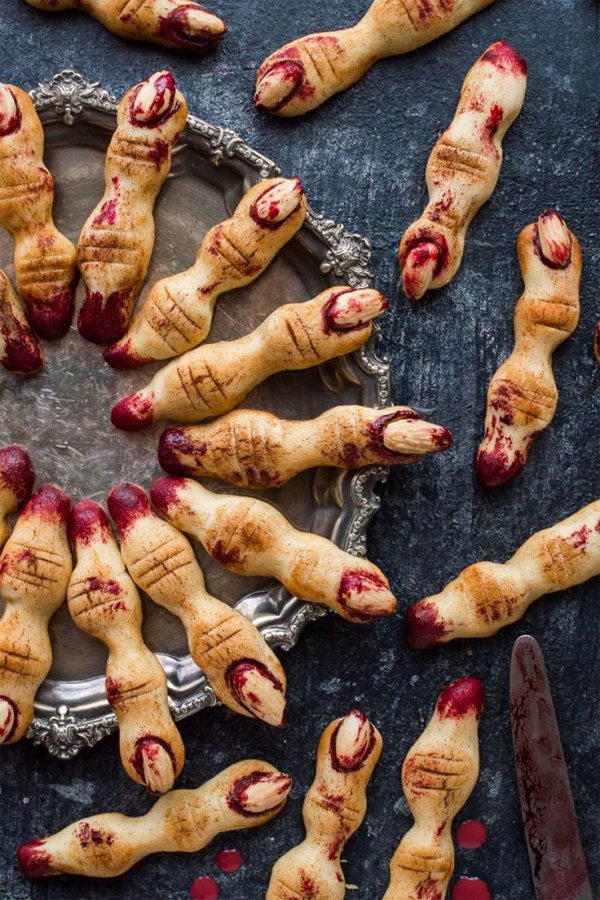 If you want to scare your guests, this is the perfect way to do so. This is one of the spooky cookies that will make your friends feel like cannibals. The fingers will look so realistic that they'll have to be careful not to bite into their own hand.
Ingredients:
2 tablespoons red food coloring
30 blanched almonds
2 large eggs
1/4 teaspoon pure vanilla extract
8 tablespoons unsalted butter (1 stick), room temperature
1/2 cup confectioners' sugar
5 tablespoons granulated sugar
Pinch of salt
1 2/3 cups all-purpose flour
Directions:
Use food coloring to paint the almonds red. Separate one egg and set aside the white. Whisk together the yoke, vanilla, and second egg. In a separate bowl, mix together the sugar and salt, then add the egg mixture and flour. Chill for 30 minutes. Divide dough in half, shape it, and press the almond onto the top of each 'finger.'
Source: marthastewart.com
---
2

Dracula Cookies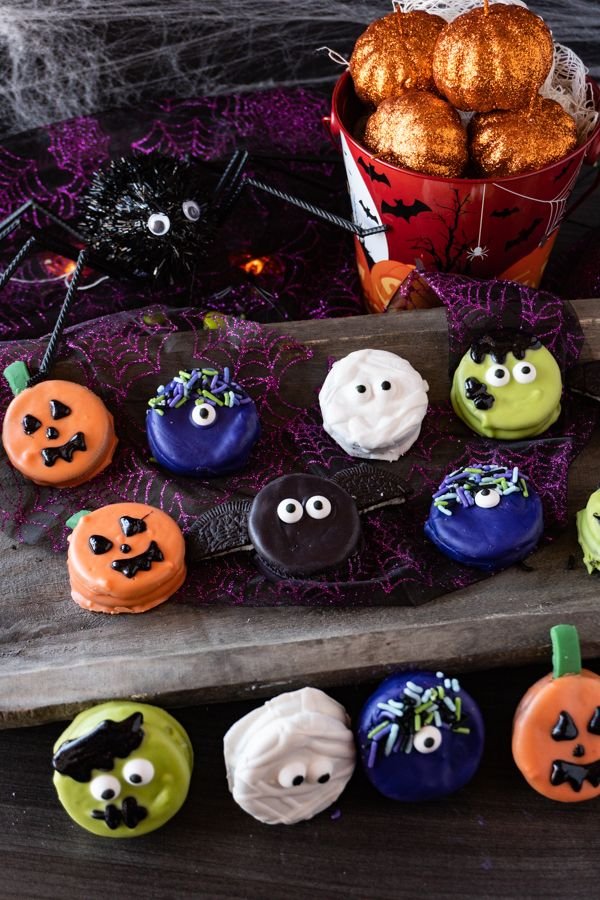 This recipe doesn't require much effort, because you don't even have to bake anything. The cookies are already made for you, so you can just pull them out of the package and you're already halfway done.
Ingredients:
6 hazelnut truffles
5 ounces white candy coating, chopped
1 green or red Fruit Roll-Up
6 Oreo cookies
1 can (6.4 ounces) black decorating icing
6 slivered almonds, cut in half
Directions:
Place truffles in a pan and let freeze for 10 minutes. Melt candy coding in the microwave, and stir until smooth. Dip truffles in coding, and then refrigerate until hardened. Wrap a fruit strip around truffle for a cape. Create face, mouth, and hair with icing. Insert almonds as fangs.
Source: tasteofhome.com
3

Eyeball Cookies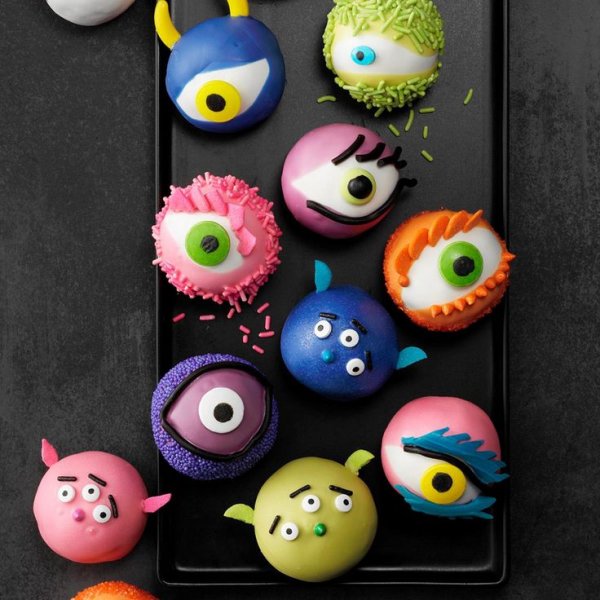 Don't you hate when you feel like you're being watched? Well, on Halloween you want your guests to feel creeped out, and this is the perfect way to do so. If you make this delicious treat, all eyes will be on you.
Ingredients:
5 ounces white baking chocolate, chopped, divided
20 to 25 vanilla wafers
Blue paste food coloring
1/2 cup semisweet chocolate chips
Red liquid food coloring
Directions:
Place four ounces of white chocolate in microwave until melted, and then stir until smooth. Dip wafers into the melted chocolate and let chill. Melt the remaining white chocolate, tint blue, and place in the center of the wafer. Place a chocolate chip in the center. Use a toothpick dipped in red food coloring to make the eyes look bloodshot.
Source: tasteofhome.com
---
4

Ghostly Cookies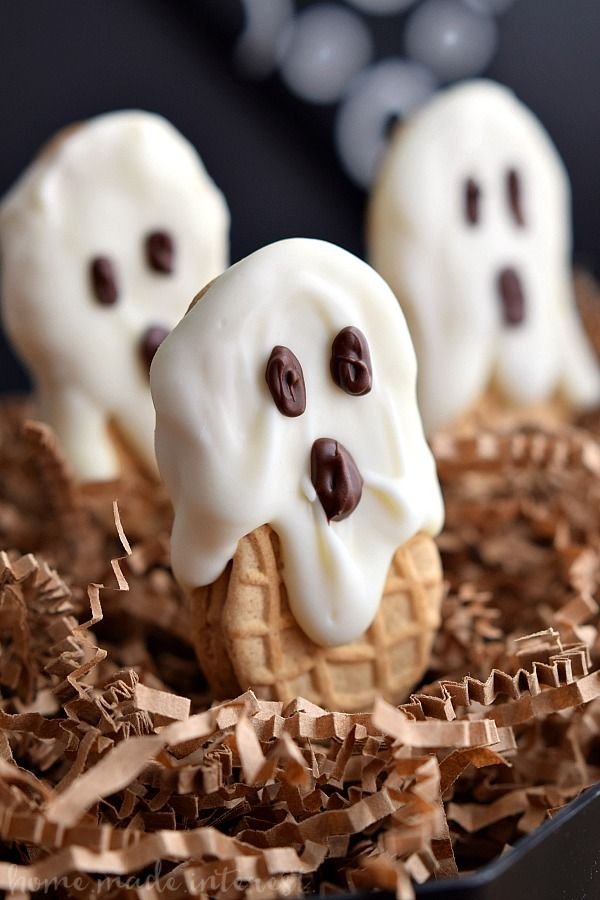 It's not Halloween without a few ghosts around. Make these cookies, and get ready for shouts of joy. They're even tastier than they look.
Ingredients:
2 oz. BAKER'S White Chocolate
6 peanut butter sandwich cookies or vanilla wafers
Decorating gel
Directions:
Microwave white chocolate for one minute, and then stir until melted. Coat cookies with melted chocolate. Use decorating gel to create eyes and mouth.
Source: kraftrecipes.com
---
5

Candy Corn Cookies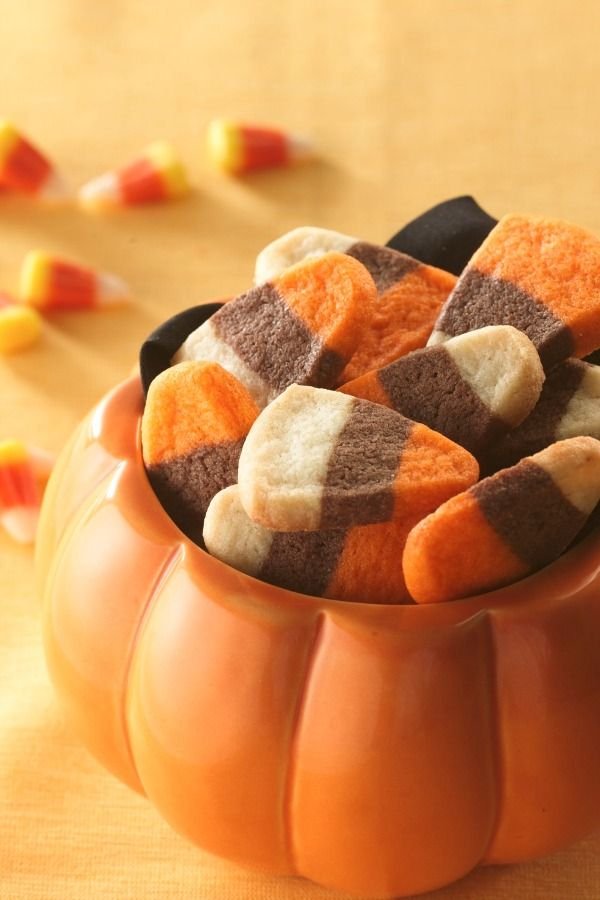 Make some candy corn cookies to place on a plate next to some actual candy corn. It's a cute way to keep to one theme. Everyone will scoop them up!
Ingredients:
2 sticks butter, softened
1 and a half cups powdered sugar
1 tbsp vanilla extract
1 egg
½ tsp baking soda
½ tsp salt
3 cups flour
red food coloring
yellow food coloring
Directions:
Mix sugar and butter together until fluffy. Add egg and vanilla. In a separate bowl, whisk the flour, baking soda, and salt. Put the two mixtures together. Separate dough pieces and color some red, some yellow, and some orange (by mixing together red and yellow). Place each different colored layer of dough on top of each other to form the candy corn shape. Refrigerate overnight. Bake cookies, and when cool, cut into triangles.
Source: pbs.org
---
6

Peanut Butter Spider Cookies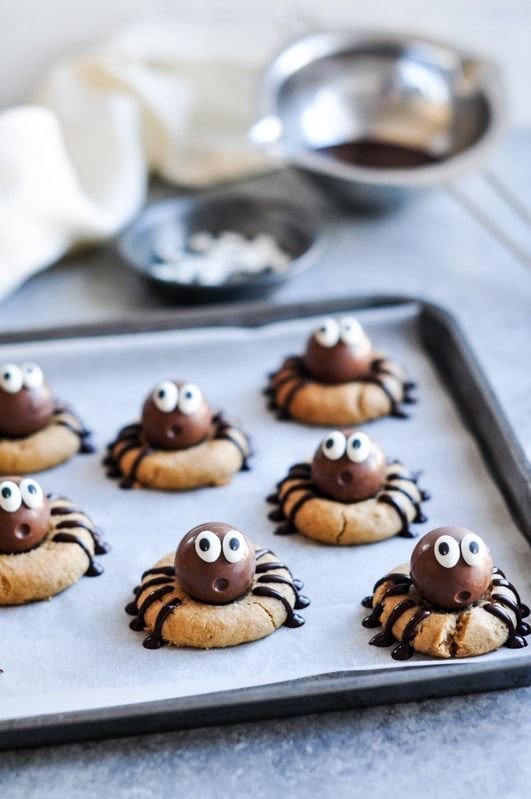 Seeing a spider on your plate would be terrifying on any other occasion but on Halloween, all creatures are welcome. There's nothing wrong with chewing a crunchy insect.
Ingredients:
1 pouch Betty Crocker peanut butter cookie mix
3 tablespoons vegetable oil
1 tablespoon water
1 egg
36 chewy caramels in milk chocolate
Black or red string licorice
Black decorating gel
Directions:
Stir cookie mix, oil, water, and egg until dough forms. Shape dough into balls, and place in oven for ten minutes. Press one chewy caramel into the center of each cookie. Cut licorice into two-inch pieces, and attach by sticking into chewy caramel. Use decorating gel for other features.
Source: bettycrocker.com
---
7

Tombstone Cookie Pops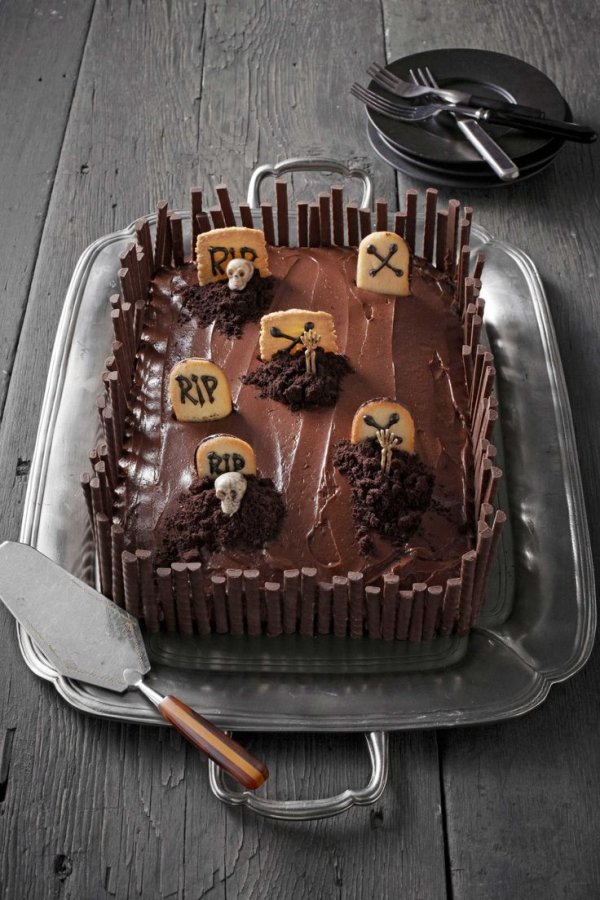 These will be the perfect snack for all of your friends that chose to dress as zombies. They're the undead, after all, so they might as well be near a gravestone.
Ingredients:
1 pouch chocolate chip cookie mix
2 tablespoons flour
1/2 cup butter, softened
1 egg
18 craft sticks (flat wooden sticks with round ends)
3/4 cup chocolate frosting
1 tube green decorating icing
1 tube white decorating icing
Directions:
Stir cookie mix, flour, butter, and egg until dough forms. Shape into ball. Refrigerate for one hour. Cut into gravestone shape. Insert stick halfway into each cookie. Bake for ten minutes, cool for five minutes, and decorate with frosting and icing.
Source: bettycrocker.com
Once you make these tasty treats, don't let all of your friends gobble them up on you. Make sure you get a bite or two! What are you going to be this Halloween?
---
Popular
Related
Recent