7 Strawberry Recipes to Make This Spring ...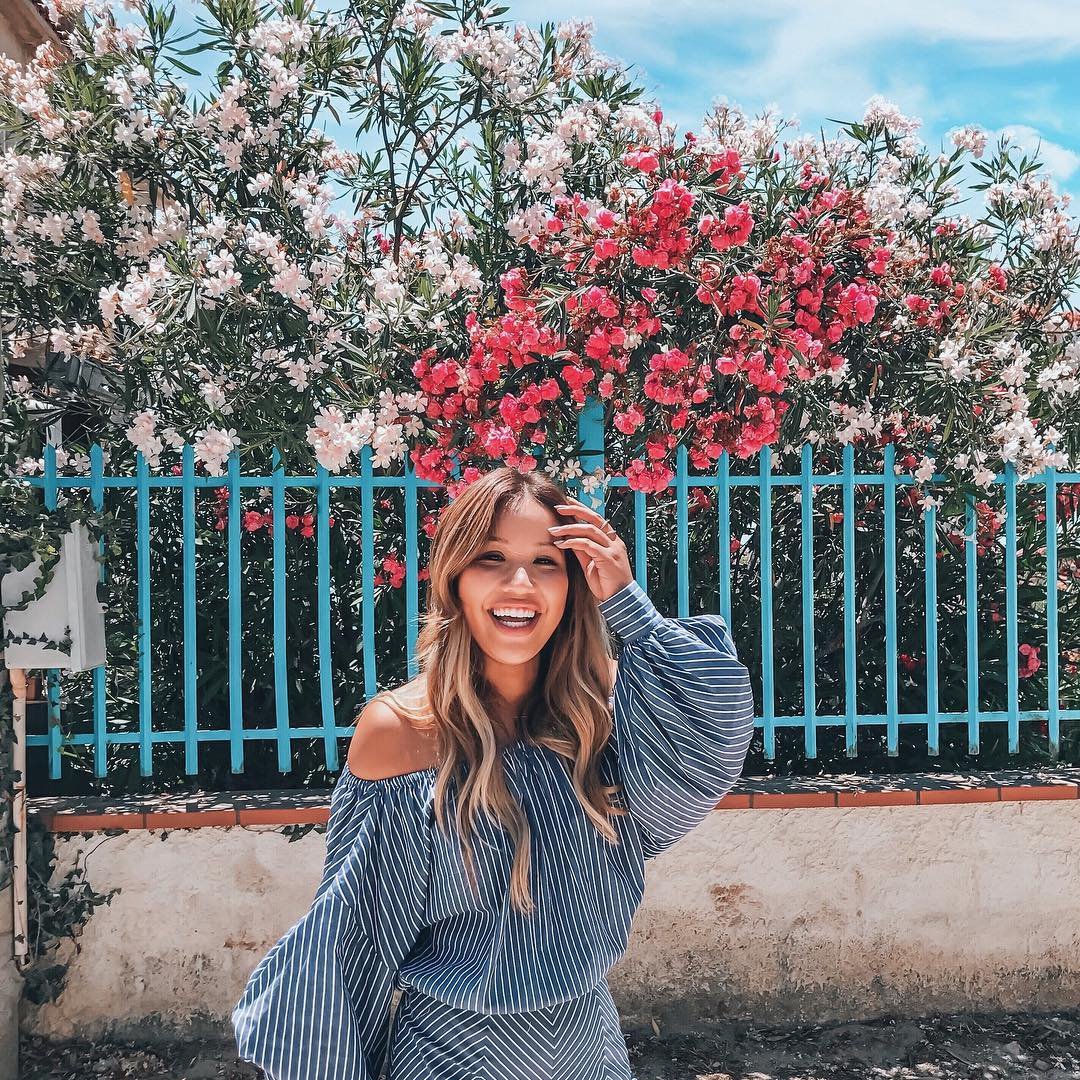 There is something about seeing a bright, red strawberry during springtime that just makes me smile, so I've developed quite a large collection of strawberry recipes over the years. Strawberries are popular with just about everyone, they make any dish beautiful, tasty and healthy, plus strawberries are available year round, with spring time being their peak season. Spring is a great time to start eating healthier, but even if you're not watching your diet this spring, these strawberry recipes are sure to please just about anyone! Try making a few of these strawberry recipes and let me know what you think! Plus, your friends will probably love you even more if you share these with them since they're so yummy!
1.

Strawberry Coconut Ice Cream

This is one of my personal strawberry recipes that is simple, incredibly delicious, and one of the most beautiful recipes of all. This ice cream is a delightful pink color with chunks of flaky coconut and sweet strawberry essence. It also does not require an ice cream maker. Make it as soon as you get a few minutes and you'll have a new favorite ice cream flavor!

Serves: 2 1-cup servings

Ingredients:
1 cup fresh strawberries
1 cup frozen strawberries (you can either buy them yourself and chop and freeze or just buy some frozen)
¼ cup shredded unsweetened coconut flakes
1 entire 15 ounce can of lite coconut milk- such as Thai Kitchen brand or Native Forest brand

4 packets of stevia (I like NuNaturals brand) or you could use 2 tbsp. honey or agave
Touch of vanilla extract

Directions:
Blend the coconut milk and fresh strawberries in the blender first to puree everything well.

Last add in the frozen strawberries and the stevia. Blend again until very thick.

Scoop the mixture out into a large plastic dish like a Rubbermaid and place it in the freezer for one hour.

Come back and you have ice cream! No ice cream maker required!

*You could opt to eat this as soft serve without freezing it by adding in ½ cup ice to step 2 as well to make it extra thick without the need to freeze.
2.

Gluten-Free Whole Grain Strawberry Muffins

I always enjoy making and sharing gluten free recipes with others, such as these delightful strawberry muffins by the Gluten Free Goddess, who is one of my favorite bloggers. Going gluten free seems to be a trend these days, but I enjoy eating gluten-free because there are tons of healthy gluten-free alternatives that don't hurt my tummy like gluten does. Even if you aren't intolerant to gluten, these muffins are so tasty. They are perfect to make ahead for the week for a healthy grab and go breakfast, or to make for a nice cozy weekend with some coffee and people to share them with. I love to make muffins for the perfect breakfast, snack or dessert at any time of the day, because sometimes a girl just needs a muffin and a cup of joe!

Serves: 12 muffins

Ingredients :
1/2 cup hazelnut flour or almond flour
1/2 cup brown rice flour
1/2 cup sorghum (jowar) flour
1/2 cup gluten free millet flour
1/2 cup coconut flour
2 tablespoons organic brown sugar
1 tablespoon tapioca starch or arrowroot starch
2 teaspoons baking powder
1/2 teaspoon fine sea salt
1/4 teaspoon ground nutmeg
2 large organic free-range eggs, beaten
1/4 cup light olive oil or grape seed oil
1/2 cup pure maple syrup
1 tablespoon bourbon vanilla extract
3/4 to 1 cup vanilla soy milk, rice milk, coconut or nut milk, as needed
1 1/2 cups fresh organic strawberries, washed, stemmed, diced

Directions:
In a large mixing bowl, whisk together the dry ingredients- from the hazelnut flour to the nutmeg. Add in the beaten eggs, oil, pure maple syrup, and vanilla extract. Beat to begin combining. As the batter is coming together, start pouring in the soy milk, slowly, a little at a time, and beat to mix thoroughly. When you have added 3/4 cup liquid, take a close look at your batter. It should be soft and slightly thick. Add the rest of the milk slowly, continuing to beat. When the batter looks like a muffin batter, stop adding the liquid. I used a full cup, but some of you in more humid climes might need a tablespoon or two less liquid. This batter isn't super-smooth and sticky. It is not as thin as cake batter. It should look almost puffy.

Stir in most of the strawberries by hand, using a wooden spoon (reserve a portion of the strawberry pieces for the tops).

Spoon the strawberry muffin batter into the twelve lined cups. Stud the tops with strawberry pieces. Don't smooth out the tops- leave them puffy and bumpy.

Bake in the center of a pre-heated oven for 25 to 30 minutes. Note: If your berries are cold, your muffins will take a few minutes longer to bake.

Cool the pan on a rack for five minutes, then turn out the muffins to continue cooling on a wire rack (this keeps them from steaming in the hot pan and getting soggy).

Source: glutenfreegoddess.blogspot.com
3.

Strawberry Almond Butter Smoothie

I used to love strawberry jelly and peanut butter sandwiches as a kid. As an adult, I didn't lose that same passion for a hearty nut butter and sweet tasting strawberry jam, but I did put my own healthy spin on it. I adore smoothies now much more than a boring sandwich, so I used the nut butter and strawberry combo in this smoothie. This makes for the perfect afternoon treat, or during busy mornings when you just need something to make you smile and feel like a kid again.

Serves: 1

Ingredients:
1 cup frozen (or fresh strawberries plus 5 ice cubes)
1 1/2 cup unsweetened vanilla almond milk
2 tbsp. raw almond butter (or roasted would work but it is much richer and not as sweet)
1 tbsp. honey, maple syrup, agave or 1 pack of stevia

Directions:
Blend on low, then high in a powerful blender. Pour and serve
4.

Strawberry and Walnut Salad

Salads are one of spring's greatest gifts in my opinion. All of the fresh produce abundant in spring just begs us to eat a healthy salad! Luckily, my salads are not the boring iceberg, cucumber and tomato salads you get at a restaurant. That's not a salad, but more of an insult to the God-given gift of fresh greens and luscious fruits that fill the produce bins in springtime. Make this salad, and you won't be sorry. It's pretty darn tasty and incredibly beautifying too, so you can get your eat on and your glow on at the same time!

Serves: 2 large salads

Ingredients:
3 cups of fresh spinach
1 pint of fresh strawberries, stemmed and washed
½ cup walnuts halves
1 cucumber, washed and sliced almond slivers (optional but yummy!)

Protein options: 3/4 cup shredded cooked chicken , 1 small can of tuna washed, two 4 ounce pieces of salmon cooked and flaked or ¼ cup of shredded feta cheese
Balsamic Vinaigrette Dressing

Directions:
First place the spinach in a large bowl.

Cut the washed and stemmed strawberries in half and add to the salad greens.

Next, add the walnut halves, cucumber slices and almond slivers if using.

Toss to coat and add any protein options if serving as a meal, or you can omit this if this salad will be a snack or appetizer.

Drizzle with some balsamic vinaigrette dressing and serve with someone you love, or save the rest for your lunch tomorrow!
5.

Vegan Gluten Free Strawberry Pumpkin Waffles

Gena Hamshaw from the blog Choosing Raw is such an inspiration. This girl can make any health food taste incredible! She has inspired so many of my recipes, but this waffle recipe by Gena continues to be one that needs no alteration. I love making these waffles in springtime. Pumpkin is not just for eating during the fall season and you don't really even taste the pumpkin in this recipe, as the strawberries shine through and serve as the star in this waffle recipe. The pumpkin does make these waffles incredibly moist, though they have a nice hearty crunch on the outside. These waffles are also gluten-free, vegan and pretty fantastic to be so healthy.

Serves: 4

Ingredients:
2 tsp baking powder
1 cup + 2 tbsp brown rice flour (see below for additional flour options)
1/2 cup + 2 tbsp potato starch (see below for additional flour options)
1 tsp cinnamon
Dash salt
1/2 cup pureed pumpkin
1 cup almond milk
1 tsp apple cider vinegar
1 tbsp coconut oil
1 tbsp agave syrup
1 cup strawberries, cut into small pieces
Coconut oil spray

Directions:
Mix dry ingredients together with a whisk.

Mix together wet ingredients (including pumpkin) with a whisk until slightly frothy. Add wet ingredients to dry, mix well, and then add strawberries and mix to incorporate.

If you need to add some almond milk to make the batter appropriately thin, do so (it can vary from try to try). It should resemble any standard waffle or pancake batter, but maybe be slightly thicker.Directions:

Spray a waffle iron with coconut oil spray and make waffles according to manufacturer instructions. I typically pour about 1/2 heaping cup of batter over the surface and wait till it's cooked through. Be absolutely certain to spray the iron between each waffle! It'll ensure the best results.

Serve with additional strawberries.

Cook's note: you can use 1 3/4 cup either whole wheat pastry flour or 1 3/4 cups of an all-purpose, gluten free mix. I think the brown rice/starch blend is best for authentic vegan and gluten free baked goods, but if you're in a time pinch, you certainly can use something more streamlined.

You can also store these pancakes in an airtight container in the fridge for at least a couple days. So the four servings is worth making in full, if you're someone who likes to plan breakfast in advance! And finally, if you don't have a waffle maker, you can turn this recipe into pancakes and cook accordingly; just be sure to cut the strawberries small.

Source: choosingraw.com
6.

Cashew Ripple Strawberry Shake

Okay girls, if you need a real shake that tastes like dessert but isn't filled with unhealthy calories or artificial ingredients, have I got a shake for you! Kathy Patalsky of the Happy. Healthy. Life. blog is one of my favorite go-to bloggers for a seriously exotic smoothie that tastes like dessert, but is so nutritious you could eat it for breakfast. This shake is almost like ice cream and filled with healthy strawberry goodness. It is as creamy as those ice cream parlor strawberry shakes, which were always a treat in the spring and summer growing up. Try this and you'll have a new favorite recipe to make when those sweet cravings hit!

Serves: 1-2

Ingredients:
3/4 - 1 cup soy milk, vanilla
1/2 cup strawberries, frozen
1 1/2 bananas, frozen
1 heaping Tbsp creamy cashew butter, salted (or substitute with almond, peanut, sunflower seed or walnut butter)

optional: 1/4 cup frozen watermelon cubes (my secret smoothie ingredient for frosty, light soy shakes)

note: you could switch out the strawberries for any pink or red frozen fruit (watermelon, cherry, raspberry).

Directions:
Add all ingredients to blender - except the cashew butter.

Blend from low to high until smooth.

When swirling, add the cashew butter. Reserve a small dollop to swirl into the shake after you pour into serving glass.

Serve chilled with a spoon...

Source: kblog.lunchboxbunch.com
7.

Strawberry Breakfast Parfaits

Don't you girls just love parfaits? They feel so indulgent, yet child-like at the same time. I love making them for breakfast to get a little bit of my favorites into my breakfast: creamy yogurt, healthy and sweet fruit, plus a little decadent granola too. Try this easy strawberry parfait I created and you'll have a new filling breakfast treat. Not only is it healthy but it is a little addictive! You can eat this at home or you can proportion some out in to-go thermos containers in your fridge for busy mornings. These could even be eaten in the car but please, do be careful if you're driving and eating!

Serves: 1

Ingredients:
1 cup (or one 6 ounce container) of organic yogurt (I like plain Greek, but you could use your favorite or even a coconut, soy or almond based yogurt for dairy-free options)
1 cup of strawberries, washed and chopped
¼ cup your favorite brand of granola- I used Love Crunch Dark Chocolate and Berries (see sources below)

Directions:
Place ½ cup yogurt (or ½ container) into the bottom of a glass or to-go cup or container

Next, add in ½ of the strawberries and then 1 tbsp. of the granola

Add the remaining yogurt, and then the remaining strawberries

Last, add the rest of the granola and a few more strawberry slices if you want.

Note: If you make these ahead, I would suggest making them no more than 3 days in advance for the strawberries to keep best. Also, I actually like making mine first thing, freezing it and then eating an hour later to make it extra cold and more like an ice cream parfait!

Strawberries are full of Vitamin C and only have 6 grams of sugar per cup, which is less than blueberries, raspberries or blackberries. They are also low in calories and high in fiber, while providing a natural sweetness that brings a smile to almost anyone. Use these strawberry recipes next time you find yourself in the mood to make something new. Let me know what you think too! Do you have any favorite ways to eat strawberries that you would like to share?

Sources:
shop.naturespath.com