Eggs are one of those foods I get occasional cravings for, but don't want to spend a lot of time on, so I'm all about quick egg recipes that fill me up and save me time too. Eggs are full of healthy proteins, Vitamin B12, choline, selenium, Vitamins A, D and E, plus they're packed with lutein, an ingredient that keeps your hair, eyes and skin looking great. Making eggs for breakfast is a great way to start your day, but they also make an amazing lunch or dinner. Try some of these quick egg recipes and you'll be well on your way to healthy and full in no time!
---
1

1 MInute Egg Mug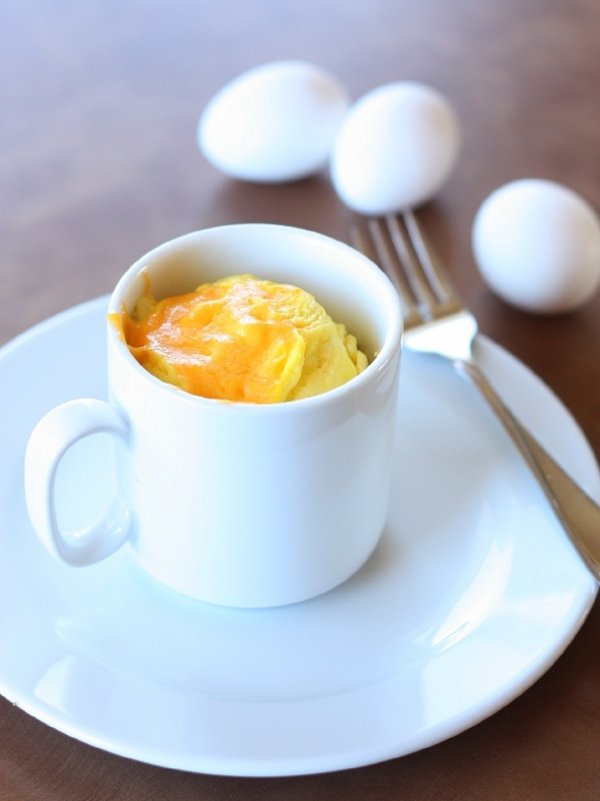 This is one of the quickest egg recipes I have to show you and one of the tastiest! As I said, eggs are rich in protein, so this quick omelet will satisfy you for hours, plus it's pretty easy on the eyes too!
Serves: 1
Ingredients:
1 egg
1 tbsp. milk
optional: 2 tbsp. cheese
black pepper
salt
Directions:
In a 2 cup glass bowl, add the egg, salt, pepper and milk. Microwave for 30 seconds on high and stop. Push the cooked egg on the edges to the center to promote even cooking. Add the cheese if using. Microwave for 15-30 seconds longer until the egg is completely set. Eat up!
Source: incredibleegg.org
2

Super Girl Omelette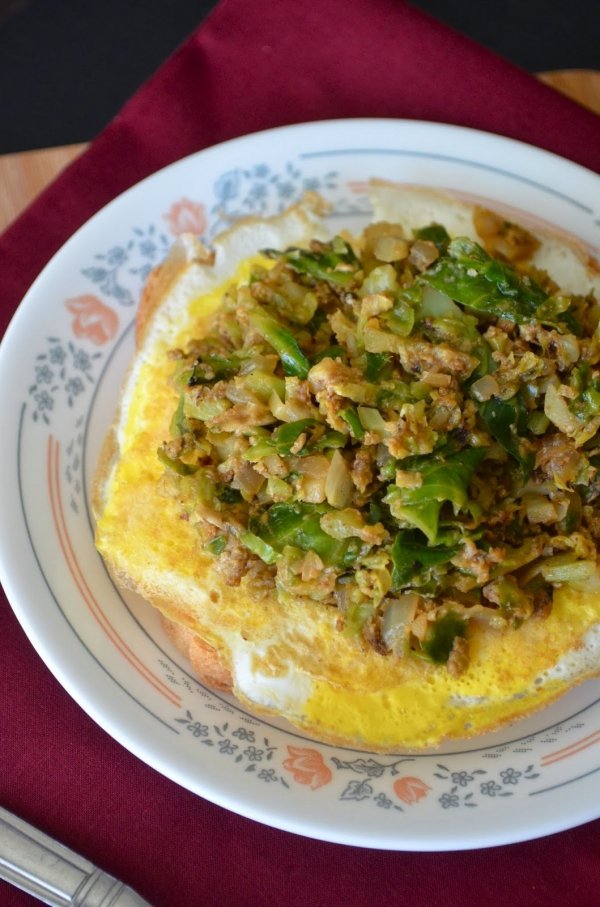 This recipe is my personal favorite and one of my own. It's one of my go-to recipes to make when I want something healthy, filling and fast. This method actually steams the eggs, which keeps them softer and helps them cook without drying. I hope you enjoy it as much as I do!
Serves: 1
Ingredients:
1 egg
2 egg whites
1 cup of pre-chopped bagged kale
2 tbsp. of canned, diced tomatoes or fresh
1/8 of an avocado (ripe)
pinch of each of the following: parsley, pepper, chili powder, oregano
Directions:
Crack your egg, the whites and spices into a bowl. Whisk together and set aside. Grease a nonstick skillet with coconut oil, which is great for high temperatures (or you can use nonstick spray). Pour the egg mixture in, and then add the kale. Put a lid on top of the skillet and turn the heat on medium high. Leave it alone. While the eggs and kale are steaming (no more than 3 minutes), chop your avocado, and save only 1/8 of it for this recipe and sit it aside. Discard the pit, and save the rest for later. Remove the lid from the skillet and fold the eggs over the kale on one side to form an omelette. At this point, the kale should be steamed up really well, and this method helps the omelette fold over better. Using a spatula, scoop onto a plate and top with the tomatoes and avocado. Add a sprinkle of black pepper and parsley for a nice garnish. Enjoy!
Source: soulfulspoon.com
---
3

Egg and Cheese Breakfast Sandwich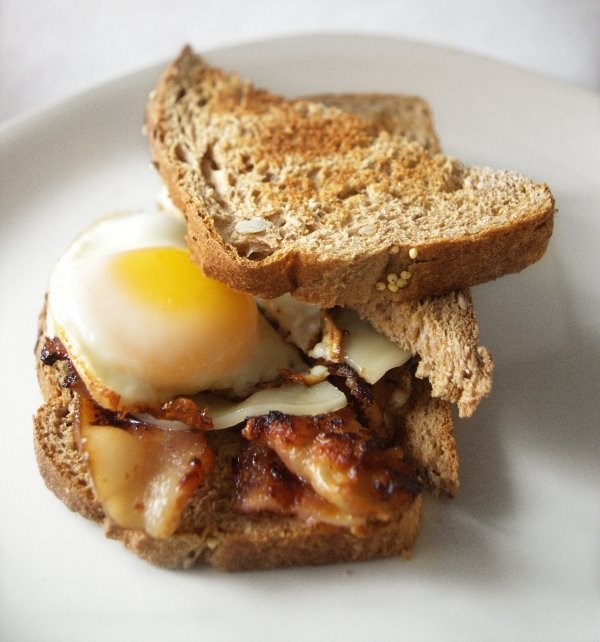 If you like the classic breakfast sandwich, this recipe is for you. It's simple to make, hearty and looks incredibly filling. Include a sprouted grain bread to make things even healthier and you'll be filled with healthy fuel to get you through the day.
Serves: 1
Ingredients:
1 egg, beaten
1 tbsp. milk
2 tbsp. fresh spinach
2 tbsp. shredded cheese
2 piece of sprouted grain bread or a tortilla wrap
Directions:
In a 2 cup glass bowl, beat the egg and milk until blended. Microwave on high for 30 seconds and push the cooked egg to the center to distribute even cooking. Add the spinach and cheese if using and microwave again for 30 seconds or until set. Remove and scoop out of the bowl onto a slice of sprouted grain bread and sandwich with the other piece of bread. If using a tortilla, just wrap it up and eat up!
Source: incredibleegg.org
---
4

Microwave Mushroom Egg Bake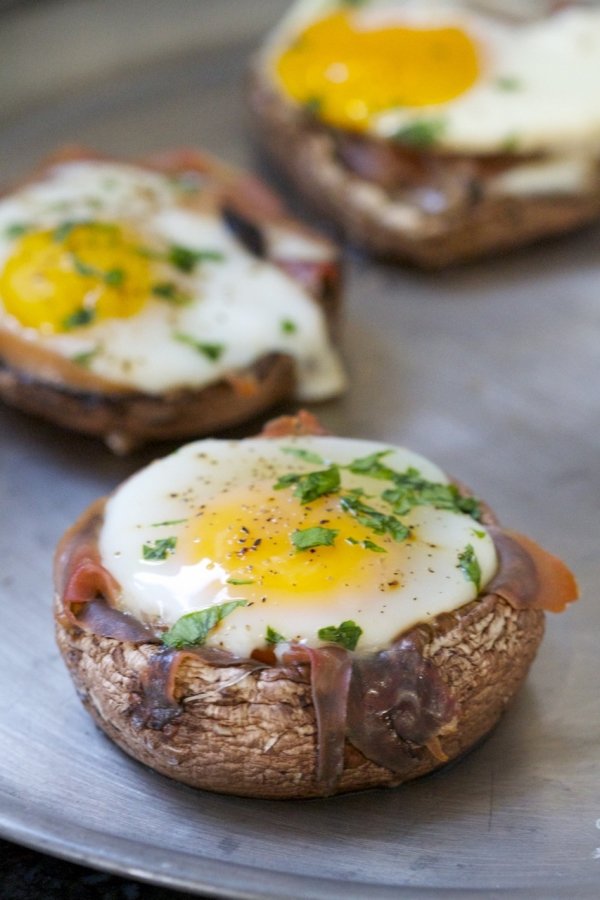 Mushrooms are great in egg dishes, and they're easy to cook in the microwave together for quick cooking. Try this simple mushroom egg bake tomorrow morning. It's hearty, filling and filled with vitamins and minerals!
Serves: 1
Ingredients:
1 egg and 1 white
1 tbsp. milk
¼ cup fresh mushrooms
1 tsp. butter or coconut oil
black pepper
optional: 1 tbsp. shredded Swiss cheese
Directions:
Coat a 12 ounce microwave safe coffee mug with cooking spray. Add your egg, the white, milk and mushrooms. Beat until blended and add your butter or coconut oil along with pepper. Microwave on high 30 seconds, and stir to push the cooked edges to the center. Put back in the microwave and cook 30 more seconds until set. Top with shredded cheese if using.
Source: incredibleegg.org
---
5

Cinnamon Egg Mug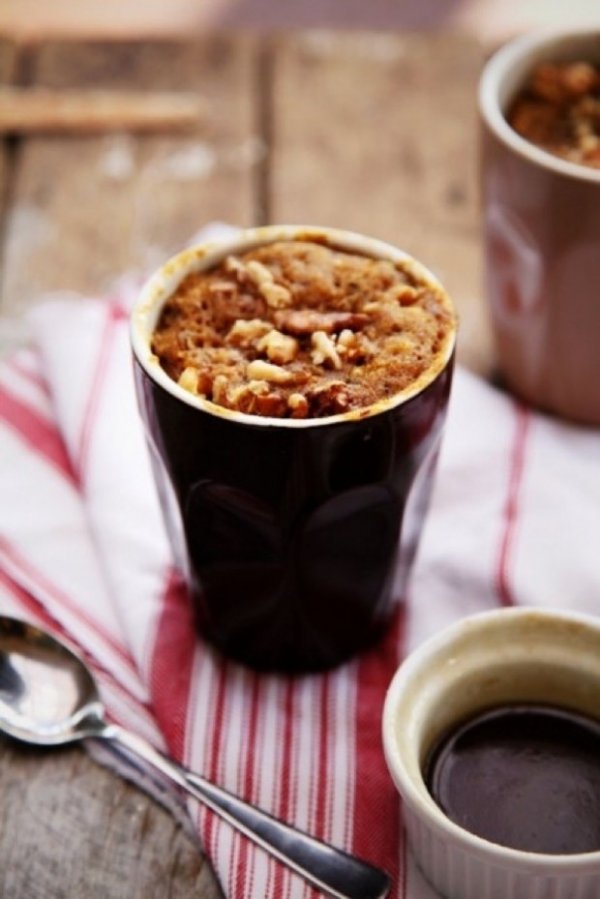 This recipe is also one of my personal favorites and incredibly easy to make. I like cinnamon on eggs for a sweet twist to the original savory versions. This recipe is really tasty and one of my favorites when I'm craving both sweet and hearty at the same time. Enjoy!
Serves: 1
Ingredients:
1 egg and 2 whites
¼ tsp. cinnamon
1 tsp. coconut oil
Directions:
Add all the ingredients to a large microwave safe coffee mug and stir. Place in the microwave 30 seconds on high, then stir. Put back in the microwave for 30 more seconds until set. Enjoy!
Source: soulfulspoon.com
---
6

Miniature Breakfast Egg, Spinach and Tomato Flatbreads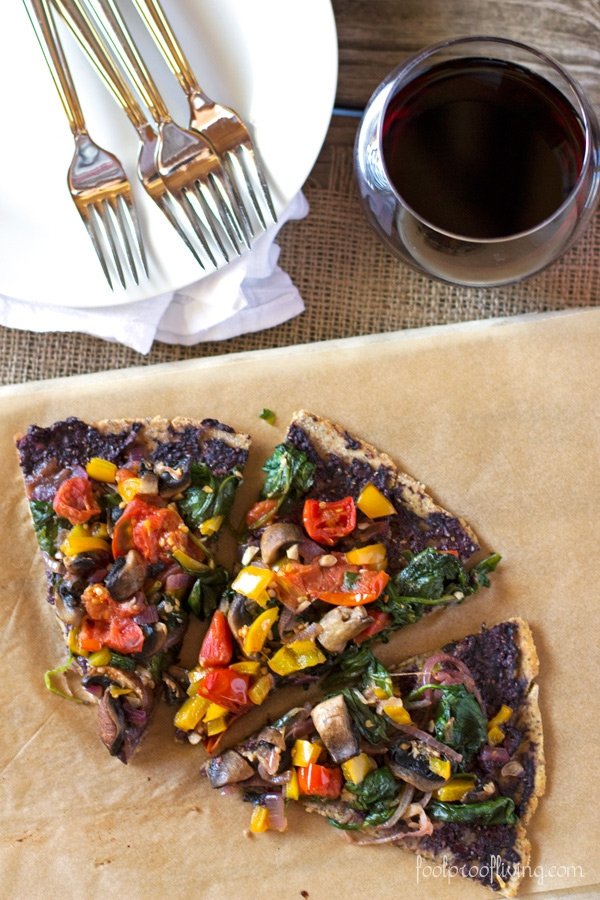 This recipe isn't only appealing to the eye but also so great for you! It's simple to make and includes plenty of clean ingredients. Eat this on a cold morning when you're rushed out the door but want something hot and cozy! Plus, it makes leftovers so your family's not left out!
Serves: 4
Ingredients:
Cooking spray
6 eggs, beaten
2 tbsp. Parmesan cheese
1 cup grape tomatoes
½ cup Italian cheese blend
4 individual whole grain flatbreads (round 6x8 inch diameter)
½ cup fresh spinach leaves
black pepper
salt
red pepper flakes to garnish
Directions:
Heat the oven to 450 degrees F. Coat a large oven proof skillet with nonstick cooking spray. Heat over medium heat until it's hot. Now, beat the eggs and cheese in a small bowl until combined. Pour this into your skillet and cook until the eggs begin to set. Gently pull the eggs across the pan with a spatula, forming large soft curds. Keep cooking and pulling them the same way so they end up folding and thickening over, almost like a slow scramble. Don't stir consistently, but once every 30 seconds or so. When just barely set, turn off the heat. Place your flatbread on a baking sheet and top with the eggs, tomatoes and spinach. Add the cheese, salt and pepper if using. Bake until the cheese is melted in your oven for 5 minutes. Serve warm and sprinkle with red pepper flakes if desired. Cut into 4 pieces and serve immediately.
Source: incredibleegg.org
---
7

Banana Bread Breakfast Mug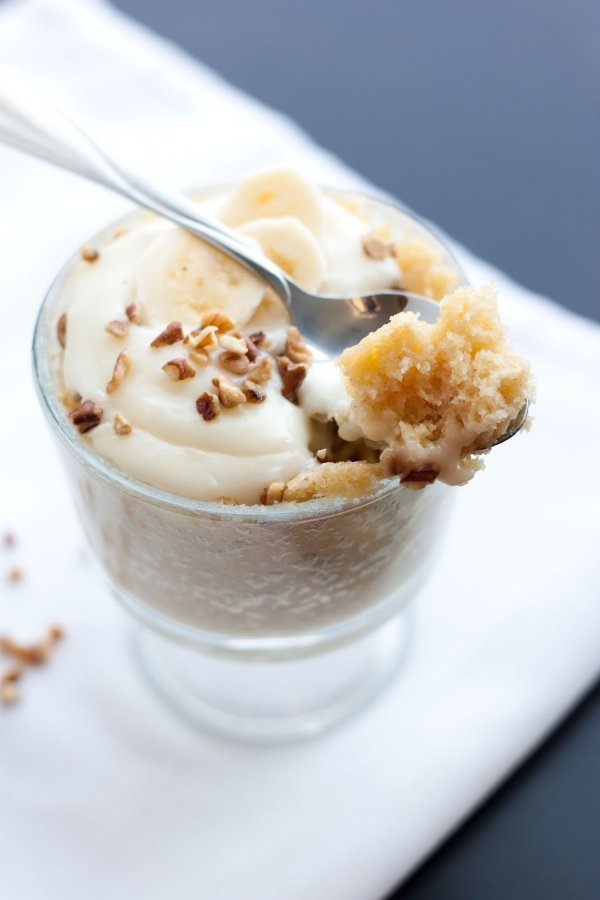 Perhaps one of the most creative 5 minute egg recipes is this delicious banana bread breakfast mug. It's naturally sweet, high in vitamins and minerals and really does taste like banana bread! This is made in the microwave and is a great way to satisfy your sweet and savory tooth!
Serves: 1
Ingredients:
1 egg, beaten
1 tbsp. milk
¼ cup chopped banana slices
¼ tsp. cinnamon
2 tbsp. walnuts
1 packet of stevia
2 tbsp. coconut flour
Directions:
Add the egg to a bowl, and the whites and beat well. Next, add your milk, banana slices, stevia, and walnuts. Beat again. Slowly stir in the coconut flour and it will start to thicken. Keep stirring until a thick batter like mixture is formed. Place in the microwave 30 seconds on high and remove. Stir a bit and place back in the microwave and cook again for 20-30 more seconds until set. Eat warm with a spoon or put it in the fridge to have for dessert later!
Source: yummly.com
Making eggs doesn't have to take a long time, and that's one of their biggest benefits. Do you like eating eggs for breakfast?
---
Popular
Related
Recent