Entrée salads are an excellent choice for dinner, especially if you find you have trouble getting your daily recommended dose of vegetables. Having a side salad is one thing, but a main dish salad allows you to indulge in lots of flavors and foods, all in one dish. You can get all sorts of vitamins and nutrients, not just from the vegetables but also from the addition of healthy proteins. Okay, granted, some of these entrée salads are healthier than others, but they're all heavy on the vegetables, delicious, and pretty quick to make. You can still add some sides, but why not try letting the salad take center stage at your next dinner?
---
1

Spinach Salad with Salmon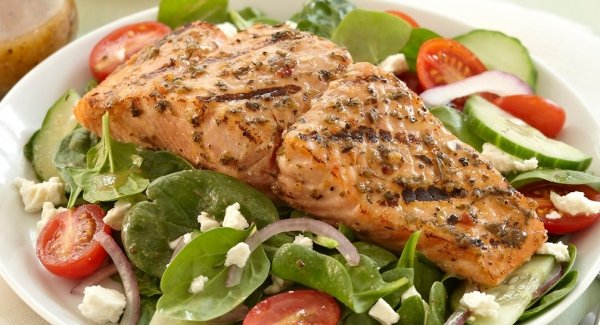 Like say, lots of entrée salads have primarily healthy ingredients that still taste great and keep you feeling full. I mean, does it get any better than spinach and salmon? As a matter of fact, it does – spinach and salmon with goat cheese, pecans, and an amazing balsamic and rosemary vinaigrette, the recipe for which is available in the source. You've got to try it with this salad!
Ingredients:
4 skinless salmon fillets, (6 ounces each)
Coarse salt and ground pepper
10 ounces baby spinach
1 pint grape tomatoes, halved
3/4 cup crumbled fresh goat cheese (3 ounces)
1/4 cup pecans
1/4 cup Balsamic-Rosemary Vinaigrette
Directions:
Heat up your broiler, with the rack about four inches from the top. Line a baking sheet with foil and after seasoning it with salt and pepper, place the salmon on it. Broil it for 7-9 minutes but don't turn it. When it's opaque, it's ready. Give it time to cool and once it has, flake it.
Next, place an even amount of tomatoes and spinach on serving plates. Put the salmon on top, along with the pecans and cheese, then drizzle the vinaigrette over it.
Source: marthastewart.com
2

Asian Chicken Salad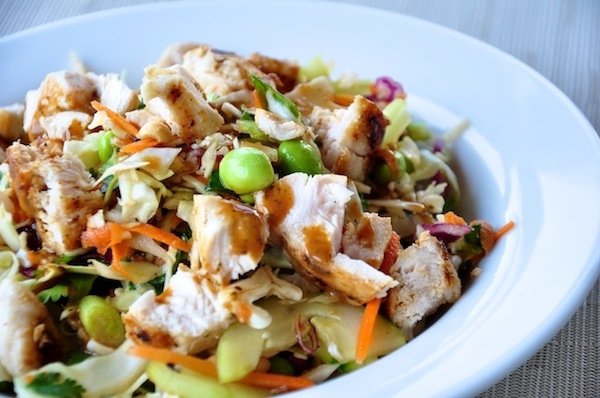 You can't go wrong with the flavors in an Asian chicken salad! That being said, however, this recipe lends itself well to all kinds of proteins, so you could also use pork, steak, or even tofu! Don't fear the brown sugar or the soy sauce, though; they're essential to the dressing. Don't skimp on the rice noodles either, because they add such great texture.
Ingredients:
2 tablespoons brown sugar
2 teaspoons soy sauce
1 tablespoon sesame oil (optional)
1/4 cup vegetable oil
3 tablespoons rice vinegar
1 (8 ounce) package dried rice noodles
1 head iceberg lettuce - rinsed, dried, and chopped
4 boneless chicken breast halves, cooked and shredded
3 green onions, chopped
1 tablespoon sesame seeds, toasted
Directions:
Start with your dressing; it's best to make it half an hour before serving the salad. Combine the soy sauce with the brown sugar, the salad oil, the rice vinegar, and the sesame oil for the dressing. (Fair warning from Lyndsie: I did not use 1 tablespoon, because sesame oil is so strong; a little more than a teaspoon did it for me.)
Next grab your rice noodles. Heat up a skillet, using a couple tablespoons of the vegetable oil. Break off bits of the noodles a little at a time and fry them up in the skillet. You really only want to do a bit at a time because you need to remove them when they start to puff up. As they do, set each batch aside so they can drain on a paper towel.
Grab a large bowl for your salad. Add the lettuce, sesame seeds, onions, and chicken, then let the mixture chill for 10 minutes. Add the rice noodles right before serving. You can drizzle the dressing on each plate or dress your salad while it's in the bowl.
Source: allrecipes.com
Robin
the picture shows lots of veggies that are left ou...
---
3

Warm Quinoa, Spinach, and Shiitake Salad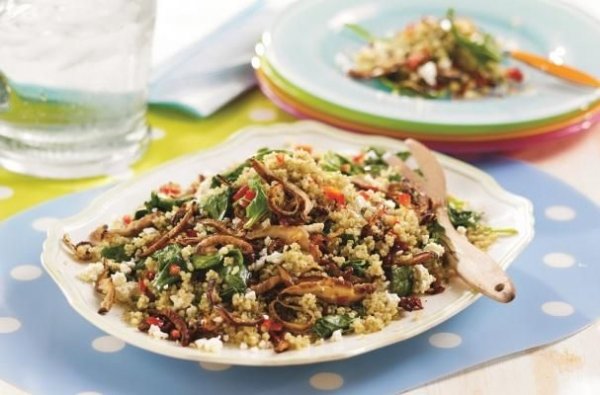 The flavor profile in this salad is amazing. It's also incredibly light and healthy, but still so filling! I love quinoa in salads, and sometimes warm salads are even better than cold ones. This is such a great base that you can also experiment, whether you'd like to use pearl (Israeli) couscous or another type of greens.
Ingredients:
1/2 cup red-wine vinegar
1/3 cup olive oil
Coarse salt and ground pepper
2 pounds fresh shiitake mushrooms, stems removed, caps halved
1 1/2 cups quinoa
1 pound baby spinach
8 ounces feta cheese, crumbled
Directions:
Heat your broiler, with the rack about four inches from the top. Get a small bowl, add the oil, vinegar, a teaspoon of salt, and a bit of pepper, then whisk it all together.
Using a broiler-ready baking sheet, toss half your dressing with the mushrooms; reserve the other half of the dressing. Broil the coated mushrooms and toss them every once in a while, making sure that almost all of the dressing evaporates. You also want the mushrooms to be tender. Altogether it takes 20-25 minutes.
Get a small saucepan and cook up your quinoa with three cups of water and a teaspoon and a half of salt. Bring it to a boil, then reduce the burner to medium heat. Cover the pan and let the quinoa simmer until it absorbs all the liquid. This takes 15-20 minutes.
Put your spinach in a big bowl, then add the mushrooms and quinoa while they're hot. Top with the dressing you set back earlier, then give everything a toss to combine. Your spinach will wilt a little, but that's normal. Once the salad is coated, top it with the feta and serve.
Source: marthastewart.com
---
4

Cajun Turkey and Fresh Melon Salad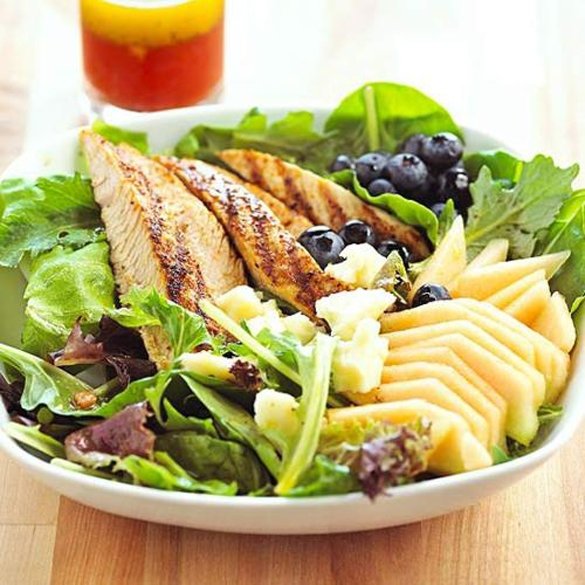 Love savory and sweet combinations? How about protein and fruit? The melon in this main dish salad is the perfect foil for the spicy turkey. The entire salad is just fresh, delicious, and filling. I love that it uses blueberries too, because you don't find those little marvels in nearly enough salads.
Ingredients:
2 turkey breast tenderloins, split in half horizontally (about 1 pound)
1 tablespoon olive oil
1 1/2 teaspoons Cajun seasoning
6 cups torn mixed greens
1 1/2 cups sliced cantaloupe
1 cup fresh blueberries
Crumbled Farmers Cheese (optional)
Purchased Salad Dressing of your choice
Directions:
Brush olive oil over the turkey slices, then sprinkle the Cajun seasoning over them. On a charcoal grill, place the slices right on the rack, which should be positioned over the coals, and don't cover them. Grill them for 12-15 minutes and turn them over halfway through. If you're using a gas grill, preheat it first, then reduce to medium heat. Put the turkey right over the heat and cover it, grilling it for 12-15 minutes and turning halfway. Once done with either method, slice your turkey.
Get a serving platter and arrange your salad. You can arrange the greens, melon, berries, and turkey however you like. Top it all with the cheese and the dressing.
Source: bhg.com
---
5

Warm Bacon-and-Egg Salad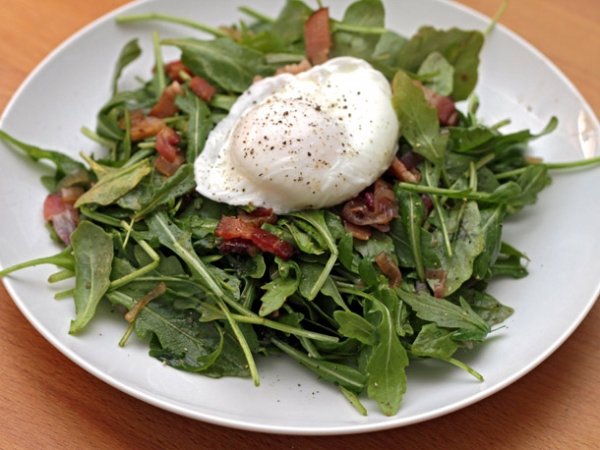 Do you love the idea of breakfast for dinner? You can still have it in salad form! This salad is marvelous, and it's definitely filling. It's maybe not the healthiest option, but it has healthy aspects, you know what I mean? Besides, I don't know if there's anything better than warm egg yolk over greens.
Ingredients:
1/4 cup plus 3 tablespoons extra-virgin olive oil
2 garlic cloves, halved lengthwise
1 generous cup 1/2-inch crustless bread cubes
8 slices of lean bacon
4 anchovy fillets, chopped
2 tablespoons Banyuls vinegar or red wine vinegar
2 teaspoons Dijon mustard
Salt
4 large eggs
5 ounces baby arugula
1/4 cup chopped chives
Freshly ground pepper
Directions:
Heat up two tablespoons of olive oil in a nonstick skillet. Cook the garlic first, at medium heat, until it turns golden brown. It takes just a few minutes. After that, use a slotted spoon so you can move the garlic over to your food processor.
Back to the skillet, add your bread cubes and cook them over medium heat. Keep stirring them. After three minutes they'll be crisp and golden, and you can move them over to a plate.
Heat up another tablespoon of olive oil in your skillet, this time adding the bacon. Cook it at medium heat until it gets crisp, then move it to a plate. You want to keep it warm, though, and reserve the bacon grease.
Now, in your food processor, add in the vinegar, mustard, the rest of the olive oil, and the anchovies. Process everything until the mixture is smooth, then season it to taste with salt.
Heat up the bacon grease in your skillet. Crack your eggs in there and fry them at a fairly high temperature. Cook them for one and a half minutes to get them over easy, then turn them and cook them for thirty seconds.
Grab a big bowl and add the arugula and the croutons, then toss them with your dressing. Place the salad on your serving plates and sprinkle the chives. Top each salad with the eggs and bacon, season them with pepper, and you're ready to serve!
Source: foodandwine.com
---
6

Crab Cobb Salad with Lemon Basil Dressing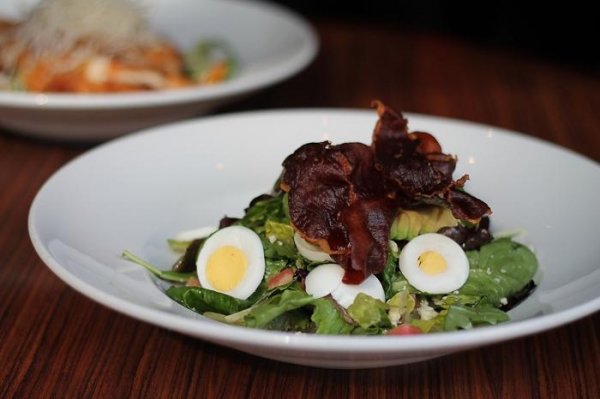 There's nothing like a Cobb salad. It's like the original entrée salad, because it has a little bit of everything. If you want a still-filling but more upscale version, however, you have to try this one. I was completely won over by the crab, but that dressing is also a standout. You'll never want to top any salad with anything else!
Ingredients:
Salad:
2 cups of romaine lettuce, chopped
1 (6 oz) can of crab meat, strained
3 pieces of turkey bacon, cooked and roughly chopped
½ avocado, diced
½ cup of light shredded mozzarella
½ cup of cherry tomatoes, halved
½ cup of chopped scallions
Dressing:
1/3 cup of olive oil
¼ cup of fresh basil leaves, chopped
Juice of 1 lemon
1 clove of garlic
Dash of salt
Directions:
Combine all of the salad ingredients in a large bowl. Whisk together all of the ingredients for the dressing, then drizzle it over or toss it with the salad.
Source: theeverygirl.com
---
7

Seared-Chicken Salad with Green Beans, Almonds, and Dried Cherries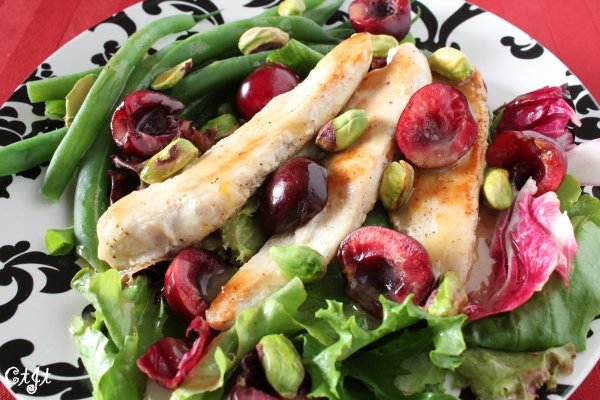 Where can I even start? I love a salad with unique ingredients, and you don't get much more unique than green beans and dried cherries. Every component of this salad is delicious, but when they come together, they explode in your mouth. Eat this for dinner and your taste buds will still be singing when you wake up the next morning. Do yourself a favor, I'm serious, and do not leave out the cherries. Don't!
Ingredients:
3 tablespoons olive oil
1 pound chicken breast cutlets (about 6)
Coarse salt and ground pepper
1/2 pound green beans, trimmed
3 tablespoons red-wine vinegar
1 tablespoon apricot jam
1 tablespoon Dijon mustard
5 ounces baby arugula
1 head radicchio, cored and shredded
1/3 cup dried cherries
1/4 cup sliced almonds
Directions:
Get a big skillet and heat up a tablespoon of the olive oil, using high heat. Season your chicken to taste with salt and pepper, and cook it up in two batches. Make sure it's totally opaque all the way through. It should take 1-2 minutes per side, but your mileage may vary. Once done, put the chicken on a plate, let it cool, then slice it crosswise.
Salt two inches of water in a saucepan and bring it to a boil. Add in your green beans, cover the pan, and cook the beans until they're midway between tender and crisp. Cool them down by rinsing them with cold water, then drain.
Now you're ready to make the dressing. Grab a bowl and whisk the remaining oil, the vinegar, the mustard, and the jam. Season it to taste with the salt and pepper.
In a bigger bowl, toss together the radicchio and the arugula with almost all the dressing; leave one tablespoon aside. Divide the salad into four portions on serving plates, then place the chicken, cherries, almonds, and beans on top of the greens. Drizzle each salad with a bit of the leftover dressing and serve.
Source: marthastewart.com
Even if you only have an entrée salad once a week, it's a healthy way to enjoy a delicious dinner. Once the weather gets warm, it's also a quick and easy way to get in many of the major food groups, plus you get to enjoy a cool yet nutritious meal when it's just too hot to spend any real time at the stove. Do you have a particular salad you love to serve as a main dish, or do you relegate your salads to side dish status?
---
Comments
Popular
Related
Recent