Tasty 😋 Recipe for Curried Parsnip 🌱 Soup 🥣 ...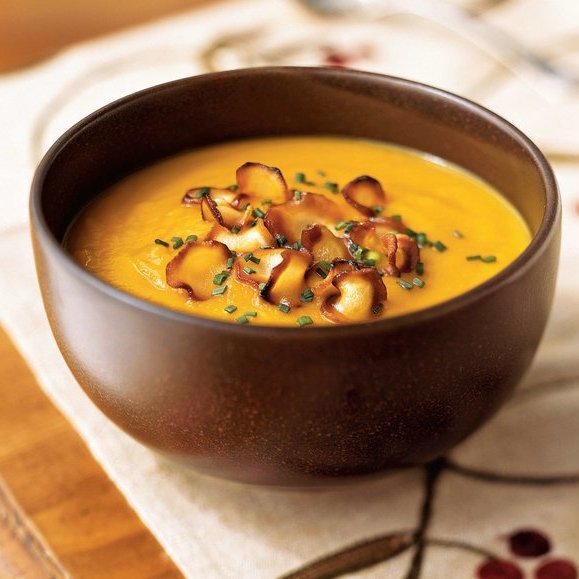 Soups aren't just a winter food. They can be healthy and nutritious and great for lunch, dinner, or supper. Make this recipe for Curried Parsnip Soup for supper and treat yourself to a chunk of warm homemade bread or if you're dieting, some baked croutons. Don't be put off by the curry in this soup. Parsnip has a natural affinity with curry because it enhances the flavour rather than overpowers it. If you are making your own stock, use 2 cubes for better flavour.
Preparation time: 5 minutes
Cooking Time: 25 minutes
Serves: 6 people
Energy: 150 calories per serving
Equipment:
Large saucepan
Sharp vegetable knife
Blender
Ingredients:
1 Onion
25g low-fat spread
1 tablespoon curry powder
450g parsnips
600ml vegetable stock
300ml skimmed milk
Flat leaf parsley
Directions:
Peel and chop the onion
Peel and cut the parsnips into cubes about 1.5cm²
Melt the low fat spread in a large saucepan, add the onions and sauté for 2 minutes
Add the curry powder and cook for a further 1 minute stirring all the time.
Add the parsnips and cook for another minute stirring to make sure all the ingredients are well mixed
Add the stock and bring to the boil
Reduce the heat and part cover and simmer for about 15 minutes until the parsnips are tender.
When cooked, blend. A hand blender is ideal but can also be done in a jug blender.
If a jug blender was used transfer back to the saucepan.
Chop up some parsley and stir through.
Add the milk and season with salt and pepper to taste.
(White pepper is best if you want to keep a nice even colour
without black flecks)
Heat through and serve, garnished with some fresh parsley.
{{#comments_count}} Show Commnents ({{comments_count}}) {{/comments_count}}