You might imagine that recipes under 450 calories are very healthy, but not very tasty. Not true. The right combination of low calorie ingredients cooked in the right way can be just as tasty as a meal laden with fats, sugars and calories. Not convinced? I ask you to try these recipes under 450 calories and tell me otherwise ^_^
---
1

Cheesy Bacon Pancakes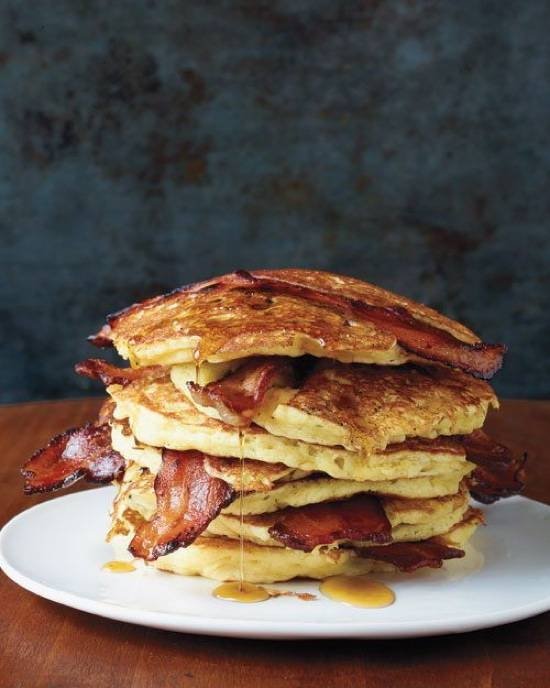 I can already see you looking at me is if I'm mad. Recipes under 450 calories can't contain bacon and cheese surely? Wrong! Seriously – 1 serving of these scummy pancakes comes in at just 291 calories.
Ingredients to serve 3
• 2 slices bacon
• 2 tbsp jalapeno pepper
• 3 tbsp grated parmesan cheese
• Half cup flour
• 1 tbsp baking powder
• 1 tbsp sugar
• Half tsp salt
• Half cup yellow cornmeal
• 1 egg (large)
• 1 cup milk
• 2 tbsp sour cream
• Small amount of vegetable oil
Method
First deseed and minced the jalapeno. Next pan fry the bacon until crisp. Drain on kitchen paper and leave to cool before crumbling into small pieces. Put the flour, cornmeal, baking powder, sugar and salt in a bowl and mix together. Mix the egg and milk together in another bowl and then combine the dry and wet ingredients in one bowl. Add in the sour cream and stir, and then mix in the jalapeno, cheese and bacon. Coat a non-stick pan with a small amount of oil. Put n a medium heat and ladle in ¼ cup of the batter mix per pancake. Cook for about 4 minutes until you can see bubbles, then flip and cook for another 4 minutes. Serve.
At only 291 calories you can afford to serve with a small drizzle of maple syrup and some extra strips of bacon if you wish.
Chris
I believe the word you were looking for was "scrum...
---
2

Popcorn Chicken Tenders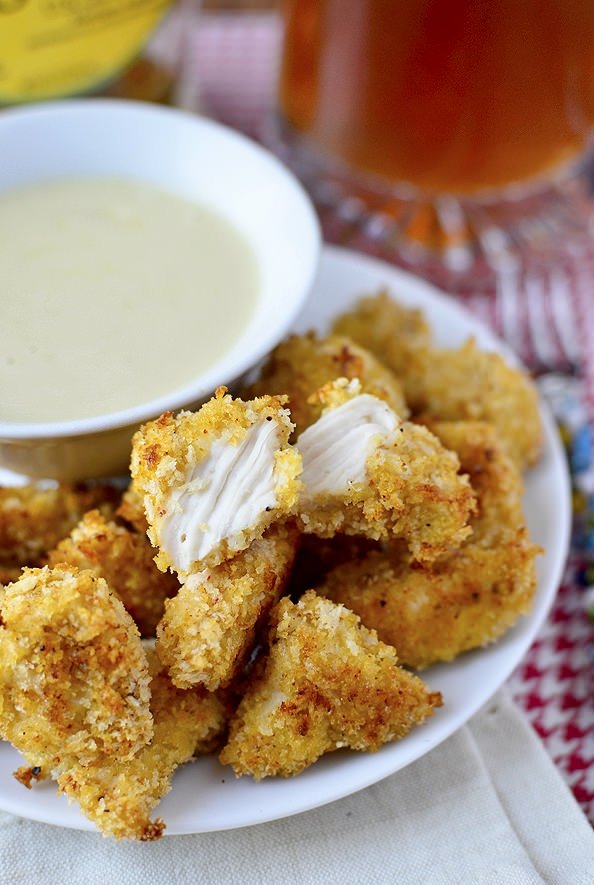 If you love breaded chicken but can't afford the calories, popcorn is a brilliant substitute for the breadcrumbs. A serving of this deliciousness comes in at 353 calories.
Ingredients to serve 4
• 1lb chicken thighs (boneless and skinless)
• Half cup flour
• Half tsp garlic powder
• Quarter tsp salt
• 1 egg (large)
• 3 cups plain ready-popped popcorn
• 2 tbsp vegetable oil
• 1 tbsp unsalted butter
Method
Trim any fat off the chicken and cut into strips. Put the popcorn, garlic and salt into a food processor and pulse until it looks like breadcrumbs. Tip out into a shallow bowl. In another bowl put the flour and in another, put the egg and beat it. One at a time, dip each chicken strip first into the flour, then the egg, then the popcorn crumbs. Lay out on something non-stick. Put a large skillet on a medium-high heat and melt the oil and butter. Add chicken strips to the skillet, in small batches if necessary to not crowd the pan. Cook on one side for about 4 minutes until golden brown. Turn and cook for another 4 minutes until golden and make sure they are cooked through. Serve.
---
3

Mac and Cheese Surprise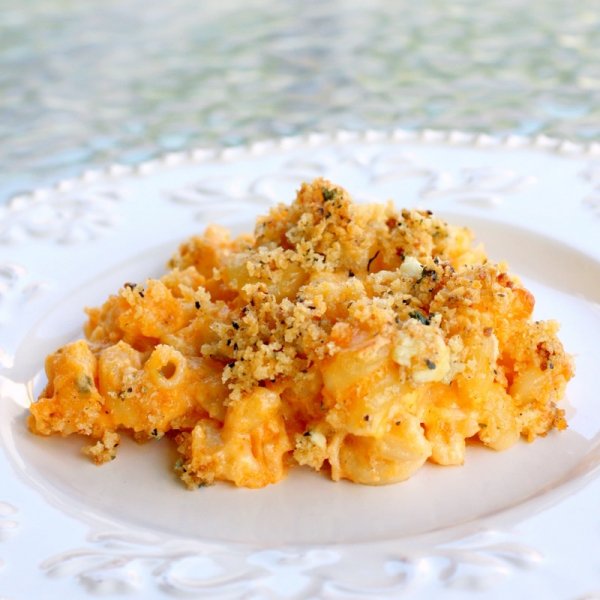 The surprise in this scrummy version of mac and cheese is not that a serving only has 311 calories, but that the nutritional value is ramped up by the addition of sweet potato.
Ingredients to serve 4
• 1 large sweet potato
• 3 cups dried macaroni
• Half a medium onion finely chopped
• Quarter cup skimmed milk
• Quarter cup vegetable broth
• 1 tsp olive oil
• 1 oz flour
• Half tsp Dijon mustard
• Half tsp dried sage
• Quarter teaspoon garlic powder
• Pinch nutmeg
• One cup grated sharp cheddar cheese
• 1 tbsp grated parmesan cheese
• 1 tbsp Panko breadcrumbs
• Cooking spray
• Salt and pepper
Method
Turn the oven on to preheat to 375 degrees F. Prick the sweet potato all over and cook in the microwave until tender – usually about 5 minutes each side. When cool enough to handle, cut potato in half, scoop out the flesh and mash well until it's almost smooth. Cook the pasta until it is slightly underdone – about 2 minutes less than the packet instructions. Drain and set aside.
In a saucepan, heat the olive oil on a medium heat. Add the onion and cook until tender and then add the garlic and sage, cooking for a further minute. Stir in the flour and cook, stirring continuously for 2 minutes to make a roux. Using a whisk, gradually add the broth and milk to the flour mix. Simmer for 5 minutes whisking until the mixture thickens. Now stir in the sweet potato, cheese, mustard, nutmeg and season to taste. Cook until cheese is melted and then stir in the pasta. Mix until well combined. Use cooking spray to lightly coat an 11x7 inch baking dish and tip in the pasta mix. In a small bowl, mix together the breadcrumbs and parmesan cheese. Sprinkle over the pasta. Bake in the oven for about 20 minutes hen transfer to the broiler for about 1 minute until the breadcrumbs are toasted golden brown. Serve.
---
4

Greek Pita Salad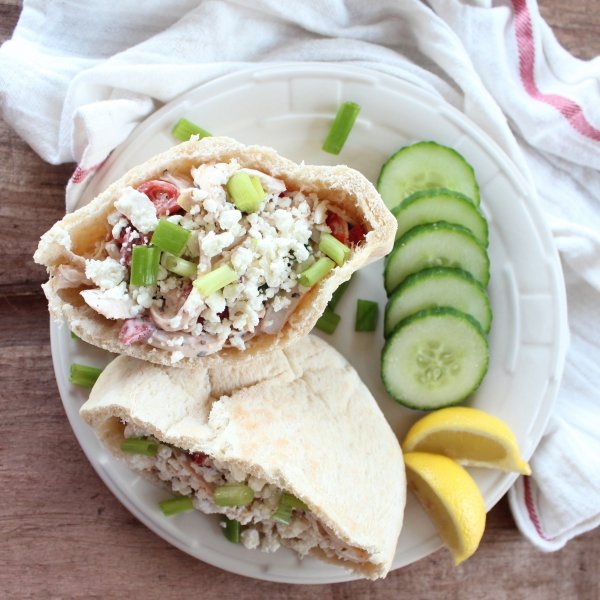 Some recipes of less than 450 calories are great for lunch but also as an accompaniment to some lean protein as a main meal. Just like this yummy salad. Fill the pita for lunch but have it on the side with some grilled chicken, steak or fish for mains. Calorie count without the protein is 368.
Ingredients to serve 1
• Half whole wheat pita
• 1 cup shredded romaine lettuce
• Quarter cup cubed feta cheese
• Quarter cup cooked chickpeas
• Quarter cup cubed or sliced cucumber
• Quarter of a small red onion, chopped
• 2 teaspoons dressing
Method
Combine all the ingredients except the pita and lightly toss. Fill the pita and enjoy.
---
5

Healthy Stir-Fried Rice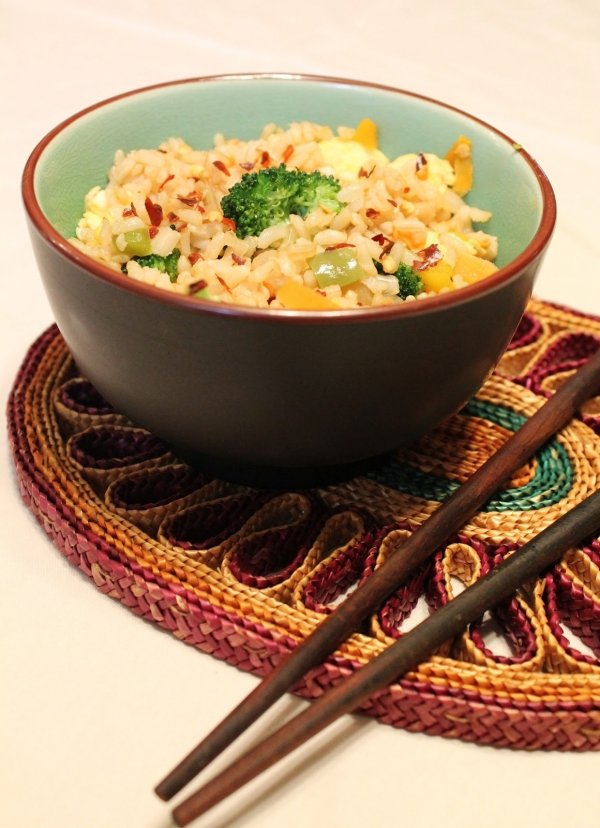 Healthy food is so much better if it looks attractive. The veggies in this look like little jewels so it's as pleasing to the eye as it is as good for your tummy. Just 395 calories for this yummy dish.
Ingredients to serve 1
• Half cup ready cooked and chilled brown rice
• 4 bella mushrooms thinly sliced
• One cup chopped broccoli
• Half a large carrot, peeled and chopped
• Half red bell pepper, deseeded and chopped
• Quarter of a small red onion, chopped
• 1 tsp vegetable oil
• 1 egg
• 1 tsp sesame oil
Method
In a wok or skillet, gently heat the vegetable oil. Add the onions and cook until soft and translucent. Add all the other vegetables and stir fry until lightly cooked. Add the rice and sesame oil and heat through, stirring all the time. Beat the egg well and then stir into the mix, making sure to create clumps and ribbons of cooked egg through the mix of rice and veggies. Season if required and serve.
Again, this is a dish that's good enough eaten on its own or can serve as a side to a piece of protein.
---
6

Pork and Bulgar Wheat Stuffed Peppers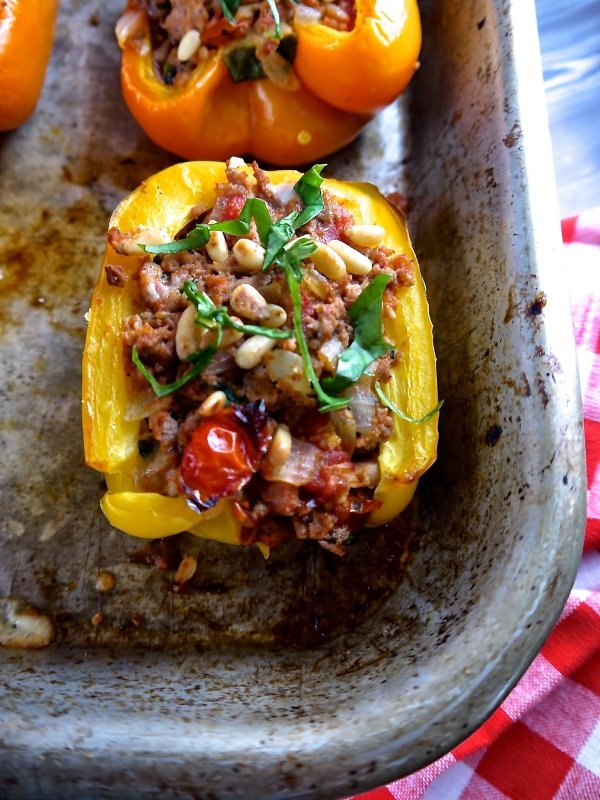 With this recipe you can have summer on your table all year round. The ground pork can be replaced by ground turkey if you want an even leaner recipe or you don't eat pork. With pork you'll be eating 190 calories.
Ingredients to serve 4
• 8 ounces ground pork
• 1 tbsp vegetable oil
• 2 oz bulgur wheat
• 4 bell peppers
• 1 garlic clove
• 2 tsp ground cumin
• 1 tsp paprika
• 2 cups vegetable stock
• Quarter cup chopped fresh parsley
• 4 tbsp 0% fat Greek yogurt
Method
Cut the peppers in half and remove the pith and seeds. Put them on a microwaveable plate, cut side down. Cook on high in the microwave for 4 minutes until just soft. Do not overcook. Fry the pork in the oil until it starts to brown, breaking down any lumps. Add the garlic, cumin and paprika and stir. Then add the bulgur wheat and stock. Cover and cook on simmer until the bulgur is soft – about 10 minutes. Turn on your broiler to heat up. Add half the parsley into the bulgur/pork mix. Put the peppers cut side up on a grill pan/tray and fill with the meat mix. Grill in the broiler until toasted on top. Mix the remaining parsley with the yogurt and spoon over to serve.
7

Cod with Thyme and Tomatoes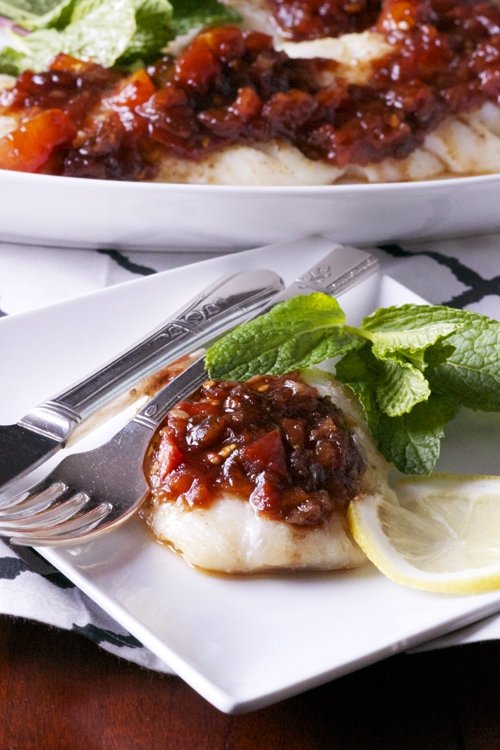 This delicious fish dish has one of the lowest counts in my list of recipes under 450 calories. Would you believe it has less than 175 calories? I've said cod but really any flaky white fish will work just as well. (Please buy fish from sustainable sources food.allwomenstalk.com) This is a really tasty and excellent midweek dish that you can eat with a crispy green salad and/or some baby potatoes, or a baked (sweet) potato.
Ingredients to serve 4
• 4 cod fillets
• Can chopped tomatoes
• 1 onion
• 1 tbsp olive oil
• 1 heaped tsp light brown sugar
• 1 tbsp soy sauce
• 6 sprigs of thyme
Method
Use a deep wide skillet with lid for this. Peel and chop the onion then fry in the oil until lightly brown. Add the tomatoes, sugar and soy and stir. Strip the leaves from the thyme sprigs and add to the frying pan. Stir and bring to the boil. Reduce heat and simmer for 5 minutes. Add the cod fillets to the sauce. Cover the skillet and cook gently until the cod is tender and flaky – generally for 8-10 minutes. Serve.
I hope you find something to your liking in these recipes. Why not give something new a try? Do you have a favorite healthy recipe to share?
---
Comments
Popular
Related
Recent