It's true that you eat with your eyes first. It's impossible to deny that colorful foods are the healthiest foods. Technicolor treats appeal to the eye and the palate, but they aren't all healthy. I mean, "colorful" has a lot of definitions, you know? Some of us like carrots and some of us like cake. I've included a ... well, okay, it's a mix, but it's probably not what you'd call balanced or anything. I'd say sorry, but I ain't. Ha! No, seriously, just enjoy the rainbows -- in all their forms!
Table of contents:
1

A Trifecta of Rainbows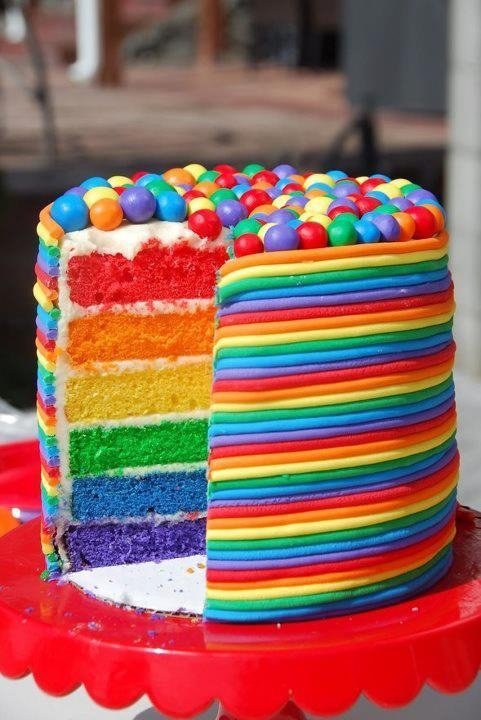 Source: jessedesilva.blogspot.com
Let's start big, shall we? Rainbow candy on top, rainbow fondant on the outside, rainbow cake in the middle … I'd say that's a winner.
2

Rainbow Doughnuts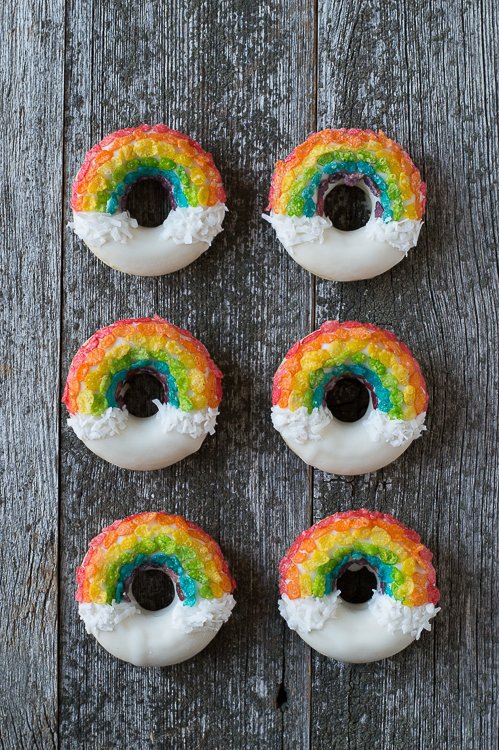 Source: thefirstyearblog.com
These are ridiculously precious. I mean, you eat a doughnut like this for breakfast and you're basically guaranteed a great day.
3

Tie-dyed Rice Krispie Treats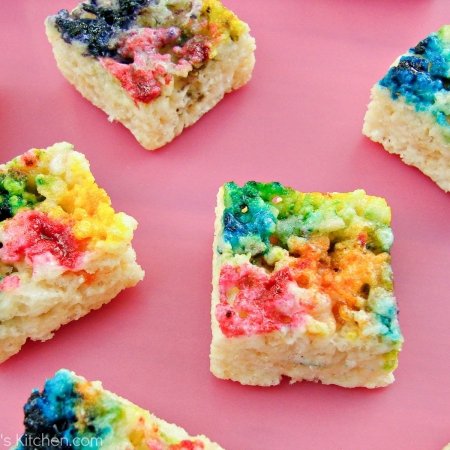 Source: inkatrinaskitchen.com
The best part about these is that the groovy colors don't affect the integrity of the treat, meaning you still get all that crispy, marshmallowy goodness.
4

Rainbow Tie-dyed Cookies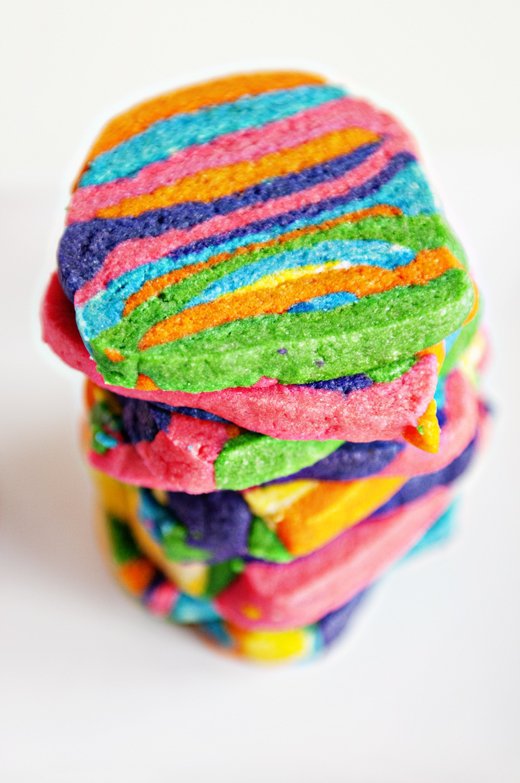 Source: dineanddish.net
These are basically just sugar cookies, but they look like they taste of magic and unicorn farts.
5

Rainbow Truffles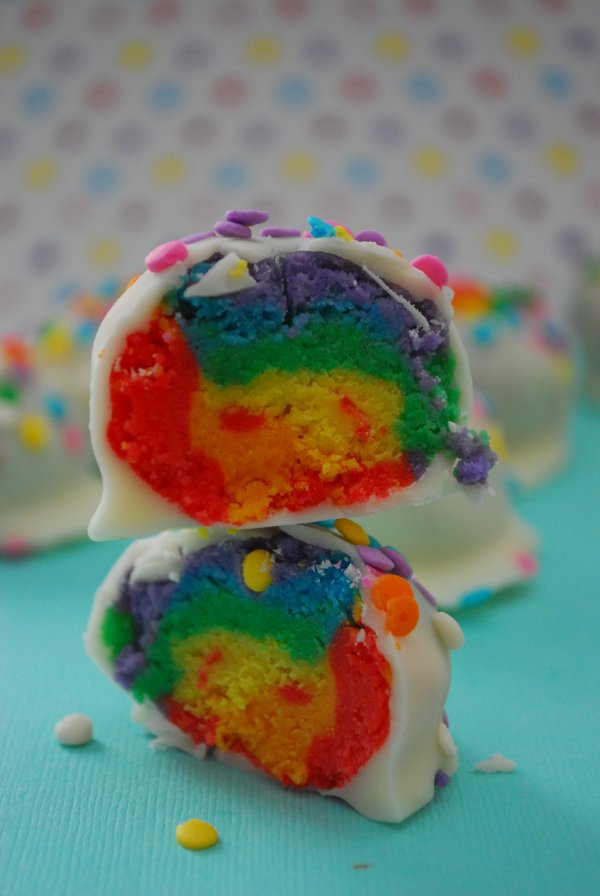 Source: thedomesticrebel.com
As if truffles aren't to-die-for already, you know? Pop one in your mouth and instantly harness the power of rainbows.
6

Rainbow Pasta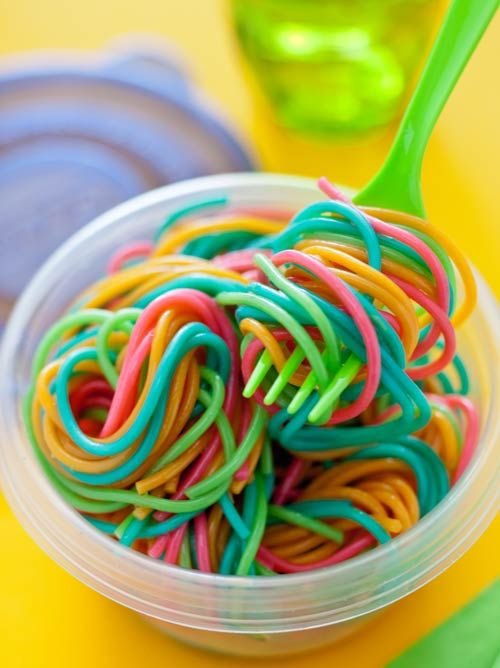 Source: skinnymom.com
Rainbow pasta is incredibly easy to make, especially if you're making homemade spaghetti. It's ideal for picky eaters, parties, and bad days when you need both comfort food and something to make you smile.
7

The Second of Many, Many Rainbow Cakes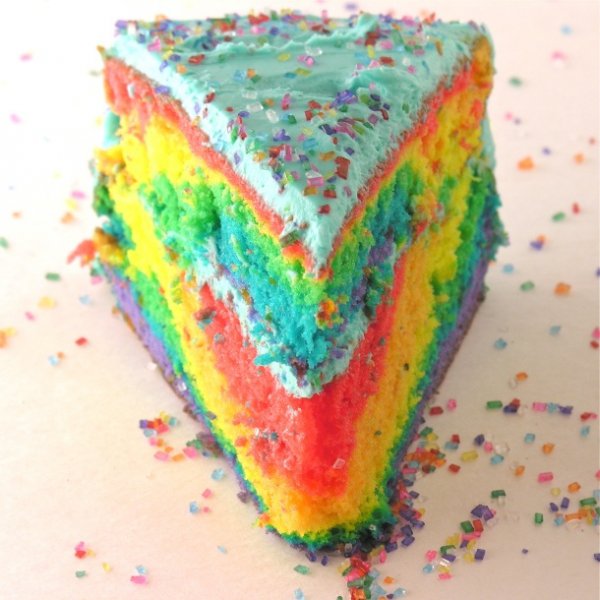 Source: pinterest.com
There's no doubt about it, rainbow cakes are probably the most popular technicolor treats. They lend themselves so well to colorful experimentation, after all.
8

Cupcakes with Mounds of Rainbow Frosting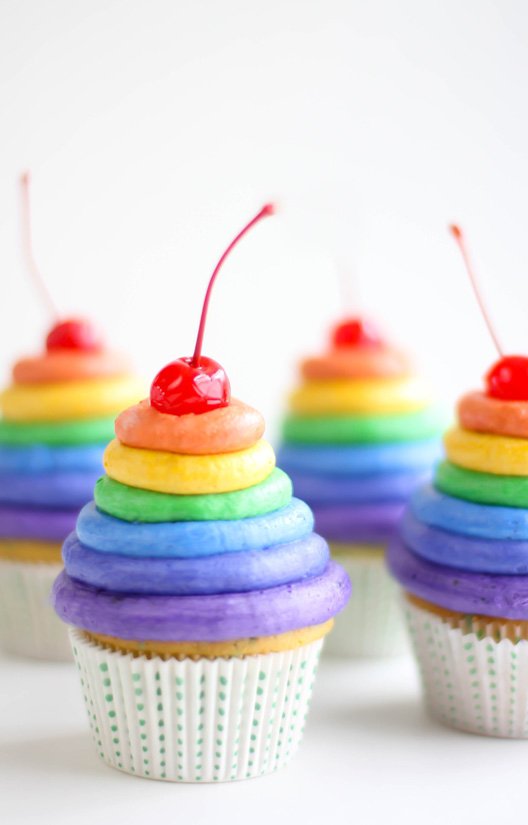 Source: sprinklebakes.com
Jeezum crow, all that frosting. So much frosting!
9

Over the Rainbow Bread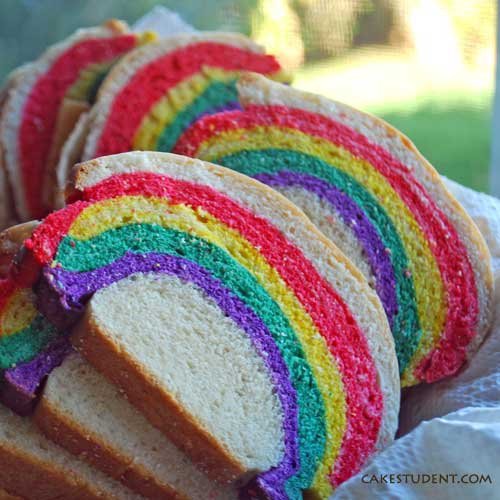 Source: cakestudent.com
There is actually a rainbow in the bread. There is a rainbow in the bread. BUT WHAT DOES IT MEAN?
10

Rainbow Fudge Ftw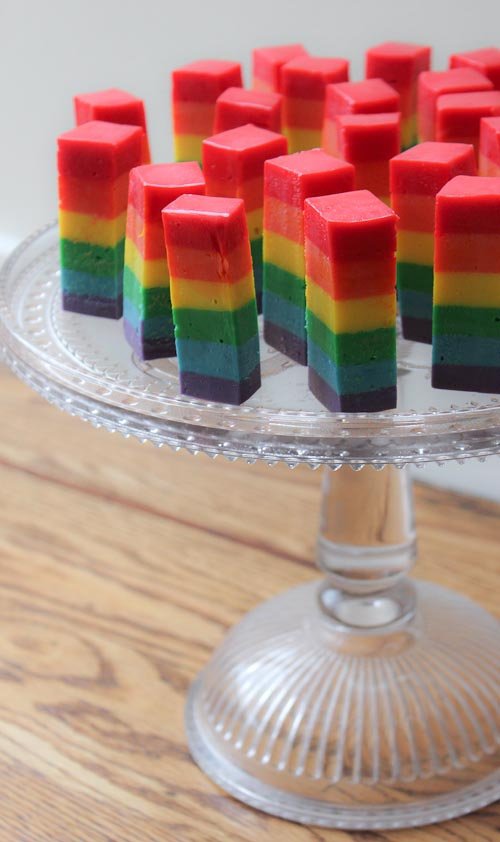 Source: offthemeathook.com
I can't get over this fudge, to be honest. I will never be able to make fudge that looks this perfect.
11

Too Pretty Not to Share

Source: punchbowl.com
These are just cupcakes, nothing terribly special, so really, seriously, they were just too pretty for me not to share them with you. See how much I love you?
12

Double Rainbow Quick Pops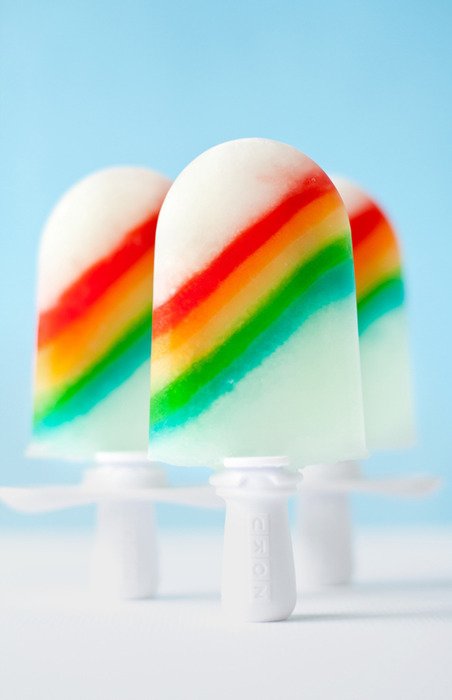 Source: blog.zokuhome.com
WHAT DOES IT MEAN?! (Sorry.)
13

Rainbow Ruffle Birthday Cake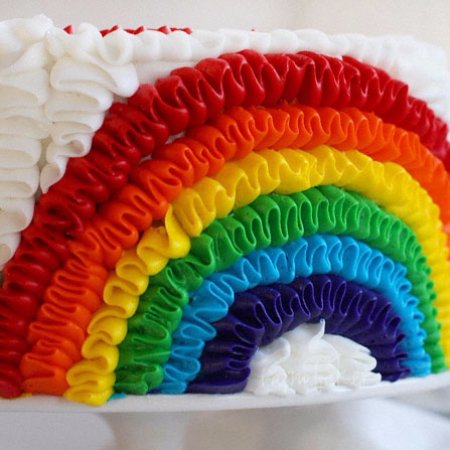 Source: iambaker.net)
I will also never be able to frost a cake this beautifully. Never, ever, ever.
14

Rainbow Cheesecake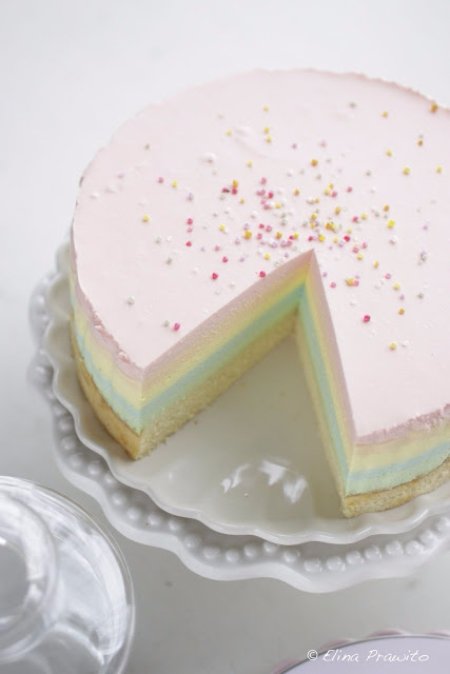 Source: bakeabooing.blogspot.ca
Do you know what I love most about this cheesecake? That it's all in pastels. It looks so pretty and precious and dainty. Also soft and creamy and cream cheesy.
15

Rainbow Petal Cake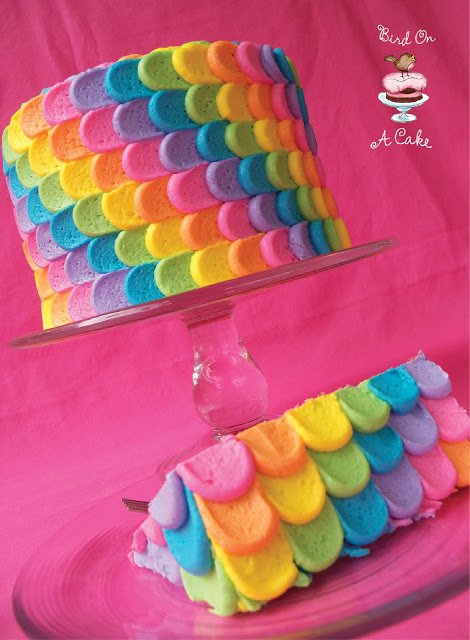 Source: birdonacake.blogspot.com
This actually looks more like a rainbow mermaid cake to me. That icing design is so on point, it looks like a series of scales.
16

Ginormous Rainbow Popsicles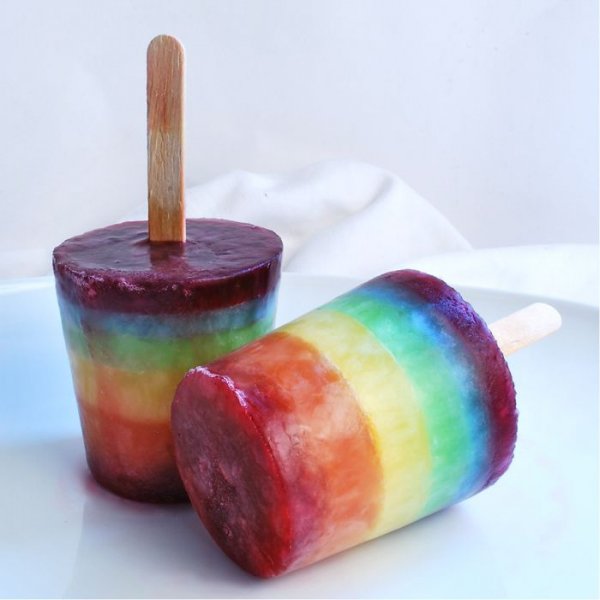 Source: pinterest.com
These popsicles are possibly the biggest popsicles I've ever seen. Looking at them makes my jaw hurt.
17

Rainbow Cake Cubes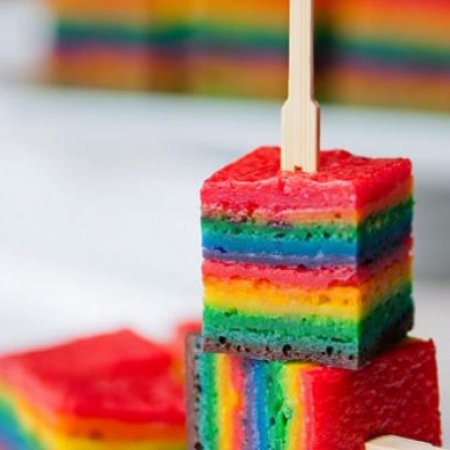 Source: foodista.com
These cake cubes look so moist (sorry, sorry) and delicious.
18

Spring Rainbow Yogurt Tartlets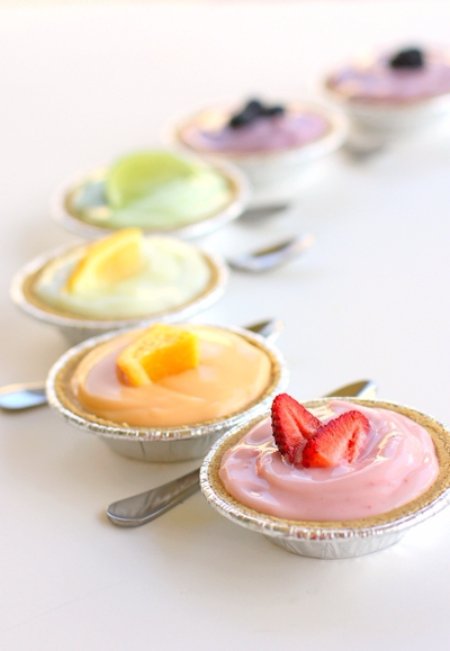 Source: tablespoon.com
Even though each tart is a separate color, I had to share these. They're adorable, plus they look scrumptious.
19

Spiked Rainbow Jello Mold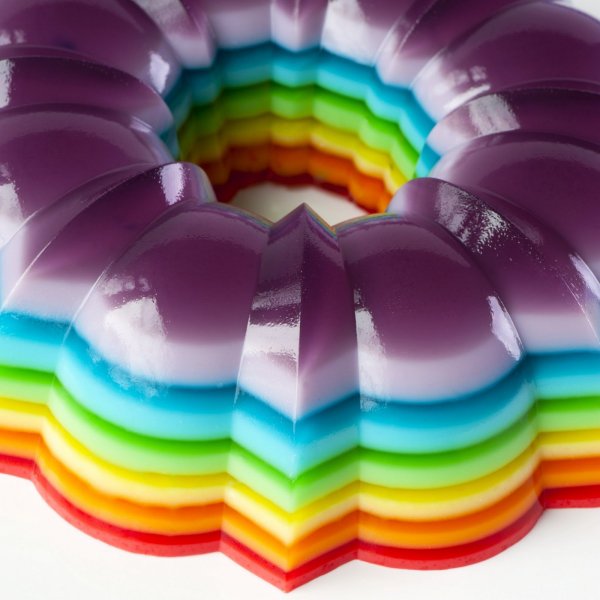 Source: jelly-shot-test-kitchen.blogspot.com
I'm not normally a fan of Jello molds, but this is gorgeous. Also, in two bites you'll be ready to find the end of the rainbow, I think.
20

Rainbow Jello Orange Wedges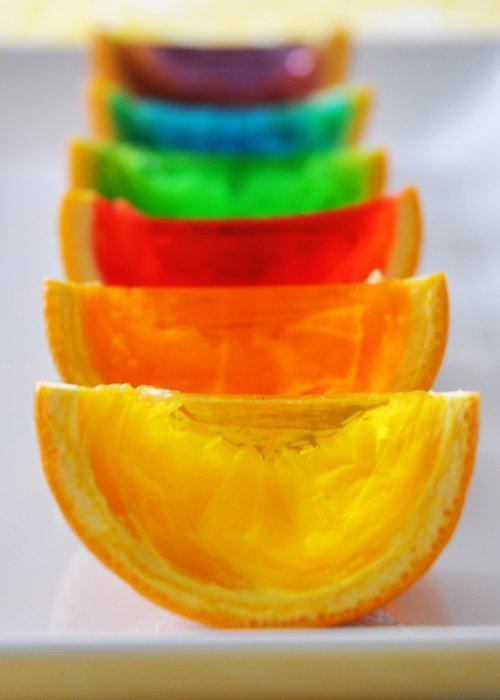 Source: tablespoon.com
These just look like they'd be fun to bite into, you know?
21

Rainbow Fruit Skewers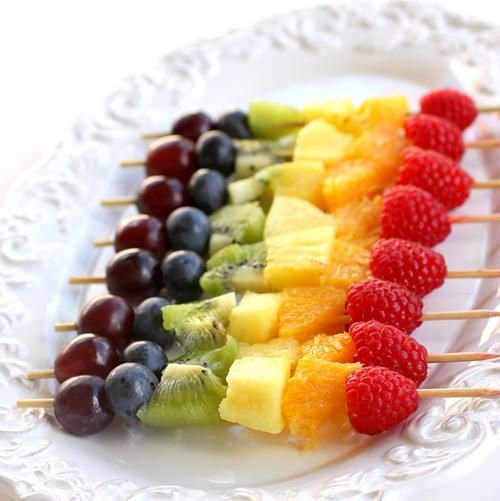 Source: pinterest.com
Nature really is full of rainbows. This is just to prove that you don't necessarily have to eat cake to get your technicolor food fix. I still go for cake, though.
22

Double Vanilla Delight Rainbow Cookies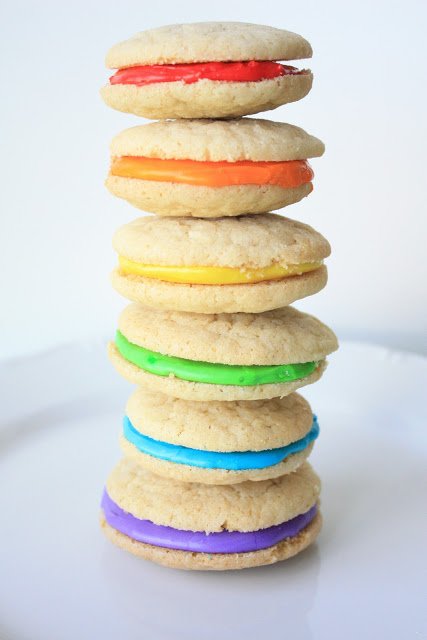 Source: munchkinmunchies.com
Simple, but so sweet!
23

Rainbow Soft Serve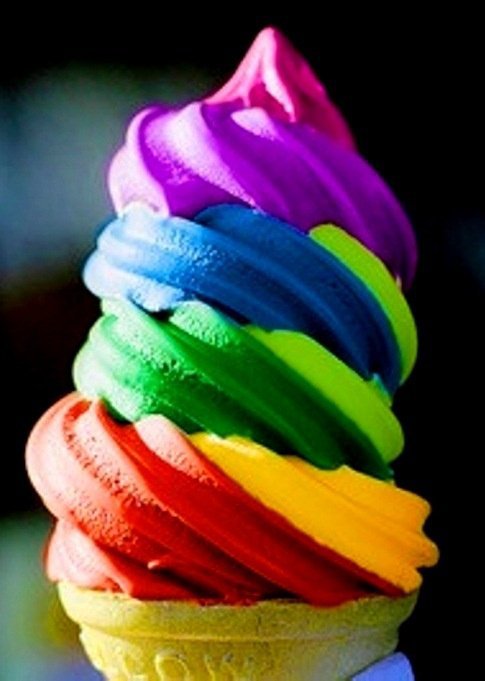 Source: pinterest.com
There will never be anything bad about this much ice cream. Never.
24

Rainbow Jello Parfaits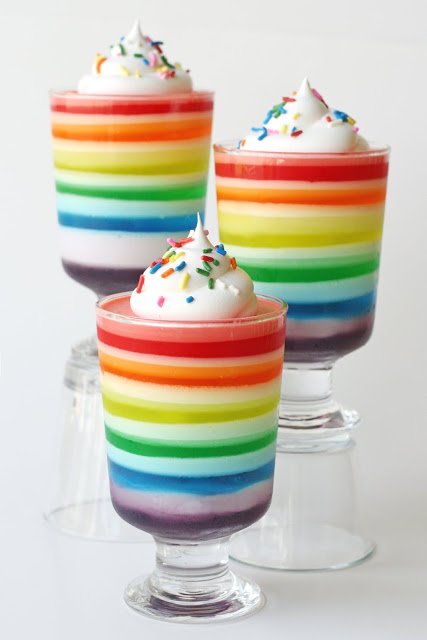 Source: glorioustreats.com
Say what you will about Jello, but it really is kind of magical. You can make so many pretty things with it!
25

Rainbow Pancakes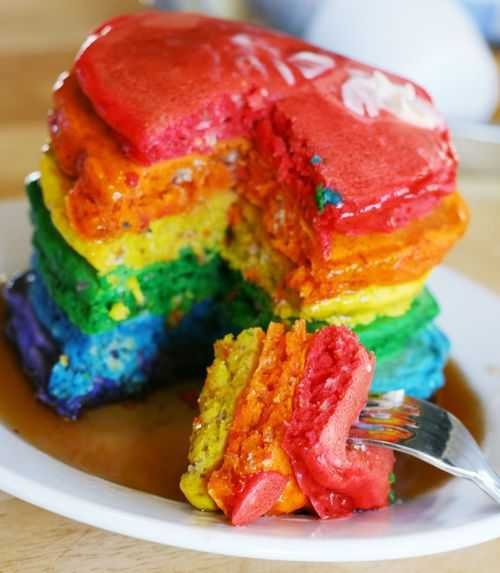 Source: iambaker.net
No better breakfast in the world, am I right?
26

Rainbow Cauliflower, Kind of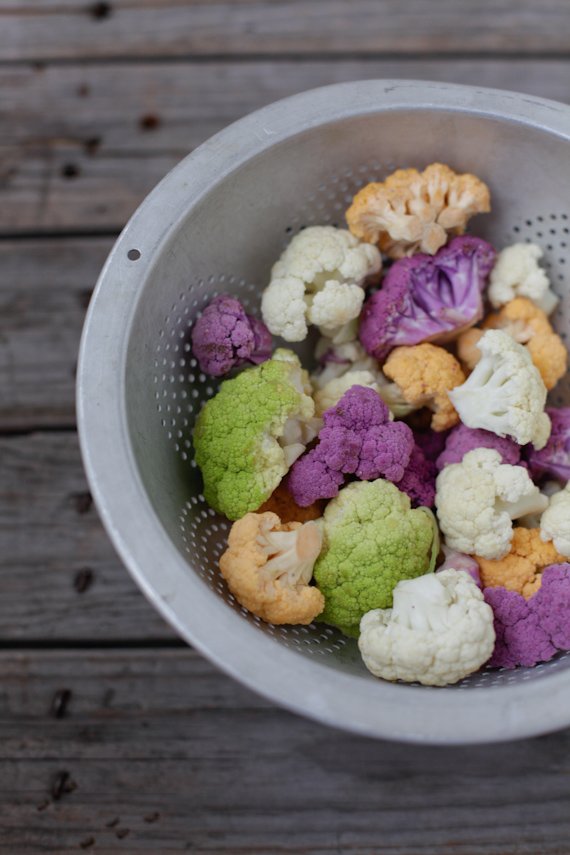 Source: alkalinesisters.com
I only say "kind of" because rainbow cauliflower only comes in a handful of hues, but that's better than plain old white, right? If you've got a kid (or a spouse, ahem) who isn't big on vegetables, sometimes introducing brighter, more vibrant choices can tempt a picky palate.
27

Rainbow Carrots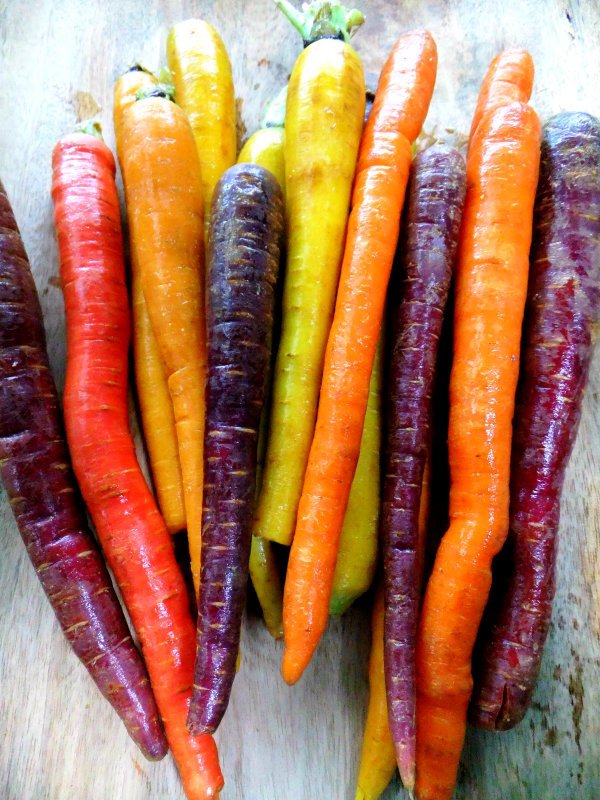 Source: prouditaliancook.com
Carrots are delicious even when they're just plain orange. Rainbow carrots, however, are a delight for the eyes as well as the palate. Have you ever eaten them?
You know what they say: the more colorful your food, the healthier your diet. That ... clearly is not true, but as long as you mix in some vivid fruits and vegetables with your cakes, cookies, and candy, you'll be all right. Are you a fan of the rainbow food trend or nah?
Please rate this article