7 Ways to Make Creamy Salad Dressings without Oil ...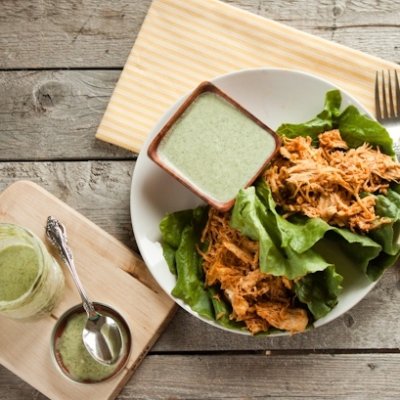 There are plenty of ways to make creamy salad dressings without a ton of fattening cream or oil! All it takes is a little creativity and a high speed blender to make a variety of salad dressings that are delicious and oil-free. Whether you want a creamy Caesar or a decadent French dressing, try these seven ways to make creamy salad dressings.
1.

Hemp Seeds

Hemp seeds are a vegan's best friend and one of the easiest ways to make creamy salad dressings. They don't require any soaking like other nuts and seeds, and can instantly make a creamy, oil-free dressing. All you need to do is blend the hemp seeds enough with a little water until you reach the desired consistency. You can also add whatever flavors you like, such as roasted garlic/red peppers, a handful of sun dried tomatoes, or maybe some dried herbs to give this dressing a flavorful punch.
2.

Tomatoes

If you're looking for a low-fat base for a salad dressing, tomatoes could be your new obsession. They're super rich in lycopene, an important antioxidant for heart health. I personally love blending tomatoes, cucumbers, a little red wine vinegar, and some dried oregano for a simple and hearty dressing that will keep all week!
3.

Dijon Mustard

Dijon mustard is a great base for creamy dressings. You can easily use it in Caesar dressing and not even miss the oil or dairy! Mustard is also a low-calorie food that packs a bunch of flavor. Add a little vinegar, water, and herbs to spice things up and you instantly have a rich salad dressing for a bunch of veggies.
4.

Tahini

Tahini has become super popular in the health food world right now and for good reason! Roasted sesame seeds are a great source of healthy fat, can reduce your risk of heart disease, and even boost immunity. I like using tahini as a creamy component in Asian style salad dressings. Simply blend tahini with some fresh carrots, a spoonful of honey, and a dash of ginger. It'll taste like the Asian dressing you love to eat at sushi and hibachi restaurants.
5.

Cashews

Cashews are one of the most common nuts to use as the creamy base for sauces, dressings, and soups. All you need to do is soak them in some water for a couple of hours, then drain and blend until smooth. Cashews have a pretty bland flavor profile, so definitely try spicing up dressings that use this nut as its creamy base. Don't be afraid of trying unconventional flavors like smoked paprika, chipotle peppers, or herbs de Provence with this dressing for bold flavors that will encourage you to eat more greens.
6.

Nutritional Yeast

Adding nutritional yeast to salad dressing is an easy way to give any dressing a creamy texture. Nutritional yeast is one of the few plant sources of a vitamin B12, a nutrient that usually can only be obtained through animal protein. Nutritional yeast also lends a cheesy flavor to dressings and dips. Try adding it to your next homemade salad dressing for flavor and consistency.
7.

Avocados

Rich in healthy monounsaturated fat, vitamin C, and fiber, avocados are great for making creamy salad dressings without oil. Simply peel, remove the core, and blend into a dressing. Avocados are especially great when paired with Latin flavors. One of my favorite dressings is avocados with a little lime juice, some fresh cilantro, and a pinch of cayenne pepper for a dressing with a kick!

Making your own salad dressings without oil isn't as difficult as you'd think. There are plenty of creamy substitutes you can use for all the fun without the oil or fat. What are your favorite foods and techniques for making creamy, oil-free salad dressings?

{{#comments_count}} Show Commnents ({{comments_count}}) {{/comments_count}}