You'll Eat All of These Pizza Combos Right up ...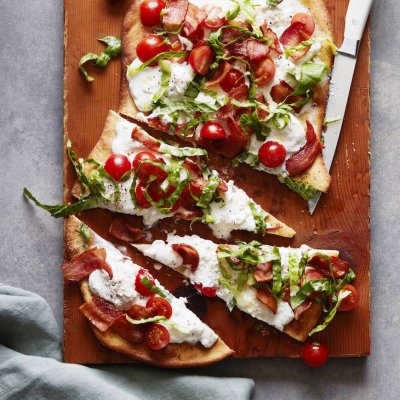 I'm on a pizza kick right now and while pepperoni and cheese is good, sometimes, I want to switch it up. If you're going looking for some inspiration in the pizza field, take a look below! I've got some crazy combos, but they are all delish!
1.

Winter White Pizza with Delicata Squash & Gouda Cheese
So delish! You've GOT to give this one a try.
Recipe: heartbeetkitchen.com
2.

Easy Spinach & Tomato Pizza with a Creamy Garlic Sauce
I love the garlic sauce on this one!
Recipe: brighteyedbaker.com
4.

Breakfast Pizza with Canadian Bacon
Look at the eggs! Love it!
Recipe: simplywhisked.com
7.

Roasted Garlic, Chicken, and Herb White Pizza
OMG – excuse me while I go make this.
Recipe: dinnersdishesanddesserts.com
8.

Balsamic Roasted Peach, Almond, & Cilantro Pizza
Unique, different and LOVELY!
Recipe: gringalicious.com
11.

Barbecue Pulled Pork Pizza with Crispy Brussels Sprout Leaves
Who knew that brussels could be so good!
Recipe: floatingkitchen.net
12.

Jalapeno Popper Flatbread
Spicy and so perfect!
Recipe: bunsinmyoven.com
13.

Squash, Kale & Melted Parmesan Pizza
How beautiful is this pizza?
Recipe: shelikesfood.com
14.

Italian Hoagie Flatbread
You had me at hoagie.
Recipe: familyfoodie.com