When the weather is sunny and warm, and there's a nice breeze, there is nothing like making and enjoying your favorite refreshing summer salad recipes. They taste great, help you eat smaller portions, and have a huge amount of nutritional value if you're eating the right one. Salads are great because they don't take much cook or prep time, and they're easily shareable! There a few salad recipes I'd like to share. These summer salad recipes will definitely be yummy, and if served at a dinner party, it'll be one your star dishes this season!
---
1

Fruit Salad with Honey Dressing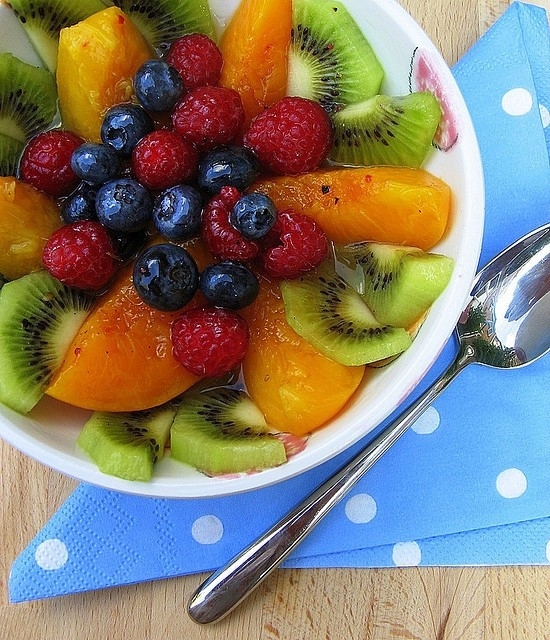 This recipe is so simple and definitely one of my favorite summer salad recipes. It takes very little time to make and has so many great, refreshing, summery ingredients. It's everything I love about fruits in a salad on top of a luscious bed of lettuce! The honey dressing adds such a nice, sweet finish too. You can make this for your friends at a gathering or you could enjoy it as a snack or even a light lunch! You can also add in some of your own favorite fruits, like the picture!
Ingredients:
1/3 cup honey
1/4 cup orange juice
1/4 cup canola oil
1/2 teaspoon fresh lemon juice, plus the juice 1 lemon
1 1/2 teaspoons poppy seeds
1/4 teaspoon salt
1/4 teaspoon prepared mustard
1 apple, cored and diced
1 banana, sliced
1 avocado, peeled and sliced
1 (11-ounce) can mandarin oranges, drained
1/4 cup raisins
1/4 cup chopped walnuts or pecans
Directions:
For the dressing, combine the honey, orange juice, oil, 1/2 teaspoon lemon juice, poppy seeds, salt, and mustard in a jar with a tight lid; cover and shake well. Toss the apple, banana, and avocado with juice from 1 lemon to prevent the fruit from turning brown. Combine the fruit, raisins, and nuts in a glass bowl. Add the dressing and stir gently. Serve on red leaf lettuce
Source: foodnetwork.com
---
2

Summer Berry Salad with Lime-Basil Vinaigrette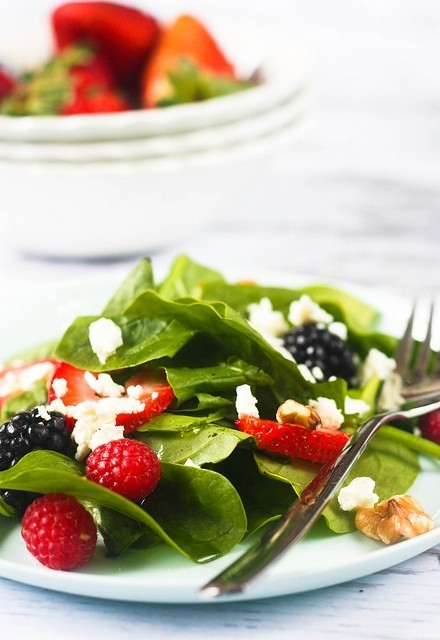 This recipe is delicious, fruity and has a great citrus vinaigrette. I love the combination of sweet and salty ingredients. Sounds yummy! I can't wait to try it. The best part? It's all ready in less than 20 minutes!
Ingredients:
14 cup sliced almonds
1 tbsp lime zest
14 cup fresh lime juice
12 cup extra virgin olive oil
1 tbsp honey
14 cup fresh basil (chopped)
pepper
salt
8 cups baby spinach
1 cup strawberries (fresh, hulled, thinly sliced)
1 cup fresh blueberries
1 cup raspberries (fresh)
4 ounces soft goat cheese (crumbled)
Directions:
Place almonds in a small skillet over medium-low heat. Cook, shaking skillet constantly, until almonds are light golden and fragrant, about 3 minutes. Immediately transfer to a bowl to cool for 5 minutes. Place lime zest and juice, olive oil, honey and basil in a blender or food processor and puree until smooth. Season with salt and pepper. Place spinach, strawberries, blueberries and raspberries in a large bowl. Add dressing and gently toss to coat. Season with salt and pepper. Top with goat cheese and almonds and serve immediately.
**Source: **yummly.com
3

Watermelon Salad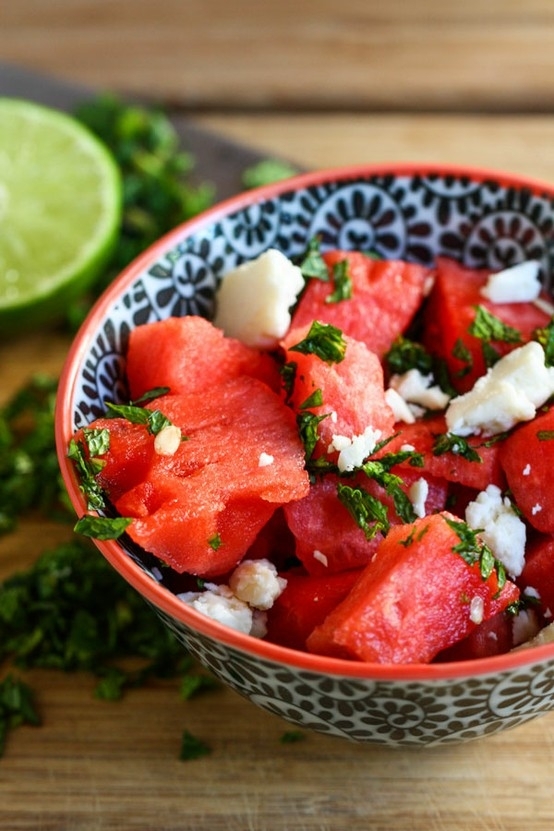 Watermelon is one of my favorite fruits to eat during the summer. It's cold, juicy and sweet. The recipe also includes mint and feta cheese, which balance out that sweetness. It'll definitely cool you down on a hot summer day. Delish! It also has some vitamin A and vitamin C in there!
Ingredients:
3 cups chopped watermelon (3/4-inch chunks)
1 cup chopped cucumbers (1/4-inch chunks)
½ cup crumbled ATHENOS Traditional Crumbled Feta Cheese
2 tbsp. chopped fresh mint
2 tbsp. KRAFT Balsamic Vinaigrette Dressing or any other Balsamic Vinaigrette Dressing you'd like
Directions:
Put ingredients into a bowl and mix together.
Source: athenos.com
---
4

Mediterranean Crunch Salad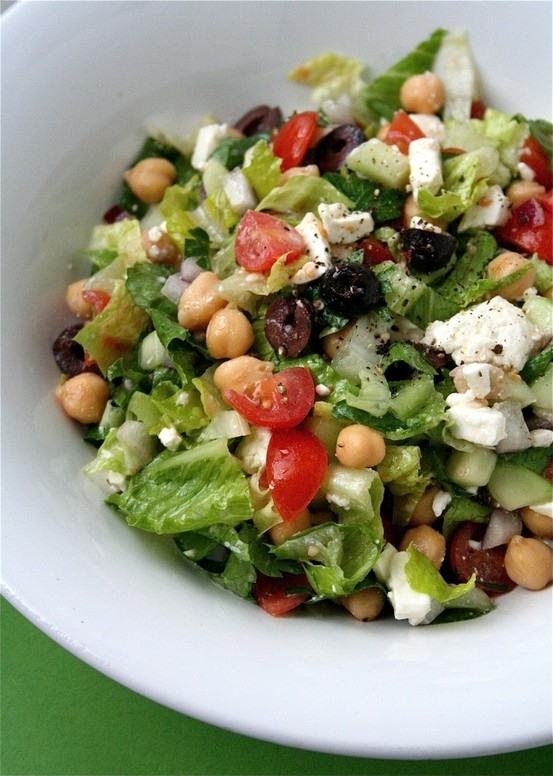 This one reminds of being in a faraway land full of bold flavors and warm weather. This salad is flavorful, delicious and vegan and vegetarian friendly! It's perfect on a nice summer day.
Ingredients:
1 (15 ounce) can no-salt-added garbanzo beans, drained
1 cucumber, chopped
1 cup small broccoli florets
1 cup grape tomatoes, halved
1 cup finely sliced kale, tough stems removed
1/2 cup finely chopped red onion
2 tablespoons finely chopped Kalamata olives
3 tablespoons red wine vinegar
1 clove garlic, minced
1 tablespoon chopped fresh parsley
1 teaspoon chopped fresh thyme
Directions:
Combine all ingredients in a large bowl. Chill at least 1 hour before serving.
Source: wholefoodsmarket.com
---
5

Wild Arugula Salad with Garlic Croutons, Shaved Parmesan, and Lemon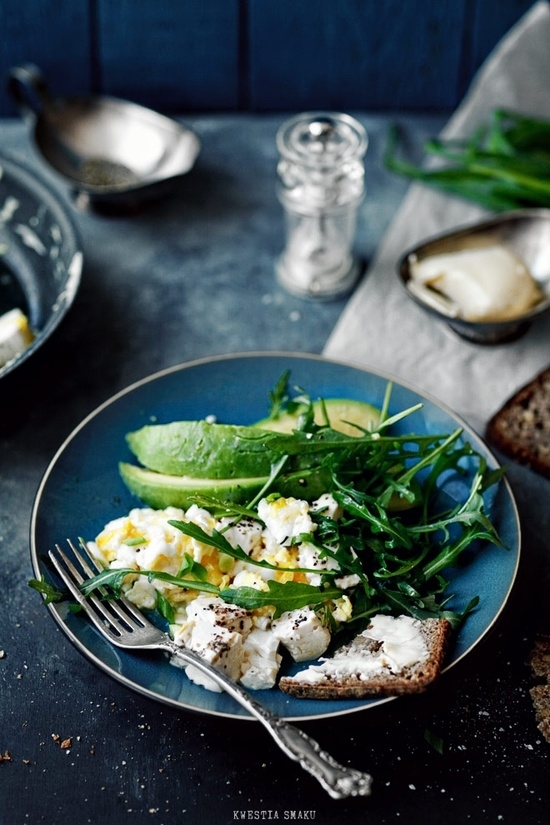 The blend of lemon and homemade garlic croutons with Parmesan cheese sounds so good! If I was on a lunch date looking for a great tasting salad to eat, this would win. Try this recipe out. The arugula brings a unique, earthy, robust taste.
Ingredients:
1 8-ounce piece ciabatta with crust (preferably day-old)
1 large garlic clove, peeled
1/4 cup plus 3 tablespoons extra-virgin olive oil
6 ounces arugula (preferably wild; about 10 cups packed)
2 tablespoons (or more) fresh lemon juice
3 ounces Parmesan cheese, shaved into strips with vegetable peeler
Directions:
Preheat oven to 400°F. Rub crust of bread with garlic clove. Tear bread into 1-inch pieces and place in large bowl; toss with 1/4 cup olive oil. Sprinkle bread lightly with salt; arrange in single layer on rimmed baking sheet. Bake until golden and crisp around edges, about 10 minutes. Cool. Do ahead: Can be made 4 hours ahead. Let stand at room temperature.
Place arugula in large bowl. Drizzle with 3 tablespoons olive oil and 2 tablespoons lemon juice, adding more lemon juice, if desired. Sprinkle with salt and pepper. Add 2/3 of croutons and half of Parmesan cheese and toss. Transfer to serving bowl; scatter remaining croutons and Parmesan cheese over and serve.
Ingredient tip: Wild arugula is dark green with spiky leaves. It has a more intense flavor than that of regular arugula. You'll find wild arugula at farmers' markets and at some supermarkets.
Source: bonappetit.com
---
6

Caprese Salad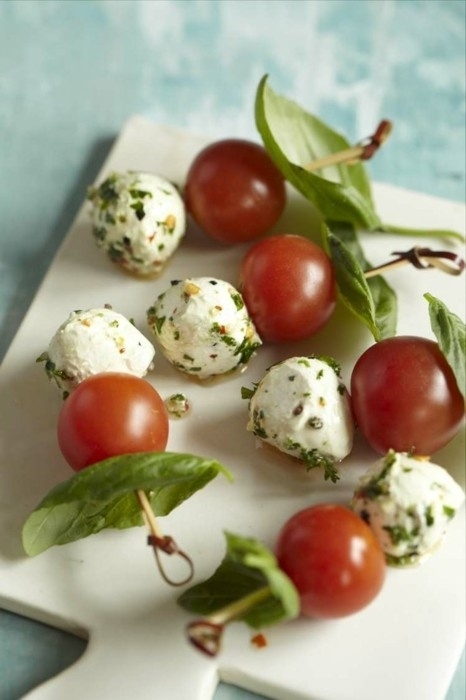 Caprese salad is wonderful. The delicious blend of the pungent basil leaves, juicy tomatoes, and fresh mozzarella is super satisfying to my taste buds. Try this simple recipe from Rachel Ray.
Ingredients:
3 vine-ripe tomatoes, 1/4-inch thick slices
1 pound fresh mozzarella, 1/4-inch thick slices
20 to 30 leaves (about 1 bunch) fresh basil
Extra-virgin olive oil, for drizzling
Coarse salt and pepper
Directions:
Layer alternating slices of tomatoes and mozzarella, adding a basil leaf between each, on a large, shallow platter. Drizzle the salad with extra-virgin olive oil and season with salt and pepper, to taste.
Source: foodnetwork.com
---
7

Black Bean and Corn Salad II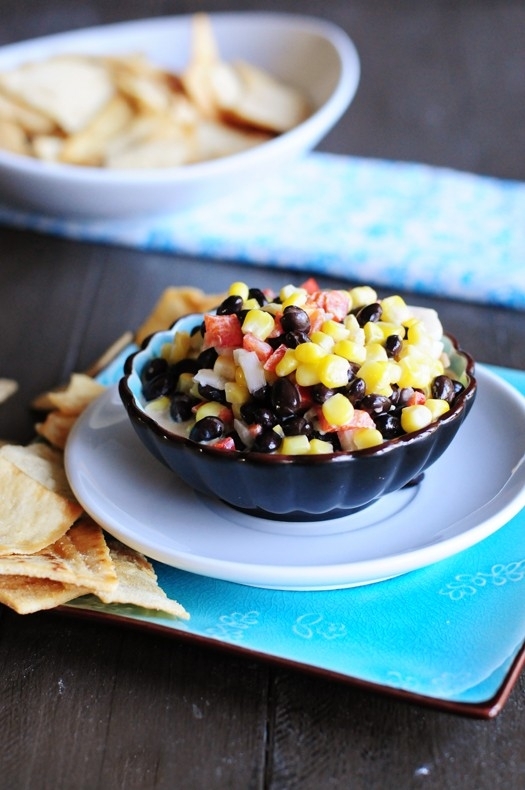 This salad is perfect when you're craving a zesty salad that's healthy and tasty. It's vegan friendly too! Corn is always one of my staples in my salads, especially during the summer.
Ingredients:
1/3 cup fresh lime juice
1/2 cup olive oil
1 clove garlic, minced
1 teaspoon salt
1/8 teaspoon ground cayenne pepper
2 (15 ounce) cans black beans, rinsed and drained
1 1/2 cups frozen corn kernels
1 avocado- peeled, pitted, and diced
1 red bell pepper,chopped
2 tomatoes, chopped
6 green onions, thinly sliced
1/2 cup chopped fresh cilantro
Directions:
Place lime juice, olive oil, garlic, salt, and cayenne pepper in a small jar. Cover with lid, and shake until ingredients are well mixed. In a salad bowl, combine beans, corn, avocado, bell pepper, tomatoes, green onions, and cilantro. Shake lime dressing, and pour it over the salad. Stir salad to coat vegetables and beans with dressing, and serve.
Source: allrecipes.com
I love summer because it's easier to stay in shape by eating delicious, healthy foods. You should give these delicious recipes a try as an addition to your summer recipe collections! What are your favorite summer salads?
---
Comments
Popular
Related
Recent