Now is certainly the time to load up on end of summer produce, which is why it's handy to have some corn recipes on hand. That way you can try out new ways of eating it that go beyond the same old corn on the cob. Corn is versatile, easy to work with and pairs with a huge variety of other foods, so it's absolutely perfect for cooking with. Check out these yummy corn recipes and you'll see just what I mean.
---
1

Slow Cooker Creamed Corn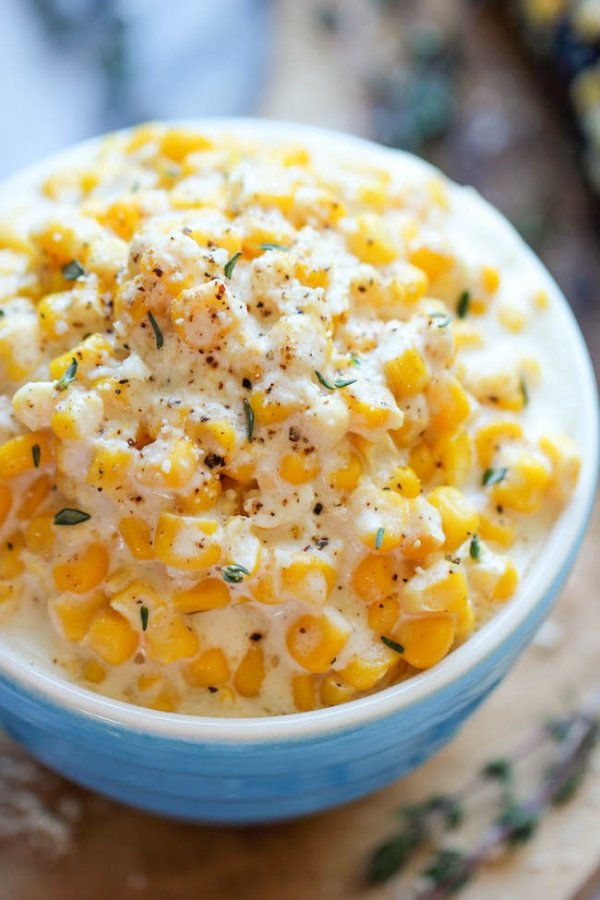 Nothing is easier than using your slow cooker to prepare meals, which is why this is one of the best corn recipes you'll ever find. Serve this with dinner any night of the week and your entire family will be happy.
Ingredients:
3 pounds fresh corn, cut off the cob
1 cup milk
1 tablespoon sugar
¼ teaspoon pepper
8 ounces cubed cream cheese
½ cup thinly sliced unsalted butter
Directions:
Put the corn in the slow cooker, then stir in the milk, sugar and pepper. Top with butter and cream cheese. Do not stir. Cover and cook on high for about 2 or 3 hours. Then, remove the lid and stir well to combine. Cover and cook for 15 more minutes on high.
Source: damndelicious.net
---
2

Corn with Bacon and Mushrooms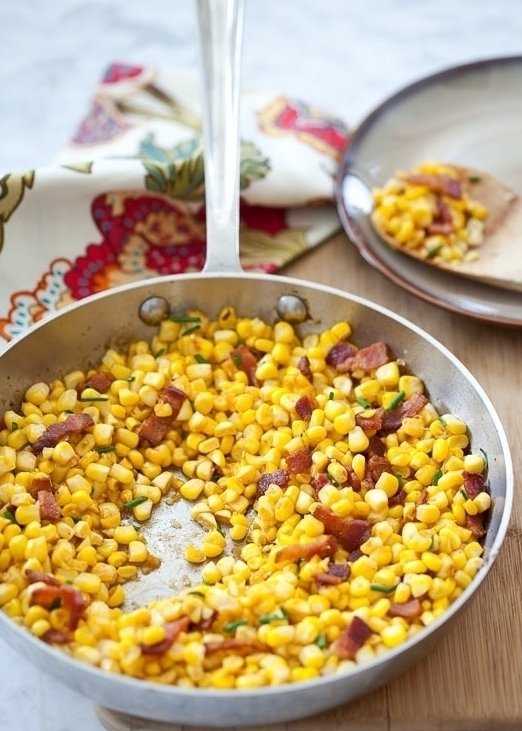 Since bacon tastes good with pretty much anything, this recipe is one you'll love. It makes a great, and sort of fancy, side dish that you can serve with steak, chicken or fish. Make extra because you're going to want to keep eating it.
Ingredients:
2 slices bacon
½ cup shallots, thinly sliced
3 cups mixed mushrooms, sliced
4 ears corn, kernels removed
¼ cup water
¼ teaspoon salt
¼ teaspoon pepper
Directions:
Cook the bacon until crisp. Remove from the pan and chop. Leave one tablespoon bacon grease in the pan and cook the shallots for 2 minutes. Add the mushrooms and cook 3 minutes. Add the corn and water and cook for an additional 5 minutes. Remove from the heat, stir in the bacon and season to taste with salt and pepper.
Source: eatingwell.com
3

Avocado Corn Salsa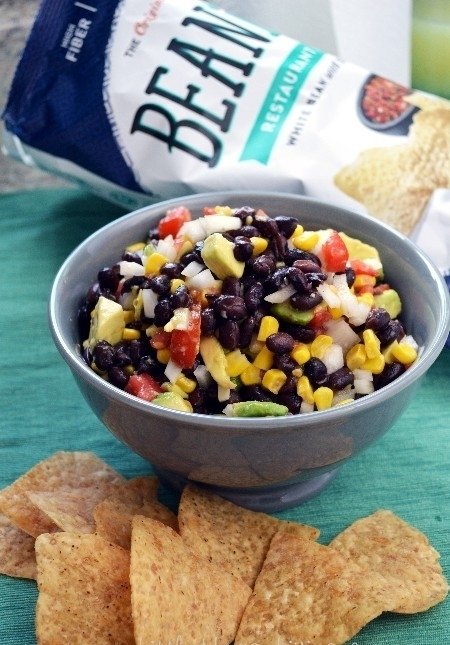 Corn is a great ingredient for salsa. It adds flavor and crunch without overwhelming the other ingredients. Plus it's cheap and can make your recipe go further when you need it to serve a crowd.
Ingredients:
1 cup corn, off the cob
2 avocados, peeled, seeded and diced
1 onion, diced
2 limes
2 tomatoes, chopped
1 ½ cups cooked black beans
Garlic salt
Directions:
Toss the corn, avocados, onion, tomatoes and beans in a large bowl. Squeeze the juice from 2 limes over the mixture and season to taste with garlic salt.
Source: littlehouseliving.com
---
4

Mexican Street Corn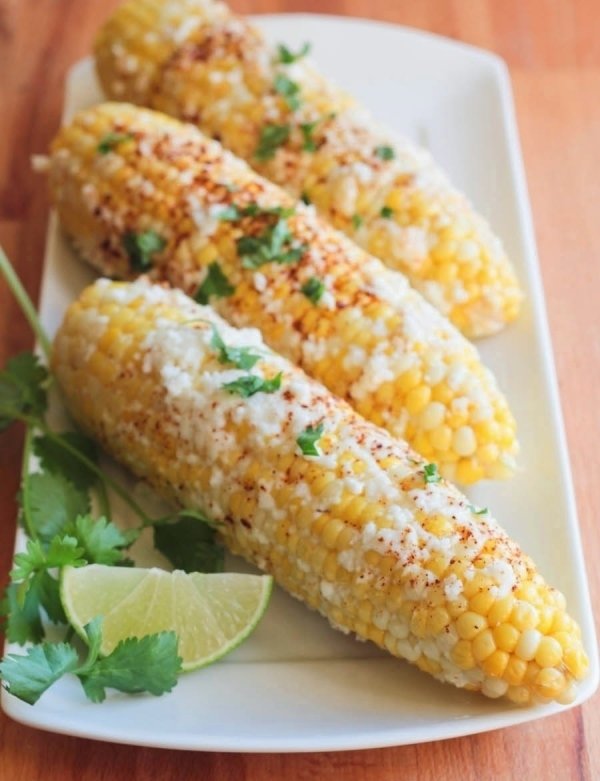 This is one of my favorite things to eat in the summertime. It tastes great and you can eat it while you hang out at the park or in your backyard. Kids love it so it's definitely a crowd pleaser. Enjoy!
Ingredients:
1 ear of corn
1 tablespoon softened butter
1 tablespoon mayonnaise
¼ cup crumbled cojita cheese
Chili powder
1 lime
1 tablespoon cilantro, chopped
Directions:
Grill the corn. Combine the butter and mayonnaise in a bowl. Brush the corn with the mayo mixture, then sprinkle with chili powder. Drizzle with lime juice and cover with cilantro.
Source: thebakerupstairs.com
---
5

Mexican Corn Dip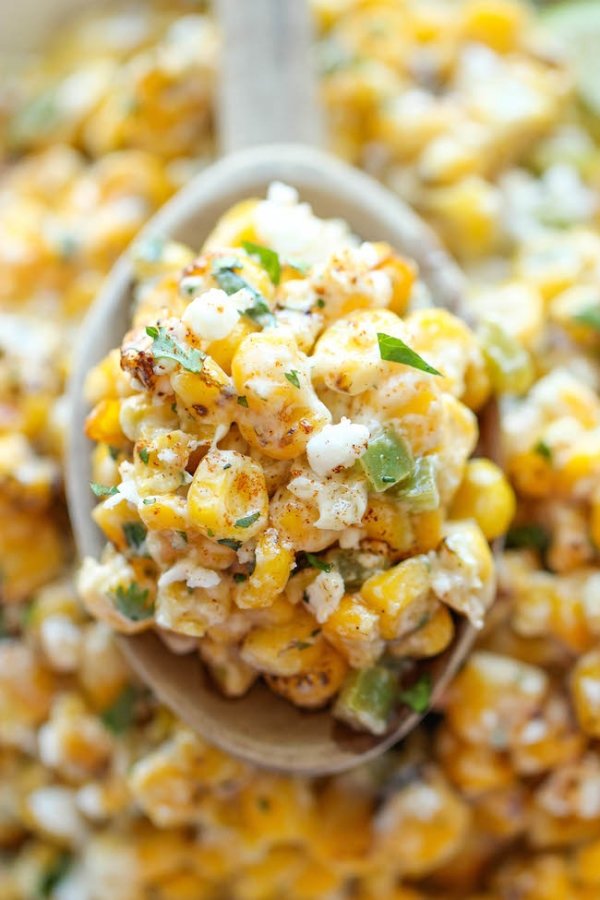 No party is complete with a selection of chips and dips, am I right? This is one that will add lots of flavor to your spread. Everyone will want you to share the recipe.
Ingredients:
½ pound of cooked corn
1 can rinsed and drained black beans
1 can diced green chilies
¼ cup red bell pepper, diced
1 teaspoon onion powder
½ cup mayonnaise
½ cup sour cream
1 ½ cups shredded cheddar cheese
Corn chips
Directions:
Mix the corn, beans, chilies and bell pepper together in a large bowl. Add the onion powder, sour cream and mayo and stir well. Fold in the cheese and serve with the chips.
Source: rustichoney.com
---
6

Grilled Corn Tomato Salad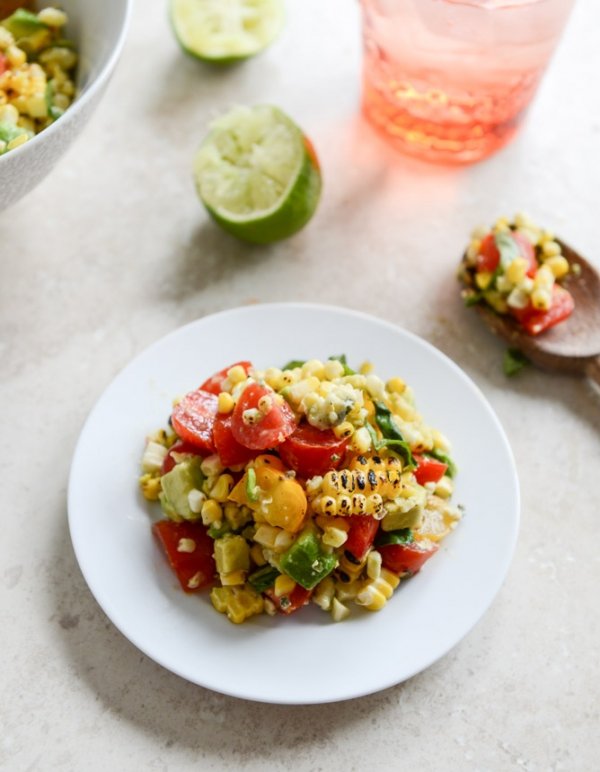 There is nothing more delicious than corn salad on a hot summer day! Even though summer is drawing to a close, you still have plenty of time to enjoy this yummy recipe.
Ingredients:
4 ears grilled corn, off the cob
1 pint quartered grape tomatoes
1 sliced avocado
½ teaspoon salt
½ teaspoon pepper
Juice from 1 lime
2 teaspoons olive oil
4 ounces crumbled blue cheese
10 sliced basil leaves
Directions:
Stir together the corn, tomatoes, avocado, salt and pepper in a large bowl. Add the lime juice and olive oil and stir to coat. Add the blue cheese and basil and toss again. Serve right away.
Source: howsweeteats.com
---
7

Corn Casserole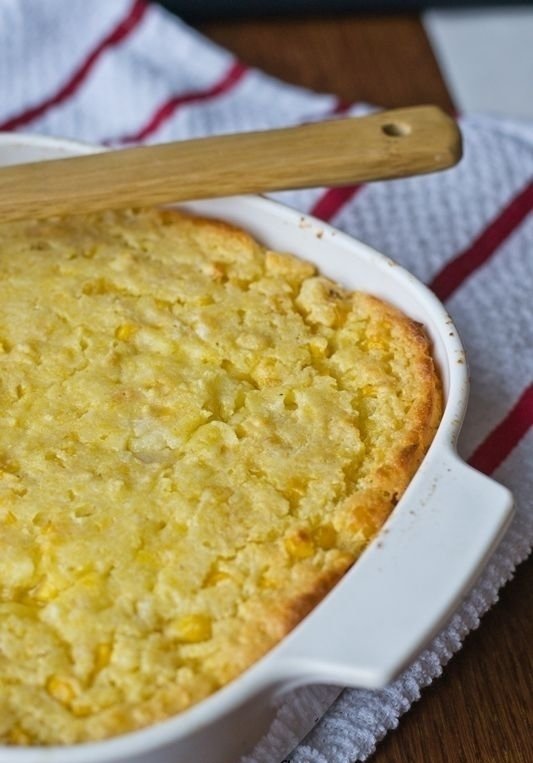 If you're looking for something hot and hearty to cook with your corn, this is it right here! This makes a fabulous and fast dinner on busy nights and it warms up really well too. It's certainly not health food so take it easy when you eat this.
Ingredients:
The equivalent of one can corn kernels
1 can creamed corn
1 cup sour cream
1 stick of butter
1 box corn muffin mix
Directions:
Preheat the oven to 350 degrees. Combine all of the ingredients in a large bowl. Transfer to a greased baking dish. Cook for 50 minutes, uncovered.
Source: tastesoflizzyt.com
There you have it! Some tasty and easy corn recipes. Which one will you try first?
---
Popular
Related
Recent